12th Tour of Japan - 2.2
Japan, May 18-25, 2008
Main Page Results Overall standings Previous Stage
Stage 7 - May 25: Hibiya City - Oi Wharf circuit race, 148.9km
Meyer claims Tour of Japan
By Gennie Sheer
Marcin Gebka (Mroz-Action-Uniqa) wins the final stage
Photo ©: Miwako Sasaki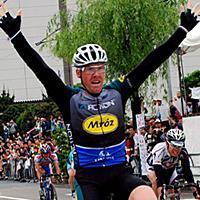 West Australian Cameron Meyer has taken out the Tour of Japan, heading the SouthAustralia.com-AIS outfit that also claimed victory in the teams classification. After team-mate Wesley Sulzberger took an early lead, Meyer jumped into first place in stage 6, one day after he propelled himself up into second on the tough time trial up the Mt. Fuji.
Meyer held a slim one-second margin over compatriot Jai Crawford from the Trek - Marco Polo Cycling Team, but was able to double that by the end of the race.
"It feels really good to win because I haven't won a Tour overall for a while so good to show some form and get the result," said Meyer, who's last overall stage race win was in 2007 in the Tour of Tasmania.
"Today was a bit nerve wracking mainly because it was pouring rain and we only had one second up our sleeves so we had to be alert the whole day," said Meyer. "But we were still confident because we've been riding really well as a team and we backed me as being faster than Jai in the sprint."
The team had hoped a break would go away early to neutralise the intermediate sprints but aggressive racing early on saw the main bunch contest the first intermediate sprint at around the 50-kilometre mark of the stage.
"We had to line up for the first sprint with Marco Polo working for Jai and my guys led me out," said Meyer, who edged Crawford out for third place and a one-second bonus.
Cameron Meyer claims the overall title
Photo ©: Miwako Sasaki

After the sprint a breakaway group of 14 riders formed at the front, including Meyer's team-mate and stage 1 winner Zakkari Dempster.
"Luckily that break went clear and we had Zak in it so that took the pressure off us a little bit," said Meyer. Wes Sulzberger and Simon Clarke then did the job of controlling the bunch to safeguard Meyer's position.
The group stayed away until the end where Poland's Marcin Gebka won the stage, with Dempster crossing the line in fourth place.
The main bunch crossed 46 seconds later with Meyer safely tucked in 33rd place on Crawford's wheel.
SouthAustralia.com-AIS won the teams classification by three minutes and 37 seconds over team Nippo-Endeka, with Meyer second in the points classification. He had gathered 37 points, three points less than winner Taiji Nishitani of Japan. Sulzberger was third with 29 points.
The team collected three stage wins during the event, with Dempster claiming the opening stage, Wes Sulzberger winning stage 2 and Simon Clarke taking out the fourth stage.
Photography
For a thumbnail gallery of these images, click here
Images by Miwako Sasaki/Cyclingnews.com
Results
1 Marcin Gebka (Pol) Mroz Action Uniqa                      3.01.40 (49.178 km/h)
2 Takashi Miyazawa (Jpn) Meitan Hompo - GDR                        
3 Masamichi Yamamoto (Jpn) Team Bridgestone Anchor                 
4 Zakkari Dempster (Aus) Southaustralia.com-AIS                    
5 Leon Van Bon (Ned) Trek - Marco Polo Cycling Team                
6 Shinri Suzuki (Jpn) Skil-Shimano                                 
7 Maxim Gourov (Kaz) A-Style Somn                                  
8 Kazuya Okazaki (Jpn) Meitan Hompo - GDR                          
9 Alexandre Aulas (Fra) A-Style Somn                               
10 Alberto Di Lorenzo (Ita) A-Style Somn                           
11 Makoto Nakamura (Jpn) Team Bridgestone Anchor                   
12 Kazuo Inoue (Jpn) Nippo-Endeka                              0.06
13 Shinichi Fukushima (Jpn) Meitan Hompo - GDR                 0.11
14 Piotr Chmielewski (Pol) Mroz Action Uniqa                   0.28
15 Masahiko Mifune (Jpn) Matrix Powertag                       0.46
16 Taiji Nishitani (Jpn) Aisan Racing Team                         
17 Aristide Ratti (Ita) A-Style Somn                               
18 Benjamin Stauder (Ger) Stegcomputer - CKT - Cogeas              
19 Yukiya Arashiro (Jpn) Meitan Hompo - GDR                        
20 Timo Albiez (Ger) Stegcomputer - CKT - Cogeas                   
21 Ikki Yoneyama (Jpn) Pearl Izumi Sumita Ravanello                
22 Rogelio Carvalho (Jpn) Pearl Izumi Sumita Ravanello             
23 Yasuhiro Nito (Jpn) Nalsima Frend                               
24 Sung Baek Park (Kor) Seoul Cycling                              
25 Yoshiyuki Abe (Jpn) Skil-Shimano                                
26 Tetsuya Fujioka (Jpn) Team JBCF                                 
27 Takashi Nakayama (Jpn) Team JBCF                                
28 Makoto Iijima (Jpn) Team Bridgestone Anchor                     
29 Masafumi Yamane (Jpn) Team Comrade Giant                        
30 Masayuki Kimura (Jpn) Nalsima Frend                             
31 Vicenzo Garofalo (Ita) Nippo-Endeka                             
32 Jai Crawford (Aus) Trek - Marco Polo Cycling Team               
33 Cameron Meyer (Aus) Southaustralia.com-AIS                      
34 Hiroshi Nara (Jpn) Team JBCF                                    
35 Sano Junya (Jpn) Nippo-Endeka                                   
36 Mariusz Witecki (Pol) Mroz Action Uniqa                         
37 Simone Bruson (Ita) A-Style Somn                                
38 Keita Iwashima (Jpn) Nalsima Frend                              
39 Robert Rodosz (Pol) Mroz Action Uniqa                           
40 Akira Kakinuma (Jpn) Team Bridgestone Anchor                    
41 Tomoya Kano (Jpn) Skil-Shimano                                  
42 Yosuke Kojima (Jpn) Team JBCF                                   
43 Hyo Suk Gong (Kor) Seoul Cycling                                
44 Wesley Sulzberger (Aus) Southaustralia.com-AIS                  
45 Michael Haiser (Ger) Stegcomputer - CKT - Cogeas                
46 Kazuyuki Manabe (Jpn) Nippo-Endeka                              
47 Yoshimasa Hirose (Jpn) Skil-Shimano                             
48 Hidenori Nodera (Jpn) Skil-Shimano                              
49 Takayuki Naganuma (Jpn) Team Bridgestone Anchor                 
50 Yoshimitsu Hiratsuka (Jpn) Pearl Izumi Sumita Ravanello         
51 Masaki Hirabayashi (Jpn) Team Comrade Giant                     
52 Devis Miorin (Ita) Nippo-Endeka                                 
53 Kohei Tsusue (Jpn) Team JBCF                                    
54 Sylvain Georges (Fra) A-Style Somn                              
55 Koji Fukushima (Jpn) Meitan Hompo - GDR                         
56 Yukihiro Doi (Jpn) Skil-Shimano                                 
57 Keisuke Kamata (Jpn) Pearl Izumi Sumita Ravanello               
58 Yoshiyuki Shimizu (Jpn) Nippo-Endeka                            
59 Kazuhiro Mori (Jpn) Aisan Racing Team                           
60 Won Jae Lee (Kor) Seoul Cycling                                 
61 Genta Nakamura (Jpn) Trek - Marco Polo Cycling Team             
62 Masafumi Nishitani (Jpn) Team JBCF                              
63 Rhys Pollock (Aus) Trek - Marco Polo Cycling Team               
64 Simon Clarke (Aus) Southaustralia.com-AIS                       
65 Naoki Mukaigawa (Jpn) Matrix Powertag                           
66 Wojciech Pawlak (Pol) Mroz Action Uniqa                         
67 Tomoyuki Kaneda (Jpn) Team Comrade Giant                    1.06
68 Miyataka Shimizu (Jpn) Meitan Hompo - GDR                   1.17
69 Kenichi Suzuki (Jpn) Aisan Racing Team                          
70 Takeaki Ayabe (Jpn) Aisan Racing Team                       1.20
71 Kazunari Asano (Jpn) Pearl Izumi Sumita Ravanello               
72 Daisuke Hioki (Jpn) Matrix Powertag                         2.10
73 Tomoya Sano (Jpn) Matrix Powertag                           3.11
DNF Kaoru Obata (Jpn) Nalsima Frend                                
DNF Ki Hong Yoo (Kor) Seoul Cycling                                
DNF Asa Eazu (Jpn) Team Comrade Giant                              
DNF William Ford (Aus) Southaustralia.com-AIS                      
DNF Marco Weilenmann (Swi) Stegcomputer - CKT - Cogeas             
DNF Seok Kyu Suh (Kor) Seoul Cycling                               
DNF Gu Hyeon Kim (Kor) Seoul Cycling                               
DNS Masahiro Shinagawa (Jpn) Aisan Racing Team                     
DNS Hideya Akiyama (Jpn) Aisan Racing Team                         
 
Points
 
1 Marcin Gebka (Pol) Mroz Action Uniqa                           20 pts
2 Takashi Miyazawa (Jpn) Meitan Hompo - GDR                      15
3 Zakkari Dempster (Aus) Southaustralia.com-AIS                  10
4 Masamichi Yamamoto (Jpn) Team Bridgestone Anchor               10
5 Shinri Suzuki (Jpn) Skil-Shimano                               10
6 Leon Van Bon (Ned) Trek - Marco Polo Cycling Team               9
7 Wojciech Pawlak (Pol) Mroz Action Uniqa                         5
8 Maxim Gourov (Kaz) A-Style Somn                                 4
9 Taiji Nishitani (Jpn) Aisan Racing Team                         3
10 Kazuya Okazaki (Jpn) Meitan Hompo - GDR                        3
11 Cameron Meyer (Aus) Southaustralia.com-AIS                     2
12 Alexandre Aulas (Fra) A-Style Somn                             2
13 Piotr Chmielewski (Pol) Mroz Action Uniqa                      2
14 Alberto Di Lorenzo (Ita) A-Style Somn                          1
 
Mountains
 
1 Shinichi Fukushima (Jpn) Meitan Hompo - GDR                    10 pts
2 Tomoya Kano (Jpn) Skil-Shimano                                  7
3 Rhys Pollock (Aus) Trek - Marco Polo Cycling Team               6
4 Wesley Sulzberger (Aus) Southaustralia.com-AIS                  5
5 Hidenori Nodera (Jpn) Skil-Shimano                              2
 
Teams
 
1 A-Style Somn                                              9.05.00
2 Meitan Hompo-GDR                                             0.11
3 Team Bridgestone Anchor                                      0.46
4 Mroz Action Uniqa                                            1.14
5 SouthAustralia.com-AIS                                       1.32
6 Skil-Shimano                                                     
7 Trek-Marco Polo Cycling Team                                     
8 Nippo-Endeka                                                 1.38
9 Seoul Cycling                                                2.18
10 Pearlizumi Sumita Ravanello                                     
11 Team JBCF                                                       
12 Stegcomputer-CKT-Cogeas                                         
13 Nalsima Frend                                                   
14 Team Comrade Giant                                          2.38
15 Aisan Racing Team                                           2.49
16 Matrix Powertag                                             3.42
 
Final General classification
 
1 Cameron Meyer (Aus) Southaustralia.com-AIS               20.16.21
2 Jai Crawford (Aus) Trek - Marco Polo Cycling Team            0.02
3 Vicenzo Garofalo (Ita) Nippo-Endeka                          0.44
4 Mariusz Witecki (Pol) Mroz Action Uniqa                      1.11
5 Yukiya Arashiro (Jpn) Meitan Hompo - GDR                     1.20
6 Robert Rodosz (Pol) Mroz Action Uniqa                        2.15
7 Hyo Suk Gong (Kor) Seoul Cycling                             2.26
8 Alexandre Aulas (Fra) A-Style Somn                           2.35
9 Wesley Sulzberger (Aus) Southaustralia.com-AIS               3.08
10 Taiji Nishitani (Jpn) Aisan Racing Team                     3.27
11 Timo Albiez (Ger) Stegcomputer - CKT - Cogeas               3.39
12 Tomoya Kano (Jpn) Skil-Shimano                              3.45
13 Shinichi Fukushima (Jpn) Meitan Hompo - GDR                 4.07
14 Alberto Di Lorenzo (Ita) A-Style Somn                       4.15
15 Yukihiro Doi (Jpn) Skil-Shimano                                 
16 Keisuke Kamata (Jpn) Pearl Izumi Sumita Ravanello           4.19
17 Rhys Pollock (Aus) Trek - Marco Polo Cycling Team           5.42
18 Simone Bruson (Ita) A-Style Somn                            5.53
19 Hidenori Nodera (Jpn) Skil-Shimano                          6.55
20 Takayuki Naganuma (Jpn) Team Bridgestone Anchor             7.30
21 Simon Clarke (Aus) Southaustralia.com-AIS                   7.47
22 Devis Miorin (Ita) Nippo-Endeka                             8.41
23 Takeaki Ayabe (Jpn) Aisan Racing Team                       9.03
24 Kazuyuki Manabe (Jpn) Nippo-Endeka                          9.04
25 Kazuo Inoue (Jpn) Nippo-Endeka                             10.55
26 Michael Haiser (Ger) Stegcomputer - CKT - Cogeas           10.58
27 Yoshiyuki Abe (Jpn) Skil-Shimano                           12.11
28 Tetsuya Fujioka (Jpn) Team JBCF                            12.50
29 Keita Iwashima (Jpn) Nalsima Frend                         13.01
30 Kazuya Okazaki (Jpn) Meitan Hompo - GDR                    13.19
31 Koji Fukushima (Jpn) Meitan Hompo - GDR                    14.54
32 Yoshimitsu Hiratsuka (Jpn) Pearl Izumi Sumita Ravanello    15.34
33 Kenichi Suzuki (Jpn) Aisan Racing Team                     18.27
34 Yoshiyuki Shimizu (Jpn) Nippo-Endeka                       19.07
35 Piotr Chmielewski (Pol) Mroz Action Uniqa                  20.18
36 Sano Junya (Jpn) Nippo-Endeka                              21.26
37 Miyataka Shimizu (Jpn) Meitan Hompo - GDR                  23.45
38 Aristide Ratti (Ita) A-Style Somn                          25.40
39 Takashi Miyazawa (Jpn) Meitan Hompo - GDR                  29.07
40 Kohei Tsusue (Jpn) Team JBCF                               29.24
41 Maxim Gourov (Kaz) A-Style Somn                            29.32
42 Leon Van Bon (Ned) Trek - Marco Polo Cycling Team          30.09
43 Yosuke Kojima (Jpn) Team JBCF                              31.38
44 Makoto Iijima (Jpn) Team Bridgestone Anchor                34.30
45 Genta Nakamura (Jpn) Trek - Marco Polo Cycling Team        34.33
46 Naoki Mukaigawa (Jpn) Matrix Powertag                      34.50
47 Masafumi Yamane (Jpn) Team Comrade Giant                   35.17
48 Masafumi Nishitani (Jpn) Team JBCF                         35.56
49 Kazuhiro Mori (Jpn) Aisan Racing Team                      36.11
50 Makoto Nakamura (Jpn) Team Bridgestone Anchor              37.16
51 Masahiko Mifune (Jpn) Matrix Powertag                      40.35
52 Yoshimasa Hirose (Jpn) Skil-Shimano                        41.29
53 Takashi Nakayama (Jpn) Team JBCF                           43.12
54 Sung Baek Park (Kor) Seoul Cycling                         43.52
55 Wojciech Pawlak (Pol) Mroz Action Uniqa                    46.08
56 Won Jae Lee (Kor) Seoul Cycling                            46.16
57 Masaki Hirabayashi (Jpn) Team Comrade Giant                48.58
58 Ikki Yoneyama (Jpn) Pearl Izumi Sumita Ravanello           53.40
59 Zakkari Dempster (Aus) Southaustralia.com-AIS            1.00.10
60 Akira Kakinuma (Jpn) Team Bridgestone Anchor             1.02.30
61 Marcin Gebka (Pol) Mroz Action Uniqa                     1.03.26
62 Shinri Suzuki (Jpn) Skil-Shimano                         1.05.33
63 Masamichi Yamamoto (Jpn) Team Bridgestone Anchor         1.08.53
64 Masayuki Kimura (Jpn) Nalsima Frend                      1.11.55
65 Sylvain Georges (Fra) A-Style Somn                       1.15.44
66 Tomoyuki Kaneda (Jpn) Team Comrade Giant                 1.16.22
67 Yasuhiro Nito (Jpn) Nalsima Frend                        1.17.16
68 Daisuke Hioki (Jpn) Matrix Powertag                      1.21.17
69 Kazunari Asano (Jpn) Pearl Izumi Sumita Ravanello        1.21.37
70 Rogelio Carvalho (Jpn) Pearl Izumi Sumita Ravanello      1.29.44
71 Tomoya Sano (Jpn) Matrix Powertag                        1.49.57
72 Benjamin Stauder (Ger) Stegcomputer - CKT - Cogeas       2.09.43
73 Hiroshi Nara (Jpn) Team JBCF                             2.39.17
 
Points
 
1 Taiji Nishitani (Jpn) Aisan Racing Team                        40 pts
2 Cameron Meyer (Aus) Southaustralia.com-AIS                     37
3 Wesley Sulzberger (Aus) Southaustralia.com-AIS                 29
4 Robert Rodosz (Pol) Mroz Action Uniqa                          27
5 Zakkari Dempster (Aus) Southaustralia.com-AIS                  25
6 Marcin Gebka (Pol) Mroz Action Uniqa                           23
7 Takashi Miyazawa (Jpn) Meitan Hompo - GDR                      23
8 Alexandre Aulas (Fra) A-Style Somn                             22
9 Yukiya Arashiro (Jpn) Meitan Hompo - GDR                       20
10 Shinichi Fukushima (Jpn) Meitan Hompo - GDR                   17
11 Simon Clarke (Aus) Southaustralia.com-AIS                     15
12 Kazuo Inoue (Jpn) Nippo-Endeka                                13
13 Alberto Di Lorenzo (Ita) A-Style Somn                         12
14 Kazuya Okazaki (Jpn) Meitan Hompo - GDR                       11
15 Miyataka Shimizu (Jpn) Meitan Hompo - GDR                     11
16 Vicenzo Garofalo (Ita) Nippo-Endeka                           11
17 Hyo Suk Gong (Kor) Seoul Cycling                              11
18 Yukihiro Doi (Jpn) Skil-Shimano                               11
19 Masamichi Yamamoto (Jpn) Team Bridgestone Anchor              11
20 Shinri Suzuki (Jpn) Skil-Shimano                              10
21 Aristide Ratti (Ita) A-Style Somn                             10
22 Benjamin Stauder (Ger) Stegcomputer - CKT - Cogeas            10
23 Leon Van Bon (Ned) Trek - Marco Polo Cycling Team              9
24 Kazuyuki Manabe (Jpn) Nippo-Endeka                             8
25 Wojciech Pawlak (Pol) Mroz Action Uniqa                        8
26 Sung Baek Park (Kor) Seoul Cycling                             6
27 Mariusz Witecki (Pol) Mroz Action Uniqa                        4
28 Devis Miorin (Ita) Nippo-Endeka                                4
29 Koji Fukushima (Jpn) Meitan Hompo - GDR                        4
30 Maxim Gourov (Kaz) A-Style Somn                                4
31 Kazuhiro Mori (Jpn) Aisan Racing Team                          3
32 Hidenori Nodera (Jpn) Skil-Shimano                             2
33 Piotr Chmielewski (Pol) Mroz Action Uniqa                      2
34 Masahiko Mifune (Jpn) Matrix Powertag                          2
35 Jai Crawford (Aus) Trek - Marco Polo Cycling Team              1
 
Mountains
 
1 Vicenzo Garofalo (Ita) Nippo-Endeka                            37 pts
2 Yukiya Arashiro (Jpn) Meitan Hompo - GDR                       24
3 Hyo Suk Gong (Kor) Seoul Cycling                               20
4 Shinichi Fukushima (Jpn) Meitan Hompo - GDR                    13
5 Tomoya Kano (Jpn) Skil-Shimano                                 12
6 Jai Crawford (Aus) Trek - Marco Polo Cycling Team              12
7 Takashi Miyazawa (Jpn) Meitan Hompo - GDR                      10
8 Mariusz Witecki (Pol) Mroz Action Uniqa                         9
9 Robert Rodosz (Pol) Mroz Action Uniqa                           8
10 Wesley Sulzberger (Aus) Southaustralia.com-AIS                 8
11 Cameron Meyer (Aus) Southaustralia.com-AIS                     6
12 Rhys Pollock (Aus) Trek - Marco Polo Cycling Team              6
13 Kazuo Inoue (Jpn) Nippo-Endeka                                 6
14 Akira Kakinuma (Jpn) Team Bridgestone Anchor                   4
15 Timo Albiez (Ger) Stegcomputer - CKT - Cogeas                  3
16 Simon Clarke (Aus) Southaustralia.com-AIS                      3
17 Hidenori Nodera (Jpn) Skil-Shimano                             2
18 Yoshiyuki Abe (Jpn) Skil-Shimano                               2
 
Teams
 
1 SouthAustralia.com-AIS                                   60.55.24
2 Nippo-Endeka                                                 3.37
3 A-Style Somn                                                 5.44
4 Skil-Shimano                                                 5.56
5 Meitan Hompo-GDR                                             9.14
6 Mroz Action Uniqa                                           10.39
7 Aisan Racing Team                                           17.12
8 Trek-Marco Polo Cycling Team                                19.14
9 Seoul Cycling                                               32.25
10 Pearlizumi Sumita Ravanello                                50.55
11 Team JBCF                                                1.06.45
12 Team Bridgestone Anchor                                  1.10.47
13 Stegcomputer-CKT-Cogeas                                  1.15.42
14 Nalsima Frend                                            1.23.41
15 Matrix Powertag                                          2.04.17
16 Team Comrade Giant                                       2.06.31