12th Tour of Japan - 2.2
Japan, May 18-25, 2008
Main Page Results Overall standings Next Stage
Stage 1 - May 18: Senbokou circuit race, 140.8km
Dempster takes first international victory in Japan
By Miwako Sasaki
South Australia.com-AIS's Zakkari Dempster
Photo ©: Miwako Sasaki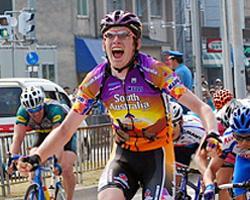 South Australia.com-AIS's Zakkari Dempster took his first international victory after taking the first stage of the 12th Tour of Japan. The 20 year old Australian took the bunch sprint ahead of Japan's Taiji Nishitani (Aisan Racing Team) and German Benjamin Stauder (Stegcomputer-CKT-Cogeas). "This is fantastic and I'm very happy!" Dempster said at the press conference following the stage. He also got the green leader jersey and the blue point jersey.
"I had a knee injury and couldn't ride last two months, which ruined the first part of my season. My plan was to come back to win a stage in the Tour of Japan, so to have done that straight away, I am really satisfied," Dempster explained.
A crash with 300 meters which included pre-race favourite Dutchman Leon Van Bon (Trek-Marco Polo Cycling Team) marred the finish. Van Bon was not seriously injured and will continue tomorrow. Mroz's Mariusz Witecki and Marek Rutkiewicz, two favourites for the general classification, were also involved in the incident. Rutkiewicz sustained some bad scrapes on his left hand and foot, but declared that he was "ok" after the race. All riders involved were awarded the same time as the stage winner.
How it unfolded
Ninety three riders started the biggest stage race in Japan under a clear blue sky. Japanese rider Ken Hashikawa (Matrix-Powertag) was unable to start. The action was hot from the beginning, with attacks as early as the first of 11 laps. With a peloton full of fresh legs, no one was able to make an attack stick and the peloton remained complete. At six laps to go, four Japanese riders attacked from the peloton and immediately got a two minute gap. Koji Fukushima and Kazuya Okazaki (both Meitan Hompo-GDR), Kazuyuki Manabe (Nippo-Endeka) and Takayuki Naganuma (Team Bridgestone Anchor) made up the break. The peloton were happy to let the break enjoy their time out front, but with two laps remaining they began a more serious chase.
The peloton eventually reeled in the breakaway, except for Okazaki, who defied the peloton, launching himself out of the break. As the main field began the final lap, he still held a slender lead, but his fate was inevitable. As expected the stage ended in a mass sprint.
Thanks to the hard work from his team-mates Dempster was first into the final corner and was able to accelerate away to grab his first international win.
Photography
For a thumbnail gallery of these images, click here
Images by Miwako Sasaki/Cyclingnews.com
Images by Hitoshi Omae/PhotoSport International UK, USA, ASIA
Results
1 Zakkari Dempster (Aus) Southaustralia.com-AIS        3.05.56
2 Taiji Nishitani (Jpn) Aisan Racing Team                     
3 Benjamin Stauder (Ger) Stegcomputer - CKT - Cogeas          
4 Takashi Miyazawa (Jpn) Meitan Hompo - GDR                   
5 Sung Baek Park (Kor) Seoul Cycling                          
6 Robert Rodosz (Pol) Mroz Action Uniqa                       
7 Aristide Ratti (Ita) A-Style Somn                           
8 Marcin Gebka (Pol) Mroz Action Uniqa                        
9 Masahiko Mifune (Jpn) Matrix Powertag                       
10 Masamichi Yamamoto (Jpn) Team Bridgestone Anchor           
11 Ikki Yoneyama (Jpn) Pearl Izumi Sumita Ravanello           
12 Wojciech Pawlak (Pol) Mroz Action Uniqa                    
13 Rogelio Carvalho (Jpn) Pearl Izumi Sumita Ravanello        
14 Takeaki Ayabe (Jpn) Aisan Racing Team                      
15 Devis Miorin (Ita) Nippo-Endeka                            
16 Shinri Suzuki (Jpn) Skil-Shimano                           
17 Makoto Iijima (Jpn) Team Bridgestone Anchor                
18 Ki Hong Yoo (Kor) Seoul Cycling                            
19 Miyataka Shimizu (Jpn) Meitan Hompo - GDR                  
20 Yukiya Arashiro (Jpn) Meitan Hompo - GDR                   
21 Won Jae Lee (Kor) Seoul Cycling                            
22 Timo Albiez (Ger) Stegcomputer - CKT - Cogeas              
23 Kenta Onoguchi (Jpn) Nalsima Frend                         
24 Alberto Di Lorenzo (Ita) A-Style Somn                      
25 Sano Junya (Jpn) Nippo-Endeka                              
26 Yoshimitsu Hiratsuka (Jpn) Pearl Izumi Sumita Ravanello    
27 Jai Crawford (Aus) Trek - Marco Polo Cycling Team          
28 Keita Iwashima (Jpn) Nalsima Frend                         
29 Takashi Nakayama (Jpn) Team JBCF                           
30 Tomoyuki Kaneda (Jpn) Team Comrade Giant                   
31 Masayuki Kimura (Jpn) Nalsima Frend                        
32 Kazuhiro Mori (Jpn) Aisan Racing Team                      
33 Yukihiro Doi (Jpn) Skil-Shimano                            
34 Marco Weilenmann (Swi) Stegcomputer - CKT - Cogeas         
35 Piotr Chmielewski (Pol) Mroz Action Uniqa                  
36 Sylvain Georges (Fra) A-Style Somn                         
37 Seok Kyu Suh (Kor) Seoul Cycling                           
38 Masafumi Nishitani (Jpn) Team JBCF                         
39 Kazuya Okazaki (Jpn) Meitan Hompo - GDR                    
40 Akira Kodan (Jpn) Pearl Izumi Sumita Ravanello             
41 Cameron Meyer (Aus) Southaustralia.com-AIS                 
42 Yoshiyuki Shimizu (Jpn) Nippo-Endeka                       
43 Mitsuhiro Matsumura (Jpn) Matrix Powertag                  
44 Masaki Hirabayashi (Jpn) Team Comrade Giant                
45 Yoshiyuki Abe (Jpn) Skil-Shimano                           
46 Masaru Fukuhara (Jpn) Team Bridgestone Anchor              
47 Gu Hyeon Kim (Kor) Seoul Cycling                           
48 Shinichi Fukushima (Jpn) Meitan Hompo - GDR                
49 Hiroshi Nara (Jpn) Team JBCF                               
50 Yasuhiro Nito (Jpn) Nalsima Frend                          
51 Tomoya Kano (Jpn) Skil-Shimano                             
52 Maxim Gourov (Kaz) A-Style Somn                            
53 Kazunari Asano (Jpn) Pearl Izumi Sumita Ravanello          
54 Keisuke Kamata (Jpn) Pearl Izumi Sumita Ravanello          
55 Yosuke Kojima (Jpn) Team JBCF                              
56 Kohei Tsusue (Jpn) Team JBCF                               
57 Shota Saito (Jpn) Team Comrade Giant                       
58 Kazuyuki Manabe (Jpn) Nippo-Endeka                         
59 Ikuo Hosoki (Jpn) Nalsima Frend                            
60 Hyo Suk Gong (Kor) Seoul Cycling                           
61 Dimitri Jiriakov (Lie) Stegcomputer - CKT - Cogeas         
62 Takayuki Naganuma (Jpn) Team Bridgestone Anchor            
63 Simon Clarke (Aus) Southaustralia.com-AIS                  
64 Wesley Sulzberger (Aus) Southaustralia.com-AIS             
65 Michael Haiser (Ger) Stegcomputer - CKT - Cogeas           
66 Akira Kakinuma (Jpn) Team Bridgestone Anchor               
67 Yoshimasa Hirose (Jpn) Skil-Shimano                        
68 Hidenori Nodera (Jpn) Skil-Shimano                         
69 Naoki Mukaigawa (Jpn) Matrix Powertag                      
70 Asa Eazu (Jpn) Team Comrade Giant                          
71 Daisuke Hioki (Jpn) Matrix Powertag                        
72 Makoto Nakamura (Jpn) Team Bridgestone Anchor              
73 Peter Andres (Swi) Stegcomputer - CKT - Cogeas             
74 William Ford (Aus) Southaustralia.com-AIS                  
75 Alexandre Aulas (Fra) A-Style Somn                         
76 Simone Bruson (Ita) A-Style Somn                           
77 Kaoru Obata (Jpn) Nalsima Frend                            
78 Mark Jamieson (Aus) Southaustralia.com-AIS                 
79 Koji Fukushima (Jpn) Meitan Hompo - GDR                    
80 Hideya Akiyama (Jpn) Aisan Racing Team                     
81 Tetsuya Fujioka (Jpn) Team JBCF                            
82 Rhys Pollock (Aus) Trek - Marco Polo Cycling Team          
83 Vicenzo Garofalo (Ita) Nippo-Endeka                        
84 Kenichi Suzuki (Jpn) Aisan Racing Team                     
85 Mariusz Witecki (Pol) Mroz Action Uniqa                    
86 Masafumi Yamane (Jpn) Team Comrade Giant                   
87 Tomoya Sano (Jpn) Matrix Powertag                      1.27
88 Genta Nakamura (Jpn) Trek - Marco Polo Cycling Team        
89 Kazuo Inoue (Jpn) Nippo-Endeka                             
90 Masahiro Shinagawa (Jpn) Aisan Racing Team                 
91 Marek Rutkiewicz (Pol) Mroz Action Uniqa                   
92 Leon Van Bon (Ned) Trek - Marco Polo Cycling Team          
93 Yoshiaki Sudou (Jpn) Team Comrade Giant               11.27
DNS Ken Hashikawa (Jpn) Matrix Powertag                       
 
Points
 
1 Zakkari Dempster (Aus) Southaustralia.com-AIS             15 pts
2 Taiji Nishitani (Jpn) Aisan Racing Team                   12
3 Benjamin Stauder (Ger) Stegcomputer - CKT - Cogeas         1
4 Kazuya Okazaki (Jpn) Meitan Hompo - GDR                    8
5 Kazuyuki Manabe (Jpn) Nippo-Endeka                         8
6 Takashi Miyazawa (Jpn) Meitan Hompo - GDR                  8
7 Sung Baek Park (Kor) Seoul Cycling                         6
8 Miyataka Shimizu (Jpn) Meitan Hompo - GDR                  5
9 Robert Rodosz (Pol) Mroz Action Uniqa                      5
10 Koji Fukushima (Jpn) Meitan Hompo - GDR                   4
11 Aristide Ratti (Ita) A-Style Somn                         4
12 Kazuo Inoue (Jpn) Nippo-Endeka                            3
13 Marcin Gebka (Pol) Mroz Action Uniqa                      3
14 Shinichi Fukushima (Jpn) Meitan Hompo - GDR               2
15 Masahiko Mifune (Jpn) Matrix Powertag                     2
16 Masamichi Yamamoto (Jpn) Team Bridgestone Anchor          1
 
Teams
 
1 Mroz Action Uniqa                                    9.17.48
2 Meitan Hompo-GDR                                            
3 Seoul Cycling                                               
4 Aisan Racing Team                                           
5 Pearl Izumi Sumita Ravanello                                
6 Stegcomputer-Ckt-Cogeas                                     
7 A-Style Somn                                                
8 Team Bridgestone Anchor                                     
9 Nippo-Endeka                                                
10 Nalsima Frend                                              
11 Skil-Shimano                                               
12 South Australia.com-AIS                                    
13 Team JBCF                                                  
14 Matrix Powertag                                            
15 Team Comrade Giant                                         
16 Trek-Marco Polo Cycling Team                               
 
General classification after stage 1
 
1 Zakkari Dempster (Aus) Southaustralia.com-AIS        3.05.46
2 Taiji Nishitani (Jpn) Aisan Racing Team                 0.04
3 Kazuya Okazaki (Jpn) Meitan Hompo - GDR                 0.05
4 Kazuyuki Manabe (Jpn) Nippo-Endeka                          
5 Benjamin Stauder (Ger) Stegcomputer - CKT - Cogeas      0.06
6 Miyataka Shimizu (Jpn) Meitan Hompo - GDR               0.07
7 Koji Fukushima (Jpn) Meitan Hompo - GDR                 0.08
8 Kazuo Inoue (Jpn) Nippo-Endeka                              
9 Shinichi Fukushima (Jpn) Meitan Hompo - GDR             0.09
10 Takashi Miyazawa (Jpn) Meitan Hompo - GDR              0.10
11 Sung Baek Park (Kor) Seoul Cycling                         
12 Robert Rodosz (Pol) Mroz Action Uniqa                      
13 Aristide Ratti (Ita) A-Style Somn                          
14 Marcin Gebka (Pol) Mroz Action Uniqa                       
15 Masahiko Mifune (Jpn) Matrix Powertag                      
16 Masamichi Yamamoto (Jpn) Team Bridgestone Anchor           
17 Ikki Yoneyama (Jpn) Pearl Izumi Sumita Ravanello           
18 Wojciech Pawlak (Pol) Mroz Action Uniqa                    
19 Rogelio Carvalho (Jpn) Pearl Izumi Sumita Ravanello        
20 Takeaki Ayabe (Jpn) Aisan Racing Team                      
21 Devis Miorin (Ita) Nippo-Endeka                            
22 Shinri Suzuki (Jpn) Skil-Shimano                           
23 Makoto Iijima (Jpn) Team Bridgestone Anchor                
24 Ki Hong Yoo (Kor) Seoul Cycling                            
25 Yukiya Arashiro (Jpn) Meitan Hompo - GDR                   
26 Won Jae Lee (Kor) Seoul Cycling                            
27 Timo Albiez (Ger) Stegcomputer - CKT - Cogeas              
28 Kenta Onoguchi (Jpn) Nalsima Frend                         
29 Alberto Di Lorenzo (Ita) A-Style Somn                      
30 Sano Junya (Jpn) Nippo-Endeka                              
31 Yoshimitsu Hiratsuka (Jpn) Pearl Izumi Sumita Ravanello    
32 Jai Crawford (Aus) Trek - Marco Polo Cycling Team          
33 Keita Iwashima (Jpn) Nalsima Frend                         
34 Takashi Nakayama (Jpn) Team JBCF                           
35 Tomoyuki Kaneda (Jpn) Team Comrade Giant                   
36 Masayuki Kimura (Jpn) Nalsima Frend                        
37 Kazuhiro Mori (Jpn) Aisan Racing Team                      
38 Yukihiro Doi (Jpn) Skil-Shimano                            
39 Marco Weilenmann (Swi) Stegcomputer - CKT - Cogeas         
40 Piotr Chmielewski (Pol) Mroz Action Uniqa                  
41 Sylvain Georges (Fra) A-Style Somn                         
42 Seok Kyu Suh (Kor) Seoul Cycling                           
43 Masafumi Nishitani (Jpn) Team JBCF                         
44 Akira Kodan (Jpn) Pearl Izumi Sumita Ravanello             
45 Cameron Meyer (Aus) Southaustralia.com-AIS                 
46 Yoshiyuki Shimizu (Jpn) Nippo-Endeka                       
47 Mitsuhiro Matsumura (Jpn) Matrix Powertag                  
48 Masaki Hirabayashi (Jpn) Team Comrade Giant                
49 Yoshiyuki Abe (Jpn) Skil-Shimano                           
50 Masaru Fukuhara (Jpn) Team Bridgestone Anchor              
51 Gu Hyeon Kim (Kor) Seoul Cycling                           
52 Hiroshi Nara (Jpn) Team JBCF                               
53 Yasuhiro Nito (Jpn) Nalsima Frend                          
54 Tomoya Kano (Jpn) Skil-Shimano                             
55 Maxim Gourov (Kaz) A-Style Somn                            
56 Kazunari Asano (Jpn) Pearl Izumi Sumita Ravanello          
57 Keisuke Kamata (Jpn) Pearl Izumi Sumita Ravanello          
58 Yosuke Kojima (Jpn) Team JBCF                              
59 Kohei Tsusue (Jpn) Team JBCF                               
60 Shota Saito (Jpn) Team Comrade Giant                       
61 Ikuo Hosoki (Jpn) Nalsima Frend                            
62 Hyo Suk Gong (Kor) Seoul Cycling                           
63 Dimitri Jiriakov (Lie) Stegcomputer - CKT - Cogeas         
64 Takayuki Naganuma (Jpn) Team Bridgestone Anchor            
65 Simon Clarke (Aus) Southaustralia.com-AIS                  
66 Wesley Sulzberger (Aus) Southaustralia.com-AIS             
67 Michael Haiser (Ger) Stegcomputer - CKT - Cogeas           
68 Akira Kakinuma (Jpn) Team Bridgestone Anchor               
69 Yoshimasa Hirose (Jpn) Skil-Shimano                        
70 Hidenori Nodera (Jpn) Skil-Shimano                         
71 Naoki Mukaigawa (Jpn) Matrix Powertag                      
72 Asa Eazu (Jpn) Team Comrade Giant                          
73 Daisuke Hioki (Jpn) Matrix Powertag                        
74 Makoto Nakamura (Jpn) Team Bridgestone Anchor              
75 Peter Andres (Swi) Stegcomputer - CKT - Cogeas             
76 William Ford (Aus) Southaustralia.com-AIS                  
77 Alexandre Aulas (Fra) A-Style Somn                         
78 Simone Bruson (Ita) A-Style Somn                           
79 Kaoru Obata (Jpn) Nalsima Frend                            
80 Mark Jamieson (Aus) Southaustralia.com-AIS                 
81 Hideya Akiyama (Jpn) Aisan Racing Team                     
82 Tetsuya Fujioka (Jpn) Team JBCF                            
83 Rhys Pollock (Aus) Trek - Marco Polo Cycling Team          
84 Vicenzo Garofalo (Ita) Nippo-Endeka                        
85 Kenichi Suzuki (Jpn) Aisan Racing Team                     
86 Mariusz Witecki (Pol) Mroz Action Uniqa                    
87 Masafumi Yamane (Jpn) Team Comrade Giant                   
88 Genta Nakamura (Jpn) Trek - Marco Polo Cycling Team        
89 Masahiro Shinagawa (Jpn) Aisan Racing Team                 
90 Marek Rutkiewicz (Pol) Mroz Action Uniqa                   
91 Leon Van Bon (Ned) Trek - Marco Polo Cycling Team          
92 Tomoya Sano (Jpn) Matrix Powertag                      1.37
93 Yoshiaki Sudou (Jpn) Team Comrade Giant               11.37
 
Points
 
1 Zakkari Dempster (Aus) Southaustralia.com-AIS             15 pts
2 Taiji Nishitani (Jpn) Aisan Racing Team                   12
3 Benjamin Stauder (Ger) Stegcomputer - CKT - Cogeas         1
4 Kazuya Okazaki (Jpn) Meitan Hompo - GDR                    8
5 Kazuyuki Manabe (Jpn) Nippo-Endeka                         8
6 Takashi Miyazawa (Jpn) Meitan Hompo - GDR                  8
7 Sung Baek Park (Kor) Seoul Cycling                         6
8 Miyataka Shimizu (Jpn) Meitan Hompo - GDR                  5
9 Robert Rodosz (Pol) Mroz Action Uniqa                      5
10 Koji Fukushima (Jpn) Meitan Hompo - GDR                   4
11 Aristide Ratti (Ita) A-Style Somn                         4
12 Kazuo Inoue (Jpn) Nippo-Endeka                            3
13 Marcin Gebka (Pol) Mroz Action Uniqa                      3
14 Shinichi Fukushima (Jpn) Meitan Hompo - GDR               2
15 Masahiko Mifune (Jpn) Matrix Powertag                     2
16 Masamichi Yamamoto (Jpn) Team Bridgestone Anchor          1
 
Teams
 
1 Mroz Action Uniqa                                    9.17.48
2 Meitan Hompo-GDR                                            
3 Seoul Cycling                                               
4 Aisan Racing Team                                           
5 Pearl Izumi Sumita Ravanello                                
6 Stegcomputer-Ckt-Cogeas                                     
7 A-Style Somn                                                
8 Team Bridgestone Anchor                                     
9 Nippo-Endeka                                                
10 Nalsima Frend                                              
11 Skil-Shimano                                               
12 South Australia.com-AIS                                    
13 Team JBCF                                                  
14 Matrix Powertag                                            
15 Team Comrade Giant                                         
16 Trek-Marco Polo Cycling Team