Tour of Arkansas - NE
USA, May 15-18, 2008
Main Page Results Overall standings Next Stage
Stage 1 - May 15: EPIC Road Race,
Chadwick wins Arkansas' epic opener
By Kirsten Robbins in Hector, Arkansas
Podium (L-R): Moises Aldape (Team Type 1), Glen Chadwick (Team Type-1)
Photo ©: Team Type 1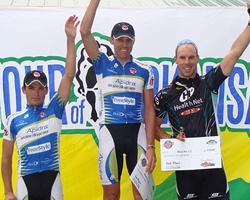 Glen Chadwick claimed victory on the Tour of Arkansas' opening stage after his Team Type 1 continuously attacked the reduced peloton over the closing kilometre. Chadwick claimed the victory and a five second general classification lead over HealthNet-Maxxis' Karl Menzies while Team Type 1 team-mate Moises Aldape was a further five seconds adrift.
"I didn't realize the final kilometre was coming up to us that fast and there was a bit up hill so I had a lot of momentum after it," said Chadwick. "I took a chance and my legs felt good. I hung on to my small gap until the finish but I could really feel Karl Menzies coming up on me from behind.
"I think I had just enough," he added. "I didn't even want to throw my hands in the air because I've seen guys lose a bike race doing that too soon."
Runner-up Menzies suffered from his team's roster, with the outfit forced to split its riders between Arkansas and the Mount Hood stage race in Oregon. The conflicting races have left Menzies and Frank Pipp to fend for themselves.
"I can't say too much about the sprint because I've only got a team-mate here, so we are limited with a lead out," said Menzies. "We really just played off of other teams and Jelly Belly did a great job controlling the race.
"When Chadwick attacked, I couldn't go too early because I knew I had his team-mate Aldape on my wheel," he added. "I went but I just couldn't catch him."
A Team Type 1 rider breaks away with
Photo ©: Team Type 1

Some 140 professional men embarked on the 'Epic' road stage, winding their way across 176 kilometres of road with over 10,592 feet of climbing through the scenic Ozark Mountains. Team Type 1 raced to benefit from its dominant numbers, with each attack causing multiple riders to fall off pace behind, until the main field contained a mere 30 riders.
"We tried to set a good tempo over the main climb of the day, enough to keep most of us still in the mix for the finish so that we could use our opportunities," said Chadwick, who had six team-mates also in the front group. "Breaks were going up the road all day and we always had rider in it.
"A good group of 10 of us got away over the first climb but I think because there were four of my team-mates in it, the other riders wouldn't work," he added. "Eventually that came back and [Valeriy] Kobzarenko attacked."
Kobzarenko, a former Olympian, took advantage of his noticeably tired opponents after the string of attacks began to settle down. The 31 year-old from the Ukraine set a decisive mid-race move, sailing across the terrains plateau with over 60 kilometres remaining. Dan Timmerman (Team Race) and Eric Boily (Team Volkswagen) joined Kobzarenko and the trio gained an instant two-minute lead.
With no representation from the Jelly Belly, the squad was forced burn up its five riders in a successfully organized chase, catching the breakaway with one kilometre to go.
"I followed Kobzarenko and it looked like a good break but I think Jelly Belly was holding us at about 90 seconds for a while," said Timmerman. "The race was hard because it was constantly up and down. We were all working really hard.
"We just wanted to make it to the line and we knew we didn't have enough of a gap to screw around," he added. "The group caught is with one kilometre to the line."
Photography
For a thumbnail gallery of these images, click here
Images by Team Type 1
Results

1 Glen Chadwick (Team Type-1)                       4.42.13
2 Karl Menzies (HealthNet/Maxxis)                      0.05
3 Moises Aldape (Team Type 1)                          0.10
4 Dustin Macburnie (Team RACE Pro)                     0.15
5 Clayton Barrows (Rite Aid pb Shebell & Shebell)          
6 Mark Walters (Team RACE Pro)                             
7 Predrag Prokic (TOSHIBA-Santo Presented By Her)          
8 Fabio Calabria (Team Type 1)                             
9 Christian Helmig (Metro Volkswagen/FCS Cycling)          
10 NICK Reistad (Jelly Belly Pro Cycling Team)             
11 Jake Rytlewski (Rite Aid pb Shebell & Shebell)          
12 Stefano Barberi (THF Racing)                            
13 Stefan Rothe (Mercy Elite Cycling Team)                 
14 Ian Macgregor (Team Type 1)                             
15 John Fredy Parra (TOSHIBA-Santo Presented By Her)       
16 Chris Jones (Team Type 1)                               
17 Aaron Tuckerman (Jelly Belly Pro Cycling Team)          
18 Michael Lange (Jelly Belly Pro Cycling Team)            
19 Frank Pipp (HealthNet/Maxxis)                           
20 Andrew Talansky (TOSHIBA-Santo Presented By Her)        
21 John Minutrn (CRCA / EMPIRE CYCLING TEAM)               
22 Alex Welch (Mercy Elite Cycling Team)                   
23 Valeriy Kobzarenko (Team Type 1)                        
24 William Gault (CTCA/Tulsa Wheelmen)                     
25 Dan R. Timmerman (Team RACE Pro)                        
26 Eric Boily (Team Volkswagen)                            
27 Jonathan Baker (Vitamin Cottage)                    0.27
28 Jeremy Powers (Jelly Belly Pro Cycling Team)        0.36
29 Robbie King (Rite Aid pb Shebell & Shebell)         0.38
30 Daniel Vaillancourt (TOSHIBA-Santo Presented By Her)    
31 Frank Travieso (TOSHIBA-Santo Presented By Her)     1.18
32 Bernard Vanulden (Jelly Belly Pro Cycling Team)     2.06
33 Scott Tietzel (Jelly Belly Pro Cycling Team)        2.57
34 Noah Singer (Kahala/LaGrange)                      10.05
35 Janne Hamalainen (CTCA/Tulsa Wheelmen)                  
36 John Mcallister (Velossimo Racing benefiting Su)        
37 Adam Mills (HRRC/Trek Stores)                           
38 david Schulhofer (Team Waste Management)                
39 Kolt Bates (Mercy Development)                          
40 Andrew Dalhiem (TxTough/Team Hotel San Jose)            
41 Mike Sherer (Alderfer Bergen)                           
42 Paul Koehn (Marx & Bensdorf Realtors/TriSt)             
43 John Durango (TOSHIBA-Santo Presented By Her)           
44 Karl Kupecz (Velossimo Racing benefiting Su)            
45 Nick Friesen (GS Mengoni)                               
46 Ryan Knapp (Alderfer Bergen)                            
47 Buck (Kevin) Miller (Team RACE Pro)                     
48 Richard Geng (Rite Aid pb Shebell & Shebell)            
49 Jean Michel Lachance (Team Volkswagen)                  
50 Yosvany Falcon (TOSHIBA-Santo Presented By Her)         
51 Matthew Winstead (Juris MorePartnerIncome)              
52 Mat Stephens (Mercy Elite Cycling Team)                 
53 Fran├žois Chabot (Team Volkswagen)                      
54 Matthew Johnson (CRCA / EMPIRE CYCLING TEAM)            
55 Adam Ray (Industry Nine)                                
56 Alexandre Cloutier (Team Volkswagen)                    
57 Terrence Keenan (THF Racing)                            
58 Mark Batty (Team RACE Pro)                              
59 David Sojo Diego (Mercy Elite Cycling Team)             
60 Timothy Hargrave (Team Type 1)                          
61 John Loehner (CRCA / EMPIRE CYCLING TEAM)               
62 David Rendon (Colavita NM p/b JNF Enterprise)           
63 Michael Mathis (CRCA / EMPIRE CYCLING TEAM)             
64 Jared Gilyard (Colavita NM p/b JNF Enterprise)          
65 Adam Thuss (Team RACE Pro)                              
66 Stephen Brandt (Velossimo Racing benefitting S)         
67 Keir Plaice (Team RACE Pro)                             
68 Arnaud Papillon (Team Volkswagen)                       
69 mario Arroyave (Velossimo Racing benefiting Su)         
70 Sheldon Deeny (CRCA / EMPIRE CYCLING TEAM)              
71 Adam Gaubert (Velossimo Racing benefiting Su)           
72 Loren Dodson (Velossimo Racing benefiting Su)           
73 Andrew Hunt (Team RACE Pro)                             
74 Eric Robertson (Team RACE Pro)                          
75 Mark Pozniak (Team RACE Pro)                            
76 Ty Stanfield (Myogenesis.com)                           
77 George Opria (Evolution Cycling)                        
78 Emiliano Jordan (Colavita NM p/b JNF Enterprise)        
79 Brad Huff (Jelly Belly Pro Cycling Team)                
80 Bruno Langlois (Team Volkswagen)                        
81 Jonathan Jacob (Mob Squad/ Ubuildit)               10.19
82 Eugene Boronow (GS Mengoni)                        34.03
83 Peter Carey (Metro Volkswagen/FCS Cycling)              
84 Christian Deshaies (Team Volkswagen)                    
85 Lance Hughey (Accelerade Cycling Team)                  
86 Courtney Guck (Rocky Mountain Bikes/STOK)          42.34
87 Eric Brownell (CRCA / EMPIRE CYCLING TEAM)              
88 Nathaniel Thompson (Rocky Mountain Bikes/STOK)          
89 William Snodgrass (Metro Volkswagen/FCS Cycling)        
90 corey Ray (Metro Volkswagen/FCS Cycling)                
91 Michael Talley (Boston Mountain Cyclist)                
92 Ryan Heydenrych (Marx & Bensdorf Realtors/TriSt)        
93 Brooks Branham (Mercy Development)                      
94 jay Blankenship (CTCA/Tulsa Wheelmen)                   
95 justin Jackson (Mercy Development)                 42.50
96 Bill Marshall (Mercy Elite Cycling Team)                
97 Scott Barnes (Mercy Development)                        
DNS Nic Sanderson (Jelly Belly Pro Cycling Team)           
DNS Matt Wilson (Team Type-1)                              
DNS Dewey Dickey (Mercy-Specialized)                       
DNS John Coppin                                            
DNS Alex Hagman (TOSHIBA-Santo Presented By Her)           
DNS Guido Palma (Rite Aid pb Shebell & Shebell)            
DNS Chad Cagle (Mercy Elite Cycling Team)                  
DNS Mat Ankney (Mercy Elite Cycling Team)                  
DNS Zach Martin (Mercy Development)                        
DNS Joao Correia (Bissell Pro Cycling Team)                
DNS Isaac Neff (Alderfer Bergen)                           
DNS Thomas Erlacker (Michelob Ultra-Big Shark)             
DNS Bryan Fawley (TxTough/Team Hotel San Jose)             
DNS Stanley Prutz (Royal Purple Tiger Cycling Fou)         
DNS David Andrew Quist (Team Clif Bar)                     
DNS Nathan Rogut (Metro Volkswagen/FCS Cycling)            
DNS Tim Doud (Team Waste Management)                       
DNS Alex Boyd (Team Waste Management)                      
DNS Ron Jensen (Team Waste Management)                     
DNS Sean Mazich (Team Waste Management)                    
DNS Jon Parrish (Team Waste Management)                    
DNS Keil Reijnen (Team Waste Management)                   
DNF Erik Tomlinson (Mercy-Specialized)                     
DNF Ronnie Strange (Team Tilson Homes / RPM Sports)        
DNF Miles Watson (Rite Aid pb Shebell & Shebell)           
DNF Peter Fairbanks (Cumberland University)                
DNF Jonathan Chodroff (CRCA / EMPIRE CYCLING TEAM)         
DNF Daniel Zmolik (CRCA / EMPIRE CYCLING TEAM)             
DNF Andrew Hill (TxTough/Team Hotel San Jose)              
DNF Tyler Jewell (TxTough/Team Hotel San Jose)             
DNF Tristan Uhl (TxTough/Team Hotel San Jose)              
DNF Carlos Vargas (TxTough/Team Hotel San Jose)