32nd Trofeo ZSSDI - 1.2
Italy, March 2, 2008
2007 Results Results Past winners
Zalf takes the win for the third consecutive year
Manuele Boaro (Zalf Desiree Fior)
Photo ©: Paolo Sant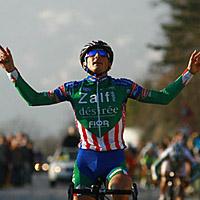 Manuele Boaro (Zalf Desiree Fior) won the 32nd edition of the Union of Slovenian Sport Association in Italy Trophy. The Italian Zalf team won for the third time in a row and for their seventh time in the the international cycling race of Lonjer. Boara soloed to victory 20 metres ahead of the Croatian racer Matija Kvasina (Perutnina Ptuj) and Italian Gianluca Brambilla (Zalf Desiree).
Excellent weather conditions with sun and spring-like temperatures made for a smooth start in Barkovlje and brought out many fans along the course. The race began with a high tempo right from the start. On the Costiera provincial road, Gašper Švab (KK Sava) gained a small advantage, but he was soon caught by the rest of the group. Near Tržič there was another unsuccessful effort by Tomislav Dančulović (Liborio), Alexander Serebryakov (Gruppo Lupe) and Krista Koran (Perutnina Ptuj).
Hungarian racer Zoltan Madras (P-Novo Betoexpressz) had a go at the end of the first lap, and the aggressive racing put the average speeds up to 45 km/h. At Jamlje (42 km) Tyron Giorgieri (Gruppo Lupi) tried to his luck off the front, but he was caught near Štivan. In Nabrežina the group split and in Opčine around 30 racers gained a 60-seconds advantage. Through the first sprint in Lonjer, Federico Bantering (Zale Desiree Fiord) came in ahead of Krista Fat and Krista Koran (Perutnina Ptuj). Until the end of the race the most active racers were those of the Zale Desiree Fior and Adria Mobil team. Five hundred meters before the arrival Boaro increased his speed and maintained a 20-metres advantage. The second place sprint was won by the Croatian cyclist Kvasina.
Photography
For a thumbnail gallery of these images, click here
Images by Scanferla Riccardo/www.ciclismoweb.net
Images by Paolo Sant
Results - 134 km

1 Manuele Boaro (Ita) Zalf Desiree Fior                              3.25.00
2 Matija Kvasina (Cro) Perutnina Ptuj                                   0.05
3 Gianluca Brambilla (Ita) Zalf Desiree Fior
4 Jaroslaw Dabrowski (Pol) MG Kvis-Norda Pacific
5 Peter Kusztor (Hun) P-NÝvˇ Betonexpressz 2000 Corratec
6 Robert Kiserlovski (Cro) Adria Mobil                                  0.07
7 Cristiano Colombo (Ita) U.C. Palazzago Sacla' Maiet Colnago
8 Daniel Oss (Ita) Zalf Desiree Fior
9 Robert Vrecer (Slo) Radenska KD Financial Point
10 Adrian Honkisz (Hun) MG Kvis-Norda Pacific
11 Kristjan Koren (Slo) Perutnina Ptuj
12 Kristjan Fajt (Slo) Perutnina Ptuj                                   0.18
13 Jure Zrimsek (Slo) Adria Mobil                                       0.21
14 Artur Tarasau (Blr) U.C. Palazzago Sacla' Maiet Colnago              0.28
15 Federico Bontorin (Ita) Zalf Desiree Fior
16 Vlado Kerkez (Slo) Sava                                              0.36
17 Sacha Modolo (Ita) Zalf Desiree Fior                                 0.47
18 Wojciech Dybel (Pol) MG Kvis-Norda Pacific                           1.40
19 Akos Haiszer (Hun) P-NÝvˇ Betonexpressz 2000 Corratec
20 Matej Gnezda (Slo) Radenska KD Financial Point                       1.42
21 Hrvoje Miholjevic (Cro) BK Loborika
22 Matej Stare (Slo) Perutnina Ptuj
23 Damian Walczak (Pol) MG Kvis-Norda Pacific
24 Radoslav Rogina (Cro) Perutnina Ptuj
25 Alessandro De Marchi (Ita) Team Brisot Cardin Bibanese
26 Blaz Jarc (Slo) Adria Mobil
27 Werner Faltheiner (Aut) Sava
28 Roman Maximov (Rus) Cycling Team Friuli
29 Bostjan Rezman (Slo) Radenska KD Financial Point
30 Diego Carnielutti (Ita) U.C. Basso Piave Eraclia Pavimenti
31 Nicola Boen (Ita) U.C. Basso Piave Eraclia Pavimenti
32 Grega Bole (Slo) Adria Mobil
33 Maciej Paterski (Pol) U.C. Basso Piave Eraclia Pavimenti
34 Gregor Gazvoda (Slo) Perutnina Ptuj
35 Marko Hlebanja (Slo) Sava
36 David Tratnik (Slo) Radenska KD Financial Point
37 Emanuel Kiserlovski  BK Loborika
38 Radoslaw Kwiatkowski (Pol) MG Kvis-Norda Pacific
39 Piotr Osinski (Pol) MG Kvis-Norda Pacific
40 Antonio Santoro (Ita) Marchiol Emisfero Liquigas
41 Alessandro Mazzi (Ita) U.C. Palazzago Sacla' Maiet Colnago
42 Alexander Filippov (Rus) ACS Gruppo Lupi
43 Marco Manenti (Ita) U.C. Palazzago Sacla' Maiet Colnago
44 Valentino Borghesi (Ita) Moro Scott Bicycle Line
45 Matic Strgar (Slo) Radenska KD Financial Point
46 Oleg Berdos (Mda) Team Brisot Cardin Bibanese
47 Mitja Mahoric (Slo) Perutnina Ptuj
48 Vincenzo Ianiello (Ita) San Marco Concrete Caneva
49 Alberto Buoro (Ita) Marchiol Emisfero Liquigas
50 Dejan Bajt (Slo) Sava
51 Stefan Kirchmair (Aut) Tyrol - Team Radland Tirol
52 Massimo Demarin (Cro) Sava
53 Gianmario Pedrazzini (Ita) San Marco Concrete Caneva
54 Andrey Klyuev (Rus) San Marco Concrete Caneva
55 Giorgio Nicolosi (Ita) U.C. Palazzago Sacla' Maiet Colnago
56 Matthias Krizek (Aut) Tyrol - Team Radland Tirol
57 Andi Bajc (Slo) Radenska KD Financial Point
58 Federico Masiero (Ita) Zalf Desiree Fior
59 Stefano Pirazzi (Ita) Zalf Desiree Fior
60 Matteo Collodel (Ita) Zalf Desiree Fior
61 Maurizio Ianiello (Ita) San Marco Concrete Caneva
62 Emanuele Fornasier (Ita) Moro Scott Bicycle Line
63 Martin Kostelnicak (Svk) Slovakian National Team
64 Albino Corazzin (Ita) Marchiol Emisfero Liquigas
65 Davis Ulliana (Ita) Team Brisot Cardin Bibanese
66 Gasper Svab (Slo) Sava
67 Martin Skopek(Svk) Slovakian National Team
68 Matej Marin (Slo) Perutnina Ptuj
69 Corrado Miceli (Ita) U.C. Palazzago Sacla' Maiet Colnago
70 Aldo Ino Ilesic (Slo) Sava
71 Daniel Federspiel (Aut) Tyrol - Team Radland Tirol
72 Joze Senekovic (Slo) Adria Mobil
73 Blaz Furdi (Slo) Sava
74 Felix Gniot(Ger) German National Selection Saxony
75 Nebojsa Jovanovic (Srb) Serbian National Team
76 Marco Segat (Ita) Cycling Team Friuli
77 Goran Smelcerovic(Srb) Serbian National Team
78 Istvan Cziraki (Hun) P-NÝvˇ Betonexpressz 2000 Corratec
79 Martin Mahdar (Svk) Slovakian National Team
80 Benjamin Cujnik (Slo) Adria Mobil
81 Zdenek Faber(Svk) Slovakian National Team
82 Zoltan Mecseri (Hun) P-NÝvˇ Betonexpressz 2000 Corratec
83 Zoltan Madaras (Hun) P-NÝvˇ Betonexpressz 2000 Corratec
84 Rida Cador (Hun) P-NÝvˇ Betonexpressz 2000 Corratec
85 Jiri Sibl (Cze) Cube Team Euroregion Nisa
86 Jakub Ehrenberger (Cze) Cube Team Euroregion Nisa
87 Jan Faltynek (Cze) Cube Team Euroregion Nisa
88 Luka Grubic (Cro) Bk Puris - Kamen Pazin
89 Andreas Ciensky(Ger) German National Selection Saxony
90 Sergio Martin (Ita) Marchiol Emisfero Liquigas
91 Gabor Kasa(Srb) Serbian National Team
92 Dragan Spasic(Srb) Serbian National Team
93 Darko Blazevic (Cro) BK Loborika
94 Federico Bonifetto (Ita) Cycling Team Friuli

Past winners
2007 Simone Ponzi (Ita) GS Zalf DesirŔe Fior
2006 Marco Bandiera (Ita) Zalf Desiree
2005 Maurizio Biondo (Ita) GS Promosport
2004 Elia Rigotto (Ita) Team Parolin VC Bassano
2003 Alessandro Ballan (Ita) Team Faresin-Modal
2002 Daniele Pietropolli (Ita)
2001 No race
2000 Pavel Zerzan (Ita)
1999 Maurizio Bachini (Ita)
1998 Flavio Zandarin (Ita)
1997 Simone Simonetti (Ita)
1996 Giuliano Figueras (Ita)
1995 Luca Prada (Ita)
1994 Sergio Previtali (Ita)
1993 Biagio Conte (Ita)
1992 Fabio Casartelli (Ita)
1991 Biagio Conte (Ita)
1990 Flavio Baldato (Ita)
1989 Fabio Baldato (Ita)
1988 Flavio Milan (Ita)
1987 Fausto Boreggio (Ita)
1986 Maurizio Fondriest (Ita)
1985 Federico Ghiotto (Ita)
1984 Gabriele Ragusa (Ita)
1983 Bruno Bulic (Ita)
1982 Mauro Longo (Ita)
1981 Mauro Longo (Ita)
1980 Francesco Caneva (Ita)
1979 Ivica Colig (Ita)
1978 Pierluigi Sala (Ita)
1977 Atos Santarossa (Ita)