Grand Prix of Wales - 1.2
Great Britain, June 22, 2008
Downing at the double in Welsh weekend of racing
By Gerry McManus
Russell Downing (Pinarello RT)
Photo ©: Gerry McManus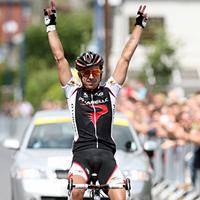 Russell Downing (Pinarello RT) won his second race of the Abergavenny cycling festival week, taking a convincing victory in the Abergavenny International Grand Prix. Downing had already won the UCI ranked Criterium on Friday night and has now won four UCI ranked events in 2008, despite his injury setbacks.
"I didn't feel very good yesterday," said Downing. "The criterium on Friday was quick with a lot of twisting and turning for 90 minutes and it was a late night. I had a ride out on the Tumble yesterday and I didn't feel brilliant. Thankfully I felt good in the race today and especially on the finishing circuit.
"I was a bit upset a few weeks ago when I broke a bone in my hand and I wondered what it was going to do to me so I have stayed focused and tried to train and rest it at the same time," he added.. "I have probably trained more than I have rested but it is feeling good now. Friday was the first time I have raced without the brace."
Downing attacked the leading group on the steep climb around the back of the finishing circuit and stayed clear to win by 58 seconds over Peter Kennaugh (100% ME). Downing had a further 10 seconds over Martin Ford (SE Regional Team), who piped Matt Stephens (Sigma Sport RT) in a two up sprint for the line.
"It is great to win on your own," said Downing. "Anything can happen on a fast downhill sprint and I was aware that Peter Kennaugh was coming up to us. I didn't want him reinforcing Swift's chances as they are in the academy (British Cycling) together. So I 'big ringed' it on the last bit of the climb and got the gap."
Former national road race champion Downing will now be a marked man in next week's title race in Yorkshire.
How it unfolded
Tom Southam leads group
Photo ©: Gerry McManus

The weather forecasters had sent out a weather warning to North Wales and whilst Abergavenny had escaped the rain, it didn't miss out on the strong, blustery wind with speeds up to 50mph. The peloton got a taste of the chill cross-wind as they headed out towards Monmouth from Abergavanny but it didn't stop Andrew Roche (Pinarello RT), Alex Dowsett (100% ME) and one of the Italian riders attempting to break clear on the flat roads out of town, who were quickly brought back.
The next key break went after the race reached Usk, with a group of about 19 going clear. The group whittled back to 11 riders including Downing, Malcolm Elliott (Pinarello RT), Kieran Page (Pezula), Matt Stephens (Sigma Sport RT) and Rob Hayles (Halfords-Bike Hut). Their lead went out to 1'24" before they were joined by a large chase group on the run up to the climb of Iron Mountain.
The ascent known locally as the Tumble was a gruesome three mile Alpine-style climb that was made even tougher with a very strong head wind on the top sections. Italian Davide Torosantucci (Katay Cycle Team) showed his climbing talents about one kilometre from the top and broke free from the front group being led up by Tom Southam (Halfords-Bike Hut). There were a number riders surprisingly suffering on the climb, notably Dean Downing (Rapha Condor Recycling.co.uk) and Hayles.
The first break of the day.
Photo ©: Gerry McManus

The new visitors to Wales were surprised to find that the hardest section of the race was actually after they passed the prime point and turned right towards Brynmawr where the race broke up.
As the riders returned to Abergavenny where they started the tough eight kilometre finishing circuit, it was Torosantucci who again made an attack. He built a good lead and looked a likely winner as his lead stretched out to 40 seconds, a margin he held for five of the eight scheduled laps. The chase quartet contained Hayles, Stephens, Evan Oliphant (Plowman Craven RT) and Elliott with the field behind split into many groups.
Martin Ford (South Regional)
Photo ©: Gerry McManus

Torosantucci's fate was sealed after the chase group grew numerically first as Ben Swift (Great Britain) made it across on his own and then a group including Southam, Ford, Marcin Bialoblocki (Sports Beans - Wilier), Simon Richardson (Plowman Craven RT) and Liam Holohan (Pearl Azumi-Planet X- High 5).
With Torosantucci safely reeled it was Ford who decided to make his move with three laps to go. He attacked the group on the steep climb on the back of the circuit. His effort split the group with Swift and Oliphant giving their best to hold his wheel. Oliphant fell back and Ford found that he had Stephens, Downing and Swift along for company.
Kennaugh made it across to the leaders just as Downing found wings again and attacked at the climb on the penultimate lap. Swift was dropped and Downing simply time trialled his way to victory. Kennaugh launched a late attack but couldn't get closer than 56 seconds to Downing and crossed the line in second spot.
Photography
For a thumbnail gallery of these images, click here
Images by Gerry McManus/www.gerrymcmanus.co.uk
Results
1 Russell Downing (Pinarello RT)                         4.16.18
2 Peter Kennaugh (100% ME)                                  0.56
3 Martin Ford (South Regional)                              1.08
4 Matt Stephens (Sigma Sport)
5 Malcolm Elliott (Pinarello RT)                            2.32
6 Marcin Bialoblocki (Sports Beans/Wilier)
7 Evan Oliphant (Plowman Craven)
8 Robin Sharman (Sigma Sport)
9 Liam Holohan (Pearl Izumi/Planet X/High 5)
10 Tom Southam (South Regional)
11 Andy Tennant (Great Britain Under-23)                    3.20
12 Davide Torosantucci (Katay Cycling Team)                 3.48
13 Kieran Page (Pezula Racing)                              4.04
14 Chris Newton (Rapha Condor Recycling)                    6.05
15 Simon Richardson (Plowman Craven)
16 Ben Swift (Great Britain Under-23)
17 Alex Higham (Plowman Craven)                             6.57
18 James Dobbin (Arctic Premier)                            7.16
19 Simas Kondrotas (Lithuania)                              7.21
20 Tom Murray (Pinarello RT)
21 Cameron Jennings (Pezula Racing)
22 Will Bjerefelt (South Regional)
23 John Tiernan-Lock (Ajchva Limoux)
24 Mark Thwaites (Sports Beans/Wilier)                     11.23
25 Neil Swithernbank (Sigma Sport)                         12.43
One lap down
26 Aidis Kruopis (Lithuania)
27 Mark Wordsworth (Team Corley Cycles)
28 Daniel Duguid (Sigma Sport)
29 Dave Coulson (Sports Beans/Wilier)
30 Gediminas Bagdonas (Lithuania)
31 Jonny McEvoy (100% ME)
32 Alex Dowsett (100% ME)