Spanish Championships - CN
Talavera de la Reina, Spain, June 28-29, 2008
Main Page Results Previous Day
Day 2 - June 29: Road race, 202.7km
Valverde to wear Spanish National Champion's jersey at Tour
Valverde will now head to the Tour with confidence.
Photo ©: Isabelle Duchesne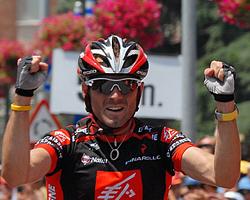 Alejandro Valverde (Caisse d'Epargne) was crowned the new Spanish National Champion in Talavera de la Reina after 202 km including three trips up the Alto de Piélago. The rider from Murcia was able to take advantage of the work of his team-mates in order to defeat Oscar Sevilla (Rock Racing) in the sprint. Valverde's team-mate Oscar Pereiro finished third.
"Today, as they have been doing since the beginning of the season, my Caisse d'Epargne team-mates did a perfect job, and I had nothing to do but finish what they started," said a happy Valverde after winning his first Spanish national title.
"The course of this championship was very difficult and that was a very good thing for me," said Valverde. "I thought I was able to go alone behind Sevilla who was in the lead and I indeed caught him. From that moment on I was very quiet because I knew my team-mates perfectly controlled the race behind. Logically I am faster than Sevilla but you never know what can happen in such a sprint with only two riders. But I won the race!
"And now the Tour!" he said, "that is another story, but I am very proud to present myself at the start [next weekend] with the jersey of Spanish champion on the shoulders."
Photography
For a thumbnail gallery of these images, click here
Images by Isabelle Duchesne/www.photoscycling.com
Results
1 Alejandro Valverde Belmonte (Caisse d'Epargne)              5.13.13 (38,829 km/h)
2 Oscar Sevilla (Rock Racing)                                    0.01
3 Oscar Pereiro Sio (Caisse d'Epargne)                           1.04
4 Jaume Rovira Pous (Extremadura-Ciclismo Solidario)                 
5 Xavier Florencio Cabre (Bouygues Telecom)                          
6 Xabier Tondo (LA MSS)                                              
7 Jose Ruiz Sanchez (Andalucía - Cajasur)                        1.06
8 Daniel Moreno Fernandez (Caisse d'Epargne)                         
9 Manuel Vazquez Hueso (Contentpolis - Murcia)                       
10 Unai Uribarri (Orbea-Oreka)                                       
11 Serafin Martinez (Karpin Galicia)                                 
12 Jose Carrasco (Andalucia-Cajasur)                                 
13 Constantino Zaballa (LA MSS)                                      
14 Sergio Pardilla Bellon (Burgos Monumental)                        
15 Juan Jose Cobo Acebo (Saunier Duval - Scott)                      
16 Eladio Jimenez (Rota dos Mov)                                     
17 José Herrada Lopez (Contentpolis - Murcia)                        
18 Ruben Plaza (Benfica)                                             
19 Carlos Barredo Llamazales (Quick Step)                        1.11
20 José Joaquin Rojas Gil (Caisse d'Epargne)                     1.54
21 Juan Manuel Garate (Quick Step)                                   
22 Francisco Jose Martinez Perez (Andalucía - Cajasur)               
23 Egoi Martinez De Esteban (Euskaltel - Euskadi)                    
24 Manuel Ortega Ocana (Andalucía - Cajasur)                         
25 Javier Moreno Bazan (Andalucía - Cajasur)                         
26 Moises Dueñas Nevado (Barloworld)                                 
27 Pablo Lastras Garcia (Caisse d'Epargne)                           
28 Luis Leon Sanchez Gil (Caisse d'Epargne)                      1.58
29 Adrian Palomares Villaplana (Contentpolis - Murcia)               
30 Francisco Mancebo (Rota dos Mov)                                  
31 David Arroyo Duran (Caisse d'Epargne)                         3.05
32 José Vicente Garcia Acosta (Caisse d'Epargne)                     
33 Pedro Gutierrez Alvarez (Burgos Monumental)                       
34 Alberto Rodriguez Oliver (Contentpolis - Murcia)                  
35 Josu Mondelo (Extremadura-Ciclismo Solidario)                     
36 Jesus Ramirez Torres (Extremadura-Ciclismo Solidario)             
37 Manuel Calvente (Contentpolis - Murcia)                           
38 Martin Mata Cabello (Burgos Monumental)                           
39 Gustavo Dominguez Lemos (Karpin Galicia)                          
40 José Garrido (LA MSS)                                             
41 Julian Sanchez Pimienta (Contentpolis - Murcia)                   
42 Aitor Perez Arrieta (Extremadura-Ciclismo Solidario)              
43 Enrique Salgueiro (Extremadura-Ciclismo Solidario)                
44 Delio Fernández Cruz (Karpin Galicia)                             
45 Claudio José Casas Gallego (Andalucía - Cajasur)             12.45
46 Jesus Buendia Romero (Contentpolis - Murcia)                      
47 Sergio Herrero Dominguez (Extremadura-Ciclismo Solidario)    19.52
48 Jorge Lopez (Arenas - Tlax - Mex)                            20.08
49 Jose Carrasco (Andalucia-Cajasur)                                 
50 Alejandro Paleo (Karpin Galicia)                                  
51 Luis Fernandez (Barbot-Siper)                                     
52 Jose Antonio Redondo (Andalucía - Cajasur)                        
53 Javier Armendia (Euskaltel - Euskadi)                             
54 Juan Olmo Menacho (Andalucía - Cajasur)                           
55 Jesus Rosendo Prado (Andalucía - Cajasur)                         
56 Gonzalo Zambrano (Extremadura-Ciclismo Solidario)                 
57 Alexis Rodriguez (Rota dos Mov)                                   
58 Francisco Terciado Sacedo (Extremadura-Ciclismo Solidario)        
59 Jesús Del Nero (Saunier Duval - Scott)                            
60 Juan Javier Estrada Ruiz (Andalucía - Cajasur)                    
61 Ruben Reig Conejero (Contentpolis - Murcia)                       
62 Ruben Lobato Elvira (Saunier Duval - Scott)                       
63 Amets Txurruka (Euskaltel - Euskadi)                              
64 Sergio Domingez (Contentpolis-Murcia)                             
65 Cecilio Gutierrez Pastor (Andalucía - Cajasur)                    
66 Javier Etxarri Marin (Contentpolis - Murcia)                      
67 David De La Fuente Rasilla (Saunier Duval - Scott)                
68 Luis Angel Mate Mardones (Andalucía - Cajasur)                    
69 Sergio Andres De Lis (Orbea - Oreka S.D.A)                        
70 Fco. Pacheco (Barbot-Siper)                                       
71 Josu Agirre Aseginolaza (Euskaltel - Euskadi)                     
72 Rodrigo Garcia Rena (Extremadura-Ciclismo Solidario)              
73 Eduardo Gonzalo Ramirez (Agritubel)                               
74 Diego Gallego Arnaiz (Burgos Monumental)                          
75 David Lopez Garcia (Caisse d'Epargne)                             
76 Xabier Zandio Echaide (Caisse d'Epargne)                          
77 Oscar Pujol (Burgos Monumental)