Boucles de la Mayenne - 2.2
France, June 19-22, 2008
Main Page Results Overall standings Next Stage
Prologue - June 19: Laval, 4.5 km
Vogondy takes a flying start
By Jean-François Quénet in Laval
Eventual winner Nicolas Vogondy (Agritubel)
Photo ©: Régis Garnier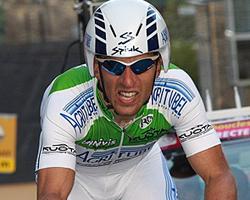 On the same course but with a first corner that could be taken quicker, Nicolas Vogondy bettered his time in the prologue of the Boucles de la Mayenne by 16 seconds compared to last year. His Agritubel team impressed taking all three podium places with Kevin Ista and Romain Feillu accompanied Vogondy on the podium while Freddy Bichot crowned their performance with a 5th place.
"Having done this prologue already last year was to my advantage", Vogondy the former French champion and defending champion commented. "I knew every curve pretty well and Bichot who is from this town here took me to the course again before the race. He gave me some precious advice.
"I had good legs", Vogondy continued. "As I started last, I had all the information and it was based on the best times because that belonged to my team-mates." Before him, Ista and Feillu were only separated by two tenth of a second but Vogondy rode an incredible 11 seconds faster.
It was particularly interesting to see Feillu performing so well in a time trial effort just a couple of days after being selected by Agritubel for the coming Tour de France.
"I'm happy with my time because that's 4 seconds better than last year", Feillu said. "It was my first time this year on my time trial bike [he resumed racing in mid-May after suffering from toxoplasmose, Ed]. I had the info that Ista was 5 seconds ahead of me at the bottom of the final climb and we finished almost with the same time."
It gave the winner of the Boucles de l'Aulne the motivation for the uphill finishes of the Tour de France. "I'd like to win a stage here at the Boucles de la Mayenne and help one of my team-mates to win GC", he added.
"There are big expectations around us", Vogondy confirmed. "On paper, we are the strongest." In fact, Agritubel started the race with a few Tour de France riders and that will be against continental and amateur teams. "They will be hard to beat", said Jos van Emden who was the only non-Agritubel rider in the top 5 as he finished 4th. The Rabobank rider is a specialist of the French 2.2 races this year with stage wins at the Tour of Normandy and the Rhône-Alpes Isère Tour.
"For three days, we can play, we have the cards in our hands", said Feillu. The Boucles de la Mayenne will return to Laval on Sunday.
Photography
For a thumbnail gallery of these images, click here
Images by Régis Garnier/www.velofotopro.com
Images by Jean-Francois Quenet
Results
1 Nicolas Vogondy (Fra) Agritubel                              5.43
2 Kevin Ista (Fra) Agritubel                                   0.11
3 Romain Feillu (Fra) Agritubel                                    
4 Jos Van Emden (Ned) Rabobank Continental                     0.12
5 Freddy Bichot (Fra) Agritubel                                0.13
6 Luke Roberts (Aus) Team Kuota-Senges                         0.14
7 Niels Albert (Bel) Palmans Cras                                  
8 Jonathan Balbenua (Fra) Equipe De France Poursuite           0.15
9 Piotr Zielinski (Pol) Bretagne Armor Lux                     0.17
10 Thomas Berkhout (Ned) Rabobank Continental                  0.18
11 Jimmy Casper (Fra) Agritubel                                0.19
12 Duret Sébastien (Fra) Bretagne Armor Lux                        
13 Juan Gomis Lopez (Spa) Palmeiras Resort - Tavira            0.20
14 Yann Guyot (Fra) Cotes D'Armor Maître Jacques                   
15 Philip Walsleben (Ger) Palmans Cras                         0.21
16 Hannes Blank (Ger) Differdange Apiflo Vacances              0.22
17 Matti Helminen (Fin) Palmans Cras                               
18 Mickael Jeannin (Fra) Equipe De France Poursuite                
19 Joeri Adams (Bel) Rabobank Continental                          
20 Evgeny Popov (Rus) Rabobank Continental                         
21 Bjorn Glasner (Ger) Team Kuota-Senges                       0.23
22 Anthony Vignes (Fra) Team U Nantes Atlantique                   
23 Julien Antomarchi (Fra) Velo Club La Pomme                      
24 Renaud Pioline (Fra) Velo Club La Pomme                     0.24
25 Antoine Dalibard (Fra) Bretagne Armor Lux                       
26 Jean Luc Delpech (Fra) Bretagne Armor Lux                       
27 Stéphane Bonsergent (Fra) Bretagne Armor Lux                    
28 Ronan Guinaudeau (Fra) Equipe De France Poursuite           0.25
29 Boy Van Poppel (Ned) Rabobank Continental                   0.26
30 Lars Ulrich (Den) Team Odense Energi                            
31 Fabien Sanchez (Fra) Equipe De France Poursuite                 
32 Julien Fouchard (Fra) Cotes D'Armor Maître Jacques          0.27
33 Maxime Bouet (Fra) Agritubel                                    
34 Luis Silva (Por) Palmeiras Resort - Tavira                  0.28
35 Simon Lebrun (Fra) Cotes D'Armor Maître Jacques                 
36 Jetse Bol (Ned) Rabobank Continental                            
37 Brice Feillu (Fra) CC Nogent Sur Oise                           
38 Frédrik Johansson (Swe) Differdange Apiflo Vacances             
39 Franck Charrier (Fra) CC Nogent Sur Oise                    0.29
40 Ingnar De Poortere (Bel) Davitamon Lotto Jong Vlaanderen    0.30
41 Guillaume Malle (Fra) S.A Pavilly Barentin                      
42 Van Ruittenbee K Malaya (Ned) Team Kuota-Senges                 
43 Andrius Buividas (Ltu) Club Cycliste tupes                      
44 Aleksejs Saramotins (Lat) Rietumu Bank-Riga                 0.31
45 Martin Lollesgaard (Den) Team Odense Energi                     
46 Arnaud Godet (Fra) Club Cycliste tupes                          
47 Julien Gay (Fra) Vendee U                                       
48 Morten Knudsen (Den) Differdange Apiflo Vacances                
49 Sylvain Greiner (Fra) S.Club.O. Dijon                       0.32
50 Tim Mertens (Bel) Davitamon Lotto Jong Vlaanderen           0.33
51 Arnaud Depreeuw (Fra) Equipe De France Poursuite                
52 Stefan Ganser (Ger) Team Kuota-Senges                           
53 Alexandre Bosquain (Fra) S.A Pavilly Barentin               0.34
54 Math Ieu Halleguen (Fra) Cotes D'Armor Maître Jacques           
55 Alexandre Binet (Fra) Vendee U                                  
56 Martin Garrido Mayo Rga (Arg) Palmeiras Resort - Tavira         
57 Thibault Mace (Fra) Vendee U                                    
58 Bryan Nauleau (Fra) Vendee U                                    
59 Rapha Ël Lesage (Fra) CC Nogent Sur Oise                    0.35
60 Kalvis Eisaks (Lat) Rietumu Bank-Riga                           
61 Yukiya Arashiro (Jpn) Meitan Hompo - GDR                        
62 David Tanner (Aus) Velo Club La Pomme                           
63 Tyler Butterfield (Ber) Vendee U                            0.36
64 Dieter Vanthourenhout (Bel) Palmans Cras                        
65 Stijn Huys (Bel) Palmans Cras                                   
66 Gael Malacarne (Fra) Cotes D'Armor Maître Jacques               
67 Steven De Neef (Bel) Davitamon Lotto Jong Vlaanderen        0.37
68 Eddy Forner (Ita) Differdange Apiflo Vacances                   
69 Thomas Bouteille (Fra) Club Cycliste tupes                      
70 Ludovic Bret (Fra) Vendee U                                     
71 Luis Bartolomeu (Por) Palmeiras Resort - Tavira                 
72 Fremin Jérome (Fra) S.A Pavilly Barentin                    0.38
73 Guillaume De Gasquet (Fra) Velo Club La Pomme                   
74 Stéphane Rossetto (Fra) CC Nogent Sur Oise                      
75 Kasper Jorgensen (Den) Team Odense Energi                       
76 Loïc Muhlemann (Swi) S.Club.O. Dijon                        0.39
77 Beno It Daeninck (Fra) CC Nogent Sur Oise                       
78 Alexis Coulon (Fra) S.Club.O. Dijon                             
79 Yoann Lucas (Fra) Team U Nantes Atlantique                  0.40
80 Mathieu Fabry (Fra) Velo Club La Pomme                          
81 Sergey Firsanov (Rus) Rietumu Bank-Riga                         
82 Takashi Miyazawa (Jpn) Meitan Hompo - GDR                   0.41
83 Nicolas Suzanne (Fra) S.A Pavilly Barentin                      
84 Thim Othée Lefrancois (Fra) Team U Nantes Atlantique            
85 Besson Jérémy (Fra) S.Club.O. Dijon                         0.42
86 Michael Kurth (Ger) Team Kuota-Senges                           
87 Gregory Joseph (Bel) Davitamon Lotto Jong Vlaanderen            
88 Martin Hansen (Den) Team Odense Energi                          
89 Gwenael Teillet (Fra) Team U Nantes Atlantique                  
90 Olivier Nari (Fra) S.Club.O. Dijon                              
91 Cyrille Heymans (Lux) Differdange Apiflo Vacances           0.43
92 Mathieu Delaroziere (Fra) Velo Club La Pomme                    
93 Jesper Morkov (Den) Team Odense Energi                          
94 Erwan Brenterch (Fra) Cotes D'Armor Maître Jacques              
95 Romain Vanderbiest (Fra) Club Cycliste tupes                    
96 Nicolas Boisson (Fra) Club Cycliste tupes                       
97 Hakan Nilsson (Swe) Differdange Apiflo Vacances             0.44
98 Paul Sneeboer (Ned) Palmeiras Resort - Tavira                   
99 Yasuharu Nakajima (Jpn) Meitan Hompo - GDR                      
100 Yannick Ricordel (Fra) Team U Nantes Atlantique            0.46
101 Peter Mohlmann (Ned) Team Kuota-Senges                         
102 Grégory Barteau (Fra) Club Cycliste tupes                      
103 Lalouette Kévin (Fra) CC Nogent Sur Oise                   0.47
104 Martins Trautmanis (Lat) Rietumu Bank-Riga                 0.48
105 Prajak Mahawong (Tha) Meitan Hompo - GDR                       
106 Mikael Renou (Fra) Team U Nantes Atlantique                    
107 Christian Jorgensen (Den) Team Odense Energi               0.49
108 Miyataka Shimizu (Jpn) Meitan Hompo - GDR                  0.50
109 Justas Volungevicius (Ltu) Rietumu Bank-Riga                   
110 Ludovic Capelle (Bel) Rietumu Bank-Riga                    0.53
111 Arnaud Girard (Fra) S.A Pavilly Barentin                   0.56
112 Vanmarck E Sep (Bel) Davitamon Lotto Jong Vlaanderen       0.58
113 Pieter Muys (Bel) Davitamon Lotto Jong Vlaanderen          0.59
114 Gianni Denolf (Bel) Palmans Cras                           1.00
115 Samu El Caldeira (Por) Palmeiras Resort - Tavira               
116 Julien Barbier (Fra) S.A Pavilly Barentin                  1.06
117 Neuville Jérome (Fra) Equipe De France Poursuite               
 
Points
 
1 Nicolas Vogondy (Fra) Agritubel                                10 pts
2 Kevin Ista (Fra) Agritubel                                      9
3 Romain Feillu (Fra) Agritubel                                   8
4 Jos Van Emden (Ned) Rabobank Continental                        7
5 Freddy Bichot (Fra) Agritubel                                   6
6 Luke Roberts (Aus) Team Kuota-Senges                            5
7 Niels Albert (Bel) Palmans Cras                                 4
8 Jonathan Balbenua (Fra) Equipe De France Poursuite              3
9 Piotr Zielinski (Pol) Bretagne Armor Lux                        2
10 Thomas Berkhout (Ned) Rabobank Continental                     1
 
Teams
 
1 Agritubel                                                   17.31
2 Rabobank Continential                                        0.30
3 Palmans Cras Elmos                                           0.35
4 Bretagne Armor Lux                                           0.38
5 Equipe France Poursuite                                      0.40
6 Team Kuota Senges                                            0.45
7 Cotes D'armor Maitres Jacques                                0.53
8 Differdange Apiflo Vacan Ces                                 0.59
9 Palmeiras Resort/Tavira                                      1.00
10 Vc La Pomme Marseille                                           
11 Cc Nogent Sur Oise                                          1.10
12 Team Odense Energi                                          1.13
13 Club Cycliste Etupes                                        1.16
14 Vendee U                                                    1.17
15 Davitamon Lotto Jong Vlaanderen                             1.18
16 S.A Pavilly Barentin                                        1.20
17 Team U Nantes Atlantique                                    1.22
18 Rietumu Bank Riga                                           1.24
19 S.Club.O. Dijon                                             1.28
20 Meitan Hompo - GDR                                          1.38
 
General classification after Prologue
 
1 Nicolas Vogondy (Fra) Agritubel                              5.43
2 Kevin Ista (Fra) Agritubel                                   0.11
3 Romain Feillu (Fra) Agritubel                                    
4 Jos Van Emden (Ned) Rabobank Continental                     0.12
5 Freddy Bichot (Fra) Agritubel                                0.13
6 Luke Roberts (Aus) Team Kuota-Senges                         0.14
7 Niels Albert (Bel) Palmans Cras                                  
8 Jonathan Balbenua (Fra) Equipe De France Poursuite           0.15
9 Piotr Zielinski (Pol) Bretagne Armor Lux                     0.17
10 Thomas Berkhout (Ned) Rabobank Continental                  0.18
11 Jimmy Casper (Fra) Agritubel                                0.19
12 Duret Sébastien (Fra) Bretagne Armor Lux                        
13 Juan Gomis Lopez (Spa) Palmeiras Resort - Tavira            0.20
14 Yann Guyot (Fra) Cotes D'Armor Maître Jacques                   
15 Philip Walsleben (Ger) Palmans Cras                         0.21
16 Hannes Blank (Ger) Differdange Apiflo Vacances              0.22
17 Matti Helminen (Fin) Palmans Cras                               
18 Mickael Jeannin (Fra) Equipe De France Poursuite                
19 Joeri Adams (Bel) Rabobank Continental                          
20 Evgeny Popov (Rus) Rabobank Continental                         
21 Bjorn Glasner (Ger) Team Kuota-Senges                       0.23
22 Anthony Vignes (Fra) Team U Nantes Atlantique                   
23 Julien Antomarchi (Fra) Velo Club La Pomme                      
24 Renaud Pioline (Fra) Velo Club La Pomme                     0.24
25 Antoine Dalibard (Fra) Bretagne Armor Lux                       
26 Jean Luc Delpech (Fra) Bretagne Armor Lux                       
27 Stéphane Bonsergent (Fra) Bretagne Armor Lux                    
28 Ronan Guinaudeau (Fra) Equipe De France Poursuite           0.25
29 Boy Van Poppel (Ned) Rabobank Continental                   0.26
30 Lars Ulrich (Den) Team Odense Energi                            
31 Fabien Sanchez (Fra) Equipe De France Poursuite                 
32 Julien Fouchard (Fra) Cotes D'Armor Maître Jacques          0.27
33 Maxime Bouet (Fra) Agritubel                                    
34 Luis Silva (Por) Palmeiras Resort - Tavira                  0.28
35 Simon Lebrun (Fra) Cotes D'Armor Maître Jacques                 
36 Jetse Bol (Ned) Rabobank Continental                            
37 Brice Feillu (Fra) CC Nogent Sur Oise                           
38 Frédrik Johansson (Swe) Differdange Apiflo Vacances             
39 Franck Charrier (Fra) CC Nogent Sur Oise                    0.29
40 Ingnar De Poortere (Bel) Davitamon Lotto Jong Vlaanderen    0.30
41 Guillaume Malle (Fra) S.A Pavilly Barentin                      
42 Van Ruittenbee K Malaya (Ned) Team Kuota-Senges                 
43 Andrius Buividas (Ltu) Club Cycliste tupes                      
44 Aleksejs Saramotins (Lat) Rietumu Bank-Riga                 0.31
45 Martin Lollesgaard (Den) Team Odense Energi                     
46 Arnaud Godet (Fra) Club Cycliste tupes                          
47 Julien Gay (Fra) Vendee U                                       
48 Morten Knudsen (Den) Differdange Apiflo Vacances                
49 Sylvain Greiner (Fra) S.Club.O. Dijon                       0.32
50 Tim Mertens (Bel) Davitamon Lotto Jong Vlaanderen           0.33
51 Arnaud Depreeuw (Fra) Equipe De France Poursuite                
52 Stefan Ganser (Ger) Team Kuota-Senges                           
53 Alexandre Bosquain (Fra) S.A Pavilly Barentin               0.34
54 Math Ieu Halleguen (Fra) Cotes D'Armor Maître Jacques           
55 Alexandre Binet (Fra) Vendee U                                  
56 Martin Garrido Mayo Rga (Arg) Palmeiras Resort - Tavira         
57 Thibault Mace (Fra) Vendee U                                    
58 Bryan Nauleau (Fra) Vendee U                                    
59 Rapha Ël Lesage (Fra) CC Nogent Sur Oise                    0.35
60 Kalvis Eisaks (Lat) Rietumu Bank-Riga                           
61 Yukiya Arashiro (Jpn) Meitan Hompo - GDR                        
62 David Tanner (Aus) Velo Club La Pomme                           
63 Tyler Butterfield (Ber) Vendee U                            0.36
64 Dieter Vanthourenhout (Bel) Palmans Cras                        
65 Stijn Huys (Bel) Palmans Cras                                   
66 Gael Malacarne (Fra) Cotes D'Armor Maître Jacques               
67 Steven De Neef (Bel) Davitamon Lotto Jong Vlaanderen        0.37
68 Eddy Forner (Ita) Differdange Apiflo Vacances                   
69 Thomas Bouteille (Fra) Club Cycliste tupes                      
70 Ludovic Bret (Fra) Vendee U                                     
71 Luis Bartolomeu (Por) Palmeiras Resort - Tavira                 
72 Fremin Jérome (Fra) S.A Pavilly Barentin                    0.38
73 Guillaume De Gasquet (Fra) Velo Club La Pomme                   
74 Stéphane Rossetto (Fra) CC Nogent Sur Oise                      
75 Kasper Jorgensen (Den) Team Odense Energi                       
76 Loïc Muhlemann (Swi) S.Club.O. Dijon                        0.39
77 Beno It Daeninck (Fra) CC Nogent Sur Oise                       
78 Alexis Coulon (Fra) S.Club.O. Dijon                             
79 Yoann Lucas (Fra) Team U Nantes Atlantique                  0.40
80 Mathieu Fabry (Fra) Velo Club La Pomme                          
81 Sergey Firsanov (Rus) Rietumu Bank-Riga                         
82 Takashi Miyazawa (Jpn) Meitan Hompo - GDR                   0.41
83 Nicolas Suzanne (Fra) S.A Pavilly Barentin                      
84 Thim Othée Lefrancois (Fra) Team U Nantes Atlantique            
85 Besson Jérémy (Fra) S.Club.O. Dijon                         0.42
86 Michael Kurth (Ger) Team Kuota-Senges                           
87 Gregory Joseph (Bel) Davitamon Lotto Jong Vlaanderen            
88 Martin Hansen (Den) Team Odense Energi                          
89 Gwenael Teillet (Fra) Team U Nantes Atlantique                  
90 Olivier Nari (Fra) S.Club.O. Dijon                              
91 Cyrille Heymans (Lux) Differdange Apiflo Vacances           0.43
92 Mathieu Delaroziere (Fra) Velo Club La Pomme                    
93 Jesper Morkov (Den) Team Odense Energi                          
94 Erwan Brenterch (Fra) Cotes D'Armor Maître Jacques              
95 Romain Vanderbiest (Fra) Club Cycliste tupes                    
96 Nicolas Boisson (Fra) Club Cycliste tupes                       
97 Hakan Nilsson (Swe) Differdange Apiflo Vacances             0.44
98 Paul Sneeboer (Ned) Palmeiras Resort - Tavira                   
99 Yasuharu Nakajima (Jpn) Meitan Hompo - GDR                      
100 Yannick Ricordel (Fra) Team U Nantes Atlantique            0.46
101 Peter Mohlmann (Ned) Team Kuota-Senges                         
102 Grégory Barteau (Fra) Club Cycliste tupes                      
103 Lalouette Kévin (Fra) CC Nogent Sur Oise                   0.47
104 Martins Trautmanis (Lat) Rietumu Bank-Riga                 0.48
105 Prajak Mahawong (Tha) Meitan Hompo - GDR                       
106 Mikael Renou (Fra) Team U Nantes Atlantique                    
107 Christian Jorgensen (Den) Team Odense Energi               0.49
108 Miyataka Shimizu (Jpn) Meitan Hompo - GDR                  0.50
109 Justas Volungevicius (Ltu) Rietumu Bank-Riga                   
110 Ludovic Capelle (Bel) Rietumu Bank-Riga                    0.53
111 Arnaud Girard (Fra) S.A Pavilly Barentin                   0.56
112 Vanmarck E Sep (Bel) Davitamon Lotto Jong Vlaanderen       0.58
113 Pieter Muys (Bel) Davitamon Lotto Jong Vlaanderen          0.59
114 Gianni Denolf (Bel) Palmans Cras                           1.00
115 Samu El Caldeira (Por) Palmeiras Resort - Tavira               
116 Julien Barbier (Fra) S.A Pavilly Barentin                  1.06
117 Neuville Jérome (Fra) Equipe De France Poursuite               
 
Points
 
1 Nicolas Vogondy (Fra) Agritubel                                10 pts
2 Kevin Ista (Fra) Agritubel                                      9
3 Romain Feillu (Fra) Agritubel                                   8
4 Jos Van Emden (Ned) Rabobank Continental                        7
5 Freddy Bichot (Fra) Agritubel                                   6
6 Luke Roberts (Aus) Team Kuota-Senges                            5
7 Niels Albert (Bel) Palmans Cras                                 4
8 Jonathan Balbenua (Fra) Equipe De France Poursuite              3
9 Piotr Zielinski (Pol) Bretagne Armor Lux                        2
10 Thomas Berkhout (Ned) Rabobank Continental                     1
 
Teams
 
1 Agritubel                                                   17.31
2 Rabobank Continential                                        0.30
3 Palmans Cras Elmos                                           0.35
4 Bretagne Armor Lux                                           0.38
5 Equipe France Poursuite                                      0.40
6 Team Kuota Senges                                            0.45
7 Cotes D'armor Maitres Jacques                                0.53
8 Differdange Apiflo Vacan Ces                                 0.59
9 Palmeiras Resort/Tavira                                      1.00
10 Vc La Pomme Marseille                                           
11 Cc Nogent Sur Oise                                          1.10
12 Team Odense Energi                                          1.13
13 Club Cycliste Etupes                                        1.16
14 Vendee U                                                    1.17
15 Davitamon Lotto Jong Vlaanderen                             1.18
16 S.A Pavilly Barentin                                        1.20
17 Team U Nantes Atlantique                                    1.22
18 Rietumu Bank Riga                                           1.24
19 S.Club.O. Dijon                                             1.28
20 Meitan Hompo - GDR                                          1.38
 
Under 23
 
1 Jonathan Balbenua (Fra) Equipe De France Poursuite           5.58
2 Yann Guyot (Fra) Cotes D'Armor Maître Jacques                0.05
3 Mickael Jeannin (Fra) Equipe De France Poursuite             0.07
4 Anthony Vignes (Fra) Team U Nantes Atlantique                0.08
5 Julien Antomarchi (Fra) Velo Club La Pomme                       
6 Renaud Pioline (Fra) Velo Club La Pomme                      0.09
7 Ronan Guinaudeau (Fra) Equipe De France Poursuite            0.10
8 Fabien Sanchez (Fra) Equipe De France Poursuite              0.11
9 Julien Fouchard (Fra) Cotes D'Armor Maître Jacques           0.12
10 Simon Lebrun (Fra) Cotes D'Armor Maître Jacques             0.13
11 Brice Feillu (Fra) CC Nogent Sur Oise                           
12 Franck Charrier (Fra) CC Nogent Sur Oise                    0.14
13 Guillaume Malle (Fra) S.A Pavilly Barentin                  0.15
14 Andrius Buividas (Ltu) Club Cycliste tupes                      
15 Arnaud Godet (Fra) Club Cycliste tupes                      0.16
16 Julien Gay (Fra) Vendee U                                       
17 Sylvain Greiner (Fra) S.Club.O. Dijon                       0.17
18 Arnaud Depreeuw (Fra) Equipe De France Poursuite            0.18
19 Alexandre Bosquain (Fra) S.A Pavilly Barentin               0.19
20 Math Ieu Halleguen (Fra) Cotes D'Armor Maître Jacques           
21 Alexandre Binet (Fra) Vendee U                                  
22 Thibault Mace (Fra) Vendee U                                    
23 Bryan Nauleau (Fra) Vendee U                                    
24 Rapha Ël Lesage (Fra) CC Nogent Sur Oise                    0.20
25 David Tanner (Aus) Velo Club La Pomme                           
26 Tyler Butterfield (Ber) Vendee U                            0.21
27 Gael Malacarne (Fra) Cotes D'Armor Maître Jacques               
28 Thomas Bouteille (Fra) Club Cycliste tupes                  0.22
29 Ludovic Bret (Fra) Vendee U                                     
30 Fremin Jérome (Fra) S.A Pavilly Barentin                    0.23
31 Guillaume De Gasquet (Fra) Velo Club La Pomme                   
32 Stéphane Rossetto (Fra) CC Nogent Sur Oise                      
33 Loïc Muhlemann (Swi) S.Club.O. Dijon                        0.24
34 Beno It Daeninck (Fra) CC Nogent Sur Oise                       
35 Alexis Coulon (Fra) S.Club.O. Dijon                             
36 Yoann Lucas (Fra) Team U Nantes Atlantique                  0.25
37 Mathieu Fabry (Fra) Velo Club La Pomme                          
38 Nicolas Suzanne (Fra) S.A Pavilly Barentin                  0.26
39 Thim Othée Lefrancois (Fra) Team U Nantes Atlantique            
40 Besson Jérémy (Fra) S.Club.O. Dijon                         0.27
41 Gwenael Teillet (Fra) Team U Nantes Atlantique                  
42 Olivier Nari (Fra) S.Club.O. Dijon                              
43 Mathieu Delaroziere (Fra) Velo Club La Pomme                0.28
44 Erwan Brenterch (Fra) Cotes D'Armor Maître Jacques              
45 Romain Vanderbiest (Fra) Club Cycliste tupes                    
46 Nicolas Boisson (Fra) Club Cycliste tupes                       
47 Yannick Ricordel (Fra) Team U Nantes Atlantique             0.31
48 Grégory Barteau (Fra) Club Cycliste tupes                       
49 Lalouette Kévin (Fra) CC Nogent Sur Oise                    0.32
50 Mikael Renou (Fra) Team U Nantes Atlantique                 0.33
51 Arnaud Girard (Fra) S.A Pavilly Barentin                    0.41
52 Julien Barbier (Fra) S.A Pavilly Barentin                   0.51
53 Neuville Jérome (Fra) Equipe De France Poursuite                
 
Amateurs
 
1 Niels Albert (Bel) Palmans Cras                              5.57
2 Jonathan Balbenua (Fra) Equipe De France Poursuite           0.01
3 Yann Guyot (Fra) Cotes D'Armor Maître Jacques                0.06
4 Philip Walsleben (Ger) Palmans Cras                          0.07
5 Mickael Jeannin (Fra) Equipe De France Poursuite             0.08
6 Joeri Adams (Bel) Rabobank Continental                           
7 Anthony Vignes (Fra) Team U Nantes Atlantique                0.09
8 Ronan Guinaudeau (Fra) Equipe De France Poursuite            0.11
9 Boy Van Poppel (Ned) Rabobank Continental                    0.12
10 Julien Fouchard (Fra) Cotes D'Armor Maître Jacques          0.13
11 Maxime Bouet (Fra) Agritubel                                    
12 Simon Lebrun (Fra) Cotes D'Armor Maître Jacques             0.14
13 Jetse Bol (Ned) Rabobank Continental                            
14 Martin Lollesgaard (Den) Team Odense Energi                 0.17
15 Arnaud Godet (Fra) Club Cycliste tupes                          
16 Julien Gay (Fra) Vendee U                                       
17 Sylvain Greiner (Fra) S.Club.O. Dijon                       0.18
18 Tim Mertens (Bel) Davitamon Lotto Jong Vlaanderen           0.19
19 Arnaud Depreeuw (Fra) Equipe De France Poursuite                
20 Math Ieu Halleguen (Fra) Cotes D'Armor Maître Jacques       0.20
21 Alexandre Binet (Fra) Vendee U                                  
22 Thibault Mace (Fra) Vendee U                                    
23 Bryan Nauleau (Fra) Vendee U                                    
24 Rapha Ël Lesage (Fra) CC Nogent Sur Oise                    0.21
25 Stijn Huys (Bel) Palmans Cras                               0.22
26 Gael Malacarne (Fra) Cotes D'Armor Maître Jacques               
27 Ludovic Bret (Fra) Vendee U                                 0.23
28 Guillaume De Gasquet (Fra) Velo Club La Pomme               0.24
29 Stéphane Rossetto (Fra) CC Nogent Sur Oise                      
30 Alexis Coulon (Fra) S.Club.O. Dijon                         0.25
31 Nicolas Suzanne (Fra) S.A Pavilly Barentin                  0.27
32 Besson Jérémy (Fra) S.Club.O. Dijon                         0.28
33 Michael Kurth (Ger) Team Kuota-Senges                           
34 Gregory Joseph (Bel) Davitamon Lotto Jong Vlaanderen            
35 Cyrille Heymans (Lux) Differdange Apiflo Vacances           0.29
36 Jesper Morkov (Den) Team Odense Energi                          
37 Erwan Brenterch (Fra) Cotes D'Armor Maître Jacques              
38 Romain Vanderbiest (Fra) Club Cycliste tupes                    
39 Nicolas Boisson (Fra) Club Cycliste tupes                       
40 Yannick Ricordel (Fra) Team U Nantes Atlantique             0.32
41 Martins Trautmanis (Lat) Rietumu Bank-Riga                  0.34
42 Christian Jorgensen (Den) Team Odense Energi                0.35
43 Arnaud Girard (Fra) S.A Pavilly Barentin                    0.42
44 Vanmarck E Sep (Bel) Davitamon Lotto Jong Vlaanderen        0.44
45 Gianni Denolf (Bel) Palmans Cras                            0.46