Grande Boucle Féminine Internationale - 2.2
France, June 17-22, 2008
Main Page Results Overall standings Previous Stage Next Stage
Stage 5 - June 20: Domaine De Chalain - Clairvaux-les-Lacs (ITT), 43.302km
Thürig dominates time trial
Karin Thürig averaged over 46 km/h in the race against the clock
Photo ©: WomensCycling.net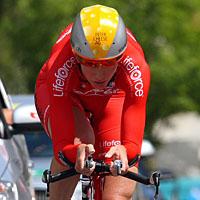 Former time trial World Champion Karin Thürig won the 43.3-kilometre race against the clock of the Grande Boucle Féminine Internationale between Domaine De Chalain and Clairvaux-les-Lacs. She bested her Cervélo Lifeforce team-mate, Austrian Christiane Soeder, by over half a minute. Last year's overall winner Nicole Cooke (Swift Racing) was two and a half minutes back and will have her work cut out in the remaining two mountain stages to catch the Swiss Thürig, who is also 2'35 ahead of Cooke in the general classification.
Cervélo Lifeforce also leads the teams classification, made possible by Priska Doppmann's seventh place in the time trial. Soeder is second in GC, giving Cervélo Lifeforce some options in the mountains.
The race was the longest ever time trial for women in the Grande Boucle history. With her ride, Thürig made sure that the time trial will not only be remembered for its length, but also for the average speed, which was 46.754 km/h.
The Grande Boucle Féminine Internationale will continue tomorrow in the French Alps. The riders have to compete on a 102.88-kilometre course from Lac D'Aiguebelette to Villard-de-Lans, which is situated in the region Vercors.
Photography
For a thumbnail gallery of these images, click here
Images by WomensCycling.net/WomensCycling.net
Results
1 Karin Thürig (Swi) Cervelo Lifeforce Pro Cycling Team                   55.34 (46.754 km/h)
2 Christiane Soeder (Aut) Cervelo Lifeforce Pro Cycling Team               0.36
3 Nicole Cooke (GBr) Swift Racing                                          2.40
4 Loes Gunnewijk (Ned) Team Flexpoint                                      2.41
5 Diana Ziliute (Ltu) Safi - Pasta Zara Manhattan                          3.20
6 Maribel Moreno Allue (Spa) Multijaca                                     3.30
7 Priska Doppmann (Swi) Cervelo Lifeforce Pro Cycling Team                 3.41
8 Elisabeth Braam (Ned) Team Flexpoint                                     3.53
9 Grace Verbeke (Bel) Lotto-Belisol Ladiesteam                             3.55
10 Loes Markerink (Ned) Team Flexpoint                                     4.22
11 Sarah Düster (Ger) Cervelo Lifeforce Pro Cycling Team                   4.39
12 Sereina Trachsel (Swi) Swiss National Team                              5.04
13 Bianca Knöpfle (Ger) Team Flexpoint                                     5.22
14 Jolanta Polikeviciute (Ltu) USC Chirio Forno d'Asolo                    5.38
15 Dorte Lohse Rasmussen (Den) Swift Racing                                5.47
16 Elena Berlato (Ita) Safi - Pasta Zara Manhattan                         6.40
17 Evelyn Garcia (ESa) USC Chirio Forno d'Asolo                            6.46
18 Eneritz Iturriagaechevarria Mazaga (Spa) Safi - Pasta Zara Manhattan    6.56
19 Odette Bertolin (Ita) Safi - Pasta Zara Manhattan                       7.00
20 Laeticia Gil Parra (Spa) Multijaca                                      7.18
21 Helen Wyman (GBr) Swift Racing                                          7.36
22 Karen Steurs (Bel) Topsport Vlaanderen Thompson Ladies Team             7.42
23 Kelly Druyts (Bel) Topsport Vlaanderen Thompson Ladies Team             7.47
24 Rosario Rodriguez Gomez (Spa) Multijaca                                 7.48
25 Tatiana Stiajkina (Ukr) USC Chirio Forno d'Asolo                        7.49
26 Suzanne Van Veen (Ned) Team Flexpoint                                   7.51
27 Loes Sels (Bel) Topsport Vlaanderen Thompson Ladies Team                8.06
28 Rasa Polikeviciute (Ltu) USC Chirio Forno d'Asolo                       8.30
29 Ana Ramirez (Spa) Multijaca                                             8.35
30 Monika Furrer (Swi) Swiss National Team                                 8.54
31 Jessica Schneeberger (Swi) Swiss National Team                          8.58
32 Fabienne Sommer (Swi) Swiss National Team                               9.10
33 Toni Bradshaw (NZl) Swift Racing                                        9.23
34 Bettina Kuhn (Swi) Swiss National Team                                  9.29
35 Katrien Van Looy (Bel) Topsport Vlaanderen Thompson Ladies Team         9.32
36 Edita Unguryte (Ltu) USC Chirio Forno d'Asolo                           9.39
37 Debby Van De Berg (Ned) Swift Racing                                    9.46
38 Alessandra Borchi (Ita) Safi - Pasta Zara Manhattan                     9.54
39 Yolandi Du Toit (RSA) Lotto-Belisol Ladiesteam                         10.24
40 Inma Rafael Salas (Spa) Debabarrena - Kirolgi                          10.36
41 Emma Silversides (GBr) Lotto-Belisol Ladiesteam                        10.50
42 Elizabeth Agudelo (Col) Pratomagno Colombia                            10.53
43 Line Foss (Nor) Bourgogne Selection                                    11.03
44 Sylvie Gaillon (Fra) Bourgogne Selection                               11.46
45 Patricia Perez Gimenez (Spa) Multijaca                                 11.49
46 Emilie Aubry (Swi) Swiss National Team                                 12.05
47 Silvia Tirado Marquez (Spa) Multijaca                                  12.20
48 Itsaso Leunda Coni (Spa) Debabarrena - Kirolgi                         12.28
49 Paola Munoz (Chi) Pratomagno Colombia                                  12.30
50 Ine Beyen (Bel) Swift Racing                                           12.34
51 Saioa Olitc Caluo (Spa) Debabarrena - Kirolgi                          13.15
52 Kim Schoonbaert (Bel) Lotto-Belisol Ladiesteam                         13.34
53 Adeline Gourgin (Fra) Bourgogne Selection                              13.39
54 Claire Maugras (Fra) Bourgogne Selection                               15.11
55 Isabelle Moulis (Fra) Debabarrena - Kirolgi                            19.14
56 Katy Bruchon (Fra) Bourgogne Selection                                 20.13
NP Lieselot Decroix (Bel) Lotto-Belisol Ladiesteam                             
NP Marcela Rubiano (CRc) Pratomagno Colombia                                   
 
Points
 
1 Karin Thürig (Swi) Cervelo Lifeforce Pro Cycling Team                      10 pts
2 Christiane Soeder (Aut) Cervelo Lifeforce Pro Cycling Team                  9
3 Nicole Cooke (GBr) Swift Racing                                             8
4 Loes Gunnewijk (Ned) Team Flexpoint                                         7
5 Diana Ziliute (Ltu) Safi - Pasta Zara Manhattan                             6
6 Maribel Moreno Allue (Spa) Multijaca                                        5
7 Priska Doppmann (Swi) Cervelo Lifeforce Pro Cycling Team                    4
8 Elisabeth Braam (Ned) Team Flexpoint                                        3
9 Grace Verbeke (Bel) Lotto-Belisol Ladiesteam                                 
10 Loes Markerink (Ned) Team Flexpoint                                         
 
Teams
 
1 Equipe Cervelo Lifeforce                                              2.50.56
2 Team Flexpoint                                                           6.39
3 Swift Racing/Team Halford                                               11.46
4 Safi Pasta Zara / Tinanedi                                              12.39
5 Multi Jaca/Sabinanigo                                                   14.19
6 Chiorio Forno D'asolo                                                   15.56
7 Equipe Nationale Suisse                                                 18.39
8 Topsport Vlaanderen                                                     19.18
9 Lotto Belisol                                                           20.52
10 Debabarrena Kirolgi                                                    32.02
11 Bourgogne Cyclisme Feminin                                             32.11
 
General classification after stage 5
 
1 Karin Thürig (Swi) Cervelo Lifeforce Pro Cycling Team                 9.53.24
2 Christiane Soeder (Aut) Cervelo Lifeforce Pro Cycling Team               0.39
3 Nicole Cooke (GBr) Swift Racing                                          2.35
4 Loes Gunnewijk (Ned) Team Flexpoint                                      2.44
5 Diana Ziliute (Ltu) Safi - Pasta Zara Manhattan                          2.46
6 Priska Doppmann (Swi) Cervelo Lifeforce Pro Cycling Team                 3.44
7 Grace Verbeke (Bel) Lotto-Belisol Ladiesteam                             3.57
8 Loes Markerink (Ned) Team Flexpoint                                      4.02
9 Maribel Moreno Allue (Spa) Multijaca                                     4.08
10 Elisabeth Braam (Ned) Team Flexpoint                                    4.30
11 Sarah Düster (Ger) Cervelo Lifeforce Pro Cycling Team                   4.42
12 Jolanta Polikeviciute (Ltu) USC Chirio Forno d'Asolo                    5.37
13 Bianca Knöpfle (Ger) Team Flexpoint                                     6.00
14 Dorte Lohse Rasmussen (Den) Swift Racing                                6.25
15 Evelyn Garcia (ESa) USC Chirio Forno d'Asolo                            6.55
16 Elena Berlato (Ita) Safi - Pasta Zara Manhattan                         7.18
17 Eneritz Iturriagaechevarria Mazaga (Spa) Safi - Pasta Zara Manhattan    7.32
18 Laeticia Gil Parra (Spa) Multijaca                                      7.56
19 Helen Wyman (GBr) Swift Racing                                          8.14
20 Karen Steurs (Bel) Topsport Vlaanderen Thompson Ladies Team             8.20
21 Kelly Druyts (Bel) Topsport Vlaanderen Thompson Ladies Team             8.25
22 Tatiana Stiajkina (Ukr) USC Chirio Forno d'Asolo                        8.27
23 Suzanne Van Veen (Ned) Team Flexpoint                                   8.29
24 Loes Sels (Bel) Topsport Vlaanderen Thompson Ladies Team                8.44
25 Rasa Polikeviciute (Ltu) USC Chirio Forno d'Asolo                       9.08
26 Ana Ramirez (Spa) Multijaca                                             9.23
27 Bettina Kuhn (Swi) Swiss National Team                                  9.32
28 Jessica Schneeberger (Swi) Swiss National Team                          9.36
29 Fabienne Sommer (Swi) Swiss National Team                               9.48
30 Toni Bradshaw (NZl) Swift Racing                                       10.01
31 Edita Unguryte (Ltu) USC Chirio Forno d'Asolo                          10.11
32 Alessandra Borchi (Ita) Safi - Pasta Zara Manhattan                    10.30
33 Elizabeth Agudelo (Col) Pratomagno Colombia                            11.31
34 Emma Silversides (GBr) Lotto-Belisol Ladiesteam                        12.02
35 Emilie Aubry (Swi) Swiss National Team                                 12.43
36 Sereina Trachsel (Swi) Swiss National Team                             13.02
37 Paola Munoz (Chi) Pratomagno Colombia                                  13.08
38 Ine Beyen (Bel) Swift Racing                                           13.12
39 Rosario Rodriguez Gomez (Spa) Multijaca                                15.53
40 Monika Furrer (Swi) Swiss National Team                                17.46
41 Katrien Van Looy (Bel) Topsport Vlaanderen Thompson Ladies Team        18.24
42 Debby Van De Berg (Ned) Swift Racing                                   18.38
43 Sylvie Gaillon (Fra) Bourgogne Selection                               19.44
44 Yolandi Du Toit (RSA) Lotto-Belisol Ladiesteam                         20.17
45 Line Foss (Nor) Bourgogne Selection                                    21.09
46 Adeline Gourgin (Fra) Bourgogne Selection                              22.18
47 Inma Rafael Salas (Spa) Debabarrena - Kirolgi                          22.31
48 Kim Schoonbaert (Bel) Lotto-Belisol Ladiesteam                         23.19
49 Patricia Perez Gimenez (Spa) Multijaca                                 24.08
50 Itsaso Leunda Coni (Spa) Debabarrena - Kirolgi                         24.23
51 Silvia Tirado Marquez (Spa) Multijaca                                  24.39
52 Odette Bertolin (Ita) Safi - Pasta Zara Manhattan                      25.33
53 Saioa Olitc Caluo (Spa) Debabarrena - Kirolgi                          33.38
54 Isabelle Moulis (Fra) Debabarrena - Kirolgi                            38.21
55 Claire Maugras (Fra) Bourgogne Selection                             1.05.33
56 Katy Bruchon (Fra) Bourgogne Selection                               1.40.43
 
Young rider classification
 
1 Elena Berlato (Ita) Safi - Pasta Zara Manhattan                      10.00.42
2 Kelly Druyts (Bel) Topsport Vlaanderen Thompson Ladies Team              1.07
3 Suzanne Van Veen (Ned) Team Flexpoint                                    1.11
4 Jessica Schneeberger (Swi) Swiss National Team                           2.18
5 Fabienne Sommer (Swi) Swiss National Team                                2.30
6 Edita Unguryte (Ltu) USC Chirio Forno d'Asolo                            2.53
7 Emilie Aubry (Swi) Swiss National Team                                   5.25
8 Paola Munoz (Chi) Pratomagno Colombia                                    5.50
9 Ine Beyen (Bel) Swift Racing                                             5.54
10 Katrien Van Looy (Bel) Topsport Vlaanderen Thompson Ladies Team        11.06
11 Adeline Gourgin (Fra) Bourgogne Selection                              15.00
12 Kim Schoonbaert (Bel) Lotto-Belisol Ladiesteam                         16.01
13 Patricia Perez Gimenez (Spa) Multijaca                                 16.50
14 Silvia Tirado Marquez (Spa) Multijaca                                  17.21
15 Claire Maugras (Fra) Bourgogne Selection                               58.15
 
Points classification
 
1 Diana Ziliute (Ltu) Safi - Pasta Zara Manhattan                            81 pts
2 Loes Markerink (Ned) Team Flexpoint                                        62
3 Nicole Cooke (GBr) Swift Racing                                            37
4 Jolanta Polikeviciute (Ltu) USC Chirio Forno d'Asolo                       32
5 Bettina Kuhn (Swi) Swiss National Team                                     30
6 Kelly Druyts (Bel) Topsport Vlaanderen Thompson Ladies Team                29
7 Sarah Düster (Ger) Cervelo Lifeforce Pro Cycling Team                      28
8 Grace Verbeke (Bel) Lotto-Belisol Ladiesteam                               24
9 Christiane Soeder (Aut) Cervelo Lifeforce Pro Cycling Team                 15
10 Edita Unguryte (Ltu) USC Chirio Forno d'Asolo                             12
11 Jessica Schneeberger (Swi) Swiss National Team                            12
12 Elisabeth Braam (Ned) Team Flexpoint                                      11
13 Karin Thürig (Swi) Cervelo Lifeforce Pro Cycling Team                     10
14 Loes Gunnewijk (Ned) Team Flexpoint                                        9
15 Paola Munoz (Chi) Pratomagno Colombia                                      9
16 Fabienne Sommer (Swi) Swiss National Team                                  7
17 Karen Steurs (Bel) Topsport Vlaanderen Thompson Ladies Team                7
18 Priska Doppmann (Swi) Cervelo Lifeforce Pro Cycling Team                   6
19 Maribel Moreno Allue (Spa) Multijaca                                       5
20 Loes Sels (Bel) Topsport Vlaanderen Thompson Ladies Team                   5
21 Ine Beyen (Bel) Swift Racing                                               4
22 Alessandra Borchi (Ita) Safi - Pasta Zara Manhattan                        4
23 Dorte Lohse Rasmussen (Den) Swift Racing                                   3
 
Mountains classification
 
1 Jolanta Polikeviciute (Ltu) USC Chirio Forno d'Asolo                       21 pts
2 Karin Thürig (Swi) Cervelo Lifeforce Pro Cycling Team                       6
3 Diana Ziliute (Ltu) Safi - Pasta Zara Manhattan                             4
4 Elena Berlato (Ita) Safi - Pasta Zara Manhattan                             4
5 Christiane Soeder (Aut) Cervelo Lifeforce Pro Cycling Team                  4
6 Nicole Cooke (GBr) Swift Racing                                             2
7 Dorte Lohse Rasmussen (Den) Swift Racing                                    1
 
Sprint classification
 
1 Edita Unguryte (Ltu) USC Chirio Forno d'Asolo                              24 pts
2 Diana Ziliute (Ltu) Safi - Pasta Zara Manhattan                            18
3 Loes Markerink (Ned) Team Flexpoint                                        18
4 Karin Thürig (Swi) Cervelo Lifeforce Pro Cycling Team                      12
5 Alessandra Borchi (Ita) Safi - Pasta Zara Manhattan                         3
6 Eneritz Iturriagaechevarria Mazaga (Spa) Safi - Pasta Zara Manhattan        2
7 Sarah Düster (Ger) Cervelo Lifeforce Pro Cycling Team                       1
8 Debby Van De Berg (Ned) Swift Racing                                        1
9 Elena Berlato (Ita) Safi - Pasta Zara Manhattan                             1
10 Ana Ramirez (Spa) Multijaca                                                1
11 Elisabeth Braam (Ned) Team Flexpoint                                       1
12 Grace Verbeke (Bel) Lotto-Belisol Ladiesteam                               1
 
Teams classification
 
1 Equipe Cervelo Lifeforce                                             29.44.38
2 Team Flexpoint                                                           7.14
3 Swift Racing/Team Halford                                               12.56
4 Safi Pasta Zara / Tinanedi                                              13.49
5 Multi Jaca/Sabinanigo                                                   16.04
6 Chiorio Forno D'asolo                                                   16.37
7 Equipe Nationale Suisse                                                 19.49
8 Topsport Vlaanderen                                                     21.03
9 Lotto Belisol                                                           22.36
10 Bourgogne Cyclisme Feminin                                             58.45
11 Debabarrena Kirolgi                                                  1.14.50