Irish National Championships - CN
Ireland, June 27-29, 2008
National Champs summary 2007 results The program Preview
The program
Day 1 - June 27: Time Trials: Elite Men, Women, Juniors,
Day 2 - June 28: Elite women's road race,
Day 3 - June 29: Elite Men and Junior road races,
Scrapping it out for the green jersey
By Shane Stokes
David O'Loughlin flies the Irish colours
Photo ©: Stephen McMahon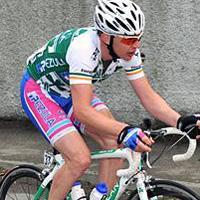 Although the selection for Ireland's two Olympic road race places has already been finalised – in contrast to four years ago, when the determination was made immediately after the national championships – each of the competitors in the men's contest on Sunday will be fully determined to prove they are top gun.
The country's ProTour riders Nicolas Roche (Crédit Agricole) and Philip Deignan (AG2R La Mondiale) are the two who have been given the nod by the Irish selectors. Each has ridden well in events this season and will be keen to earn the right to wear the green jersey for the next twelve months.
Roche was arguably the strongest rider in last year's race but attacked far too early, thus losing out. He did take the time trial title but that was little consolation for the ambitious son of the 1987 Tour de France winner Stephen Roche.
Deignan will head into the race in Midleton, Cork, still recovering from a heavy spring programme. He did a solid block of racing in the lead up to the Giro d'Italia, completed the Italian Tour despite ill health, and last weekend finished the Tour de Suisse. He was clear in a breakaway group for most of the mountainous sixth stage and then attacked Mathias Frank (Gerolsteiner) on the final climb, just seven kilometres to go. However the duo was overhauled by the main contenders three kilometres later.
The third Irish competitor with a top-level pro team, Daniel Martin (Garmin Chipotle H3O), will also be a big contender in Sunday's contest. Last weekend the 21 year-old first year pro took a stunning victory in the Route du Sud, confirming his talent as a climbing specialist. He'd prefer a hillier course on Sunday, but has strong form and must be considered a threat.
David O'Loughlin (Pezula Racing) and team-mate Ciarán Power are both determined to do well. O'Loughlin is the defending champion and will aim to take his fourth national road race title before shutting down the road racing in favour of doing specific preparation for the individual pursuit event at the Olympic Games. He was sixth in the track world championships in March and wants to aim higher in Beijing.
As for Power, he also hoped to be heading to China but was deeply disappointed not to be named to Ireland's road race squad when the announcement was recently made. He had a strong spring, taking a large number of results. These included fifth, seventh and eighth places on stages of the 2.1- ranked Presidential Tour of Turkey, a stage win in the FBD Insurance Rás, tenth in the 1.HC Philadelphia International championship and twelfth in the 1.1 Commerce Bank Reading Classic. Second and fourth on stages of the 2.2-ranked Tour de Beauce were, he felt, enough to secure him a slot but the Cycling Ireland selectors passed him over in favour of Deignan and Roche.
Power was disappointed in this, but even more so by the fact that Cycling Ireland didn't select him as a reserve. He finished 13th in Athens four years ago and felt he could perform this time round, even though the course is regarded as a tougher one. Cyclingnews understands that the two reserve places will go to Daniel Martin and David McCann; Martin's Route du Sud win shows that he is right to be considered, but Power has unquestionably been performing better than the latter this year. While his morale was badly shaken by the decision, a win on Sunday would underline a point to the selectors.
Other contenders
Giant Asia duo McCann and Paul Griffin are both expected to miss the race. McCann is understood to have overseas commitments with the team while Griffin has been suffering from ill health since the FBD Insurance Rás. However there are plenty of other riders who could take medals, not least Rás winner Stephen Gallagher (An Post M. Donnelly Grant Thornton Sean Kelly). He will be joined by strong team-mates such as Páidi O'Brien, Mark Cassidy and Isaac Speirs, with the latter very likely to figure in the results for best under 23 title rider.
The collective strength of the Continental team could play a major part in the outcome of the race. Last year O'Brien finished second behind O'Loughlin, with Cassidy taking third. Converting that silver and bronze to gold will be the big priority for Kelly's riders. The Pezula team will also have strength in numbers, and will seek to exploit that.
There will be a solid number of Irish-based competitors who will also take part in the event, which will see the riders complete ten circuits of an undulating 15.8-kilometre course. Three small climbs feature on each lap. The first comes after approximately three kilometres and is 500 metres long. Immediately after the descent, the next rears up and is 400 metres in length; the third then comes eleven kilometres after the start and could be the springboard for a winning attack. These are big-ring ascents, but the race organisers expect that they will start to bite as the race wears on.
The seven-lap junior race will also be held on the same course in Midleton; Sam Bennett (Dan Morrissey) and Philip Lavery (Eurocycles) have been the two standout riders thus far this season and are likely to fight it out between them for gold.
Women
Meanwhile Siobhan Dervan (Fenix) will aim to defend her title in the women's road race championships in Glounthaune, Co. Cork on Saturday, with the 2007 time trial champion Louise Moriarty (Swift Racing) also a strong candidate for the victory. Both have been riding very well in overseas races this season, despite a lack of funding from the governing body Cycling Ireland.
Dervan took her third consecutive title last year, with Jenny Fay netting silver and Moriarty sprinting in for bronze. Fay is thought likely to miss the event due to another commitment. Kate Rudd (MyHome.ie) and Heather Wilson (Maryland Wheelers) are also expected to ride strongly.
The race will cover eight laps of a 10.2 kilometres course, which features a drag of approximately one kilometre in length. There will also be a first-ever junior women's demonstration event, this reflecting a welcome growth in participation in this area of the sport.