British National Championships - CN
North Yorkshire, Great Britain, June 28-29, 2008
Main Page Results Previous Day
Day 2 - June 29: Elite/U23 men's road race, 203 km
Hayles escapes to victory in British title race
By Gerry McManus
Robert Hayles (Halfords / Bike Hut)
Photo ©: Gerry McManus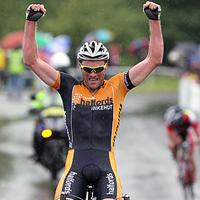 Rob Hayles (Team Halfords / Bike Hut) broke clear from his breakaway companions in the closing stages of a tough race to win the Men's Elite British road race championship in Yorkshire on Sunday. After nearly five hours of racing on an undulating circuit, Hayles dared to attack on a sweeping descent on the run in back to Duncombe Park and held on to a slender 20m lead to cross the line ahead youngster Peter Kennaugh (100% ME).
The 35 year-old Hayles was ecstatic as he crossed the finish line four seconds clear of Kennaugh, from the Isle of Man, whose storming ride gave him the Under 23 title. Dean Downing (Rapha Condor Recycling.co.uk) took the final podium place and the bronze medal. Daniel Lloyd (An Post- Sean Kelly) finished fourth as the final remaining rider from the group which was orginally 13 strong.
Kennaugh's 100% ME Team took the first three places in the Under 23 title race with Andrew Tennant taking the silver medal with the bronze going to Jonathan Bellis.
"It was a very tough race today but then I don't like to win easily," laughed Hayles. "I was panicking with Peter behind me. Our group formed when there was a small group up the road and five of us got across to the leaders. Before we knew it we had a two minute lead and then it went up to three and a half minutes and I couldn't believe it. We had a good working group and they were fast roads but we weren't really hammering it.
"There were five of us away at the end and we heard that there was a group trying to come up to us but the closest they got was about 50 seconds and by that time we were already attacking each other and we were going very fast," continued the former world team pursuit champion from Portsmouth. "I attacked with about 25 km to go and was away for about 10 km but was brought back. I was able to sit on and recover and I could see everyone was legless. I waited until the last descent with about three kilometres to go and I attacked. I got 10 seconds on Pete and the same again on Dean Downing and Daniel Lloyd and then it was just a drag race to the finish."
How it unfolded
Tom Southam in the group
Photo ©: Gerry McManus

The day had started warm and cloudy with a fresh wind as the riders headed out towards the Howardian Hills. The attacks had started on the first lap with groups going clear but unable to gain more than a few seconds over the vigilant bunch. Early attacks on the climb up from Hovingham included a solo effort from Ian Wilkinson (Science In Sport) with Tom Southam leading a small chase group behind with the main field lined out in pursuit.
Southam was active throughout the race and figured in a number of moves that saw the race speed rise and a number of riders were simply shelled out from the main field. Mark Cavendish (Team High Road) was close to David Millar (Slipstream-Chipotle) and Roger Hammond (Team High Road) near the front of the main field with the trio seemingly content to let the early attacks go.
Southam had gone clear on the next lap with Jonathan McEvoy (100% ME) and Alastair Carr (Team Remy Meder Haguenau). Matt Stephens (Sigma Sport RT) had seen the danger and set off in pursuit with Ben Greenwood (Rapha Condor Recycling.co.uk) and three other riders. Hammond and Dan Fleeman (An Post - Sean Kelly) headed up a slowly diminishing bunch about 30 seconds behind.
The resulting group formation saw the key break of the day of 13 riders being formed before half distance had been reached. The break included Hayles, Dean Downing, Stephens, Southam, Lloyd, Kennaugh and local rider James Sharp (York Cycleworks).
Roger Hammond (High Road) drags David Millar (Slipstream)
Photo ©: Gerry McManus
As the race moved onto circuit two they were down to 10 riders, but the lead to the chasers was up to three minutes. A tail wind saw the riders travelling rapidly and they stayed in the big ring up the stepped climb near Coulton. Southam took the opportunity to break the group up even more and attacked his companions with McEvoy and Stephens the first to react whilst some others hesitated. Hammond led Millar, Malcolm Elliott (Pinarello RT), Mark Cavendish and some 40 assorted riders in pursuit but few of them were contributing to the effort to bring the leaders back.
The front group was finally whittled down to five strong riders with Stephens and McEvoy chasing as the rain came down to make the steep decent from Oswaldkirk even more treacherous than it was before. Kieran Page (Pezula Racing) was stuck in no-man's land with Millar leading the chase behind. Southam finally paid dearly for his continual attacking efforts and dropped back to the main field.
Hayles, Southam, Dean Downing, Lloyd and Kennaugh had become the select few. Hayles took his chance on the run in with three kilometres to go and broke the little group up for good and the triple world track champion powered away to add another gold medal to his collection. Downing finished third with Lloyd fourth.
Mark Cavendish (High Road) beats Russell Downing (Pinarello RT)
Photo ©: Gerry McManus

Cavendish and Russell Downing (Pinarello RT) had put in a huge effort to jump across to the leaders and fought out the sprint for fifth place. Cavendish took the verdict ahead of his ride in the Tour de France next week.
"I knew it was going to be frustrating race," said Cavendish. "You can be sitting there doing 20mph and suddenly an attack goes. It is the most unpredictable type of racing imaginable. We nearly got the break back.
"Roger (Hammond), David (Millar) and Ian Stannard were working 100 percent," he added. "Unfortunately the big teams with nine riders didn't seem interested in bringing the break back even though they had no riders in it. That was very frustrating."
Cavendish remains upbeat with the start of the Tour de France next week. "I am pretty excited about it," continued Cavendish. "I have finished fifth today and didn't have to go too deep and I am in good form. It would have been nice to ride the Tour in the champion's jersey though."
Photography
For a thumbnail gallery of these images, click here
Images by Gerry McManus
Results
Elite men

1 Robert Hayles (Halfords / Bike Hut)                   5.03.55 (40.08km/h)
2 Peter Kennaugh (100% ME)                                 0.04
3 Dean Downing (Rapha Condor Recycling.co.uk)              0.15
4 Daniel Lloyd (An Post – Sean Kelly)                      0.28
5 Mark Cavendish (Team High Road)                          0.46
6 Russell Downing (Pinarello RT)
7 Andrew Tennant (100% ME)                                 0.51
8 Daniel Fleeman (An Post – Sean Kelly)
9 Jonathan Tierman – Locke (Mid Devon CC)                  0.52
10 Jonathan Bellis (100% ME)
11 Alex Dowsett (100% ME)
12 Graham Briggs (Rapha Condor Recycling.co.uk)            1.00
13 Robin Sharman (Sigma Sport RT)
14 Martin Forde (Private Member)
15 Evan Oliphant (Plowman Craven RT)
16 Andrew Bye (Sigma Sport RT)
17 Simon Holt (Rapha Condor Recycling.co.uk)
18 Malcolm Elliott  (Pinarello RT)
19 Liam Holohan  (Pearl Izumi)
20 Kit Gilham (Kinesis)
21 David Smith (VC Lyon)
22 Rob Partridge (Rapha Condor Recycling.co.uk)
23 Rhys Lloyd (Rapha Condor Recycling.co.uk)
24 Hamish Haynes (Team Yawadoo)                            1.04
25 David Millar (Slipstream-Chipotle)
26 Roger Hammond (Team High Road)
27 Jeremy Hunt  (Credit Agricole)
28 Simon Richardson (Plowman Craven RT)                    1.07
29 James Spragg (Castelsarrasin)
30                                                         1.11
31 Ben Swift (Team 100% ME)
32 Tom Copeland (VS Quimper)
33 Ryan Bonser (Rapha Condor Recycling.co.uk)
34 
35 Dale Appleby (Rapha Condor Recycling.co.uk)
36 Kristain House (Rapha Condor Recycling.co.uk)
37 Steven Lampier (Team Bouwkantoor)
38 Mark McNally (Team 100% ME)
39 Mark Wordsworth (Team Corley Cycles)
40 Stephen Adams (Pearl Izumi)

77 finishers 
 
U23 men

1 Peter Kennaugh (100% ME)                            
2 Andrew Tennant (100% ME)                            
3 Jonathan Bellis (100% ME)