International Cycling Classic - Superweek - NE
USA, July 11-27, 2008
Main Page Results Overall standings Previous Stage Next Stage
Stage 16 - July 25: Chase Food Folks & Spokes ,
Another Colombian takes fourth win for team
By Mark Zalewski in Kenosha, Wisconsin
Battle for leader's jerseys hotter than ever
Juan Pablo Forero Carreno (Colombia)
Photo ©: Mark Zalewski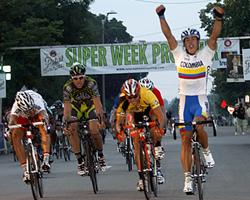 The Colombian national team continued to show its strength during the Superweek series, putting two riders in a 13 rider break that took a lap, controlling the pace for half the race. The team then executed a perfect lead-out to give Juan Pablo Forero Carreno his first win ahead of yesterday's winner Jonathan Page (Planet Bike).
Forero's team-mate Carlos Alzate was also in the break, but had won in Cedarburg earlier in the week, so he decided to work all out for his team-mate. "Alzate had won three days ago so the idea this whole time was to help each other out and today they helped me out," he said.
When the break lapped the field, the other winners on the team also pitched in and brought Forero to the line. "After we got a lap things settled down and my team was controlling everything," he said. "Then with four to go the other two winners on my team went to the front and controlled everything, it was very simple. Alzate was the last one to give me the lead-out."
Also in the break for the second day in a row was United States of America amateur road champion Paul Martin (Texas Roadhouse), though things did not go exactly as he would have liked. "It is tough with sprinters, especially for a guy like me," he said. "I like to get away alone but with them it was next to impossible. They set a really fast tempo!
"We only have four guys here - Chad, who won a race a week ago took me to the front with two to go and peeled off and then I was in behind some of the Colombians, but sprinting is not my forte," he added.
While the Colombians continue to rack up race wins, the battle for the leader's jerseys is hotter than ever. Jonathan Cantwell (Jittery Joe's) leads the overall points, just a few points ahead of the previous leader Sterling Magnell (Rock Racing.) The duel between Jittery Joe's and Rock Racing continues with Chad Hartley sitting in second for the sprint jersey behind Rock Racing's Rahsaan Bahati, though quite a few points behind.
The huge 13 rider break
Photo ©: Mark Zalewski

But interestingly, Bahati left the series on Thursday to stand-up in a close friend's wedding, and missed Friday's criterium as well. This gave Hartley the opportunity to make-up a lot of ground - and he did.
"The first 20 km everyone was going bananas," said Hartley. "Rock was trying to go, we would cover, and then they would counter. Then the break went and I was like, 'Aw crap!' But it was 50km before the first sprint; really early, so I went to the front and actually slowed the field down so that they would catch us.
"They lapped us a lap before the first sprint," he added. "In the first one I don't think Rock was paying attention. And then they made a half-attempt to get around me, but it was enough points to get back into the jersey."
Hartley now has the lead by four points over Bahati with two races to go. At the end of the race nobody seemed to know if Bahati would be returning for the Great Downer Avenue criterium on Saturday night to reclaim his jersey, but Hartley had some thoughts on his former team-mate. "I don't see Rahsaan passing up a chance at a $5,000 prime, so I bet he'll be there," he said.
Indeed, Bahati told Cyclingnews later that evening that he would be contesting the Downer Avenue race.
Now it's Chad Hartley's (Jittery Joe's) turn
Photo ©: Mark Zalewski

The battle between Cantwell and Magnell took a negative turn in the race, with many riders furious regarding Magnell's riding - so much so that second place Jonathan Page (Planet Bike) called out Magnell during his interview on the stage. As well, Cantwell did not mince words on the subject.
"He was just bashing guys off the wheels, throwing elbows and doing anything to win in a very unprofessional way," he said. "Yesterday I gave him credit for the way he was riding, but today he almost killed half the bunch! My respect is just slowly getting taken away from the guy. He might be a professional but he is certainly not riding like one."
In response, Magnell said he was riding in response to others, saying the rubbing was going both ways. "Page in particular wanted the wheel I had and he actually punched me in the back with five to go," he said. "I'll use my skill but I'll never take my hands off the bars. A lot of guys were yelling and had problems but I didn't have any problems - I can ride my bike."
One to go and it's all Colombia
Photo ©: Mark Zalewski

Regarding the final sprint, which seemed to cause the loudest uproar, Magnell said: "In the sprint I wanted to do two things, I wanted to get points on Cantwell and lead-out Dawson who was in the break. But the Colombians made the exact same move I did and I wasn't able to hold it."
Cantwell said he was not worried about the attacks from Magnell, as his team is riding a good defensive campaign. "He wasn't going anywhere," he said. "We have a plan of what he could possibly do to us and again for the third day in a row Chad and Ryan rode great and they played right into our hands. At the end of the day it was the same as yesterday, as long as Sterling doesn't go up the road I don't care who does. I beat him in the sprint and got a couple more points on him."
On the other hand, Magnell said he found it tough going trying to get away. He attacked solo on the opening lap, and also made it across to a pretty serious move a few laps later. "I had to hit out and try. I tried like hell and thought I was going to succeed because about 20 laps in there was a group off and I attacked, made it up to Dawson, yelled at him and we got to the break," he said. "They were hauling ass and then they all looked back and saw me and sat up."
Cantwell now holds a slim six point lead on Magnell, while Hartley has just four points on Bahati. Look for fireworks from Downer Avenue - for no other reason than the huge amount of primes on offer, including the infamous back-stretch, crowd-organized prime that often totals thousands of dollars.
Photography
For a thumbnail gallery of these images, click here
Images by Mark Zalewski/Cyclingnews.com
Results
1 Juan Pablo Forero Carreno (Colombia)                         
2 Carlos Alzate Escobar (Colombia)                             
3 Jonathan Page (Battley Harley Davidson / Planet Bike)        
4 Russell Langley (Battley Harley Davidson / Planet Bike)      
5 Paul Martin (Texas Roadhouse)                                
6 Alex Boyd (Team Waste Management)                            
7 Markus Walters (Team RACE)                                   
8 Aram Dellalian (Bearclaw)                                    
9 Greg Christian (Turin/Barker+Nestor)                         
10 Peter Dawson (Rock Racing)                                  
11 Richard England (Bissell)                                   
12 Cameron Meyer (SouthAustralia.com)                          
13 Jonathan Cantwell (Jittery Joe's)                           
14 Sterling Magnell (Rock Racing)                              
15 Carlos Vargas (txTough/Hotel San Jose/RGM Advisors)         
16 Clayton Goldsmith (Wheel & Sprocket)                        
17 Adrian Gerrits (Kahala-LaGrange)                            
18 Victor Ayala (Kahala-LaGrange)                              
19 Steve Tilford (HRRC / Trek Stores)                          
20 Markus Weinberg (Kahala-LaGrange)                           
21 Chad Cagle (Mercy Cycling Team)                             
22 Michael Woell (MBRC/Flanders)                               
23 Matthew Brandt (Mesa Cycles Racing Team)                    
24 Daniel Carruthers (Hansaton Hearing Systems)                
25 Thacker Reeves (Matrix/Richardson Bike Mart)                
26 Ronnie Strange (Jet Fuel Coffee)                            
27 (unknown rider)                                             
28 Barry Lee (txTough/Hotel San Jose/RGM Advisors)             
29 Nick Friesen (GS Mengoni USA)                               
30 Steven Scholzen (IS Corp Cycling Team)                      
31 Ryan White (ABD/Geargrinder)                                
32 Chad Hartley (The Jittery Joes Pro Cycling Team)            
33 Ryan Wohlrabe (Bicycle Heaven)                              
34 Daniel Lionberg (Velox Cycles)                              
35 Daniele DeFranceschi (Jet Fuel Coffee)                      
36 Nat Thompson (Rocky Mountain Bicycles/STOK)                 
37 Stefan Rothe (Mercy Cycling Team)                           
38 Shawn Milne (Team Type 1)                                   
39 Kip Spaude (ISCorp)                                         
40 Ryan Roth (Team RACE)                                       
41 Adam Thuss (Team RACE)                                      
42 Chris Steffanon (NOW/ MS Society)                           
43 Vincent Roberge (Cycling Center/JBCA)                       
44 Peter Rennie (Now-Ms society)                               
45 Derek Graham (Bissel Masters Elite)                         
46 Darin Divine (Adobe/Schwalbe pres by Lombardi Sports)       
47 Thomas Erlacker (Michelob Ultra / Big Shark)                
48 Eddy Kwon (MOB Cyclery Racing)                              
49 Kevin Hazzard (Jet Fuel Coffee)                             
50 Joseph Schmalz (HRRC / Trek Stores)                         
51 Rashad Guerra (GS Mongoni)                                  
52 Chad Burdzilauskas (Texas Roadhouse)                        
53 Francis Hamre (Mesa Cycles Racing Team)                     
54 Matt Seagrave (Kahala-LaGrange)                             
55 Andrew Gonzales (Sweet Bay Cycling Team)                    
56 David Haase (Attitude Sports)                               
57 Seth Eckert (Great Dane Velo Club)                          
58 Derek Laan (Turin/Barker+Nestor)                            
59 Randall Aardema (Tokyo Joe's)                               
60 Nicholas Holbus (Team Beans & Barley)                       
61 Hans Higdon (Caf? Hollander)                                
62 John Coyle (Wolverine Sports Club)                          
63 Rudolph Napolitano (Rock Racing)                            
64 Chris Coutu (MetLife p/b unlose.it)                         
65 Kevin Berger (Wheel & Sprocket)                             
66 Aaron Schneider (NOW-MS Society)                            
67 Adam Mills (HRRC / Trek Stores)                             
68 Robert Springer (Wheel & Sprocket)                          
69 Greg Bauer (GCCA)                                           
70 Juan Esteban Araugo Caruzjul (Colombia)                     
71 Brian Alfermann (THF Racing)                                
72 Tom Githens (Kahala-LaGrange)                               
73 Ben Whitehead (Priority Health Bissel)                      
74 Arlex Castro Caverde (Colombia)                             
75 Thom Coupe (MetLife p/b unlose.it)                          
76 Ryan Fleming (MetLife p/b unlose.it)                        
77 Bryson Bowers (Jet Fuel Coffee)                             
78 Andrew Touchstone (Olympic Club)                            
79 Bryce Mead (Jelly Belly Cycling)                            
80 (unknown rider)                                             
81 Eugene Boronow (GS Mengoni U.S.A.)                          
82 Brad Sheehan (MetLife p/b unlose.it)                        
83 Steve Flurry (CZ Velo)                                      
84 Jairo Perez Suarez (Colombia)                               
85 Aaron Molloy (MetLife p/b unlose.it)                        
86 Brett Stewart (ABD/Geargrinder)                             
87 Frank Rowley (City Cyclery)                                 
88 Luis-Alejandro Zamudio (American RADD Presented by AGEL)    
89 Tim Clark (Great Dane)                                      
90 Jamiel Danesh (Kahala-LaGrange)                             
91 (unknown rider)                                             
 
Bianchi Sprints - Men - Round 1
 
1 Ronnie Strange (Jet Fuel Coffee)                             
2 Chad Hartley (The Jittery Joes Pro Cycling Team)             
3 Rudolph Napolitano (Rock Racing)                             
4 Carlos Vargas (txTough/Hotel San Jose/RGM Advisors)          
5 Ryan Sullivan (Jittery Joe's)                                
6 Sterling Magnell (Rock Racing)                               
7 Erik Loberg (Team Beans & Barley)                            
 
Bianchi Sprints - Men - Round 2
 
1 Chad Hartley (The Jittery Joes Pro Cycling Team)             
2 Carlos Vargas (txTough/Hotel San Jose/RGM Advisors)          
3 Ronnie Strange (Jet Fuel Coffee)                             
4 Markus Weinberg (Kahala-LaGrange)                            
5 Daniele DeFranceschi (Jet Fuel Coffee)                       
6 Rudolph Napolitano (Rock Racing)                             
7 Jonathan Cantwell (Jittery Joe's)                            
 
Bianchi Sprints - Men - Round 3
 
1 Chad Hartley (The Jittery Joes Pro Cycling Team)             
2 Jonathan Cantwell (Jittery Joe's)                            
3 Carlos Vargas (txTough/Hotel San Jose/RGM Advisors)          
4 Ronnie Strange (Jet Fuel Coffee)                             
5 Markus Weinberg (Kahala-LaGrange)                            
6 Jairo Perez Suarez (Colombia)                                
7 Ryan Roth (Team RACE)                                        
 
Bianchi Sprints - Men - Round 4
 
1 Ryan Wohlrabe (Bicycle Heaven)                               
2 Chad Hartley (The Jittery Joes Pro Cycling Team)             
3 Ronnie Strange (Jet Fuel Coffee)                             
4 Sterling Magnell (Rock Racing)                               
5 Carlos Vargas (txTough/Hotel San Jose/RGM Advisors)          
6 Chad Cagle (Mercy Cycling Team)                              
7 Markus Weinberg (Kahala-LaGrange)