International Cycling Classic - Superweek - NE
USA, July 11-27, 2008
Main Page Results Overall standings Previous Stage Next Stage
Stage 13 - July 22: WDSC Cedarburg Cycling Classic
Fast times at Superweek continue
By Mark Zalewski, North American Editor in Cedarburg, Wisconsin
Carlos Alzate (Columbian National Team)
Photo ©: Mark Zalewski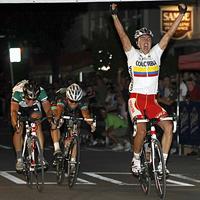 Even though it was a Tuesday night and the weather a little cool, heaps of spectators from the small town of Cedarburg just north of Milwaukee turned out to watch the 13th day of Superweek - and they were treated to a classic race. A fast course with a long false-flat drag down to the finish, aided by a tail wind, kept the speeds blistering.
Breaks were few and far between until late in the race when four riders escaped. But the speeds were such that they were unable to take a lap and the four sprinted against each other with the Columbian Carlos Alzate (Columbian National Team) taking the win.
One of the reasons a break did not go early was that Rock Racing was working to set up sprint leader Rahsaan Bahati and Jittery Joe's was setting up Chad Hartley. This kept everything together.
"I didn't want to get the sprint points I wanted to ride in a breakaway," Alzate said. "I was in various breaks at the beginning but none of them succeeded. About 26 laps to go two riders escaped and eventually four of us were able to escape and succeed.
Will Alexander (Virgin Blue) leads
Photo ©: Mark Zalewski

"We all were giving it our best and nobody was holding back," he added. "Some of the break had a lot of experience in sprinting and this course allowed us to demonstrate it to win the [final] sprint."
Also in the break were Reid Mumford (Kelly Benefits Strategies-Medifast), Will Alexander (Virgin Blue) and Ryan Roth (Team RACE). "You had to wait for a lull in order to move up or attack," said Roth about the speed. "Originally it was Reid and the Aussie up the road until the Columbian and I bridged up. Once we were there nobody skipped a beat."
In the other races Rahsaan Bahati did defend and extend his sprint lead, though not without a bit of work - some of which he created for himself.
"I am trying to get enough points so that I can afford to miss a few," he said. "I missed the first sprint but I won three of the four.
I couldn't recover because I miscalculated and ended up sprinting the lap before it. That hurt me, doing two sprints in a row!"
Regarding his team's leader Sterling Magnell, who has a little more competition for the overall with Aussie Jonathan Cantwell (Jittery Joe's) at just seven points behind, Bahati said, "He's feeling good and tomorrow will be good for the team - a lot of them are road racers and are looking forward to the course."
Photography
For a thumbnail gallery of these images, click here
Images by Mark Zalewski/Cyclingnews.com
Results
1 Carlos Alzate Escobar (Colombia)                             
2 Ryan Roth (Team RACE)                                        
3 David Kemp (Virgin Blue Cycling Team)                        
4 Reid Mumford (Kelly Benefit Strategies/Medifast)             
5 Jonathan Cantwell (Jittery Joe's)                            
6 Rahsaan Bahati (Rock Racing)                                 
7 Sterling Magnell (Rock Racing)                               
8 Jake Keough (Kelly Benefit Strategies/Medifast)              
9 Alex Candelario (Kelly Benefit Strategies/Medifast)          
10 Alex Boyd (Team Waste Management)                           
11 Bernard Sulzberger (Virgin Blue Cycling Team)               
12 Chad Hartley (The Jittery Joes Pro Cycling Team)            
13 Carlos Vargas (txTough/Hotel San Jose/RGM Advisors)         
14 Adrian Gerrits (Kahala-LaGrange)                            
15 Zachary Davies (RockyMounts~Izze Racing)                    
16 Daniel Chavez (Preferred Alliance)                          
17 Jesse Anthony (Team Type 1)                                 
18 Justin Kerr (Liquid Cycling)                                
19 Aram Dellalian (Bearclaw)                                   
20 Russell Langley (Battley Harley Davidson / Planet Bike)     
21 Cole House (Bianchi/ GP)                                    
22 Ronnie Strange (Jet Fuel Coffee)                            
23 Max Taam                                                    
24 Logan Loader (BPG/Montano Velo)                             
25 Markus Walters (Team RACE)                                  
26 Juan Pablo Forero Carreno (Colombia)                        
27 Victor Ayala (Kahala-LaGrange)                              
28 Devon Vigus (Cal Giant Berry Farms/Specialized)             
29 John Minturn (Empire-CRCA)                                  
30 Adam Bergman (Texas Roadhouse)                              
31 Peter Morse (Jet Fuel Coffee)                               
32 Keven Lacombe (Kelly Benefit Strategies/Medifast)           
33 Ryan Wohlrabe (Bicycle Heaven)                              
34 Daniel Lionberg (Velox Cycles)                              
35 Nick Friesen (GS Mengoni USA)                               
36 Kris Koke (Liquid Cycling)                                  
37 Sean McBride (BPG/ Montano Velo)                            
38 Ryan Baumann (CRCA / Sakonnet Technology)                   
39 Kip Spaude (ISCorp)                                         
40 Ryan Fleming (MetLife p/b unlose.it)                        
41 Frank Pipp (Health Net-Maxxis)                              
42 Andrew Armstrong (Matrix / RBM)                             
43 Eugene Boronow (GS Mengoni U.S.A.)                          
44 Bucky Miller (Team RACE)                                    
45 David Kay (Great Dane)                                      
46 David Rendon (Colavita Racing)                              
47 Ben King (Kelly Benefit Strategies/Medifast)                
48 Juan Esteban Araugo Caruzjul (Colombia)                     
49 Justin Williams (Rock Racing)                               
50 Chris Hall (HRRC Trek)                                      
51 Seth Hansley (Locos)                                        
52 Nat Thompson (Rocky Mountain Bicycles/STOK)                 
53 Patrick Kilmurray (NUVO Cultural Trail)                     
54 Patrick Fasse (Ski Utah Cycling Team)                       
55 Kevin Berger (Wheel & Sprocket)                             
56 (unknown rider)                                             
57 Matt Seagrave (Kahala-LaGrange)                             
58 Peter Rennie (Now-Ms society)                               
59 John Bergmann (BPG / Montano Velo)                          
60 John Trujillo (txTough/Hotel San Jose/RGM Advisors)         
61 Daniele DeFranceschi (Jet Fuel Coffee)                      
62 Jairo Perez Suarez (Colombia)                               
63 Brad Sheehan (MetLife p/b unlose.it)                        
64 Brian Buchholz (Kelly Benefit Strategies/Medifast)          
65 Tyler Jenema (ACE)                                          
66 Jonathan Heidemann (MOB Cyclery / RMCEF)                    
67 Randall Aardema (Tokyo Joe's)                               
68 Thom Coupe (MetLife p/b unlose.it)                          
69 David Veilleux (Kelly Benefit Strategies/Medifast)          
70 Rob White (ABD/Geargrinder)                                 
71 Josh Carter (ABD/Geargrinder)                               
72 Greg Campbell (Virgin Blue Cycling Team)                    
73 Will Alexander (Virgin Blue Cycling Team)                   
74 Aaron Beardsley (Wells Fargo Racing)                        
75 Kevin Hazzard (Jet Fuel Coffee)                             
76 Bryce Mead (Jelly Belly Cycling)                            
77 Tim Clark (Great Dane)                                      
78 Clayton Goldsmith (Wheel & Sprocket)                        
79 Luis-Alejandro Zamudio (American RADD Presented by AGEL)    
80 Jonathan Page (Battley Harley Davidson / Planet Bike)       
81 (unknown rider)                                             
82 Sean Finning (Jayco/VIS)                                    
83 Markus Weinberg (Kahala-LaGrange)                           
 
Sprints

Bianchi Sprints 1
1 Rahsaan Bahati (Rock Racing)                                 
2 Peter Dawson (Rock Racing)                                   
3 Ronnie Strange (Jet Fuel Coffee)                             
4 Justin Williams (Rock Racing)                                
5 Chad Hartley (The Jittery Joes Pro Cycling Team)             
6 Jeff Schroetlin (ABD/Geargrinder)                            
7 Sean Finning (Jayco/VIS)                                     
 
Bianchi Sprints 2
1 Rahsaan Bahati (Rock Racing)                                 
2 Peter Dawson (Rock Racing)                                   
3 Chad Hartley (The Jittery Joes Pro Cycling Team)             
4 Jonathan Cantwell (Jittery Joe's)                            
5 Carlos Vargas (txTough/Hotel San Jose/RGM Advisors)          
6 Ronnie Strange (Jet Fuel Coffee)                             
7 Russell Langley (Battley Harley Davidson / Planet Bike)      
 
Bianchi Sprints 3
1 Ronnie Strange (Jet Fuel Coffee)                             
2 Peter Dawson (Rock Racing)                                   
3 Chad Hartley (The Jittery Joes Pro Cycling Team)             
4 David Veilleux (Kelly Benefit Strategies/Medifast)           
5 Justin Kerr (Liquid Cycling)                                 
6 Jonathan Page (Battley Harley Davidson / Planet Bike)        
7 Jesse Anthony (Team Type 1)                                  
 
Bianchi Sprints 4
1 Ryan Roth (Team RACE)                                        
2 David Kemp (Virgin Blue Cycling Team)                        
3 Reid Mumford (Kelly Benefit Strategies/Medifast)             
4 Carlos Alzate Escobar (Colombia)                             
5 Rahsaan Bahati (Rock Racing)                                 
6 Chad Hartley (The Jittery Joes Pro Cycling Team)             
7 Carlos Vargas (txTough/Hotel San Jose/RGM Advisors)