International Cycling Classic - Superweek - NE
USA, July 11-27, 2008
Main Page Results Overall standings Previous Stage Next Stage
Stage 10 - July 19: Carl Zach Cycling Classic,
Money talks at Superweek
By Mark Zalewski in Waukesha, Wisconsin
Spencer Beamer (DLP Racing) nets a big win
Photo ©: Mark Zalewski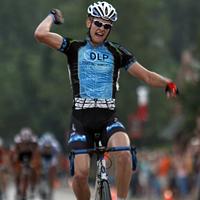 Just when you think the racing is getting predictable during the 17 race series known as Superweek, a monkey wrench is thrown into the works. For Saturday's race it came in the form of a $1,000 cash prime with just three laps to go. This resulted in disorganization and hesitation in the large breakaway group - allowing opportunist Spencer Beamon (DLP Racing) to get one of the biggest wins of his career with a brave solo move.
"Everyone was going for that $1,000 prime so with two laps to go Rock and Kelly were marking each other," Beamer told Cyclingnews. "I know I can't beat Candelario in a sprint so I might as well try it. I'm a good time trialer and they sat up on the back side so I drilled it as hard as I could. I was surprised when I heard one to go because I thought it was still two to go, so that gave me extra motivation."
With one more lap alone on the front Beamer dropped into time trial mode and did not look back until he rounded the final turn. "I didn't want to slow up because you see all those sprints were the guy gets caught at 50 meters, so I didn't look around until then."
The $1,000 prime was won by Bernard Sulzberger (Virgin Blue) who, after a week of just missing the top podium step, decided this would be a better goal. "They said on the start line and I thought I would go balls-out for it," he said. "It took a lot out of me though. The Columbian guy hit off just past the finish line and I only caught him in the final turn, but had to do a whole lap on my own."
Bernhard Sulzberger (Virgin Blue)
Photo ©: Mark Zalewski

Now with some nice cash in his pocket, he is turning his focus to reaching that top step. "Two seconds and two thirds, so I am hoping for a win," said the Australian.
One of the best shots in the break, at least on paper, was the Kelly Benefits Strategies-Medifast team with sprinters Alex Candelario and yesterday's stage winner Jake Keough. "That prime kind messed things up," said Candelario. "Keough was going to go for the prime and I was going for the win. A couple of guys got the jump early and it's hard once a gap opens on this course it is hard to shut down.
"We ended up failing at both the prime and the win," he added. "But it was a good race with a nice crowd."
Though always easy-going, Candelario was even more relaxed as his team is using Superweek more for training purposes. "We are not going for the overall, just picking our days and getting some good training in," he said.
Back in the saddle again is Sterling Magnell (Rock Racing)
Photo ©: Mark Zalewski

However, getting a win yesterday with a young, up-and-coming rider in Jake Keough is a good sign for the future. "The kid is on fire and it's good to have another sprinter on the team," added Candelario.
Series leader Sterling Magnell (Rock Racing) was a questionable start today after a hard crash the day before. But the doctors cleared him to ride and he wanted to be in it, if for no other reason than to just stay as loose as possible. But the next thing the crowd saw was the yellow jersey in the main break, taking pulls.
"I felt good and strong, and I like this course," he said. "I was lacking some snap and was a little sluggish, but I felt great overall. I was a little nervous and overeager to get back out there - I was scared last night [after the crash] and was anxious to just get back out there."
As for that devilish prime at the end of the race, Magnell said it never crossed his mind to go for hit. "No, I'll make a lot more money if I win the overall," he said.
Photography
For a thumbnail gallery of these images, click here
Images by Mark Zalewski/Cyclingnews.com
Results
1 Spencer Beamer (DLP Racing)                                   
2 Alex Candelario (Kelly Benefit Strategies/Medifast)           
3 Jonathan Cantwell (Jittery Joe's)                             
4 Jonathan Page (Battley Harley Davidson / Planet Bike)         
5 Carlos Vargas (txTough/Hotel San Jose/RGM Advisors)           
6 Bernard Sulzberger (Virgin Blue Cycling Team)                 
7 Sterling Magnell (Rock Racing)                                
8 Rob White (ABD/Geargrinder)                                   
9 Steven Scholzen (IS Corp Cycling Team)                        
10 Adrian Gerrits (Kahala-LaGrange)                             
11 Frank Dierking (Great Dane)                                  
12 Jake Keough (Kelly Benefit Strategies/Medifast)              
13 Adam Switters (Rock Racing)                                  
14 Jeff Schroetlin (ABD/Geargrinder)                            
15 Chad Hartley (The Jittery Joes Pro Cycling Team)             
16 Adam Bergman (Texas Roadhouse)                               
17 David Kemp (Virgin Blue Cycling Team)                        
18 Logan Loader (BPG/Montano Velo)                              
19 Victor Ayala (Kahala-LaGrange)                               
20 Ronnie Strange (Jet Fuel Coffee)                             
21 Gregg Brandt (Bianchi Grand Performance)                     
22 Brian Buchholz (Kelly Benefit Strategies/Medifast)           
23 James Stemper (velo trocadero cycling)                       
24 Andrew Dahleim (txTough/Hotel San Jose/RGM Advisors)         
25 Alex Boyd (Team Waste Management)                            
26 Ben King (Kelly Benefit Strategies/Medifast)                 
27 Tommy Nankervis (DLP Racing)                                 
28 (unknown rider)                                              
29 Shane Braley (Wheel & Sprocket)                              
30 Drew Salcedo (Acqua al 2/SDBC)                               
31 Ryan White (ABD/Geargrinder)                                 
32 Barry Lee (txTough/Hotel San Jose/RGM Advisors)              
33 Daniel Lionberg (Velox Cycles)                               
34 Luis-Alejandro Zamudio (American RADD Presented by AGEL)     
35 Ryan Knapp (Alderfer Bergen)                                 
36 Patrick Fasse (Ski Utah Cycling Team)                        
37 Cole House (Bianchi/ GP)                                     
38 Peter Dawson (Rock Racing)                                   
39 Randall Coxworth (Acqua al 2/SDBC)                           
40 Cameron Meyer (SouthAustralia.com)                           
41 Kyle Jacobson (ISCorp)                                       
42 Rudolph Napolitano (Rock Racing)                             
43 Alex Wieseler (Nova/ISCorp)                                  
44 John Minturn (Empire-CRCA)                                   
45 Jonathan Sundt (Kelly Benefit Strategies/Medifast)           
46 Reid Mumford (Kelly Benefit Strategies/Medifast)             
47 Ben Renkema (Turin/Barker+Nestor)                            
48 David Williams (Priority Health U23)                         
49 Christopher Uberti (Turin/Barker+Nestor)                     
50 Nathan Williams (West Michigan Coast Riders)                 
51 Derek Witte (Bissel Masters/ Elite)                          
52 Michael Woell (MBRC/Flanders)                                
53 Erik Meier (Baraboo Sharks)                                  
54 Dallas Fowler                                                
55 Daniel Chavez (Preferred Alliance)                           
56 Dan Teaters (Matrix/RBM)                                     
57 Tyler Jewell (txTough/Hotel San Jose/RGM Advisors)           
58 Kevin Hazzard (Jet Fuel Coffee)                              
59 Tristan Uhl (txTough/Hotel San Jose/RGM Advisors)            
60 Luke Servedio (Krystal/ SCV)                                 
61 Thomas Clark (Great Dane)                                    
62 Ted Hopkins (Cycles Veloce Simple Green)                     
63 Erik Loberg (Team Beans & Barley)                            
64 Zach McBride (Priority Health)                               
65 Ryan Gibson (Allegiant Air)                                  
66 Anthony Dust (Dogfish Racing Team)                           
67 Christopher Chartier (Alderfer Bergen)                       
68 Jay Thomas (HRRC Trek Stores)                                
69 Tyler Jenema (ACE)                                           
70 Graham Gifford (Morris Trucking)                             
71 Griffith Moore (Virgin Blue Cycling Team)                    
72 Andrew Gonzales (Sweet Bay Cycling Team)                     
73 John Trujillo (txTough/Hotel San Jose/RGM Advisors)          
74 Daniel Lawrence (Dogfish Racing)                             
75 Chris Keane (Preferred Alliance Cycling Team)                
76 Kaz Milas (Team Beans & Barley)                              
77 Thomson Remo (Baraboo Sharks)                                
 
Bianchi Sprints - Men - Round 1
1 Chad Hartley (The Jittery Joes Pro Cycling Team)              
2 Alex Candelario (Kelly Benefit Strategies/Medifast)           
3 Peter Dawson (Rock Racing)                                    
4 Ronnie Strange (Jet Fuel Coffee)                              
5 Jonathan Cantwell (Jittery Joe's)                             
6 Jake Keough (Kelly Benefit Strategies/Medifast)               
7 Jonathan Page (Battley Harley Davidson / Planet Bike)         
 
Bianchi Sprints - Men - Round 2
1 Carlos Vargas (txTough/Hotel San Jose/RGM Advisors)           
2 Jake Keough (Kelly Benefit Strategies/Medifast)               
3 Sterling Magnell (Rock Racing)                                
4 Steven Scholzen (IS Corp Cycling Team)                        
5 Alex Candelario (Kelly Benefit Strategies/Medifast)           
6 Adrian Gerrits (Kahala-LaGrange)                              
7 Frank Dierking (Great Dane)                                   
 
Bianchi Sprints - Men - Round 3
1 Carlos Vargas (txTough/Hotel San Jose/RGM Advisors)           
2 Frank Dierking (Great Dane)                                   
3 Jonathan Cantwell (Jittery Joe's)                             
4 Steven Scholzen (IS Corp Cycling Team)                        
5 Adam Switters (Rock Racing)                                   
6 Jonathan Page (Battley Harley Davidson / Planet Bike)         
7 Bernard Sulzberger (Virgin Blue Cycling Team)                 
 
Bianchi Sprints - Men - Round 4
1 Rob White (ABD/Geargrinder)                                   
2 Carlos Vargas (txTough/Hotel San Jose/RGM Advisors)           
3 Frank Dierking (Great Dane)                                   
4 Adrian Gerrits (Kahala-LaGrange)                              
5 Jake Keough (Kelly Benefit Strategies/Medifast)               
6 Sterling Magnell (Rock Racing)                                
7 Adam Switters (Rock Racing)                                   
 
Women
 
1 Jessie Maclean (Verducci/Breakaway)                           
2 Jennifer Rasmusson (HPC Powered by Altarum)                   
3 Ashley Dymond (Team Rock)                                     
4 Theresa Cliff-Ryan (Verducci/Breakaway)                       
5 Samantha Schneider (Mesa Cycles)                              
6 Jenette Williams (HPC Powered by Altarum)                     
7 Christine Dekracy (Team 19)                                   
8 Elizabeth Morse Hill (Hub Racing)                             
9 Brooke O'Connor (Hub Racing)                                  
10 Sydney Brown (Team Revolution)                               
11 Carrie Cash (Team Revolution)                                
12 Christi-An Hansley (Team Med Plan)                           
13 Kacey Manderfield (Verducci/Breakaway)                       
14 Anna Young (Americas Dairyland)                              
15 CarrieAnn Kopernik (Nova/ISCorp)                             
16 Devon Haskell (Team Get A Grip Cycles)                       
17 Catherine Walberg (Team Kenda Tire)                          
18 Trish Black (Morgan Stanley/Specialized/24HR Fitness)        
19 Shana Sturla (Flanders)                                      
20 Flavia Lepene (Team 19 Cycling)                              
21 Arley Kemmerer (Hub Racing)                                  
22 Molly Vetter-Smith (Mesa Cycles Racing Team)                 
23 Louise Turner (Morris Trucking Velo)                         
24 Pamela Loebig (Team Revolution)                              
25 Anne Meyer (Mercy-Specialized)                               
26 Kristin Wentworth (Team Kenda Tire)                          
27 Katie Weber (Team Revolution)                                
28 Jessica Prinner (ABD Cycling Team)                           
29 Genevieve Whitson (HPC Powered by Altarum)                   
30 Lori Barrett (txTough/Hotel San Jose/RGM Advisors)           
31 Whitney Schultz (txTough/Hotel San Jose/RGM Advisors)        
32 Laurel Green (Dolce Vita Cycling)                            
33 Linda Sone (Flanders)                                        
34 Christine Roettger (Team Revolution)                         
35 Lauren Hecht (Webcor/Alto Velo)                              
36 Annie Lux (Team 19 WSD)                                      
37 Kate Ross (Americas Dairyland)                               
38 Kristen Meshberg (Flatlandia Cycling Team)                   
39 Sheba Farrin (Hub Racing)                                    
40 Susan Hefler (HPC Powered by Altarum)                        
41 Anne Guzman (Team Kenda Tire)                                
42 Dale Tye (Hub Racing)                                        
43 Leeanne Manderson (Hub Racing)                               
44 Liz Leyden (Hub Racing)                                      
45 Skye-Lee Armstrong (Bicycle John's Serious Cycling)          
46 Michele Bote (HPC Powered by Altarum)                        
47 Rachel Eichers (Nova Cycle Sports Foundation Inc.)           
48 Julie Bishop (Revolution)                                    
49 Amy McGuire (Team Kenda Tire)                                
50 Hadley Trotter (Team 19)                                     
51 Elizabeth Freudenberger (Team Awesome)                       
52 Yvonne Schumacher (Nova Cycle Sports Foundation Inc.)        
53 Annie Deprey (Squadra Velocita)