Louisville Metro Police Foundation Crit - NE
Louisville, USA, July 12, 2008
Clarke, Kovac prove quality over quantity
By Mark Zalewski in Louisville, Kentucky
Who wants some? Hilton Clarke (Toyota-United)
Photo ©: Mark Zalewski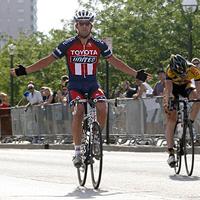 Hilton Clarke (Toyota-United) was only one of three Toyota team members starting today's National Racing Calendar criterium in downtown Louisville. But with only regional professional and amateur teams to contend with, one Clarke equals about an entire amateur squad.
Though outnumbered in the main break of six, three of whom were from the same team, the Aussie criterium professor gave a lecture on sprinting and took the win with ease. "I've grown up racing in small fields and teams come into it, but in a break you only have to race against those guys," Clarke told Cyclingnews. "We had a meeting before the race and the goal was to put me in a break."
Clarke was clearly the fastest in the race. But every racer and spectator knew Clarke was the fastest, and that made him a marked man. "I was in a tricky situation, when you are the strongest and fastest everyone puts the pressure on you even more, so it was mine to lose," he said.
In the break with him were three riders from the Texas Roadhouse team, a strong regional amateur team that included current elite road champion Paul Martin and former pro Adam Bergman. Bergman was in the break along with team-mates Kevin Attkisson and John Puffer, while the other professional team, Inferno, was represented by Matt Winstead.
"Watch him!" is what Winstead said about having Clarke in the break. "I just knew I was outnumbered with three Texas guys and him. I was trying to be the bad guy and just sit on them but they weren't having that, so I had to work some."
Outnumbered but not outgunned: Hilton Clarke (Toyota-United)
Photo ©: Mark Zalewski

For a while it looked like the break was destined to sit in the middle between taking a lap on the field, due in part to the wide open roads and possibly to Texas Roadhouse preferring to keep its three-to-one ration against Clarke. But eventually some disorganization developed back in the field and the break started making up ground.
"I knew that it would lap the field here," said Clarke. "I really wanted it to lap to have team-mates."
Once it did it was advantage Clarke with team-mates Sean Sullivan and Heath Blackgrove aiding him. This race is just an amuse bouchée for Clarke as he, and the rest of the speedsters of the domestic peloton, enter the criterium-laden months of July and August.
"This is my time of the year, so this is a good way to start crit season," said Clarke. "Last year I didn't do Elk Grove and I'm looking forward to it, as well as Rochester."
But the win here, which was obviously not a career highlight for Clarke, was put in even more perspective with the recent crash of his countryman Ben Brooks.
"To tell you the truth I am not that excited about this win because we've all got our fingers crossed for Ben Brooks, a man down at the moment," he said. "My thoughts are more with him, hoping he pulls through and not too concerned about anything else."
Local amateur Bri Kovac (Team Revolution)
Photo ©: Mark Zalewski
A similar situation occurred in the women's race. Bri Kovac (Team Revolution), a strong local amateur rider, knew she was outnumbered by some other teams. So she capitalized on a three-rider breakaway to even the odds, and sprinted to an NRC win in the process.
"I was hoping for a break because of the two Cheerwines and a whole bunch of Hub racers, we were outnumbered today," she said. "I was excited when Allyson went because I knew she could hang for a long time. I'm a TT girl so I don't mind being off the front."
Cheerwine's Allyson Brandt initiated the break that also contained Christina Smith (LONESTARWORKS.COM) and Kovac. Late in the race a solo bridge by Jenette Williams (HPC-Altarum) made it four.
"Jennette is so strong that she always causes some worry," said Kovac. "Someone that can make that bridge alone is really strong. But she actually helped out and pulled the last few laps - it really set me up, so thank you very much Jennette!"
Photography
For a thumbnail gallery of these images, click here
Images by Mark Zalewski/Cyclingnews.com
Results
Elite men
 
1 Hilton Clarke (Toyota- United Pro Cycling Team)                                     
2 Adam Bergman (Texas Roadhouse Cycling Team)                                         
3 Nick Frey (Time Pro Cycling)                                                        
4 Matt Winstead (Team Inferno Pro Cycling)                                            
5 Kevin Attkisson (Texas Roadhouse Cycling Team)                                      
6 John Puffer (Texas Roadhouse Cycling Team)                                          
7 Michael Lantz (Nuvo Cultural Trail)                                                 
8 Adam Myerson (Time Pro Cycling)                                                     
9 Derek Laan (Turin Bicycle/Barker+Nestor)                                            
10 Paul Martin (Texas Roadhouse Cycling Team)                                         
11 Chris Scott (Locos Cycling)                                                        
12 Kirk Albers (Texas Roadhouse Cycling Team)                                         
13 Chad Burdzilauskas (Texas Roadhouse Cycling Team)                                  
14 Ryan Gamm (Team Inferno Pro Cycling)                                               
15 Derek Witte (Bissell Masters/Elite)                                                
16 Dirk Pohlmann (Texas Roadhouse Cycling Team)                                       
17 Mike Sherer (Alderfer Bergen)                                                      
18 Charles Crouse (Dogfish)                                                           
19 James Baldesare (Team Inferno Pro Cycling)                                         
20 Bennet Van Der Genugten (Team Inferno Pro Cycling)                                 
21 Matthew Belcher (Turin Bicycle/Barker+Nestor)                                      
22 Declan Doyle (Nuvo Cultural Trail)                                                 
23 Gregory Christian (Turin Bicycle/Barker+Nestor)                                    
24 Jonathan Jacob (Mob / Ubuildit)                                                    
25 Joe Cooper                                                                         
26 Travis Hagner (Locos Cycling)                                                      
27 John Grant (Texas Roadhouse Cycling Team)                                          
28 Sean Sullivan (Toyota- United Pro Cycling Team)                                    
29 Marco Aledia (Team Inferno Pro Cycling)                                            
30 Josh England (Team Inferno Pro Cycling)                                            
31 Heath Blackgrove (Toyota- United Pro Cycling Team)                                 
32 Jacob Rytlewski (Uci Ct: Rite-Aid Pro Cycling Presented By Shebell And Shebell)    
DNF Tracy Smith (Mesa Cycles Racing Team)                                             
DNF Ryan Knapp (Alderfer Bergen)                                                      
DNF Isaac Neff (Alderfer Bergen)                                                      
DNF Thomas Soladay (Time Pro Cycling)                                                 
DNF Adam Sczech (Pista Elite)                                                         
DNF Harry Clark (Calistoga Racing Team)                                               
DNF Benjamin Weaver (Nuvo Cultural Trail)                                             
DNF Spencer Beamer (Dlp Racing)                                                       
DNF Daniel Quinlan (Elves And More Of Northeast Ohio Elite Race Team)                 
DNF John Gore (Team Gran Fondo-Bianchi)                                               
DNF Andrzej Banaszkiewicz (Nuvo Cultural Trail)                                       
DNF Karim Abdelkader (Nuvo Cultural Trail)                                            
DNF Stephen De Lisle (Richmond Pro Cycling/Nature's Path)                             
DNF Salvatore Scotto Divetta (Sommerville Sports World Team)                          
DNF David Sommerville (Sommerville Sports World Team)                                 
DNF Hayden Godfrey (Team Inferno Pro Cycling)                                         
DNF Tim Swain (Team Inferno Pro Cycling)                                              
DNF J Skiles Keith                                                                    
DNS Eric Barlevav (Time Pro Cycling)                                                  
DNS James Duncan Iii (Time Pro Cycling)                                               
DNS Michael Stoop (Time Pro Cycling)                                                  
DNS Ivan Dominguez (Toyota- United Pro Cycling Team)                                  
DNS Ben Renkema (Turin Bicycle/Barker+Nestor)                                         
DNS Christopher Uberti (Turin Bicycle/Barker+Nestor)                                  
DNF Peter Bauer (Huntington Bank)                                                     
 
Elite women
 
1 Briana Kovac (Team Revolution)                                                      
2 Allyson Brandt (Cheerwine Cycling)                                                  
3 Christina Smith (Lonestarworks.Com)                                                 
4 Jenette Williams (Hpc Powered By Altarum)                                           
5 Erica Allar (Aaron's Womens Pro Cycling)                                            
6 Laura McCaughey (Juice Plus)                                                        
7 Robin Farina (Cheerwine Cycling)                                                    
8 Louise Turner (Morris Trucking Velo)                                                
9 Christi An Hansley (Team Medplan)                                                   
10 Kirsten Davis (Sorella Cycling P/B Bvm Engineering)                                
11 Molly Vetter-Smith (Mesa Cycles Racing Team)                                       
12 Christy Keely (Team Priority Health)                                               
13 Tracy Tolson (Texas Roadhouse Cycling Team)                                        
14 Erin Quinlan                                                                       
15 Liz Leyden (Hub Racing)                                                            
16 Krystal Lacy-Mcnutt (Team Kenda Tire)                                              
17 Dale Tye (Hub Racing)                                                              
18 Alison Fischer (Hub Racing)                                                        
19 Elicia Hildebrand (Nova Cycle Sports Foundation Inc.)                              
20 Leeanne Manderson (Hub Racing)                                                     
21 Emma Giddens (Hub Racing)                                                          
DNF Sheba Farrin (Hub Racing)                                                         
DNF Arley Kemmerer (Hub Racing)                                                       
DNF Pamela Loebig (Team Revolution)