49th Fitchburg Longsjo Classic - NE
Massachusetts, USA, July 3-6, 2008
Main Page Results Overall standings Previous Stage
Stage 4 - July 6: Workersí Credit Union Downtown Criterium, 50/25 mi
Colavita-Sutter Home earns overall win; Murphy takes the cash
By Kirsten Robbins in Fitchburg, Massachusetts
John Murphy (HealthNet)
Photo ©: Kurt Jambretz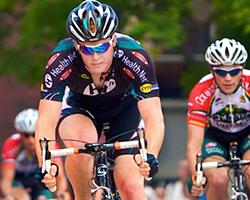 Winning the $1,500 gamblers prime with three laps to go seemed just a warm up for John Murphy (Health Net-Maxxis) who repeated his winning sprint for a second time to take the finale stage victory ahead of Emile Abraham (Team Type 1) and Alejandro Borrajo (Colavita/Sutter Home).
"They took me to the corner for the gamblers prime and all I had to do was get out of the last corner first because there was a tail wind," said stage winner John Murphy who memorized his plan of attack. "So, on the last lap all I had to do was do it again."
Another tough day in the saddle, lead to Kyle Wamsley and his Colavita/Sutter Home team-mates to enjoy the fruits of their labor when they solidified the overall victory of the Fitchburg Longsjo Classic Stage Race.
Wamsley maintained a 17 second advantage ahead of Justin Spinelli (Kelly Benefit Strategies- Medifast) and an additional 2 seconds ahead of Ted King (Bissell).
"Iím happy for the guys because they did so much work for me," said first time NRC stage race winner Kyle Wamsley.
Wamsley took the overall lead after stage two atop Mount Wachusett and continued to build his lead after he won stage threeís circuit race. "My team worked at the front of the race for the last three stages," said Wamsley. "They did a phenomenal ride for me and I really could not have done this with out them.
"I had an outstanding week of racing but itís a real team effort itís not just me. My guys were riding so strong the whole week and this race goes out to my Colavita/Sutter Home teammates."
Health Net started the stage race with four riders, further reduced due to mechanicals and accidents along the way. "We really wanted the gamblers prime going into today," Murphy explained.
"The stage win was important too but since we didnít have anyone in the GC we wanted to go for the money."
How it unfolded
Colavita/Sutter Home had their work cut out for them at the start of the 55-lap, 90-kilometre finale criterium held in downtown Fitchburg. They had to work hard to not lose time on the multiple threatening GC riders, just seconds behind Wamsley.
A mixture of new faces and reshuffled break aways seemed to form every lap that included riders from Bissell, Team Type 1, Rite Aid, Batley-Harley Davidson, CRCA/Empire, Marxs & Bensdorf/Tristar and Toshiba.
However, the leading team remaining organized and focused on the task at had, bringing Wamsley to the line safe from threatening time gaps.
The overall menís podium:
Photo ©: Kurt Jambretz

Despite accumulating a healthy lead in the points competition during stage twoís road race, Shawn Milne (Team Type 1) continued to battle Stefan Rothe (Marxs & Bensdorf/Tristar) for the last set of points needed to lock up the green jersey.
"We wanted to solidify the lead quickly and focus on the stage," said 2006 overall winner, Milne. "I thought I had a big enough lead the other day so that I wouldnít have to worry about it but the other guys kept on trying for points."
"I won this jersey when I was 19 years old," continued Milne. "Back then I was elated to be wearing the green jersey and on the podium with riders like Henk Vogels. Itís cool to come back and get it again."
Race winner John Murphy and Patric Roessel (CCB-Volkswagen) were the two standout break away riders who, on separate occasions, gained twenty-seconds on the field for several lap solo flyers.
"The last ten laps were crazy and Ted King was really giving us a run for our money but my guys never gave up," said Wamsley regarding Bissellís attempt to move third place rider Ted King up in the GC.
"I covered Ted Kings attacks in the last couple of laps and then just about tore my insides out trying to stay up there for the sprint and not to lose any time."
Runner up, Justin Spinelli remained relatively quietly sat in the field on the good chance that Colavita/Sutter Home would hold the field together, despite the relentless efforts of Ted King who wanted to gain time on the field.
"Today I followed Ted King around and tried to ride at the front as much as I could," said Spinelli who had no team-mates. "I definitely had a big advantage in the fact that Colavita wanted to keep the race together.
"I like to race for the win but today it was not realistic," continued Spinelli. "Iím happy with second and the way it worked out for me this week considering I was by myself."
With three laps to go the field was presented with a $1,500 gamblers prime. Race winner John Murphy Ďgambledí the finale for the top cash prime, an effort that typically leads to the demise of the stage win.
Murphy proved that gamblerís prime theory wrong when he executed the exact same strategy for a second time to win the bunch sprint.
Cheatley victorious in Fitchburg; Pic dominates crit
No time for a salute! Tina Pic (Colavita/Sutter Home)
Photo ©: Kurt Jambretz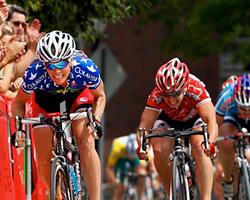 US national criterium champion Tina Pic (Colavita/Sutter Home) did what she does best when she crossed the finish line in a convincing lead ahead of Laura Van Gilder (Cheerwine) and Megan Gaurnier (ProMan).
"My team-mates did a great job being represented in the breakaways and in the last lap lead out for me," said stage winner Pic pleased with her teamís effort to contain the Cheerwine riderís. "But, it so nice to have a team like Cheerwine out there racing so hard - It makes racing exciting. I see one of them go and I think oh god we have to go too."
Similar to the menís winning progression, Catherine Cheatley (Cheerwine) acquired the leaders jersey a to Mount Wachusett and held her overall race ahead of Kristin McGrath (Colavita/Sutter Home) and teammate Robin Farina.
"Iím really stoked and I felt really tired and took two weeks off racing so I wasnít really sure how I was going to come into this," said Cheatley.
"I felt good all week and happy that I could capitalize off of it and get a win for the team. We wanted to get out there and win the stage. I was marked so we wanted to get Laura a good chance to win."
Notable breakaway riders included Sally Annis and Rebecca Wellons (NEBC-Cycle Loft) who broke away individually but were reabsorbed into the peloton before the hot spot sprint for points. Kenda Tire also put forth some successful mid-race attacks.
Lorena Candrian (HPC powered by Alta rum), with help from her team-mate, mountain bike Olympian Sue Haywood, challenged Kelly Benjamin for the green sprint competition. Benjamin emerged the overall leader accumulating full points on each sprint lap.
"They were good sprints and I have to give credit to the girl for going after them and not giving up," said Benjamin pleased with her nearest competitorís performance.
"Her team did a good job of trying to support her. I won the first sprint so they had to keep working for them. Her team-mates never bailed on her and they gave her a good chance at the points every time."
With the field in tact on the last lap, Colavita/Sutter Home organized a lead out preparing to bring Pic successfully to the line. After a flurry of early race efforts to try to tire out the winner and her team, Cheerwine gave one last shot at separating themselves from Pic.
"I was trying to muck up the Colavita train so that maybe we could get a stage win for ourselves with our fast sprinter Laura," said Cheatley, who launched herself passed the Colavita train on the final lap.
Van Gilder positioned herself in front of Pic before the last corner to achieve a clean run at the finish line upon its exit.
"We came out here wanting to protect the leaders jersey but also race the race and get a podium," said Van Gilder.
"It was a great week of racing for us this week and I think we really showed our strengths. We needed to try to tire Tina and her team and then try and capitalize off of that in the end sprint."
Photography
For a thumbnail gallery of these images, click here
Images by Kurt Jambretz /www.actionimages.cc
Results
Pro men
 
1 John Murphy (USA) Health Net Presented by Maxxis         1.51.12 (26.97m/h)
2 Emile Abraham (Tri) Team Type 1                                 
3 Alejandro Borrajo (Arg) Colavita Sutter Home p/b Cooki          
4 Kleber Ramos (Bra) garneau-crocs                                
5 Jesse Anthony (USA) Team Type 1                                 
6 Lisban Quintero (USA) CRCA/FOUNDATION                           
7 Kyle Wamsley (USA) Colavita Sutter Home p/b Cooki               
8 Frattini Davide (Ita) Colavita Sutter Home p/b Cooki            
9 Jonathan Page (USA) Battley HARLEY-DAVIDSON/Sonoma              
10 Clayton Barrows (USA) Rite Aid pb Shebell & Shebell            
11 Robbie King (USA) Rite Aid pb Shebell & Shebell                
12 Matthew Johnson (USA) CRCA/Empire Cycling Team                 
13 Steven Howard (USA) Bissell Pro Cycling Team                   
14 Ted King (USA) Bissell Pro Cycling Team                        
15 Richard Geng (Ger) Rite Aid pb Shebell & Shebell               
16 Craig Luekens (USA) TARGETRAINING U-25/Elite Racin             
17 Shawn Milne (USA) Team Type 1                                  
18 Markus Weinberg (Ger) Kahala-LaGrange                          
19 Eneas Freyre (USA) TARGETRAINING                               
20 Jake Hollenbach (USA) CCB Volkswagen                           
21 Ryan Baumann (USA) FT/IFpb Lionette's                          
22 Amos Brumble (USA) CCB Volkswagen                              
23 Esteban Jukich (USA) Richmond Pro Cycling                      
24 Ian Holt (USA) US Armed Forces                                 
25 Daniel Holt (USA) Team Type 1                                  
26 Jake Rytlewski (USA) Rite Aid pb Shebell & Shebell             
27 Langley Russell (USA) Battley HARLEY-DAVIDSON/Sonoma           
28 Tim Hucker (Aus) garneau-crocs                                 
29 William Dugan (USA) CCB/Volkswagen                             
30 Winston David (USA) Toshiba- Santo p/b Herbalife               
31 Peter Salon (USA) VMG/Felt                                     
32 Nick Friesen (Can) GS Mengoni USA                              
33 Christopher Jones (USA) Team Type 1                            
34 Adam Branfman (USA) FT/IFpb Lionette's                         
35 Tyler Wren (USA) Colavita Sutter Home p/b Cooki                
36 Christian Gregory (USA) Turin/Barker+Nestor                    
37 Tom Burke (USA) West Michigan Coast Riders                     
38 Michael Olheiser (USA) Marx and Bensdorf/Tristar               
39 Matthew Busche (USA) Nova Cycle Sport Foundation               
40 Justin Spinelli (USA) KBS/Medifast Pro Cycling Team            
41 Guido Palma (Arg) Rite Aid pb Shebell & Shebell                
42 O'keefe Matthew (USA) CCB/Volkswagen                           
43 Garrett Peltonen (USA) Bissell Pro Cycling Team                
44 Luis Romero Amaran (USA) Colavita Sutter Home p/b Cooki        
45 Eric Tremble (USA) Kenda/Raleigh Cycling Team                  
46 Sean Barrie (USA) Battley HARLEY-DAVIDSON/Sonoma               
47 Sinisterra Sebastian (USA) Aero Cat/ Latino Cyling             
48 Uberti Christopher (USA) Turin/Barker+Nestor                   
49 Matthew Crane (USA) Health Net presented by Maxxis             
50 Noah Singer (USA) Kahala-LaGrange                              
51 Anthony Colby (USA) Colavita Sutter Home p/b Cooki             
52 Tim Johnson (USA) Health Net pb Maxxis                         
53 Ryan Dewald (USA) Battley HARLEY-DAVIDSON/Sonoma               
54 Adrian Gerrits (USA) Kahala-LaGrange                           
55 Showman Benjamin (USA) Pennsylvania Lightning                  
56 Andrew Guptill (USA) Colavita Sutter Home p/b Cooki            
57 Scott Zwizanski (USA) Bissell Pro Cycling Team                 
58 Travis Burandt (USA) FT/IFpb Lionette's                        
59 Thom Coupe (USA) MetLife p/b Unlose.it                         
60 Robert Giannini (USA) Locos Cycling Team                       
61 Aidan Charles (USA) Nerac Cycling                              
62 Jonathan Chodroff (USA) CRCA/Empire Cycling Team               
63 David Glick (USA) OrganicAthlete's Team Vegan                  
64 Margarite Michael (USA) CRCA/Empire Cycling Team               
65 Zachary Zimmerman (USA) C3-Sollay.com                          
66 Brian Butts (USA) Battley HARLEY-DAVIDSON/Sonoma               
67 Scholzen Steve (USA) ISCorp                                    
68 Yahor Buben (USA) CCB/VW/Time                                  
69 Ian Macgregor (USA) Team Type 1                                
70 Michael Mathis (USA) CRCA/Empire Cycling Team                  
71 Brian Toone (USA) Marx & Bensdorf/Tristar                      
72 Jonathan Erdelyi (USA) Rite Aid pb Shebell & Shebell           
73 Peter Ladd (Aus) garneau-crocs                                 
74 Gustavo Artacho (Arg) Colavita Sutter Home p/b Cooki           
75 Matt Seagrave (USA) Kahala-LaGrange                            
76 Gerardo Castro (USA) Richmond Pro Cycling                      
77 Bruno Jonathan (USA) FT/IFpb Lionette's                        
78 Todd Yezefski (USA) FT/IFpb Lionette's                         
79 Dan Vaillancourt (USA) Toshiba/Santo Presented by Her          
80 Salvato Scotto Divetta (USA) Sommerville Sports                
81 Patrique Azevedo (Bra) garneau-crocs                           
82 Matt Cooke (USA) Health Net/ Maxxis                            
83 Liberles Joshua (USA) Colavita NM p/b JNF Enterprise           
84 Travis Sherman (USA) Marx & Bensdorf/Tristar               0.20
85 Keck Baker (USA) Battley HARLEY-DAVIDSON/Sonoma            0.25
86 Nick Bennette (USA) MetLife p/b unlose.it                      
87 Jason Baer (USA) Kenda/Raleigh Cycling Team                    
88 Toby Walch (USA) Kenda/Raleigh Cycling Team                    
89 Sean O'rourke (USA) Kenda/Raleigh Cycling Team                 
90 Michael Norton (USA) CALYON PRO CYCLING TEAM                   
91 Andrew Talansky (USA) Toshiba-Santo p/b Herbalife              
92 Alec Donahue (USA) Nerac                                       
93 Lee Rosenthal (USA) TARGETRAINING U-25/Elite Racin             
94 Ryan Fleming (USA) MetLife p/b unlose.it                       
95 Stephen Delisle (USA) Richmond Pro Cycling                 1.02
96 Cassidy Daniel (USA) CCB Volkswagen                        1.25
97 Stefan Rothe (USA) Marx & Bensdorf/Tristar                 1.28
98 Richard England (Aus) Bissell Pro Cycling Team                 
99 Jeff Buckles (USA) Richmond Pro Cycling                    1.32
100 William Elliston (USA) Rite Aid pb Shebell & Shebell      1.53
101 Ben Zawacki (USA) TARGETRAINING U-25/Elite Racin          2.03
102 Adam Sullivan (USA) Kenda/Raleigh Cycling Team            2.07
103 George Ganoung (USA) US Armed Forces                          
104 Patric Roessel (USA) ccb volkswagen                           
105 Eric Brownell (USA) CRCA/Empire Cycling Team              2.09
106 Colin Jaskiewicz (USA) CCB Volkswagen                         
107 Thomas Githens (USA) Kahala-LaGrange                      2.53
108 Anthony Aker (USA) Kahala-LaGrange                        3.23
DNS Eugene Boronow (USA) GS Mengoni                               
DNS Sam Silvey (USA) Marx & Bendsdorf/TriStar                     
DNS Baldwin Matthew (USA) TARGETRAINING                           
DNS Justin Lindine (USA) TARGETRAINING                            
DNF Diego Garavito (USA) Aero Cat/ Latino Cyling                  
DNF Graham Howard (USA) Bissell Pro Cycling Team                  
DNF Emiliano Jordan (USA) Colavita NM p/b JNF Enterprise          
DNF Minturn John (USA) CRCA/Empire Cycling Team                   
 
Final General classification
 
1 Kyle Wamsley (USA) Colavita Sutter Home p/b Cooki        8.55.59
2 Justin Spinelli (USA) KBS/Medifast Pro Cycling Team         0.17
3 Ted King (USA) Bissell Pro Cycling Team                     0.19
4 Anthony Colby (USA) Colavita Sutter Home p/b Cooki          0.28
5 Christopher Jones (USA) Team Type 1                         0.31
6 Matthew Johnson (USA) CRCA/Empire Cycling Team              0.43
7 Matt Cooke (USA) Health Net/ Maxxis                         0.45
8 Jesse Anthony (USA) Team Type 1                             0.49
9 Matthew Busche (USA) Nova Cycle Sport Foundation            0.53
10 Langley Russell (USA) Battley HARLEY-DAVIDSON/Sonoma       1.01
11 Michael Olheiser (USA) Marx and Bensdorf/Tristar           1.02
12 Luis Romero Amaran (USA) Colavita Sutter Home p/b Cooki    1.04
13 Ian Macgregor (USA) Team Type 1                            1.07
14 Tyler Wren (USA) Colavita Sutter Home p/b Cooki            1.12
15 Eneas Freyre (USA) TARGETRAINING                           1.13
16 Dan Vaillancourt (USA) Toshiba/Santo Presented by Her      1.16
17 Tim Johnson (USA) Health Net pb Maxxis                     1.21
18 Peter Salon (USA) VMG/Felt                                 1.35
19 Clayton Barrows (USA) Rite Aid pb Shebell & Shebell        1.37
20 Travis Burandt (USA) FT/IFpb Lionette's                    1.40
21 Lisban Quintero (USA) CRCA/FOUNDATION                      1.44
22 Kleber Ramos (Bra) garneau-crocs                           1.58
23 Christian Gregory (USA) Turin/Barker+Nestor                1.59
24 Robbie King (USA) Rite Aid pb Shebell & Shebell            2.00
25 Jonathan Page (USA) Battley HARLEY-DAVIDSON/Sonoma         2.01
26 Jake Rytlewski (USA) Rite Aid pb Shebell & Shebell         2.13
27 Ian Holt (USA) US Armed Forces                             2.15
28 Ryan Baumann (USA) FT/IFpb Lionette's                      2.22
29 Scott Zwizanski (USA) Bissell Pro Cycling Team             2.23
30 Sean Barrie (USA) Battley HARLEY-DAVIDSON/Sonoma           2.30
31 Adrian Gerrits (USA) Kahala-LaGrange                       2.48
32 William Dugan (USA) CCB/Volkswagen                         2.52
33 Patrique Azevedo (Bra) garneau-crocs                       2.59
34 Showman Benjamin (USA) Pennsylvania Lightning              3.12
35 Scholzen Steve (USA) ISCorp                                3.19
36 Liberles Joshua (USA) Colavita NM p/b JNF Enterprise       3.25
37 Andrew Talansky (USA) Toshiba-Santo p/b Herbalife          3.28
38 Peter Ladd (Aus) garneau-crocs                             3.31
39 Nick Friesen (Can) GS Mengoni USA                          3.41
40 Winston David (USA) Toshiba- Santo p/b Herbalife           3.58
41 Ryan Dewald (USA) Battley HARLEY-DAVIDSON/Sonoma           4.13
42 Cassidy Daniel (USA) CCB Volkswagen                        4.15
43 Alec Donahue (USA) Nerac                                   4.25
44 Aidan Charles (USA) Nerac Cycling                          4.29
45 Thom Coupe (USA) MetLife p/b Unlose.it                     4.45
46 Margarite Michael (USA) CRCA/Empire Cycling Team           4.49
47 Richard England (Aus) Bissell Pro Cycling Team             4.50
48 Brian Butts (USA) Battley HARLEY-DAVIDSON/Sonoma           5.29
49 Esteban Jukich (USA) Richmond Pro Cycling                  5.30
50 Alejandro Borrajo (Arg) Colavita Sutter Home p/b Cooki     5.42
51 Patric Roessel (USA) ccb volkswagen                        6.01
52 Matthew Crane (USA) Health Net presented by Maxxis         6.06
53 Jonathan Erdelyi (USA) Rite Aid pb Shebell & Shebell       7.13
54 Tim Hucker (Aus) garneau-crocs                             7.44
55 Brian Toone (USA) Marx & Bensdorf/Tristar                  8.00
56 Robert Giannini (USA) Locos Cycling Team                   8.04
57 Sinisterra Sebastian (USA) Aero Cat/ Latino Cyling         8.15
58 Eric Tremble (USA) Kenda/Raleigh Cycling Team              8.48
59 Emile Abraham (Tri) Team Type 1                            8.55
60 Matt Seagrave (USA) Kahala-LaGrange                        8.57
61 Michael Norton (USA) CALYON PRO CYCLING TEAM               9.01
62 Frattini Davide (Ita) Colavita Sutter Home p/b Cooki       9.17
63 George Ganoung (USA) US Armed Forces                       9.45
64 Gerardo Castro (USA) Richmond Pro Cycling                  9.50
65 Garrett Peltonen (USA) Bissell Pro Cycling Team            9.53
66 Ryan Fleming (USA) MetLife p/b unlose.it                   9.58
67 Todd Yezefski (USA) FT/IFpb Lionette's                    10.06
68 Amos Brumble (USA) CCB Volkswagen                         10.13
69 Jeff Buckles (USA) Richmond Pro Cycling                   10.15
70 Nick Bennette (USA) MetLife p/b unlose.it                 10.21
71 Shawn Milne (USA) Team Type 1                             10.31
72 Andrew Guptill (USA) Colavita Sutter Home p/b Cooki       10.41
73 Gustavo Artacho (Arg) Colavita Sutter Home p/b Cooki      10.53
74 Markus Weinberg (Ger) Kahala-LaGrange                     11.00
75 Keck Baker (USA) Battley HARLEY-DAVIDSON/Sonoma           11.05
76 Richard Geng (Ger) Rite Aid pb Shebell & Shebell          11.06
77 Zachary Zimmerman (USA) C3-Sollay.com                     11.12
78 Craig Luekens (USA) TARGETRAINING U-25/Elite Racin        11.17
79 Daniel Holt (USA) Team Type 1                             11.48
80 John Murphy (USA) Health Net Presented by Maxxis          11.52
81 Noah Singer (USA) Kahala-LaGrange                         12.00
82 David Glick (USA) OrganicAthlete's Team Vegan             12.29
83 Michael Mathis (USA) CRCA/Empire Cycling Team             12.55
84 Jason Baer (USA) Kenda/Raleigh Cycling Team               13.25
85 Toby Walch (USA) Kenda/Raleigh Cycling Team               13.53
86 Jake Hollenbach (USA) CCB Volkswagen                      14.23
87 Tom Burke (USA) West Michigan Coast Riders                14.46
88 Sean O'rourke (USA) Kenda/Raleigh Cycling Team            15.30
89 Uberti Christopher (USA) Turin/Barker+Nestor              15.37
90 Lee Rosenthal (USA) TARGETRAINING U-25/Elite Racin        15.50
91 Travis Sherman (USA) Marx & Bensdorf/Tristar              16.52
92 Salvato Scotto Divetta (USA) Sommerville Sports           16.59
93 Guido Palma (Arg) Rite Aid pb Shebell & Shebell           18.30
94 Jonathan Chodroff (USA) CRCA/Empire Cycling Team          19.15
95 William Elliston (USA) Rite Aid pb Shebell & Shebell      19.57
96 Thomas Githens (USA) Kahala-LaGrange                      21.30
97 Bruno Jonathan (USA) FT/IFpb Lionette's                   21.40
98 Yahor Buben (USA) CCB/VW/Time                             21.56
99 Stephen Delisle (USA) Richmond Pro Cycling                25.00
100 Adam Sullivan (USA) Kenda/Raleigh Cycling Team           27.13
101 Ben Zawacki (USA) TARGETRAINING U-25/Elite Racin         33.09
102 Adam Branfman (USA) FT/IFpb Lionette's                   35.30
103 O'keefe Matthew (USA) CCB/Volkswagen                     36.13
104 Eric Brownell (USA) CRCA/Empire Cycling Team             36.42
105 Steven Howard (USA) Bissell Pro Cycling Team             39.07
106 Stefan Rothe (USA) Marx & Bensdorf/Tristar               41.16
107 Anthony Aker (USA) Kahala-LaGrange                       50.27
108 Colin Jaskiewicz (USA) CCB Volkswagen                    58.34
 
Women 1/2
 
1 Mayolo-Pic Tina (USA) Colavita/Sutter Home p/b Cooki     1.05.27 (22.91m/h)
2 Laura Van Gilder (USA) Cheerwine Cycling                        
3 Megan Guarnier (USA) PROMAN Racing                              
4 Kristin Mcgrath (USA) Colavita/Sutter Home p/b Cooki            
5 Stacy Marple (USA) Cheerwine Cycling                            
6 Sally Annis (USA) NEBC/Cycle Loft/Devonshire Den                
7 Sonja Evers (USA) C3-Sollay.com                                 
8 Lesley Golenor (USA) HPC Powereed by Altarum                    
9 Eve Mcneill (USA) Sunapee/S&W Racing Team                       
10 Amy Mcguire (USA) Team Kenda Tire                              
11 Catherine Cheatley (NZl) Cheerwine Cycling                     
12 Rose Long (USA) UVM cycling                                    
13 Jenette Williams (USA) HPC powered by Altarum                  
14 Silke Wunderwald (USA) Independent Fabrication/Kempne          
15 Bonnie Bourque (USA) Acqua Al 2/SDBC                           
16 Rebecca Wellons (USA) NEBC/Cycle Loft/Devonshire Den           
17 Kathryne Carr (USA) Sunapee/S&W Racing Team                    
18 Kate Veronneau (USA) Kutztown Cutters                          
19 Arley Kemmerer (USA) Hub Racing                                
20 Debony Diehl (USA) Sunapee/S&W Racing Team                     
21 Mary Zider (USA) NEBC/Cycle Loft/Devonshire Den                
22 Maria Quiroga (USA) CRCA/Radical Media                         
23 Maureen Bruno Roy (USA) Terry Precision                        
24 Anna Mcloon (USA) Colavita Racing Inc.                         
25 Robin Farina (USA) Cheerwine Cycling                           
26 Rae Brownsberger (USA) Stanford University                     
27 Kathryn Bertine (USA) St. Kitts and Nevis National T           
28 Sauvayre Sarah (USA) CRCA/Comedy Central-Sid's Bike            
29 Genevieve Whitson (USA) HPC powered by Altarum                 
30 Kristin Wentworth (USA) Team Kenda Tire                        
31 Anne Guzman (Can) Team Kenda Tire                              
32 Susan Haywood (USA) HPC powered by Altarum                     
33 Jacqueline Kurth (USA) Team Kenda Tire                         
34 Karin Holmes (USA) CCB/Volkswagen                              
35 Kathleen Billington (USA) CONNECTICUT COAST CYCLING            
36 Lorena Candrian (USA) HPC powered by Altarum                   
37 Ashley James (USA) Iscorp                                      
38 Nichole Wangsgard (USA) Colavita/Sutter Home p/b Cooki         
39 Andrea Dvorak (USA) Colavita/Sutter Home p/b Cooki             
40 Melissa O'reilly (USA) Van Dessel Factory Team                 
41 Cecelia Pleva (USA) CRCA/Radical Media                         
42 Yvette Labombard (USA) JW Dundee's                             
43 Elena Leznik (USA) CRCA/Radical Media                          
44 Bianca Grecu (USA) Human Zoom/Pabst Blue Ribbon                
45 Liz Leyden (Aus) Hub Racing                                    
46 Rachel Warner (USA) Juice Plus                                 
47 Tami Buhr (USA) NEBC/Cycle Loft/Devonshire Den                 
48 Nicole Bossie (USA) hincapie-barkleydevo                       
49 Dale Tye (NZl) Hub Racing                                      
50 Laura Cook (USA) Juice Plus Guest Rider                        
51 Kelly Benjamin (USA) Cheerwine Cycling                         
52 Iona Wynter Parks (USA) Colavita/Sutter Home p/b Cooki         
53 Jacquelyn Crowell (USA) Team Kenda Tire                        
54 Natalie Dumont (USA) NEBC/Cycle Loft/Devonshire Den        0.21
55 Kathryn Clark (USA) Team Kenda Tire                        3.29
56 Kirshner Hannah (USA) Bikeworks/Hallamore                  3.40
57 Kristine Church (USA) Human Zoom/ Pabst Blue Ribbon            
58 Carla Swart (USA) Team Kenda Tire                          3.53
DNS Paolina Allan (Can) Cyclissimo                                
 
Final General classification
 
1 Catherine Cheatley (NZl) Cheerwine Cycling               6.18.41
2 Kristin Mcgrath (USA) Colavita/Sutter Home p/b Cooki        0.19
3 Robin Farina (USA) Cheerwine Cycling                        1.20
4 Kathleen Billington (USA) CONNECTICUT COAST CYCLING         1.27
5 Stacy Marple (USA) Cheerwine Cycling                        1.35
6 Mayolo-Pic Tina (USA) Colavita/Sutter Home p/b Cooki        1.38
7 Silke Wunderwald (USA) Independent Fabrication/Kempne       1.40
8 Laura Van Gilder (USA) Cheerwine Cycling                    1.44
9 Anna Mcloon (USA) Colavita Racing Inc.                      1.53
10 Andrea Dvorak (USA) Colavita/Sutter Home p/b Cooki         1.55
11 Kate Veronneau (USA) Kutztown Cutters                      2.28
12 Kristin Wentworth (USA) Team Kenda Tire                    2.45
13 Rachel Warner (USA) Juice Plus                             3.11
14 Kathryn Bertine (USA) St. Kitts and Nevis National T       3.22
15 Ashley James (USA) Iscorp                                  3.25
16 Elena Leznik (USA) CRCA/Radical Media                      3.28
17 Anne Guzman (Can) Team Kenda Tire                          3.29
18 Megan Guarnier (USA) PROMAN Racing                         4.03
19 Sally Annis (USA) NEBC/Cycle Loft/Devonshire Den           4.10
20 Yvette Labombard (USA) JW Dundee's                         4.24
21 Rebecca Wellons (USA) NEBC/Cycle Loft/Devonshire Den       4.26
22 Mary Zider (USA) NEBC/Cycle Loft/Devonshire Den            4.37
23 Maureen Bruno Roy (USA) Terry Precision                    4.42
24 Lorena Candrian (USA) HPC powered by Altarum               4.50
25 Laura Cook (USA) Juice Plus Guest Rider                    5.03
26 Rae Brownsberger (USA) Stanford University                 5.34
27 Lesley Golenor (USA) HPC Powereed by Altarum               5.41
28 Sonja Evers (USA) C3-Sollay.com                            5.47
29 Liz Leyden (Aus) Hub Racing                                5.56
30 Susan Haywood (USA) HPC powered by Altarum                 6.27
31 Genevieve Whitson (USA) HPC powered by Altarum             6.34
32 Iona Wynter Parks (USA) Colavita/Sutter Home p/b Cooki     6.56
33 Nichole Wangsgard (USA) Colavita/Sutter Home p/b Cooki     7.38
34 Maria Quiroga (USA) CRCA/Radical Media                     7.41
35 Amy Mcguire (USA) Team Kenda Tire                          7.48
36 Arley Kemmerer (USA) Hub Racing                            7.56
37 Debony Diehl (USA) Sunapee/S&W Racing Team                 7.57
38 Karin Holmes (USA) CCB/Volkswagen                          8.07
39 Rose Long (USA) UVM cycling                                9.09
40 Dale Tye (NZl) Hub Racing                                  9.30
41 Tami Buhr (USA) NEBC/Cycle Loft/Devonshire Den            10.10
42 Carla Swart (USA) Team Kenda Tire                         10.14
43 Kathryne Carr (USA) Sunapee/S&W Racing Team               10.29
44 Eve Mcneill (USA) Sunapee/S&W Racing Team                 11.06
45 Kelly Benjamin (USA) Cheerwine Cycling                    11.14
46 Melissa O'reilly (USA) Van Dessel Factory Team            11.43
47 Natalie Dumont (USA) NEBC/Cycle Loft/Devonshire Den       11.52
48 Jacquelyn Crowell (USA) Team Kenda Tire                   13.13
49 Jenette Williams (USA) HPC powered by Altarum             13.25
50 Cecelia Pleva (USA) CRCA/Radical Media                    17.25
51 Bianca Grecu (USA) Human Zoom/Pabst Blue Ribbon           19.31
52 Bonnie Bourque (USA) Acqua Al 2/SDBC                      22.03
53 Sauvayre Sarah (USA) CRCA/Comedy Central-Sid's Bike       22.12
54 Kathryn Clark (USA) Team Kenda Tire                       34.31
55 Nicole Bossie (USA) hincapie-barkleydevo                  35.13
56 Jacqueline Kurth (USA) Team Kenda Tire                    43.26
57 Kristine Church (USA) Human Zoom/ Pabst Blue Ribbon       45.49
58 Kirshner Hannah (USA) Bikeworks/Hallamore                 48.30