Tour de Delta - NE
Canada, July 11-13, 2008
Main Page Results Overall standings Next Stage
Stage 1 - July 11: Brenco Prologue, 3 km
Tuft, Corset take opening Delta wins
Canadian Olympian Svein Tuft, of Langley, powers across
Photo ©: Greg Descantes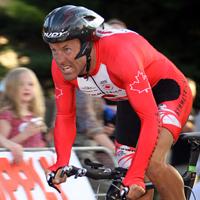 Langley's Svein Tuft kicked off BC Superweek and the Tour de Delta Friday night the same way he finished last weekend's Canadian Time Trial Championships, and the same way he hopes to finish at next month's Olympics in Beijing: well out in front. Tuft won the inaugural Brenco Prologue, hammering through the leg-shaking 3.2-kilometre time trial in just three minutes and 44.16 seconds, more than five seconds ahead of Symmetrics Pro Cycling team-mate and North Vancouver's Andrew Pinfold. Bissel Pro Cycling Team's Scott Zwizanski of Sausalito, California finished third.
"It's a hard event because the intensity over such a short period, so you really pay for it," Tuft said. "You have to go right into the hurt locker and just sit there the whole time and man, it's hard."
It was the first year for the time-trial race through the streets of North Delta, which replaced the old Tour de Delta Hillclimb. Blasting down a large steel ramp onto the lightning quick course, the so-called "race of truth" saw cyclists go up against the clock on special time-trial bikes at speeds up to 60 kilometres an hour.
For Tuft, the biggest challenge Friday was adjusting to a course shorter than Prologues he's used to - and a lot shorter than the 40-kilometre Time Trial he dominated at the Canadian Championships.
"It's different from the pacing of a 40K; these kinds of courses you just have to lay everything out there," he said. "There's no point where you can back off. In a 40K you can pick sections to recover, but here it's just as hard as you can go the whole time."
Zwizanski's challenge, in addition to unseating a strong showing from the powerful, locally-based Symmetrics squad, included getting a race tire off Bissel team-mate Garrett Peltonen, who went out 10 minutes earlier and finished sixth, but didn't get to rest to enjoy his result.
"He had to get off his bike and get off the wheel for me," Zwizanski said with a laugh, pointing out sharing was necessary as most of Bissel's team was down at the Cascade Classic in Oregon. "We made sure we were gapped. Originally they had us just five minutes apart, but they moved us to 10 minutes and it worked out just fine. You just have to focus on turning it over in as big a gear as you can and going fast and know it's only three or four minutes and you'll still be alive at the end so you just kind of suffer as much as you can."
Ruth Corset tops the podium at the Tour de Delta Prologue,
Photo ©: Greg Descantes

While there was little surprise to see Tuft and his Symmetrics team-mates atop winner's list, Australian Ruth Corset seemed to be the most surprised to see her name atop the women's names.
Corset, who is part of New Zealand's Jazz Apple Cycling Team, finished in a time of 4:23.98, less than a second ahead of Calgary native Laura Brown from the local Giant Bicycles/Team Whistler squad, and two seconds faster than Richmond's Sarah Stewart of the Okanagan-based Total Restoration Cycling Team.
"I'm not a time trial rider so I was just really shocked when I found out I won it," said Corset, "I'm more of a hill climber so I was very surprised. I was hoping the course would be like last year, straight up a hill, so I was quite disappointed when I found out it was more of a flat time trial course, and that's why it was such a surprise."
Corset is part of a development team led by New Zealand cycling legend - and two-time Olympian - Susy Pryde. At 30, Corset is by far the oldest member on a young team, but the former tri-athlete only took up competitive cycling three years ago, leaving her daughters, age four and six, home in Australia with her husband for this, her first taste of racing internationally. A quick learner, she won the Mt. Hamilton Road Race in San Jose back on May 25.
"This is my first time racing internationally so it's all new to me" she said. "I'm learning so much, I've only been over here for three months and racing overseas for three months. We're learning to gel well together and hoping to have a really good tour this week."
Photography
For a thumbnail gallery of these images, click here
Images by Greg Descantes
Results
Men
 
1 Svein Tuft (Symmetrics Cycling)                              3.44
2 Andrew Pinfold (Symmetrics Cycling)                          0.05
3 Scott Zwizanski (Bissell Pro Cycling Team)                       
4 Kiel Reijnen (Team Waste Management)                         0.06
5 Zach Bell (Symmetrics Cycling)                                   
6 Garrett Peltonen (Bissell Pro Cycling Team)                  0.10
7 Eric Wohlberg (Symmetrics Cycling)                               
8 Rob Britton (TREK Red Truck Racing p/b Mosaic)                   
9 Tim Sherstobitoff (Total Restoration Cycling Team)           0.11
10 Dan Skinner (Total Restoration Cycling Team)                    
11 Tyler Trace (TREK Red Truck Racing p/b Mosaic)                  
12 Michael Rothengatter (Escape Velocity)                      0.13
13 Cory Forrest (Total Restoration Cycling Team)               0.14
14 Ben Chaddock (Team Whistler)                                0.15
15 Sean Mazich (Team Waste Management)                             
16 Cam Evans (Symmetrics Cycling)                                  
17 Ryan Anderson (Symmetrics Cycling)                              
18 John Tolkamp (Escape Velocity)                              0.16
19 Matt Shriver (Jittery Joe's Pro Cycling)                        
20 Dan Macdonald (Kona-Adobe)                                      
21 Mathew Bell (Calyon Pro Cycling Team)                           
22 Aaron Schooler (Team H&R Block)                             0.17
23 Stevie Cullinan (Team Waste Management)                         
24 Trevor Haaheim (Total Restoration Cycling Team)                 
25 Chris Mcneil (Team H&R Block)                                   
26 Jamie Sparling (TREK Red Truck Racing p/b Mosaic)               
27 Jared Barrilleaux (Jittery Joe's Pro Cycling)                   
28 Guy Biggar (Escape Velocity / DEVO)                         0.18
29 Kirk O'bee (Health Net Pro Cycling Team)                        
30 Matt Potma (Kona-Adobe)                                         
31 Alistair Howard (Kona-Adobe)                                    
32 Christian Meier (Symmetrics Cycling)                        0.19
33 Ron Jensen (Team Waste Management)                              
34 John Perkins (Glotman Simpson Racing)                           
35 Evan Elken (Jittery Joe's Pro Cycling)                          
36 Jonathan Gormick (Kona-Adobe)                                   
37 Devon Vigus (California Giant/Specialized)                      
38 Mark Macdonald (Team H&R Block)                                 
39 Jon Parrish (Team Waste Management)                         0.20
40 Francois Parisien (Team RACE Pro)                               
41 Nathan Macdonald (TREK Red Truck Racing p/b Mosaic)         0.21
42 Mike Norton (Calyon Pro Cycling Team)                           
43 Dana Williams (TNA/Shape Properties)                            
44 Jonathan Page (Escape Velocity)                                 
45 Trent Wilson (Jittery Joe's Pro Cycling)                        
46 Tim Henry (Jittery Joe's Pro Cycling)                       0.22
47 Shaun Adamson (Juventus)                                        
48 Owen Sturgess (Escape Velocity)                                 
49 Jeff Ain (Escape Velocity)                                      
50 Mathieu Roy (Calyon Pro Cycling Team)                           
51 Nic Hamilton (Team Aviawest)                                0.23
52 Cody Stevenson (Jittery Joe's Pro Cycling)                      
53 Owen Harrison (Total Restoration Cycling Team)                  
54 Kyle Ward (Team Waste Management)                               
55 Ryan Taylor (Campione-Ratcliff Racing Team)                 0.24
56 Jacob Erker (Symmetrics Cycling)                                
57 Jeff Bolstad (Team H&R Block)                                   
58 Shawn Goulet (Kona-Adobe)                                   0.25
59 Dave Vukets (TREK Red Truck Racing p/b Mosaic)                  
60 Dave Brooks (TREK Red Truck Racing p/b Mosaic)                  
61 Russell Stead (La Bicicletta)                               0.26
62 Scott Laliberte (Campione-Ratcliff Racing Team)                 
63 Tom Last (Kinesis UK)                                           
64 Frederic Bussieres (Team Aviawest)                              
65 Kevin Noiles (TREK Red Truck Racing p/b Mosaic)                 
66 Paul Beard (Escape Velocity)                                0.27
67 Jesse James Collins (Bicisport Gruppo Sportivo Campione)    0.28
68 Brad Kerr (Total Restoration Cycling Team)                      
69 Josh James (Kinesis UK)                                         
70 Grant Van Horn (Team Waste Management)                      0.29
71 Julian Base (Campione-Ratcliff Racing Team)                     
72 Mike Sayers (BMC Pro Cycling Team)                          0.30
73 Maxime Vives (Calyon Pro Cycling Team)                          
74 Sebastian Salas (Campione-Ratcliff Racing Team)             0.31
75 Jonathan Cheung (Independent)                                   
76 Chris Reid (Kona-Adobe)                                         
77 Chris Devries (Team H&R Block)                              0.32
78 Marcel Aarden (Kona-Adobe)                                      
79 Matthew Guse (Calyon Pro Cycling Team)                      0.33
80 Chris Squire (La Bicicletta)                                    
81 Evan Flater (Team Aviawest)                                     
82 John Meehan (Bissell Pro Cycling Team)                      0.34
83 Maurice Worsfold (Glotman Simpson Racing)                   0.35
84 Chris Worsfold (Glotman Simpson Racing)                         
85 Anthony Steenbergen (Team H&R Block)                            
86 Matthew Cottrell (Team Aviawest)                            0.36
87 Chris Reynolds (Campione-Ratcliff Racing Team)              0.37
88 Jason Fluckiger (repswest)                                  0.38
89 Attila Hajdu (La Bicicletta)                                0.40
90 Brett Boniface (Campione-Ratcliff Racing Team)              0.41
91 David Gillam (Cycle Solutions)                              0.46
92 Shane Savage (Mighty Cycling)                                   
93 Joe Wessel (Kelowna Cycle Opus sd23)                        0.48
94 Kurtis Vallee (Team Aviawest)                               0.49
 
Women
 
1 Ruth Corset (Jazz Apple Cycling Team)                        4.24
2 Laura Brown (Giant Bicycles/Team Whistler Canada)                
3 Sarah Stewart (Total Restoration Cycling Team)               0.01
4 Steph Roorda (Giant Bicycles/Team Whistler Canada)           0.03
5 Lauren Ellis (Jazz Apple Cycling Team)                       0.04
6 Moriah Macgregor (Giant Bicycles/Team Whistler Canada)       0.05
7 Jenny Trew (Giant Bicycles/Team Whistler Canada)                 
8 Lisa Howard (Giant Bicycles/Team Whistler Canada)            0.06
9 Heather Kay (ERTC/Revolution Cycle)                          0.08
10 Lisa Dorian (Chicks Cycling Club)                           0.10
11 Susannah Pryde (Jazz Apple Cycling Team)                        
12 Kristine Brynjolfson (Team Coastal)                         0.11
13 Kelly Benjamin (Cheerwine Pro Cycling)                          
14 Gina Kavesh (Wines of Washington)                           0.12
15 Jennifer Tabbernor (Team Whistler)                          0.13
16 Jessica Hannah (Giant Bicycles/Team Whistler Canada)        0.14
17 Heather Lamson (Giant Bicycles/Team Whistler Canada)        0.15
18 Gillian Moody (Total Restoration Cycling Team)              0.16
19 Fiona Macleod (TREK Red Truck Racing p/b Mosaic)            0.17
20 Hannah Banks (ValueAct Capital)                                 
21 Alyssa Weninger (Sask/BCW)                                      
22 Jaymie Mcgowan (Oak Bay Bikes)                                  
23 Chelsea Bilsbarrow (Giant Bicycles/Team Whistler Canada)    0.19
24 Jennifer Schulz (Total Restoration Cycling Team)                
25 Morgan Schneidler (Wines of Washington)                     0.21
26 Marie-Claude Gagnon (Glotman Simpson)                           
27 Monica Nelson (Total Restoration Cycling Team)              0.23
28 Malindills Maclean (Jazz Apple Cycling Team)                    
29 Kelsey Miller (Wedgewood Cycling Team)                      0.24
30 Shoshauna Laxson (Team Whistler)                                
31 Leslie Vice (Glotman Simpson)                                   
32 Taitt Sato (ValueAct Capital)                               0.25
33 Rachel Canning (Escape Velocity / DEVO)                     0.29
34 Karen Watson (Glotman Simpson)                              0.32
35 Sarah Mcmillan (Chicks Cycling Club)                        0.33
36 Dana Lis (Chicks Cycling Club)                              0.35
37 Margaret Pugh (Chicks Cycling Club)                         0.37
38 Sonja Heilmeier (Chicks Cycling Club)                       0.39
39 Clara Hungr (Chicks Cycling Club)                           0.40
40 Bonnie Catlin (Chicks Cycling Club)                             
41 Sarah Nathan (Chicks Cycling Club)                          0.42
42 Sarah Bamberger (Cheerwine Pro Cycling)                     0.47
43 Jennifer Kohm (Glotman Simpson)                                 

General classification after Stage 1

Men
 
1 Svein Tuft (Symmetrics Cycling)                              3.44
2 Andrew Pinfold (Symmetrics Cycling)                          0.05
3 Scott Zwizanski (Bissell Pro Cycling Team)                       
4 Kiel Reijnen (Team Waste Management)                         0.06
5 Zach Bell (Symmetrics Cycling)                                   
6 Garrett Peltonen (Bissell Pro Cycling Team)                  0.10
7 Eric Wohlberg (Symmetrics Cycling)                               
8 Rob Britton (TREK Red Truck Racing p/b Mosaic)                   
9 Tim Sherstobitoff (Total Restoration Cycling Team)           0.11
10 Dan Skinner (Total Restoration Cycling Team)                    
11 Tyler Trace (TREK Red Truck Racing p/b Mosaic)                  
12 Michael Rothengatter (Escape Velocity)                      0.13
13 Cory Forrest (Total Restoration Cycling Team)               0.14
14 Ben Chaddock (Team Whistler)                                0.15
15 Sean Mazich (Team Waste Management)                             
16 Cam Evans (Symmetrics Cycling)                                  
17 Ryan Anderson (Symmetrics Cycling)                              
18 John Tolkamp (Escape Velocity)                              0.16
19 Matt Shriver (Jittery Joe's Pro Cycling)                        
20 Dan Macdonald (Kona-Adobe)                                      
21 Mathew Bell (Calyon Pro Cycling Team)                           
22 Aaron Schooler (Team H&R Block)                             0.17
23 Stevie Cullinan (Team Waste Management)                         
24 Trevor Haaheim (Total Restoration Cycling Team)                 
25 Chris Mcneil (Team H&R Block)                                   
26 Jamie Sparling (TREK Red Truck Racing p/b Mosaic)               
27 Jared Barrilleaux (Jittery Joe's Pro Cycling)                   
28 Guy Biggar (Escape Velocity / DEVO)                         0.18
29 Kirk O'bee (Health Net Pro Cycling Team)                        
30 Matt Potma (Kona-Adobe)                                         
31 Alistair Howard (Kona-Adobe)                                    
32 Christian Meier (Symmetrics Cycling)                        0.19
33 Ron Jensen (Team Waste Management)                              
34 John Perkins (Glotman Simpson Racing)                           
35 Evan Elken (Jittery Joe's Pro Cycling)                          
36 Jonathan Gormick (Kona-Adobe)                                   
37 Devon Vigus (California Giant/Specialized)                      
38 Mark Macdonald (Team H&R Block)                                 
39 Jon Parrish (Team Waste Management)                         0.20
40 Francois Parisien (Team RACE Pro)                               
41 Nathan Macdonald (TREK Red Truck Racing p/b Mosaic)         0.21
42 Mike Norton (Calyon Pro Cycling Team)                           
43 Dana Williams (TNA/Shape Properties)                            
44 Jonathan Page (Escape Velocity)                                 
45 Trent Wilson (Jittery Joe's Pro Cycling)                        
46 Tim Henry (Jittery Joe's Pro Cycling)                       0.22
47 Shaun Adamson (Juventus)                                        
48 Owen Sturgess (Escape Velocity)                                 
49 Jeff Ain (Escape Velocity)                                      
50 Mathieu Roy (Calyon Pro Cycling Team)                           
51 Nic Hamilton (Team Aviawest)                                0.23
52 Cody Stevenson (Jittery Joe's Pro Cycling)                      
53 Owen Harrison (Total Restoration Cycling Team)                  
54 Kyle Ward (Team Waste Management)                               
55 Ryan Taylor (Campione-Ratcliff Racing Team)                 0.24
56 Jacob Erker (Symmetrics Cycling)                                
57 Jeff Bolstad (Team H&R Block)                                   
58 Shawn Goulet (Kona-Adobe)                                   0.25
59 Dave Vukets (TREK Red Truck Racing p/b Mosaic)                  
60 Dave Brooks (TREK Red Truck Racing p/b Mosaic)                  
61 Russell Stead (La Bicicletta)                               0.26
62 Scott Laliberte (Campione-Ratcliff Racing Team)                 
63 Tom Last (Kinesis UK)                                           
64 Frederic Bussieres (Team Aviawest)                              
65 Kevin Noiles (TREK Red Truck Racing p/b Mosaic)                 
66 Paul Beard (Escape Velocity)                                0.27
67 Jesse James Collins (Bicisport Gruppo Sportivo Campione)    0.28
68 Brad Kerr (Total Restoration Cycling Team)                      
69 Josh James (Kinesis UK)                                         
70 Grant Van Horn (Team Waste Management)                      0.29
71 Julian Base (Campione-Ratcliff Racing Team)                     
72 Mike Sayers (BMC Pro Cycling Team)                          0.30
73 Maxime Vives (Calyon Pro Cycling Team)                          
74 Sebastian Salas (Campione-Ratcliff Racing Team)             0.31
75 Jonathan Cheung (Independent)                                   
76 Chris Reid (Kona-Adobe)                                         
77 Chris Devries (Team H&R Block)                              0.32
78 Marcel Aarden (Kona-Adobe)                                      
79 Matthew Guse (Calyon Pro Cycling Team)                      0.33
80 Chris Squire (La Bicicletta)                                    
81 Evan Flater (Team Aviawest)                                     
82 John Meehan (Bissell Pro Cycling Team)                      0.34
83 Maurice Worsfold (Glotman Simpson Racing)                   0.35
84 Chris Worsfold (Glotman Simpson Racing)                         
85 Anthony Steenbergen (Team H&R Block)                            
86 Matthew Cottrell (Team Aviawest)                            0.36
87 Chris Reynolds (Campione-Ratcliff Racing Team)              0.37
88 Jason Fluckiger (repswest)                                  0.38
89 Attila Hajdu (La Bicicletta)                                0.40
90 Brett Boniface (Campione-Ratcliff Racing Team)              0.41
91 David Gillam (Cycle Solutions)                              0.46
92 Shane Savage (Mighty Cycling)                                   
93 Joe Wessel (Kelowna Cycle Opus sd23)                        0.48
94 Kurtis Vallee (Team Aviawest)                               0.49
 
Women
 
1 Ruth Corset (Jazz Apple Cycling Team)                        4.24
2 Laura Brown (Giant Bicycles/Team Whistler Canada)                
3 Sarah Stewart (Total Restoration Cycling Team)               0.01
4 Steph Roorda (Giant Bicycles/Team Whistler Canada)           0.03
5 Lauren Ellis (Jazz Apple Cycling Team)                       0.04
6 Moriah Macgregor (Giant Bicycles/Team Whistler Canada)       0.05
7 Jenny Trew (Giant Bicycles/Team Whistler Canada)                 
8 Lisa Howard (Giant Bicycles/Team Whistler Canada)            0.06
9 Heather Kay (ERTC/Revolution Cycle)                          0.08
10 Lisa Dorian (Chicks Cycling Club)                           0.10
11 Susannah Pryde (Jazz Apple Cycling Team)                        
12 Kristine Brynjolfson (Team Coastal)                         0.11
13 Kelly Benjamin (Cheerwine Pro Cycling)                          
14 Gina Kavesh (Wines of Washington)                           0.12
15 Jennifer Tabbernor (Team Whistler)                          0.13
16 Jessica Hannah (Giant Bicycles/Team Whistler Canada)        0.14
17 Heather Lamson (Giant Bicycles/Team Whistler Canada)        0.15
18 Gillian Moody (Total Restoration Cycling Team)              0.16
19 Fiona Macleod (TREK Red Truck Racing p/b Mosaic)            0.17
20 Hannah Banks (ValueAct Capital)                                 
21 Alyssa Weninger (Sask/BCW)                                      
22 Jaymie Mcgowan (Oak Bay Bikes)                                  
23 Chelsea Bilsbarrow (Giant Bicycles/Team Whistler Canada)    0.19
24 Jennifer Schulz (Total Restoration Cycling Team)                
25 Morgan Schneidler (Wines of Washington)                     0.21
26 Marie-Claude Gagnon (Glotman Simpson)                           
27 Monica Nelson (Total Restoration Cycling Team)              0.23
28 Malindills Maclean (Jazz Apple Cycling Team)                    
29 Kelsey Miller (Wedgewood Cycling Team)                      0.24
30 Shoshauna Laxson (Team Whistler)                                
31 Leslie Vice (Glotman Simpson)                                   
32 Taitt Sato (ValueAct Capital)                               0.25
33 Rachel Canning (Escape Velocity / DEVO)                     0.29
34 Karen Watson (Glotman Simpson)                              0.32
35 Sarah Mcmillan (Chicks Cycling Club)                        0.33
36 Dana Lis (Chicks Cycling Club)                              0.35
37 Margaret Pugh (Chicks Cycling Club)                         0.37
38 Sonja Heilmeier (Chicks Cycling Club)                       0.39
39 Clara Hungr (Chicks Cycling Club)                           0.40
40 Bonnie Catlin (Chicks Cycling Club)                             
41 Sarah Nathan (Chicks Cycling Club)                          0.42
42 Sarah Bamberger (Cheerwine Pro Cycling)                     0.47
43 Jennifer Kohm (Glotman Simpson)