Chicago Criterium - NE
USA, July 27, 2008
Surprises fill first Chicago Criterium
By Mark Zalewski in Chicago, Illinois
Former professional Bergman jumps favorites
Adam Bergman (Texas Roadhouse) surprised everyone,
Photo ©: Mark Zalewski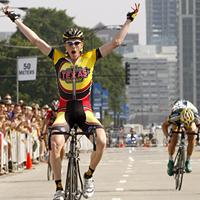 A first-time event carries with it a lot of unknowns - from the course to the weather to even the crowds. For the Chicago Criterium, held in Grant Park in between the beautiful shore of Lake Michigan and the famous city skyline, the surprises did not end there. Out of the final five-rider break the surprise came from the only amateur Adam Bergman (Texas Roadhouse), who jumped the other four professionals on the last half-lap to take a huge win.
"After I won the half-way [bonus] I was pretty exciting and thinking I have nothing to lose," said Bergman, who earned $1,000 for the half-way bonus sprint. "I was covering moves at the end and counter-attacked a move with eight to go and go away. Horner and Rollin came up and then it was all cat-and-mouse."
The attacks came out of a huge 20-rider breakaway that formed early in the race. "I was surprised it got that big," said Chris Horner (Astana). "I attacked on the back stretch and that caused a split... I won't say it caused the break because we had 20 guys and that was more like a second peloton.
"At first it was 10 guys and was perfect, but then a bunch of other guys made it up," he added. "But we still rolled it pretty good on a hot, miserable day."
A lot of dangerous riders were present in the move, but not the fastest riders such as Ivan Dominguez (Toyota-United) and Freddie Rodriguez (Rock Racing). With every major team represented the move was let go.
"It was strange because when the break went Kelly Benefits had four guys up there and then everyone looked at each other," said Dominque Rollin (Toyota-United). "Once we built it up it was mostly a chess game. With 10 laps to go we started attacking each other. I was working for Hilton Clarke because he is going so great. It paid off having both of us in the break but then all were staring at me and Horner and [Bergman] took the opportunity."
Dominique Rollin (Toyota-United)
Photo ©: Mark Zalewski

As the laps switched the single digits it became clear the break was too big, and the attacks ensued. "Everyone was tired at the finish and Adam attacked with a Bissell rider," said Horner. "I was watching the Toyota and Kelly guys - Rollin countered and it split with the five of us getting together."
Out of the break came the final five: Horner, Rollin, Bergman along with Graham Howard (Bissell) and David Veilleux (Kelly Benefits Strategies-Medifast.)
There were more attacks but with a smaller group the marking was much easier - especially when you are Horner or Rollin. But not as easy when you are a wild card in the group, as was Bergman.
Chris Horner (Astana)
Photo ©: Mark Zalewski

"I wanted to wait, and I waited for two attacks and then I saw Horner and Rollin look at each other so I went on the back side small chicane," he said. "I looked back and had clean wheels so I put my head down and went for it."
"Adam is riding on good form because I saw him riding hard out there," said Horner. "He's not marked like me or Rollin, so as soon as he got the gap we weren't going to bring him back in a third of a lap."
The last half of the lap was spent in the hurt box as he rounded the final turn with a five second lead. "80km in the sun with a top-quality field with Horner and Rodriguez... yeah, I was a little tired," he said. "But it's criterium racing and anything is possible." For his trouble Bergman gets to add another $5,000 to his pockets.
As for thoughts on the inaugural race, Horner was pleasantly surprised. "At first I thought it was going to be terrible," he said. "I thought it would be too easy. But once we got out there... the weather, the wind, something made it a really hard day.
"Everyone was dying out there," he added. "You have the lake on one side and the city on the other, so you can't complain about that."
Rais takes race solo
Amber Rais (TIBCO)
Photo ©: Mark Zalewski

Team TIBCO dominated the field in the women's race, launching a number of attacks. Each rider took a turn launching attacks on the rest of the riders until one got away. That one happened to be Amber Rais, who is happy to ride alone, and she did so to victory with her team ruling the front of the peloton.
"There was about 14 minutes left and there was just a lull in the field," said Rais. "We decided to keep attacking and pushing the envelope. Three of [my team-mates] had just attacked and there was another lull in the field, so I said it was my turn.
"Every time I attacked, I attacked with the intention of getting a gap and driving it home - unfortunately, it doesn't always work like that," she added. "But I started hearing 20 seconds, 30 seconds and so I just put my head down and went because at that point there is no going back."
Back in the field her team-mates sat on the front and no other rider was able to get across. When asked if she would have rather had a extra set of legs with her on a windy course such as in the Windy City, Rais replied: "It always fun to play the tactical game in the finish... unless you lose; but any way you can win a bike race is good."
Photography
For a thumbnail gallery of these images, click here
Images by Mark Zalewski/Cyclingnews.com
Results
Pro men

1 Adam Bergman      1.44.02
2 Dominique Rollin         
3 David Veilleux           
4 Chris Horner             
5 Graham Howard            
6 Hilton Clarke            
7 Alex Candelario          
8 Frank Pipp               
9 Fred Rodriguez           
10 Paul Martin             
11 Jonathan Page           
12 Andy Crater             
13 Rob White               
14 Scott Zwizanski         
15 Peter Dawson            
16 Ben King                
17 Stefan Rothe            
18 Ben Day                 
19 Steven Howard           
20 Frankie Dierking        
21 Jake Keough             
22 Ben Renkema             
23 Stephan Kincaid         
24 Kevin Attkisson         
25 Daniel Chavez           
26 Shawn Milne             
27 Steve Tilford           
28 Daniel Carruthers       
29 Christopher Uberti      
30 James Flora             
31 Michael Heagney         
32 Cory Hickman            
33 Daniele Defranceschi    
34 Ivan Dominguez          
35 Kris Koke               
36 Karim Abdelkader        
37 Jake Rytlewski          
38 Isaac Neff              
39 Greg Christian          
40 Nat Thompson            
41 Ryan Knapp              
42 Jason Swiattowski       
43 Ryan White              
44 Dan Ajler               
45 Pat Lemieux             
46 Frank Rowley            
47 Cesar Correa            
48 Vince Roberge           
49 Michael Woell           
50 Andrew Kerr             
51 Derek Graham            
52 Greg Bauer              
53 Mark Santurbane         
54 Robert Springer         
55 Charles Crouse          
56 Kevin Berger            
57  Steve Holeczy          
58 Delti Parra             
59 Sasha Land              
60 Patrick Long            
61 Rob Kelley              
62 James Holton            
63 Mike Lantz              
64 Brian Boyle             
65 Derek Laan              
66 David Galvin            
67 Matt Welch              
68 Mike Sherer             
69 Eric Wiecek             
70 Aaron Hubbell           
71 Randy Reichardt         
72 Henk Vogels             
73 Daniel Guildoil         
74 Andrew Lister           
75 Chad Cagle              
76 Kevin Hazzard           
77 Richard English         
78 Joffi Dapkus            
79 Ariel Herrmann          
80 David Sachs             
81 Jens Brabbit            
82 Bryson Bowers           
83 Kayle Leograndi         
84 Brock Curry             
85 Jeff Schroetlin         
86 Jonathan Jacob          
87 Brett Stewart           
88 Ian Dille               
89 John Minturn            
90 John Meyers             
91 Paul Harrison           
92 Chris Zenthoefer        
93 Vandeven Steven         
94 Andy Skeen              
95 Josh Carter             
96 Garrett Peltowen        
97 Russ Langley            
98 Bryce Mead              
99 Steve Spencer           
10 Gregg Brant             
10 Kirk Albers             
 
Pro women
 
1 Amber Rais          56.24
2 Sam Schneider            
3 Brooke Miller            
4 Lara Kroepsch            
5 Carrie Cash              
6 Monique Hanely           
7 Christian Hanster        
8 Megan Elliot             
9 Meredith Miller          
10 Rushlee Buchanan        
11 Skye-Lee Armstrong      
12 Rachel Eichers          
13 Pam Loebis              
14 Devon Haskell           
15 Anne Meyer              
16 Kristen Meshberg        
17 Carrie Kopernik         
18 Kristin Wentworth       
19 Sarah Maguire           
20 Debbie Dust             
21 Louise Turner           
22 Catherine Walberg       
23 Us (Team) Revolution    
24 Hele Kelly              
25 Amanda Miller           
26 Jeannie Kuhajek         
27 Julie Dewerd            
28 Laura Melendez          
29 Francine Haas           
30 Jessica Cole            
31 Rachel Itgal            
32 Krystal Mcnutt