21th Trust House Classic (Tour of Wellington) - 2.2
New Zealand, January 30-February 3, 2008
Main Page Results Overall standings Previous Stage
Stage 7 - February 3: Wellington Criterium, 43.9km
Travis triumphs in New Zealand
Travis Meyer (SouthAustralia.Com AIS) adds another stage win
Photo ©: Bruce Pool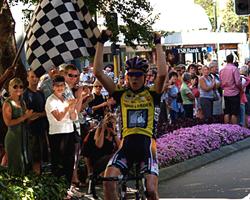 SouthAustralia.com-AIS new recruit Travis Meyer has won overall honours in the Trust House Classic/Tour of Wellington with a dominant performance that included two stage wins. The 18 year-old West Australian also won the Under 23 title, finished third in the sprint classification and led SouthAustralia.com-AIS to victory in the team's title.
Meyer finished the 580km event with a total race time of 14:27.09, 1.51 minutes clear of second placed Robin Reid (Delmaine Foods) and more than five minutes faster than compatriot David Pell (Savings & Loans). He took over the race lead on the second day of the five day, seven stage event and held it all the way to the end.
"In all my 21 years doing the Tour of Wellington, I have never seen a rider like him," said race director Jorge Sandoval. "He may never realise what he did in this country this week. He put cycling on the map."
Meyer, who has won five Junior World Championship titles on the track in the past two years, went into the final stage with a margin that should have allowed him to coast to victory, but he had other ideas. The teenager raced the one hour plus three laps of the 750m circuit with a vengeance, launching two solo attacks and lapping all bar six of the 70-strong field.
"I wanted to ride strong to show I was the true winner," said Meyer, who became the youngest ever tour winner. "I didn't expect to win like that but I wanted a hard race.
"It's unbelievable to have won a great, hard tour and to beat some of these guys in my first major one is just fantastic," he said.
But there was no time for celebration as Meyer was up at 3am this morning for an early flight back to Sydney for this week's Australian Track Cycling Championships.
Photography
For a thumbnail gallery of these images, click here
Images by Bruce Pool
Images by Jorge Sandoval
Results
1 Travis Meyer (Aus) SouthAustralia.Com AIS         1.03.02 (41.8 km/h)
2 Joel Pearson (Aus) Savings & Loans                   0.35
3 Jason Allen (NZl) Trust House Team                       
4 Bernard Sulzberger (Aus) Team Tabak                      
5 Mark Langlands (NZl) Delmaine Foods Team                 
6 Joshua England (NZl) Subway Cycling Team                 
7 Westley Gough (NZl) Trust House Team                 0.38
8 Stephen Elden (NZl) Team Tabak                       1.07
9 Paul Odlin (NZl) Trek-Zookeepers Café                    
10 Chris Luxton (Aus) Savings & Loans                      
11 Ben King (Aus) SouthAustralia.Com AIS                   
12 Darcy Rosenlund (Aus) Ord Minnetti/Triple Play Team     
13 Hayden Josefski (Aus) SouthAustralia.Com AIS            
14 Adam Semple (Aus) SouthAustralia.Com AIS                
15 Sam Horgan (NZl) Benchmark Team                         
16 Chris Jory (Aus) FRF Couriers - NSWIS                   
17 Robin Reid (NZl) Delmaine Foods Team                    
18 David Pell (Aus) Savings & Loans                        
19 James Williamson (NZl) Subway Cycling Team              
20 Jeremy Yates (NZl) Subway Cycling Team                  
21 Thomas Hanover (NZl) Team Tabak                         
22 Hayden Roulston (NZl) Trek-Zookeepers Café              
23 Scott Lyttle (NZl) Solway Park Hotel                    
24 John Ebeling (Aus) FRF Couriers - NSWIS                 
25 Justin Kerr (NZl) Delmaine Foods Team                   
26 Shem Rodger (NZl) Exodus Gym                            
27 Ashley Whitehead (NZl) Delmaine Foods Team              
28 Richie Porte (Aus) Solway Park Hotel                    
29 Brett Dawber (NZl) Benchmark Team                       
30 Paul Delahunty (NZl) R+R Team                       3.21
31 Peter Latham (NZl) Trust House Team                     
32 Ryan Wills (NZl) Handy Rentals                          
33 Daniel Furmston (Aus) Solway Park Hotel                 
34 Joseph Chapman (NZl) Delmaine Foods Team                
35 Hayden Godfrey (NZl) Team Tabak                         
36 Ed Barret (NZl) Benchmark Team                          
37 Tim Walker (NZl) Solway Park Hotel                      
38 Alex Meenhors (NZl) Subway Cycling Team                 
39 Joseph Cooper (NZl) Subway Cycling Team                 
40 Peter Rennie (NZl) Tait Communications                  
41 Will Alexander (NZl) Exodus Gym                         
42 Sam Jennings (NZl) Team BP                              
43 Gilbert Gutowski (Aus) Ord Minnetti/Triple Play Team    
44 Malcom Rudolph (Aus) Ord Minnetti/Triple Play Team      
45 Josh Barley (NZl) Team Konica Minolta                   
46 Gavin Nicholls (Aus) Ord Minnetti/Triple Play Team      
47 Jeremy Smart (NZl) Team BP                              
48 Chris Burr (NZl) Exodus Gym                             
49 Paul Bishop (NZl) Team Pro Velo                         
50 Jesse Sergent (NZl) Trust House Team                    
51 Edwin Crossling (NZl) Solway Park Hotel                 
52 Matt Sillars (NZl) Team Tabak                           
53 Aaron Lawson (NZl) Team BP                              
54 Blair James (NZl) Tait Communications                   
55 Roy Marcus (NZl) Mercedes Benz                          
56 Sam King-Turner (NZl) R+R Team                          
57 Ben Johnson (Aus) FRF Couriers - NSWIS              4.28
58 Hamish Robertson (NZl) Team Pro Velo                    
59 Wayne Mason (NZl) Team Pro Velo                         
60 Chris Sanson (NZl) Exodus Gym                           
61 Shaun Higgerson (Aus) FRF Couriers - NSWIS              
62 Marc Ryan (NZl) Trust House Team                        
63 Josh Brannigan (NZl) R+R Team                           
64 Josh Page (NZl) Team Konica Minolta                     
65 Andrew Williams (NZl) Benchmark Team                    
66 Matthew Haydock (NZl) Tait Communications               
67 Winston Briggs (NZl) Handy Rentals                      
68 Chris Tennent-Brown (NZl) Team Pro Velo                 
69 Wayne Mcconachy (NZl) Team Pro Velo                     
70 James Moffat (NZl) Mercedes Benz                        
71 Josh Egbers (NZl) Mercedes Benz                         
72 Nicholas Hextall (NZl) Team Konica Minolta              
73 Brian Biggs (NZl) Team BP    

Sprints

1 Travis Meyer (Aus) SouthAustralia.Com AIS    8 pts
2 Mark Langlands (NZl) Delmaine Foods Team     6
3 Joel Pearson (Aus) Savings & Loans           2
4 Daniel Furmston (Aus) Solway Park Hotel      1
5 Chris Luxton (Aus) Savings & Loans           1                           

Final general classification

1 Travis Meyer (Aus) SouthAustralia.Com AIS               14.27.03.00
2 Robin Reid (NZl) Delmaine Foods Team                        2.55.53
3 David Pell (Aus) Savings & Loans                            5.19.34
4 Adam Semple (Aus) SouthAustralia.Com AIS                    5.28.31
5 Jeremy Yates (NZl) Subway Cycling Team                      6.23.10
6 Scott Lyttle (NZl) Solway Park Hotel                        7.54.37
7 Chris Luxton (Aus) Savings & Loans                          8.13.04
8 Chris Jory (Aus) FRF Couriers - NSWIS                       9.05.66
9 Darcy Rosenlund (Aus) Ord Minnetti/Triple Play Team        10.32.03
10 Brett Dawber (NZl) Benchmark Team                         11.16.00
11 James Williamson (NZl) Subway Cycling Team                11.24.46
12 Hayden Josefski (Aus) SouthAustralia.Com AIS              12.22.00
13 Ben King (Aus) SouthAustralia.Com AIS                     13.08.93
14 Stephen Elden (NZl) Team Tabak                            13.26.13
15 Ryan Wills (NZl) Handy Rentals                            13.26.32
16 Bernard Sulzberger (Aus) Team Tabak                       13.43.10
17 John Ebeling (Aus) FRF Couriers - NSWIS                   14.37.22
18 Tim Walker (NZl) Solway Park Hotel                        14.38.87
19 Richie Porte (Aus) Solway Park Hotel                      15.07.38
20 Hayden Roulston (NZl) Trek-Zookeepers Café                15.44.70
21 Ashley Whitehead (NZl) Delmaine Foods Team                17.06.56
22 Josh Page (NZl) Team Konica Minolta                       17.17.05
23 Justin Kerr (NZl) Delmaine Foods Team                     17.19.55
24 Joel Pearson (Aus) Savings & Loans                        17.31.12
25 Thomas Hanover (NZl) Team Tabak                           18.46.22
26 Peter Latham (NZl) Trust House Team                       18.50.42
27 Roy Marcus (NZl) Mercedes Benz                            19.06.34
28 Mark Langlands (NZl) Delmaine Foods Team                  19.12.70
29 Alex Meenhors (NZl) Subway Cycling Team                   20.46.02
30 Chris Burr (NZl) Exodus Gym                               21.00.80
31 Joseph Cooper (NZl) Subway Cycling Team                   21.28.02
32 Westley Gough (NZl) Trust House Team                      22.11.15
33 Peter Rennie (NZl) Tait Communications                    22.23.80
34 Chris Sanson (NZl) Exodus Gym                             23.42.10
35 Blair James (NZl) Tait Communications                     25.21.19
36 Joseph Chapman (NZl) Delmaine Foods Team                  26.31.76
37 Josh Barley (NZl) Team Konica Minolta                     26.38.81
38 Malcom Rudolph (Aus) Ord Minnetti/Triple Play Team        28.24.46
39 Will Alexander (NZl) Exodus Gym                           30.02.87
40 Sam Horgan (NZl) Benchmark Team                           31.24.21
41 Shem Rodger (NZl) Exodus Gym                              31.30.13
42 Gavin Nicholls (Aus) Ord Minnetti/Triple Play Team        34.59.78
43 Jeremy Smart (NZl) Team BP                                35.30.22
44 Paul Bishop (NZl) Team Pro Velo                           35.40.88
45 Hayden Godfrey (NZl) Team Tabak                           35.55.97
46 Marc Ryan (NZl) Trust House Team                          36.44.28
47 Shaun Higgerson (Aus) FRF Couriers - NSWIS                37.04.39
48 Ed Barret (NZl) Benchmark Team                            38.44.31
49 Jason Allen (NZl) Trust House Team                        40.27.44
50 Jesse Sergent (NZl) Trust House Team                      42.07.84
51 Sam King-Turner (NZl) R+R Team                            42.23.53
52 Matthew Haydock (NZl) Tait Communications                 42.38.87
53 Ben Johnson (Aus) FRF Couriers - NSWIS                    43.29.33
54 Wayne Mcconachy (NZl) Team Pro Velo                       45.32.68
55 Paul Odlin (NZl) Trek-Zookeepers Café                     46.42.70
56 Aaron Lawson (NZl) Team BP                                48.35.17
57 Edwin Crossling (NZl) Solway Park Hotel                   49.21.16
58 Hamish Robertson (NZl) Team Pro Velo                      52.58.41
59 Paul Delahunty (NZl) R+R Team                             56.02.69
60 Chris Tennent-Brown (NZl) Team Pro Velo                   58.21.42
61 Matt Sillars (NZl) Team Tabak                           1.03.11.57
62 Daniel Furmston (Aus) Solway Park Hotel                 1.09.54.84
63 Sam Jennings (NZl) Team BP                              1.10.00.17
64 Wayne Mason (NZl) Team Pro Velo                         1.14.05.68
65 Winston Briggs (NZl) Handy Rentals                      1.19.23.54
66 Andrew Williams (NZl) Benchmark Team                    1.19.31.88
67 Josh Brannigan (NZl) R+R Team                           1.20.53.28
68 Joshua England (NZl) Subway Cycling Team                1.20.58.90
69 Nicholas Hextall (NZl) Team Konica Minolta              1.25.32.92
70 Brian Biggs (NZl) Team BP                               1.25.37.01
71 Gilbert Gutowski (Aus) Ord Minnetti/Triple Play Team    1.27.18.95
72 James Moffat (NZl) Mercedes Benz                        1.27.24.36
73 Josh Egbers (NZl) Mercedes Benz                         1.38.29.76

Sprints classification
 
1 David Pell (Aus) Savings & Loans                      14 pts
2 Daniel Furmston (Aus) Solway Park Hotel               12
3 Travis Meyer (Aus) SouthAustralia.Com AIS             10
4 Chris Jory (Aus) FRF Couriers - NSWIS                  8
5 Gavin Nicholls (Aus) Ord Minnetti/Triple Play Team     6
6 Mark Langlands (NZl) Delmaine Foods Team               6
7 John Ebeling (Aus) FRF Couriers - NSWIS                5
8 Paul Odlin (NZl) Trek-Zookeepers Café                  5
9 Justin Kerr (NZl) Delmaine Foods Team                  4
10 Adam Semple (Aus) SouthAustralia.Com AIS              4
11 Aaron Anderson (NZl) Handy Rentals                    3
12 Hayden Roulston (NZl) Trek-Zookeepers Café            3
13 Chris Luxton (Aus) Savings & Loans                    3
14 Gordon Mccauley (NZl) Trek-Zookeepers Café            2
15 Craig Mccartney (Aus) Savings & Loans                 2
16 Joel Pearson (Aus) Savings & Loans                    2
17 Ben King (Aus) SouthAustralia.Com AIS                 1
 
Mountains classification
 
1 John Ebeling (Aus) FRF Couriers - NSWIS               14 pts
2 Robin Reid (NZl) Delmaine Foods Team                  14
3 Hayden Roulston (NZl) Trek-Zookeepers Café            14
4 Chris Jory (Aus) FRF Couriers - NSWIS                 10
5 Travis Meyer (Aus) SouthAustralia.Com AIS             10
6 Thomas Hanover (NZl) Team Tabak                        6
7 Joseph Cooper (NZl) Subway Cycling Team                6
8 Hayden Josefski (Aus) SouthAustralia.Com AIS           6
9 Adam Semple (Aus) SouthAustralia.Com AIS               6
10 Matt King (Aus) SouthAustralia.Com AIS                6
11 Gavin Nicholls (Aus) Ord Minnetti/Triple Play Team    4
12 Richie Porte (Aus) Solway Park Hotel                  4
13 Hayden Josefski (Aus) SouthAustralia.Com AIS          4
14 Ashley Whitehead (NZl) Delmaine Foods Team            2
15 Jeremy Yates (NZl) Subway Cycling Team                2
16 Ed Barret (NZl) Benchmark Team                        2
 
Teams classification

1 SouthAustralia.Com AIS                          43.34.54
2 Savings & Loans                                    13.38
3 Subway Cycling Team                                16.35
4 Delmaine Foods Team                                20.55
5 Solway Park Hotel                                  24.05
6 Team Tabak                                         30.16
7 FRF Couriers-NSWIS                                 41.18
8 Trust House Team                                   53.42
9 Exodus Gym                                         56.41
10 Ord Minnetti/Triple Play Team                   1.00.02
11 Benchmark Team                                  1.07.38
12 Tait Communications                             1.16.39
13 Team Konica Minolta                             1.44.00
14 Team Pro Velo                                   1.57.05
15 Team BP                                         2.20.09
16 R+R Team                                        2.45.35
17 Mercedes Benz                                   2.49.10