Jelajah Malaysia - 2.2
Malaysia, January 7-13, 2008
Main Page Results Overall standings Previous Stage
Stage 7 - January 13: Dataran Merdeka - Dataran Merdeka, 58 Km
Dancing with Tonton and Hatanaka
By Jean-François Quénet in Kuala Lumpur
Yusuke Hatanaka (Skil Shimano) takes the stage win from a small escape group
Photo ©: Jelajah Malaysia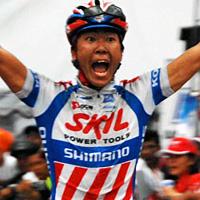 Although there are some clouds over its future in Europe, cycling doesn't seem to be a dead sport when you see race organisers dancing on the road one hour after the end of the first stage race of the year in Asia. That happened on Sunday in Dataran Merdeka, the historical square of Kuala Lumpur. People involved in Jelajah Malaysia looked just as happy as 22 year-old Japanese rookie Yusuke Hatanaka when he crossed the line as the winner of the seventh stage. Overall winner Tonton Susanto, 34 years old, who has been around for quite a long time now was also smiling at everybody congratulating him for the first stage race win of his career.
Fortunately, the charisma of Dutch commissar Martin Bruin has prevailed when some European riders didn't want the last stage to be contested due to the slippery roads of Kuala Lumpur after a few showers in the early afternoon. It would have been a pity to prevent these Asian cyclists and spectators to enjoy a happy end. It was nothing like the torrential rain that really stopped the last stage of the Tour de Langkawi at the same place two years ago.
The judges declared the general classifications over before the race started. Therefore, the danger was avoided but the show went on. Everybody expected another bunch sprint, but a four-man breakaway actually made it through with eight laps (of 2.9 kilometres each) to go. Hatanaka proved himself to be faster than Hossein Nateghi (Tabriz), Hari Fitriyanto (Polygon Sweet Nice) and Rauf Nor Misbah (Malaysia national team).
Race overall winner Tonton Susanto (Le Tua Cycling)
Photo ©: Jelajah Malaysia

"I'm extremely happy to score my first win for my first race as a professional," Hatanaka said. The rider from Tokyo joined Skil-Shimano recently after spending four years learning his trade as a bike rider in the French club of Albi VS under the wing of Didier Jeannel, who has also sent to the pro ranks Tim Gudsell (Française des Jeux) and Stéphane Poulhiès (Ag2r) in a recent past.
It was a relief for Susanto to cross the finishing line. "It was still dangerous to race and I was stressed for coming home safe," the Indonesian rider said. "I'm so happy today and I thank my team-mates, my coach, my team manager and all the staff of LeTua for helping me getting my first win in a stage race. Two years ago I almost quit cycling and now I enjoy it more than ever. I already set my sights on the Tour de Langkawi next month. I want to get a better result than last year and my goal will be to finish best Asian rider."
With the overall classification, the points classification, the award of best Malaysian team and three stage wins with its sprinter Anuar Manan, the LeTua team enjoyed a fabulous round of applause, shouts and songs from its numerous fans in Dataran Merdeka. After the celebrations of the 50 years of independence (Merdeka in local language) for Malaysia in 2007, it was still party time in Kuala Lumpur!
Photography
For a thumbnail gallery of these images, click here
Images by Jean-François Quénet
Images by Jelajah Malaysia/www.jelajah.com.my
Results
1 Yusuke Hatanaka (Jpn) Skil Shimano                        1.07.57 (46.09km/h)
2 Hossein Nateghi (IRI) Tabriz Petrochemical Team                  
3 Hari Fitriyanto (Ina) Polygon Sweet Nice Team                    
4 Mohd Rauf Nor Misbah (Mas) Malaysia National Team                
5 Stefan Löffler (Ger) Giant Asia Racing Team                  0.17
6 Haidar Anuawar Ahmad (Mas) Le Tua Cycling Team                   
7 Cyrille Heymanns (Lux) Team Differdange-Apiflo Vacances          
8 Masahiko Mifune (Jpn) Matrix Powertag                            
9 Mohd Hariff Salleh (Mas) MCF Continental Team                    
10 Mehdi Sohrabi (IRI) Islamic Azad University Team                
11 Mohd Zamri Salleh (Mas) Malaysia National Team                  
12 Tjarco Cuppens (Ned) Team Differdange-Apiflo Vacances           
13 Mohd Shafari Abd Malik (Mas) Malaysia National Team             
14 Shimpei Fukuda (Jpn) Japan National Team                        
15 Fuyu Li (Chn) Trek Marco Polo Team                              
16 Anuar Manam (Mas) Le Tua Cycling Team                           
17 Nor Rizuan Zainal Mohd (Mas) Le Tua Cycling Team                
18 Budi Santoso (Ina) Polygon Sweet Nice Team                      
19 Patria Rastra (Ina) Benteng Muda Selangor                       
20 Hossein Askari (IRI) Tabriz Petrochemical Team                  
21 Jacob Nielsen (Den) Team Farso                                  
22 Wan Mohd Nazri Wan Ahmad (Mas) Kuala Lumpur Team                
23 Mohd Nor Umardi (Mas) Putrajaya Cycling Team                    
24 Weng Kin Thum (Mas) Malaysia National Team                      
25 Mohd Saiful Anuar Aziz (Mas) MCF Continental Team               
26 Herwin Jaya (Ina) Polygon Sweet Nice Team                       
27 Nugroho Kisnanto (Ina) Benteng Muda Selangor                    
28 Rizza Pahlavi Abdullah (Ina) Polygon Sweet Nice Team            
29 Lars Pria (Rom) Team Stegcomputer – CKT – Cogeas                
30 Abbas Saeditanha (IRI) Islamic Azad University Team             
31 David Mc Cann (Irl) Giant Asia Racing Team                      
32 Suhardi Hassan (Mas) Kuala Lumpur Team                          
33 Soren Peterson (Den) Team Farso                                 
34 Iwan Setiawan (Ina) Indonesia Customs Cycling Club              
35 Endra Wijaya (Ina) Indonesia Customs Cycling Club               
36 Mohd Shahrul Mat Amin (Mas) Malaysia National Team              
37 Makoto Iijima (Jpn) Japan National Team                         
38 Lex Nederlof (Ned) Putrajaya Cycling Team                       
39 Tonton Susanto (Ina) Le Tua Cycling Team                        
40 Yoshiyuki Abe (Jpn) Skil Shimano                                
41 Fredrik Johansson (Swe) Team Differdange-Apiflo Vacances        
42 Mohd Fauzan Ahmad Lutfi (Mas) Malaysia National Team        0.25
43 Tomoya Kano (Jpn) Skil Shimano                                  
44 Ahmad Falanie Ali (Mas) Kuala Lumpur Team                   0.27
45 Ken Onodera (Jpn) Trek Marco Polo Team                          
46 Ghader Mizbani Iranagh (IRI) Tabriz Petrochemical Team      0.30
47 Yilin Liu (Chn) Trek Marco Polo Team                            
48 Paul Griffin (Irl) Giant Asia Racing Team                       
49 Masakazu Ito (Jpn) Japan National Team                          
50 Amir Mustafa Rusli (Mas) MCF Continental Team                   
51 Hayoto Yoshida (Jpn) Japan National Team                        
52 Rene Ahrenkiel (Den) Team Farso                                 
53 Hossein Jahabanian (IRI) Tabriz Petrochemical Team              
54 Arehan Ryan (Ina) Le Tua Cycling Team                           
55 Yoshimasa Hirose (Jpn) Skil Shimano                             
56 Hakan Nilsson (Swe) Team Differdange-Apiflo Vacances            
57 Mohd Jasmin Ruslan (Mas) MCF Continental Team                   
58 Sea Keong Loh (Mas) Trek Marco Polo Team                    0.36
59 Taufik Mohamad (Ina) Benteng Muda Selangor                  1.55
60 Siu Wai Ko (HKg) Hong Kong Cycling Team                     2.37
61 Heksa Prasetya P. (Ina) Indonesia Customs Cycling Club          
62 Yan Dong Xing (Chn) Trek Marco Polo Team                        
63 Yoshimitsu Tsuji (Jpn) Matrix Powertag                          
64 Dimitri Jiriakov (Lie) Team Stegcomputer – CKT – Cogeas         
65 Kazushige Kuboki (Jpn) Japan National Team                      
66 Razif Jaafar (Mas) Kuala Lumpur Team                            
67 S Putro Bayu Satrios (Ina) Benteng Muda Selangor                
68 Mitsuhiro Matsumura (Jpn) Matrix Powertag                       
69 Yoshinori Iino (Jpn) Skil Shimano                               
70 Danny Feng (Sin) Putrajaya Cycling Team                         
DNF Jacob Lea (Aus) Giant Asia Racing Team                         
DNF Farshad Salehian (IRI) Islamic Azad University Team            
DNF Ying Hon Yeung (HKg) Hong Kong Cycling Team                    
DNF Kai Tsun Lam (HKg) Hong Kong Cycling Team                      
DNF Kin San Wu (HKg) Hong Kong Cycling Team                        
DNF Syaifullah Mohammad (Ina) Polygon Sweet Nice Team              
DNF Mohd Sayuti Zahit (Mas) Le Tua Cycling Team                    
DNF Ahad Kazemi (IRI) Tabriz Petrochemical Team                    
DNF Mehdi Partovi (IRI) Tabriz Petrochemical Team                  
DNF Marcel Strauss (Swi) Team Stegcomputer – CKT – Cogeas          
DNF Christian Rocha (Swi) Team Stegcomputer – CKT – Cogeas         
DNF Thys Poelstra (Ned) Team Farso                                 
DNF Ageel Abdulameer Thamer (Brn) Bahrain National Team            
DNF Mansoor Jawad (Brn) Bahrain National Team                      
DNF Sayed Ahmed Alawi (Brn) Bahrain National Team                  
DNF Nguyen Minh Tam (Vie) Vietnam National Team                    
DNF Edi Purnomo (Ina) Indonesia Customs Cycling Club               
DNF Maruli Fajar Mulia (Ina) Indonesia Customs Cycling Club        
DNF Agung Ali Sahbana (Ina) Indonesia Customs Cycling Club         
DNF Harnizam Basri (Mas) Kuala Lumpur Team                         
DNS Hannes Blank (Ger) Team Differdange-Apiflo Vacances            
 
Points
 
Lap 5 - 14.5km
1 Suhardi Hassan (Mas) Kuala Lumpur Team                          5 pts
2 Mohd Rauf Nor Misbah (Mas) Malaysia National Team               3
3 Hossein Askari (IRI) Tabriz Petrochemical Team                  2
 
Lap 10 - 29km
1 Suhardi Hassan (Mas) Kuala Lumpur Team                          5 pts
2 Nor Rizuan Zainal Mohd (Mas) Le Tua Cycling Team                3
3 Nugroho Kisnanto (Ina) Benteng Muda Selangor                    2
 
Lap 15 - 43.5km
1 Hari Fitriyanto (Ina) Polygon Sweet Nice Team                   5 pts
2 Yusuke Hatanaka (Jpn) Skil Shimano                              3
3 Mohd Rauf Nor Misbah (Mas) Malaysia National Team               2
 
Final general classification
 
1 Tonton Susanto (Ina) Le Tua Cycling Team                 21.32.38
2 Ghader Mizbani Iranagh (IRI) Tabriz Petrochemical Team       0.11
3 Fredrik Johansson (Swe) Team Differdange-Apiflo Vacances     4.16
4 Hossein Askari (IRI) Tabriz Petrochemical Team               5.11
5 Suhardi Hassan (Mas) Kuala Lumpur Team                       6.22
6 Dimitri Jiriakov (Lie) Team Stegcomputer – CKT – Cogeas      7.01
7 Paul Griffin (Irl) Giant Asia Racing Team                    7.08
8 Hari Fitriyanto (Ina) Polygon Sweet Nice Team                8.14
9 Mohd Fauzan Ahmad Lutfi (Mas) Malaysia National Team         8.15
10 David Mc Cann (Irl) Giant Asia Racing Team                  8.42
11 Fuyu Li (Chn) Trek Marco Polo Team                          9.09
12 Arehan Ryan (Ina) Le Tua Cycling Team                       9.46
13 Hossein Jahabanian (IRI) Tabriz Petrochemical Team         10.51
14 Yilin Liu (Chn) Trek Marco Polo Team                       11.26
15 Kazushige Kuboki (Jpn) Japan National Team                 12.18
16 Jacob Nielsen (Den) Team Farso                             12.30
17 Endra Wijaya (Ina) Indonesia Customs Cycling Club          12.57
18 Abbas Saeditanha (IRI) Islamic Azad University Team        13.17
19 Sea Keong Loh (Mas) Trek Marco Polo Team                   13.37
20 Sayed Ahmed Alawi (Brn) Bahrain National Team              13.38
21 Mohd Rauf Nor Misbah (Mas) Malaysia National Team          13.44
22 Mehdi Sohrabi (IRI) Islamic Azad University Team           13.47
23 Taufik Mohamad (Ina) Benteng Muda Selangor                      
24 Hakan Nilsson (Swe) Team Differdange-Apiflo Vacances       13.52
25 Mohd Shafari Abd Malik (Mas) Malaysia National Team        14.05
26 Weng Kin Thum (Mas) Malaysia National Team                 15.01
27 Budi Santoso (Ina) Polygon Sweet Nice Team                      
28 Herwin Jaya (Ina) Polygon Sweet Nice Team                  15.24
29 Ken Onodera (Jpn) Trek Marco Polo Team                     16.16
30 Hayoto Yoshida (Jpn) Japan National Team                   16.18
31 Amir Mustafa Rusli (Mas) MCF Continental Team              16.19
32 Patria Rastra (Ina) Benteng Muda Selangor                  16.22
33 Kin San Wu (HKg) Hong Kong Cycling Team                         
34 Tomoya Kano (Jpn) Skil Shimano                                  
35 Lars Pria (Rom) Team Stegcomputer – CKT – Cogeas           16.34
36 Mehdi Partovi (IRI) Tabriz Petrochemical Team              16.48
37 Ahad Kazemi (IRI) Tabriz Petrochemical Team                17.02
38 Masakazu Ito (Jpn) Japan National Team                     17.12
39 Yan Dong Xing (Chn) Trek Marco Polo Team                   17.52
40 Makoto Iijima (Jpn) Japan National Team                    18.11
41 Mohd Saiful Anuar Aziz (Mas) MCF Continental Team          18.17
42 Yoshiyuki Abe (Jpn) Skil Shimano                           18.21
43 Mohd Nor Umardi (Mas) Putrajaya Cycling Team               18.23
44 Shimpei Fukuda (Jpn) Japan National Team                   18.41
45 Rizza Pahlavi Abdullah (Ina) Polygon Sweet Nice Team       19.15
46 Haidar Anuawar Ahmad (Mas) Le Tua Cycling Team             19.23
47 Hossein Nateghi (IRI) Tabriz Petrochemical Team            19.44
48 Marcel Strauss (Swi) Team Stegcomputer – CKT – Cogeas      20.02
49 Mohd Shahrul Mat Amin (Mas) Malaysia National Team         20.29
50 Cyrille Heymanns (Lux) Team Differdange-Apiflo Vacances    20.47
51 Hannes Blank (Ger) Team Differdange-Apiflo Vacances        20.51
52 S Putro Bayu Satrios (Ina) Benteng Muda Selangor                
53 Soren Peterson (Den) Team Farso                            20.53
54 Agung Ali Sahbana (Ina) Indonesia Customs Cycling Club     21.55
55 Nor Rizuan Zainal Mohd (Mas) Le Tua Cycling Team           22.21
56 Stefan Löffler (Ger) Giant Asia Racing Team                22.43
57 Mitsuhiro Matsumura (Jpn) Matrix Powertag                  22.45
58 Lex Nederlof (Ned) Putrajaya Cycling Team                  23.17
59 Yoshimasa Hirose (Jpn) Skil Shimano                        23.38
60 Ahmad Falanie Ali (Mas) Kuala Lumpur Team                  24.18
61 Mohd Zamri Salleh (Mas) Malaysia National Team             24.23
62 Anuar Manam (Mas) Le Tua Cycling Team                      24.24
63 Mansoor Jawad (Brn) Bahrain National Team                  25.02
64 Mohd Sayuti Zahit (Mas) Le Tua Cycling Team                25.29
65 Mohd Hariff Salleh (Mas) MCF Continental Team              25.31
66 Ying Hon Yeung (HKg) Hong Kong Cycling Team                25.33
67 Yoshimitsu Tsuji (Jpn) Matrix Powertag                     25.44
68 Yusuke Hatanaka (Jpn) Skil Shimano                         26.06
69 Yoshinori Iino (Jpn) Skil Shimano                               
70 Edi Purnomo (Ina) Indonesia Customs Cycling Club           26.58
71 Tjarco Cuppens (Ned) Team Differdange-Apiflo Vacances      27.01
72 Masahiko Mifune (Jpn) Matrix Powertag                      30.20
73 Thys Poelstra (Ned) Team Farso                             30.53
74 Razif Jaafar (Mas) Kuala Lumpur Team                       30.59
75 Wan Mohd Nazri Wan Ahmad (Mas) Kuala Lumpur Team           31.12
76 Mohd Jasmin Ruslan (Mas) MCF Continental Team              32.14
77 Maruli Fajar Mulia (Ina) Indonesia Customs Cycling Club    33.38
78 Rene Ahrenkiel (Den) Team Farso                            35.26
79 Ageel Abdulameer Thamer (Brn) Bahrain National Team        36.01
80 Kai Tsun Lam (HKg) Hong Kong Cycling Team                  36.13
81 Iwan Setiawan (Ina) Indonesia Customs Cycling Club         36.28
82 Jacob Lea (Aus) Giant Asia Racing Team                     36.35
83 Christian Rocha (Swi) Team Stegcomputer – CKT – Cogeas     37.00
84 Farshad Salehian (IRI) Islamic Azad University Team        37.05
85 Syaifullah Mohammad (Ina) Polygon Sweet Nice Team          37.44
86 Harnizam Basri (Mas) Kuala Lumpur Team                     37.49
87 Siu Wai Ko (HKg) Hong Kong Cycling Team                    39.06
88 Heksa Prasetya P. (Ina) Indonesia Customs Cycling Club     41.51
89 Nugroho Kisnanto (Ina) Benteng Muda Selangor               43.02
90 Danny Feng (Sin) Putrajaya Cycling Team                    45.23
91 Nguyen Minh Tam (Vie) Vietnam National Team                58.14
 
Points classification
 
1 Anuar Manam (Mas) Le Tua Cycling Team                          29 pts
2 Hossein Jahabanian (IRI) Tabriz Petrochemical Team             21
3 Suhardi Hassan (Mas) Kuala Lumpur Team                         15
4 Makoto Iijima (Jpn) Japan National Team                        13
5 Mohd Sayuti Zahit (Mas) Le Tua Cycling Team                    12
6 Mohd Hariff Salleh (Mas) MCF Continental Team                  12
7 Abbas Saeditanha (IRI) Islamic Azad University Team             8
8 Jacob Nielsen (Den) Team Farso                                  6
9 Shimpei Fukuda (Jpn) Japan National Team                        6
10 Mohd Zamri Salleh (Mas) Malaysia National Team                 6
11 Farshad Salehian (IRI) Islamic Azad University Team            6
12 Mohd Fauzan Ahmad Lutfi (Mas) Malaysia National Team           5
13 Mohd Rauf Nor Misbah (Mas) Malaysia National Team              5
14 Yoshimitsu Tsuji (Jpn) Matrix Powertag                         5
15 Mohd Jasmin Ruslan (Mas) MCF Continental Team                  5
16 Hakan Nilsson (Swe) Team Differdange-Apiflo Vacances           5
17 Fredrik Johansson (Swe) Team Differdange-Apiflo Vacances       3
18 Paul Griffin (Irl) Giant Asia Racing Team                      3
19 Mohd Shafari Abd Malik (Mas) Malaysia National Team            3
20 Stefan Löffler (Ger) Giant Asia Racing Team                    3
21 Wan Mohd Nazri Wan Ahmad (Mas) Kuala Lumpur Team               3
22 Maruli Fajar Mulia (Ina) Indonesia Customs Cycling Club        3
23 David Mc Cann (Irl) Giant Asia Racing Team                     2
24 Sea Keong Loh (Mas) Trek Marco Polo Team                       2
25 Iwan Setiawan (Ina) Indonesia Customs Cycling Club             2
26 Tomoya Kano (Jpn) Skil Shimano                                 1
27 Haidar Anuawar Ahmad (Mas) Le Tua Cycling Team                 1
28 Soren Peterson (Den) Team Farso                                1
29 Agung Ali Sahbana (Ina) Indonesia Customs Cycling Club         1
30 Masahiko Mifune (Jpn) Matrix Powertag                          1
31 Taufik Mohamad (Ina) Benteng Muda Selangor                     1
32 Heksa Prasetya P. (Ina) Indonesia Customs Cycling Club         1
 
Mountains classification
 
1 Hossein Askari (IRI) Tabriz Petrochemical Team                 16 pts
2 Tonton Susanto (Ina) Le Tua Cycling Team                        8
3 David Mc Cann (Irl) Giant Asia Racing Team                      6
4 Paul Griffin (Irl) Giant Asia Racing Team                       5
5 Farshad Salehian (IRI) Islamic Azad University Team             3
6 Agung Ali Sahbana (Ina) Indonesia Customs Cycling Club          3
7 Ghader Mizbani Iranagh (IRI) Tabriz Petrochemical Team          3
8 Dimitri Jiriakov (Lie) Team Stegcomputer – CKT – Cogeas         3
9 Suhardi Hassan (Mas) Kuala Lumpur Team                          2
10 Hari Fitriyanto (Ina) Polygon Sweet Nice Team                  2
11 Mohd Fauzan Ahmad Lutfi (Mas) Malaysia National Team           2
12 Hossein Jahabanian (IRI) Tabriz Petrochemical Team             2
13 Ken Onodera (Jpn) Trek Marco Polo Team                         2
14 Yoshimitsu Tsuji (Jpn) Matrix Powertag                         2
15 Jacob Nielsen (Den) Team Farso                                 1
16 Sea Keong Loh (Mas) Trek Marco Polo Team                       1
 
Malaysian rider classification
 
1 Suhardi Hassan (Mas) Kuala Lumpur Team                   21.39.00
2 Mohd Fauzan Ahmad Lutfi (Mas) Malaysia National Team         1.53
3 Sea Keong Loh (Mas) Trek Marco Polo Team                     7.15
4 Mohd Rauf Nor Misbah (Mas) Malaysia National Team            7.22
5 Mohd Shafari Abd Malik (Mas) Malaysia National Team          7.43
6 Weng Kin Thum (Mas) Malaysia National Team                   8.39
7 Amir Mustafa Rusli (Mas) MCF Continental Team                9.57
8 Mohd Saiful Anuar Aziz (Mas) MCF Continental Team           11.55
9 Mohd Nor Umardi (Mas) Putrajaya Cycling Team                12.01
10 Haidar Anuawar Ahmad (Mas) Le Tua Cycling Team             13.01
 
Teams classification
 
1 Tabriz Petrochemical Team                                64.54.33
2 Japan National Team                                          9.35
3 Le Tua Cycling Team                                          9.50
4 Trek Marco Polo Team                                        16.47
5 Malaysia National Team                                      19.32
6 Giant Asia Racing Team                                      21.27
7 Polygon Sweet Nice Team                                     22.00
8 Team Differdange-apiflo Vacances                            22.34
9 Islamic Azad University Team                                23.35
10 Team Stegcomputer – Ckt – Cogeas                           27.04
11 Benteng Muda Selangor                                      32.59
12 Skil Shimano                                               34.21
13 Indonesia Customs Cycling Club                             35.43
14 Kuala Lumpur Team                                          37.08
15 Team Farso                                                 37.54
16 Mcf Continental Team                                       40.46
17 Hong Kong Cycling Team                                     42.22
18 Matrix Powertag                                            50.14
19 Bahrain National Team                                      57.56
20 Putrajaya Cycling Team                                   1.01.33