Women's Tour of New Zealand - 2.2
New Zealand, February 27-March 2, 2008
Main Page Results Overall standings Next Stage
Stage 1 - February 27: Avalon - Lower Hutt, 35 km
De Goede too good
Suzanne De Goede (Équipe Nürnberger) takes the win
Photo ©: WomensCycling.net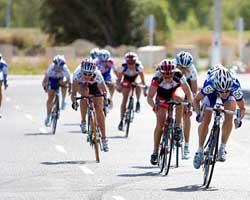 Despite being concerned she had launched her sprint too early, Equipe Nürnberger Versicherung's Suzanne de Goede claimed victory on the Women's Tour of New Zealand's opening stage. After claiming sixth at last weekend's Women's World Cup opener in Geelong, Australia the Dutch rider held off Australia's Oenone Wood (Team High Road Women) and local rider Joanne Kiesanowski (Cervelo Lifeforce Pro Cycling Team) to win the small bunch sprint.
"I went a little bit early, but I still won, so that was cool. It was a good start to the tour," de Goede told Stuff.co.nz. "My team were great in the way they worked together, and we'll be looking to continue that for the rest of the tour."
De Goede, who finished 21st in last week's Tour of Geelong, last won on Kiwi soil in 2005, when the rider claimed the Women's World Cup round formerly hosted by New Zealand, which was also staged in Wellington.
Wood, the current Australian Open Road Champion, was disappointed to miss out on the victory. "It's a tough little circuit, and it was really windy out on the course today," she said. "I was lucky [team-mate] Chantal Beltman did quite a lot of the work out there."
Beijing Olympic Games hopeful Kiesanowski was even more disappointed to miss the opportunity of a home-soil win. "I was definitely hoping to win the stage, but I suppose I'll have to be content with third," she said.
The stage was defined by a 10-person break away that managed to claim a 35 second advantage on the around the 2.2km Lower Hutt street circuit. The lead group included some big-named riders, with Olympic Road Champion Sara Carrigan (Team Lotto-Belisol Ladiesteam), former Time Trial World Champion Kristin Armstrong (Cervelo Lifeforce Pro Cycling Team) and Nathalie Bates (Menikini - Selle Italia).
Photography
For a thumbnail gallery of these images, click here
Images by WomensCycling.net
Results
1 Suzanne De Goede (Ned) Equipe Nürnberger Versicherung       1.12.50 (28.83 km/h)
2 Oenone Wood (Aus) Team High Road Women                             
3 Joanne Kiesanowski (NZl) Cervelo Lifeforce Pro Cycling Team        
4 Lauren Franges (USA) USA National Team                             
5 Chantal Beltman (Ned) Team High Road Women                         
6 Kristin Armstrong (USA) Cervelo Lifeforce Pro Cycling Team         
7 Amanda Spratt (Aus) Australian National Team                       
8 Sara Carrigan (Aus) Team Lotto-Belisol Ladiesteam                  
9 Nathalie Bates (Aus) Menikini - Selle Italia                       
10 Alex Wrubleski (Can) Webcor Builders Cycling Team                 
11 Karin Thürig (Swi) Cervelo Lifeforce Pro Cycling Team         0.33
12 Tina Mayolo Pic (USA) Vrienden Van Het Platteland             0.47
13 Brooke Miller (USA) USA National Team                             
14 Rochelle Gilmore (Aus) Menikini - Selle Italia                    
15 Gina Grain (Can) Webcor Builders Cycling Team                     
16 Miho Oki (Jpn) Menikini - Selle Italia                            
17 Masami Mashimo (Jpn) Japan National Team                          
18 Carly Hibberd (Aus) MB Cycles Women's Cycling Team                
19 Peta Mullens (Aus) Australian National Team                       
19 Emma Mackie (Aus) Team Lotto-Belisol Ladiesteam                   
21 Lorian Graham (Aus) Vrienden Van Het Platteland                   
22 Tiffany Cromwell (Aus) Australian National Team                   
23 Judith Arndt (Ger) Team High Road Women                           
24 Satomi Wadami (Jpn) Japan National Team                           
25 Karen Fulton (NZl) MB Cycles Women's Cycling Team                 
26 Carlee Taylor (Aus) Team Lotto-Belisol Ladiesteam                 
27 Serena Sheridan (NZl) New Zealand National Team                   
28 Mayuko Hagiwara (Jpn) Japan National Team                         
29 Cherise Taylor (RSA) South Africa National Team                   
29 Jaccolien Wallaard (Ned) Vrienden Van Het Platteland              
31 Lynette Burger (RSA) South Africa National Team                   
32 Carla Ryan (Aus) Australian National Team                         
33 Ayako Toyooka (Jpn) Japan National Team                           
34 Trixi Worrack (Ger) Equipe Nürnberger Versicherung                
35 Liu Yongli (Chn) China National Team                              
36 Sarah Düster (Ger) Cervelo Lifeforce Pro Cycling Team             
37 Jocelyn Loane (Aus) Australian National Team                      
38 Yolandi Du Toit (RSA) South Africa National Team                  
39 Carissa Wilkes (NZl) New Zealand National Team                    
40 Carmen McNellis (USA) USA National Team                           
41 Linda Villumsen Serup (Den) Team High Road Women                  
42 Ruth Corset (Aus) Tabak Team International                        
43 Edita Pucinskaite (Ltu) Equipe Nürnberger Versicherung            
44 Olivia Gollan (Aus) Menikini - Selle Italia                       
45 Ina-Yoko Teutenberg (Ger) Team High Road Women                    
46 Alexis Rhodes (Aus) Team High Road Women                          
47 Felicia Greer Gomez (Can) Vrienden Van Het Platteland             
48 Eva Lutz (Ger) Equipe Nürnberger Versicherung                     
49 Meng Lang (Chn) China National Team                               
50 Yuka Yamashima (Jpn) Japan National Team                          
51 Sharon Laws (Aus) Tabak Team International                        
52 Leonie Burford (Aus) MB Cycles Women's Cycling Team               
53 Alison Powers (USA) USA National Team                             
54 Rachel Mercer (NZl) Mercedes Benz Team                            
55 Charlotte Becker (Ger) Equipe Nürnberger Versicherung             
56 Marissa Van Der Merve (RSA) South Africa National Team            
57 Katheryn Mattis (USA) Webcor Builders Cycling Team                
58 Miyoko Karami (Jpn) Japan National Team                           
59 Kim Schoonbaert (Bel) Team Lotto-Belisol Ladiesteam               
60 Erinne Willock (Can) Webcor Builders Cycling Team                 
61 Priska Doppmann (Swi) Cervelo Lifeforce Pro Cycling Team          
62 Chrissy Rutter (USA) USA National Team                            
63 Katharine Carroll (USA) USA National Team                         
64 Christine Thorburn (USA) Webcor Builders Cycling Team             
65 Patricia Schwager (Swi) Cervelo Lifeforce Pro Cycling Team        
66 Marina Duvnjak (NZl) New Zealand National Team                    
67 Susanne Ljungskog (Swe) Menikini - Selle Italia                   
68 Regina Schleicher (Ger) Equipe Nürnberger Versicherung        0.55
69 Robyn De Groot (RSA) South Africa National Team               2.25
70 Tahlia Paskin (Aus) Team Lotto-Belisol Ladiesteam                 
71 Patricia Palmer (Aus) MB Cycles Women's Cycling Team              
72 Kaytee Boyd (NZl) New Zealand National Team                       
73 Emma Crum (NZl) Mercedes Benz Team                                
74 Wang Fei (Chn) China National Team                                
75 Sarah Murdoch (NZl) New Zealand National Team                     
76 Yvette Hill-Willis (NZl) New Zealand National Team                
77 Liz Young (Aus) MB Cycles Women's Cycling Team                    
78 Gao Min (Chn) China National Team                                 
79 Donna Sibley (NZl) Team Handy Rentals                             
80 Jeannie Kuhajek (NZl) Team Handy Rentals                          
81 Bridie O'Donnell (Aus) Australian National Team                   
82 Amy Dombroski (USA) Webcor Builders Cycling Team              3.57
83 Tracy Clark (NZl) BP Team                                     7.12
84 Sara MacDonald (NZl) Team Handy Rentals                           
85 Chen Li (Chn) China National Team                                 
86 Louise Kerr (Aus) BP Team                                         
87 Aurélie Halbwachs (Mri) Tabak Team International                  
88 Katherine Boyens (NZl) Mercedes Benz Team                         
89 Sheree McKenzie (Aus) MB Cycles Women's Cycling Team              
90 Hayley Wright (Aus) Team Lotto-Belisol Ladiesteam                 
91 Huang Xiaomei (Chn) China National Team                           
92 Linn Torp (Nor) Vrienden Van Het Platteland                       
93 Laura Thompson (NZl) Team Handy Rentals                      10.27
94 Rachel Neylan (Aus) BP Team                                       
95 Taria Adamson (NZl) BP Team                                       
DNF Malindi MacLean (NZl) Tabak Team International                   
DNF Tracy Best (NZl) Mercedes Benz Team                              
 
General classification after stage 1
 
1 Suzanne De Goede (Ned) Equipe Nürnberger Versicherung       1.12.40
2 Oenone Wood (Aus) Team High Road Women                         0.04
3 Joanne Kiesanowski (NZl) Cervelo Lifeforce Pro Cycling Team    0.06
4 Lauren Franges (USA) USA National Team                         0.10
5 Chantal Beltman (Ned) Team High Road Women                         
6 Kristin Armstrong (USA) Cervelo Lifeforce Pro Cycling Team         
7 Amanda Spratt (Aus) Australian National Team                       
8 Sara Carrigan (Aus) Team Lotto-Belisol Ladiesteam                  
9 Nathalie Bates (Aus) Menikini - Selle Italia                       
10 Alex Wrubleski (Can) Webcor Builders Cycling Team                 
11 Karin Thürig (Swi) Cervelo Lifeforce Pro Cycling Team         0.43
12 Tina Mayolo Pic (USA) Vrienden Van Het Platteland             0.57
13 Brooke Miller (USA) USA National Team                             
14 Rochelle Gilmore (Aus) Menikini - Selle Italia                    
15 Gina Grain (Can) Webcor Builders Cycling Team                     
16 Miho Oki (Jpn) Menikini - Selle Italia                            
17 Masami Mashimo (Jpn) Japan National Team                          
18 Carly Hibberd (Aus) MB Cycles Women's Cycling Team                
19 Peta Mullens (Aus) Australian National Team                       
20 Emma Mackie (Aus) Team Lotto-Belisol Ladiesteam                   
21 Lorian Graham (Aus) Vrienden Van Het Platteland                   
22 Tiffany Cromwell (Aus) Australian National Team                   
23 Judith Arndt (Ger) Team High Road Women                           
24 Satomi Wadami (Jpn) Japan National Team                           
25 Karen Fulton (NZl) MB Cycles Women's Cycling Team                 
26 Carlee Taylor (Aus) Team Lotto-Belisol Ladiesteam                 
27 Serena Sheridan (NZl) New Zealand National Team                   
28 Mayuko Hagiwara (Jpn) Japan National Team                         
29 Cherise Taylor (RSA) South Africa National Team                   
30 Jaccolien Wallaard (Ned) Vrienden Van Het Platteland              
31 Lynette Burger (RSA) South Africa National Team                   
32 Carla Ryan (Aus) Australian National Team                         
33 Ayako Toyooka (Jpn) Japan National Team                           
34 Trixi Worrack (Ger) Equipe Nürnberger Versicherung                
35 Liu Yongli (Chn) China National Team                              
36 Sarah Düster (Ger) Cervelo Lifeforce Pro Cycling Team             
37 Jocelyn Loane (Aus) Australian National Team                      
38 Yolandi Du Toit (RSA) South Africa National Team                  
39 Carissa Wilkes (NZl) New Zealand National Team                    
40 Carmen McNellis (USA) USA National Team                           
41 Linda Villumsen Serup (Den) Team High Road Women                  
42 Ruth Corset (Aus) Tabak Team International                        
43 Edita Pucinskaite (Ltu) Equipe Nürnberger Versicherung            
44 Olivia Gollan (Aus) Menikini - Selle Italia                       
45 Ina-Yoko Teutenberg (Ger) Team High Road Women                    
46 Alexis Rhodes (Aus) Team High Road Women                          
47 Felicia Greer Gomez (Can) Vrienden Van Het Platteland             
48 Eva Lutz (Ger) Equipe Nürnberger Versicherung                     
49 Meng Lang (Chn) China National Team                               
50 Yuka Yamashima (Jpn) Japan National Team                          
51 Sharon Laws (Aus) Tabak Team International                        
52 Leonie Burford (Aus) MB Cycles Women's Cycling Team               
53 Alison Powers (USA) USA National Team                             
54 Rachel Mercer (NZl) Mercedes Benz Team                            
55 Charlotte Becker (Ger) Equipe Nürnberger Versicherung             
56 Marissa Van Der Merve (RSA) South Africa National Team            
57 Katheryn Mattis (USA) Webcor Builders Cycling Team                
58 Miyoko Karami (Jpn) Japan National Team                           
59 Kim Schoonbaert (Bel) Team Lotto-Belisol Ladiesteam               
60 Erinne Willock (Can) Webcor Builders Cycling Team                 
61 Priska Doppmann (Swi) Cervelo Lifeforce Pro Cycling Team          
62 Chrissy Rutter (USA) USA National Team                            
63 Katharine Carroll (USA) USA National Team                         
64 Christine Thorburn (USA) Webcor Builders Cycling Team             
65 Patricia Schwager (Swi) Cervelo Lifeforce Pro Cycling Team        
66 Marina Duvnjak (NZl) New Zealand National Team                    
67 Susanne Ljungskog (Swe) Menikini - Selle Italia                   
68 Regina Schleicher (Ger) Equipe Nürnberger Versicherung        1.05
69 Robyn De Groot (RSA) South Africa National Team               2.35
70 Tahlia Paskin (Aus) Team Lotto-Belisol Ladiesteam                 
71 Patricia Palmer (Aus) MB Cycles Women's Cycling Team              
72 Kaytee Boyd (NZl) New Zealand National Team                       
73 Emma Crum (NZl) Mercedes Benz Team                                
74 Wang Fei (Chn) China National Team                                
75 Sarah Murdoch (NZl) New Zealand National Team                     
76 Yvette Hill-Willis (NZl) New Zealand National Team                
77 Liz Young (Aus) MB Cycles Women's Cycling Team                    
78 Gao Min (Chn) China National Team                                 
79 Donna Sibley (NZl) Team Handy Rentals                             
80 Jeannie Kuhajek (NZl) Team Handy Rentals                          
81 Bridie O'Donnell (Aus) Australian National Team                   
82 Amy Dombroski (USA) Webcor Builders Cycling Team              4.07
83 Tracy Clark (NZl) BP Team                                     7.22
84 Sara MacDonald (NZl) Team Handy Rentals                           
85 Chen Li (Chn) China National Team                                 
86 Louise Kerr (Aus) BP Team                                         
87 Aurélie Halbwachs (Mri) Tabak Team International                  
88 Katherine Boyens (NZl) Mercedes Benz Team                         
89 Sheree McKenzie (Aus) MB Cycles Women's Cycling Team              
90 Hayley Wright (Aus) Team Lotto-Belisol Ladiesteam                 
91 Huang Xiaomei (Chn) China National Team                           
92 Linn Torp (Nor) Vrienden Van Het Platteland                       
93 Laura Thompson (NZl) Team Handy Rentals                      10.37
94 Rachel Neylan (Aus) BP Team                                       
95 Taria Adamson (NZl) BP Team                                       
 
Points classification
 
1 Katharine Carroll (USA) USA National Team                        12 pts
2 Lauren Franges (USA) USA National Team                            7
3 Gina Grain (Can) Webcor Builders Cycling Team                     3
4 Linda Villumsen Serup (Den) Team High Road Women                  1
5 Tiffany Cromwell (Aus) Australian National Team                   1
 
Teams classification
 
1 Cervelo Lifeforce Pro Cycling Team                          3.39.03
2 Team High Road Women                                           0.14
3 Australian National Team                                       1.01
4 USA National Team                                                  
5 Lotto-Belisol Ladiesteam                                           
6 Webcor Builders Cycling Team                                       
7 Equipe Nürnberger Versicherung                                     
8 Menikini - Selle Italia                                            
9 South Africa National Team                                     1.48
10 Japan National Team                                               
11 Vrienden Van Het Platteland                                       
12 MB Cycles Women's Cycling Team                                    
13 New Zealand National Team                                         
14 China National Team                                           3.26
15 Tabak Team International                                      8.13
16 Mercedes Benz Team                                            9.51
17 Team Handy Rentals                                           11.29
18 BP Team                                                      24.18