58th Giro della Provincia di Reggio Calabria - 2.1
Italy, February 11-13, 2008
Main Page Results Overall standings Next Stage
Stage 1 - February 11: Reggio Calabria - Gioia Tauro, 183km
Gioia! Balducci back
By Gregor Brown
Gioia! Gabriele Balducci (Acqua Sapone-Caffè Mokambo) takes the sprint win
Photo ©: Sirotti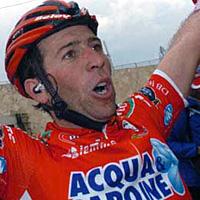 Gabriele Balducci of Acqua Sapone-Caffè Mokambo capitalized on his hot form – second in the GP Etruschi – by claiming the opening stage of the Giro della Provincia di Reggio Calabria. The 32 year-old Italian sprinted back to his first win after one-year's time by topping the 180-kilometre stage from Reggio Calabria to Gioia Tauro over Argentinean Maximiliano Richeze (CSF Group Navigare) and Ukrainian Yuri Mitlushenko (Amore & Vita-McDonald's). 2007 Giro d'Italia champion Danilo Di Luca (LPR Brakes) opened his season with an eighth place finish.
"I was sure a victory would arrive soon," said Balducci, who now holds the race leadership. "Saturday, I found a super [Alessandro] Petacchi, but my condition is truly excellent.
"Thanks to all my team-mates that helped me with this win, which for us had a particular significance. I am truly content."
"Balducci pulled off a great sprint," said Acqua & Sapone Director Sportif Franco Gini. "I was sure that his power would develop after some good work during the last camp, and I am sure that this team has great potential.
"We find ourselves with a good start to the season; I believe that we are on the right path."
Photography
For a thumbnail gallery of these images, click here
Images by Fotoreporter Sirotti
Images by Roberto Bettini/www.bettiniphoto.net
Results
1 Gabriele Balducci (Ita) Acqua Sapone-Caffè Mokambo                         4.42.33 (38.86 km/h)
2 Maximiliano Richeze (Arg) CSF Group Navigare                                      
3 Yuri Mitlushenko (Ukr) Amore & Vita-McDonald's                                    
4 Daniele Pietropolli (Ita) LPR Brakes                                              
5 Baden Cooke (Aus) Barloworld                                                      
6 Antonio D'Aniello (Ita) Ceramica Flaminia-Bossini Docce                           
7 Tiziano Dall'Antonia (Ita) CSF Group Navigare                                     
8 Danilo Di Luca (Ita) LPR Brakes                                                   
9 Luca Paolini (Ita) Acqua Sapone-Caffè Mokambo                                     
10 Daniel Musiol (Ger) Team Volksbank                                               
11 Giuseppe Palumbo (Ita) Acqua Sapone-Caffè Mokambo                                
12 Francesco Failli (Ita) Acqua Sapone-Caffè Mokambo                                
13 Raffaele Illiano (Ita) Team Volksbank                                            
14 Francesco Reda (Ita) NGC Medical-OTC Industria Porte                             
15 Grégory Habeaux (Bel) Mitsubishi-Jartazi                                         
16 Julian Munoz (Col) Hadimec-Nazionale Elettronica                                 
17 Sören Nissen (Den) Amore & Vita-McDonald's                                       
18 Miguel Martinez (Fra) Amore & Vita-McDonald's                                    
19 Leonardo Giordani (Ita) Ceramica Flaminia-Bossini Docce                          
20 Donato Cannone (Ita) NGC Medical-OTC Industria Porte                             
21 Massimiliano Gentili (Ita) Acqua Sapone-Caffè Mokambo                            
22 Francesco Ginanni (Ita) Serramenti PVC Diquigiovanni-Androni Giocattoli          
23 Paolo Bailetti (Ita) LPR Brakes                                                  
24 Daniele Nardello (Ita) Serramenti PVC Diquigiovanni-Androni Giocattoli           
25 Eddy Ratti (Ita) Nippo-Endeka                                                    
26 Steve Cummings (GBr) Barloworld                                                  
27 Massimo Gabbrielleschi (Ita) Nippo-Endeka                                        
28 Piergiorgio Camussa (Ita) NGC Medical-OTC Industria Porte                        
29 Tomasz Marczynski (Pol) Ceramica Flaminia-Bossini Docce                          
30 Mauro Finetto (Ita) CSF Group Navigare                                           
31 Gabriele Bosisio (Ita) LPR Brakes                                                
32 Moisés Dueñas (Spa) Barloworld                                                   
33 Maurizio Biondo (Ita) Ceramica Flaminia-Bossini Docce                            
34 Laurent Beuret (Swi) NGC Medical-OTC Industria Porte                             
35 Adriano Angeloni (Ita) Ceramica Flaminia-Bossini Docce                           
36 Martial Ricci-Poggi (Fra) Mitsubishi-Jartazi                                     
37 Devis Miorin (Ita) Nippo-Endeka                                                  
38 Andrea Pagoto (Ita) CSF Group Navigare                                           
39 Giampaolo Cheula (Ita) Barloworld                                                
40 Fortunato Baliani (Ita) CSF Group Navigare                                   0.11
41 Francesco Bellotti (Ita) Barloworld                                              
42 Paolo Longo Borghini (Ita) Barloworld                                            
43 Federico Canuti (Ita) CSF Group Navigare                                         
44 Emanuele Sella (Ita) CSF Group Navigare                                          
45 Marco Frapporti (Ita) CSF Group Navigare                                         
46 Vincenzo Garofalo (Ita) Nippo-Endeka                                             
47 Hubert Krys (Pol) Ceramica Flaminia-Bossini Docce                                
48 Juan Pablo Dotti (Arg) Cinelli-OPD                                               
49 Mauricio Soler (Col) Barloworld                                                  
50 Luigi Sestili (Ita) Ceramica Flaminia-Bossini Docce                              
51 Tobias Eggli (Swi) Hadimec-Nazionale Elettronica                                 
52 Slawomir Kohut (Pol) Amore & Vita-McDonald's                                     
53 Dainius Kairelis (Ltu) Ceramica Flaminia-Bossini Docce                           
54 Michael Stevenson (Swe) Amore & Vita-McDonald's                                  
55 Jure Golcer (Slo) LPR Brakes                                                     
56 Luca Pierfelici (Ita) Acqua Sapone-Caffè Mokambo                                 
57 Alessandro Donati (Ita) Acqua Sapone-Caffè Mokambo                               
58 Christoph Sokoll (Aut) Team Volksbank                                            
59 Luis Felipe Laverde (Col) CSF Group Navigare                                     
60 Niklas Axelsson (Swe) Serramenti PVC Diquigiovanni-Androni Giocattoli            
61 Andrei Kunitski (Blr) Acqua Sapone-Caffè Mokambo                             0.31
62 Domenico Pozzovivo (Ita) CSF Group Navigare                                  0.41
63 Alexey Shchebelin (Rus) Cinelli-OPD                                              
64 Dario Andriotto (Ita) Acqua Sapone-Caffè Mokambo                                 
65 Michele Gobbi (Ita) Preti Mangimi                                            2.05
66 Filippo Simeoni (Ita) Ceramica Flaminia-Bossini Docce                        2.42
67 Maxime Vantomme (Bel) Mitsubishi-Jartazi                                     2.44
68 Matteo Montaguti (Ita) LPR Brakes                                            7.45
69 Sergio Laganà (Ita) LPR Brakes                                                   
70 Raffaele Ferrara (Ita) LPR Brakes                                                
71 Vytautas Kaupas (Ltu) Mitsubishi-Jartazi                                         
72 Emiliano Donadello (Ita) Serramenti PVC Diquigiovanni-Androni Giocattoli    13.37
73 Carlo Corrà (Ita) Preti Mangimi                                                  
74 Philippe Schnyder (Swi) Hadimec-Nazionale Elettronica                            
75 Marco Corti (Ita) Barloworld                                                     
76 André Korff (Ger) Team Volksbank                                                 
77 Fabio Sacchi (Ita) Preti Mangimi                                                 
78 Marco Ghiselli (Ita) Hadimec-Nazionale Elettronica                               
79 Manuel Belletti (Ita) Serramenti PVC Diquigiovanni-Androni Giocattoli            
80 Gianluca Cavalli (Ita) Cinelli-OPD                                               
81 Mattia Parravicini (Ita) Preti Mangimi                                           
82 Slawomyr Bury (Pol) Amore & Vita-McDonald's                                      
83 Oleksandr Kvachuk (Ukr) Cinelli-OPD                                              
84 Silvère Ackermann (Swi) NGC Medical-OTC Industria Porte                     17.01
85 Jarno Van Mingeroet (Bel) Mitsubishi-Jartazi                                18.55
86 Michael Baer (Swi) Hadimec-Nazionale Elettronica                                 
87 Americo Novembrini (Col) Hadimec-Nazionale Elettronica                           
88 Alessio Signego (Ita) NGC Medical-OTC Industria Porte                            
89 Shaun Davel (RSA) Amore & Vita-McDonald's                                        
90 Riccardo Chiarini (Ita) LPR Brakes                                               
91 Ivan Quaranta (Ita) Amore & Vita-McDonald's                                      
92 Anton Mindlin (Rus) Cinelli-OPD                                                  
93 Walter Proch (Ita) LPR Brakes                                                    
94 Alessandro Bertuola (Ita) Preti Mangimi                                          
95 Mathieu Drouilly (Fra) Mitsubishi-Jartazi                                        
96 Frank Dressler (Ger) Mitsubishi-Jartazi                                          
97 Sante Di Nizio (Ita) Hadimec-Nazionale Elettronica                               
98 Danilo Andrenacci (Ita) Hadimec-Nazionale Elettronica                            
99 Stève Fogen (Lux) Preti Mangimi                                                  
100 Giordano Montanari (Ita) Nippo-Endeka                                           
101 Serhiy Honchar (Ukr) Preti Mangimi                                              
102 Mindaugas Striska (Ltu) Mitsubishi-Jartazi                                      
103 Domenico Agosta (Ita) Nippo-Endeka                                              
104 Francesco Tizza (Ita) NGC Medical-OTC Industria Porte                           
105 Alexander Gufler (Ita) Team Volksbank                                           
106 Michael Randin (Swi) Hadimec-Nazionale Elettronica                              
107 Mikhail Timochine (Rus) Amore & Vita-McDonald's                                 
108 Pierpaolo Tondo (Ita) Nippo-Endeka                                              
109 Peter Presslauer (Aut) Team Volksbank                                           
110 Ivan Fanelli (Ita) Cinelli-OPD                                                  
111 Gianluca Geremia (Ita) Preti Mangimi                                            
112 Simone Cadamuro (Ita) Nippo-Endeka                                              
113 Alfonso Falzarano (Ita) Cinelli-OPD                                             
114 Tomasz Marczynski (Pol) Ceramica Flaminia-Bossini Docce                         
115 Bálint Szeghalmi (Hun) Cinelli-OPD                                              
116 Roberto Cobo González (Spa) Serramenti PVC Diquigiovanni-Androni Giocattoli     
117 Santo Anzà (Ita) Serramenti PVC Diquigiovanni-Androni Giocattoli                
118 Fabio Ciccarese (Ita) Cinelli-OPD                                               
119 Fader Ardila (Col) Hadimec-Nazionale Elettronica                                
120 Philipp Ludescher (Aut) Team Volksbank                                          
121 Fabio Gilioli (Ita) Amore & Vita-McDonald's                                     
122 Marco Osella (Ita) Preti Mangimi                                                
123 Volodymyr Zagorodny (Ukr) NGC Medical-OTC Industria Porte                       
124 Yoshiyuki Shimizu (Jpn) Nippo-Endeka                                            
125 Kazuki Inoue (Jpn) Nippo-Endeka                                                 
126 Bruno Rizzi (Ita) NGC Medical-OTC Industria Porte                               
127 Mattia Gavazzi (Ita) Preti Mangimi                                              
DNF  Stefano Cavallari (Ita) Acqua Sapone-Caffè Mokambo                             
DNF  Valentino Carriero (Ita) Cinelli-OPD                                           
 
General classification
 
1 Gabriele Balducci (Ita) Acqua Sapone-Caffè Mokambo                         4.42.23
2 Maximiliano Richeze (Arg) CSF Group Navigare                                  0.04
3 Yuri Mitlushenko (Ukr) Amore & Vita-McDonald's                                0.06
4 Daniele Pietropolli (Ita) LPR Brakes                                          0.10
5 Baden Cooke (Aus) Barloworld                                                      
6 Antonio D'Aniello (Ita) Ceramica Flaminia-Bossini Docce                           
7 Tiziano Dall'Antonia (Ita) CSF Group Navigare                                     
8 Danilo Di Luca (Ita) LPR Brakes                                                   
9 Luca Paolini (Ita) Acqua Sapone-Caffè Mokambo                                     
10 Daniel Musiol (Ger) Team Volksbank                                               
11 Giuseppe Palumbo (Ita) Acqua Sapone-Caffè Mokambo                                
12 Francesco Failli (Ita) Acqua Sapone-Caffè Mokambo                                
13 Raffaele Illiano (Ita) Team Volksbank                                            
14 Francesco Reda (Ita) NGC Medical-OTC Industria Porte                             
15 Grégory Habeaux (Bel) Mitsubishi-Jartazi                                         
16 Julian Munoz (Col) Hadimec-Nazionale Elettronica                                 
17 Sören Nissen (Den) Amore & Vita-McDonald's                                       
18 Miguel Martinez (Fra) Amore & Vita-McDonald's                                    
19 Leonardo Giordani (Ita) Ceramica Flaminia-Bossini Docce                          
20 Donato Cannone (Ita) NGC Medical-OTC Industria Porte                             
21 Massimiliano Gentili (Ita) Acqua Sapone-Caffè Mokambo                            
22 Francesco Ginanni (Ita) Serramenti PVC Diquigiovanni-Androni Giocattoli          
23 Paolo Bailetti (Ita) LPR Brakes                                                  
24 Daniele Nardello (Ita) Serramenti PVC Diquigiovanni-Androni Giocattoli           
25 Eddy Ratti (Ita) Nippo-Endeka                                                    
26 Steve Cummings (GBr) Barloworld                                                  
27 Massimo Gabbrielleschi (Ita) Nippo-Endeka                                        
28 Piergiorgio Camussa (Ita) NGC Medical-OTC Industria Porte                        
29 Tomasz Marczynski (Pol) Ceramica Flaminia-Bossini Docce                          
30 Mauro Finetto (Ita) CSF Group Navigare                                           
31 Gabriele Bosisio (Ita) LPR Brakes                                                
32 Moisés Dueñas (Spa) Barloworld                                                   
33 Maurizio Biondo (Ita) Ceramica Flaminia-Bossini Docce                            
34 Laurent Beuret (Swi) NGC Medical-OTC Industria Porte                             
35 Adriano Angeloni (Ita) Ceramica Flaminia-Bossini Docce                           
36 Martial Ricci-Poggi (Fra) Mitsubishi-Jartazi                                     
37 Devis Miorin (Ita) Nippo-Endeka                                                  
38 Andrea Pagoto (Ita) CSF Group Navigare                                           
39 Giampaolo Cheula (Ita) Barloworld                                                
40 Fortunato Baliani (Ita) CSF Group Navigare                                   0.21
41 Francesco Bellotti (Ita) Barloworld                                              
42 Paolo Longo Borghini (Ita) Barloworld                                            
43 Federico Canuti (Ita) CSF Group Navigare                                         
44 Emanuele Sella (Ita) CSF Group Navigare                                          
45 Marco Frapporti (Ita) CSF Group Navigare                                         
46 Vincenzo Garofalo (Ita) Nippo-Endeka                                             
47 Hubert Krys (Pol) Ceramica Flaminia-Bossini Docce                                
48 Juan Pablo Dotti (Arg) Cinelli-OPD                                               
49 Mauricio Soler (Col) Barloworld                                                  
50 Luigi Sestili (Ita) Ceramica Flaminia-Bossini Docce                              
51 Tobias Eggli (Swi) Hadimec-Nazionale Elettronica                                 
52 Slawomir Kohut (Pol) Amore & Vita-McDonald's                                     
53 Dainius Kairelis (Ltu) Ceramica Flaminia-Bossini Docce                           
54 Michael Stevenson (Swe) Amore & Vita-McDonald's                                  
55 Jure Golcer (Slo) LPR Brakes                                                     
56 Luca Pierfelici (Ita) Acqua Sapone-Caffè Mokambo                                 
57 Alessandro Donati (Ita) Acqua Sapone-Caffè Mokambo                               
58 Christoph Sokoll (Aut) Team Volksbank                                            
59 Luis Felipe Laverde (Col) CSF Group Navigare                                     
60 Niklas Axelsson (Swe) Serramenti PVC Diquigiovanni-Androni Giocattoli            
61 Andrei Kunitski (Blr) Acqua Sapone-Caffè Mokambo                             0.41
62 Domenico Pozzovivo (Ita) CSF Group Navigare                                  0.51
63 Alexey Shchebelin (Rus) Cinelli-OPD                                              
64 Dario Andriotto (Ita) Acqua Sapone-Caffè Mokambo                                 
65 Michele Gobbi (Ita) Preti Mangimi                                            2.15
66 Filippo Simeoni (Ita) Ceramica Flaminia-Bossini Docce                        2.52
67 Maxime Vantomme (Bel) Mitsubishi-Jartazi                                     2.54
68 Matteo Montaguti (Ita) LPR Brakes                                            7.55
69 Sergio Laganà (Ita) LPR Brakes                                                   
70 Raffaele Ferrara (Ita) LPR Brakes                                                
71 Vytautas Kaupas (Ltu) Mitsubishi-Jartazi                                         
72 Emiliano Donadello (Ita) Serramenti PVC Diquigiovanni-Androni Giocattoli    13.47
73 Carlo Corrà (Ita) Preti Mangimi                                                  
74 Philippe Schnyder (Swi) Hadimec-Nazionale Elettronica                            
75 Marco Corti (Ita) Barloworld                                                     
76 André Korff (Ger) Team Volksbank                                                 
77 Fabio Sacchi (Ita) Preti Mangimi                                                 
78 Marco Ghiselli (Ita) Hadimec-Nazionale Elettronica                               
79 Manuel Belletti (Ita) Serramenti PVC Diquigiovanni-Androni Giocattoli            
80 Gianluca Cavalli (Ita) Cinelli-OPD                                               
81 Mattia Parravicini (Ita) Preti Mangimi                                           
82 Slawomyr Bury (Pol) Amore & Vita-McDonald's                                      
83 Oleksandr Kvachuk (Ukr) Cinelli-OPD                                              
84 Silvère Ackermann (Swi) NGC Medical-OTC Industria Porte                     17.11
85 Jarno Van Mingeroet (Bel) Mitsubishi-Jartazi                                19.05
86 Michael Baer (Swi) Hadimec-Nazionale Elettronica                                 
87 Americo Novembrini (Col) Hadimec-Nazionale Elettronica                           
88 Alessio Signego (Ita) NGC Medical-OTC Industria Porte                            
89 Shaun Davel (RSA) Amore & Vita-McDonald's                                        
90 Riccardo Chiarini (Ita) LPR Brakes                                               
91 Ivan Quaranta (Ita) Amore & Vita-McDonald's                                      
92 Anton Mindlin (Rus) Cinelli-OPD                                                  
93 Walter Proch (Ita) LPR Brakes                                                    
94 Alessandro Bertuola (Ita) Preti Mangimi                                          
95 Mathieu Drouilly (Fra) Mitsubishi-Jartazi                                        
96 Frank Dressler (Ger) Mitsubishi-Jartazi                                          
97 Sante Di Nizio (Ita) Hadimec-Nazionale Elettronica                               
98 Danilo Andrenacci (Ita) Hadimec-Nazionale Elettronica                            
99 Stève Fogen (Lux) Preti Mangimi                                                  
100 Giordano Montanari (Ita) Nippo-Endeka                                           
101 Serhiy Honchar (Ukr) Preti Mangimi                                              
102 Mindaugas Striska (Ltu) Mitsubishi-Jartazi                                      
103 Domenico Agosta (Ita) Nippo-Endeka                                              
104 Francesco Tizza (Ita) NGC Medical-OTC Industria Porte                           
105 Alexander Gufler (Ita) Team Volksbank                                           
106 Michael Randin (Swi) Hadimec-Nazionale Elettronica                              
107 Mikhail Timochine (Rus) Amore & Vita-McDonald's                                 
108 Pierpaolo Tondo (Ita) Nippo-Endeka                                              
109 Peter Presslauer (Aut) Team Volksbank                                           
110 Ivan Fanelli (Ita) Cinelli-OPD                                                  
111 Gianluca Geremia (Ita) Preti Mangimi                                            
112 Simone Cadamuro (Ita) Nippo-Endeka                                              
113 Alfonso Falzarano (Ita) Cinelli-OPD                                             
114 Tomasz Marczynski (Pol) Ceramica Flaminia-Bossini Docce                         
115 Bálint Szeghalmi (Hun) Cinelli-OPD                                              
116 Roberto Cobo González (Spa) Serramenti PVC Diquigiovanni-Androni Giocattoli     
117 Santo Anzà (Ita) Serramenti PVC Diquigiovanni-Androni Giocattoli                
118 Fabio Ciccarese (Ita) Cinelli-OPD                                               
119 Fader Ardila (Col) Hadimec-Nazionale Elettronica                                
120 Philipp Ludescher (Aut) Team Volksbank                                          
121 Fabio Gilioli (Ita) Amore & Vita-McDonald's                                     
122 Marco Osella (Ita) Preti Mangimi                                                
123 Volodymyr Zagorodny (Ukr) NGC Medical-OTC Industria Porte                       
124 Yoshiyuki Shimizu (Jpn) Nippo-Endeka                                            
125 Kazuki Inoue (Jpn) Nippo-Endeka                                                 
126 Bruno Rizzi (Ita) NGC Medical-OTC Industria Porte                               
127 Mattia Gavazzi (Ita) Preti Mangimi                                              
 
Mountains classification
 
1 Dainius Kairelis (Ltu) Ceramica Flaminia-Bossini Docce                          10 pts
2 Michele Gobbi (Ita) Preti Mangimi                                                4
3 Niklas Axelsson (Swe) Serramenti PVC Diquigiovanni-Androni Giocattoli            4
4 Massimiliano Gentili (Ita) Acqua Sapone-Caffè Mokambo                            1
 
TV classification
 
1 Yuri Mitlushenko (Ukr) Amore & Vita-McDonald's                                   6 pts
2 Mauro Finetto (Ita) CSF Group Navigare                                           6
3 Gianluca Geremia (Ita) Preti Mangimi                                             6
4 Niklas Axelsson (Swe) Serramenti PVC Diquigiovanni-Androni Giocattoli            6
5 Sante Di Nizio (Ita) Hadimec-Nazionale Elettronica                               4
6 Luca Pierfelici (Ita) Acqua Sapone-Caffè Mokambo                                 4
7 Adriano Angeloni (Ita) Ceramica Flaminia-Bossini Docce                           4
8 Michele Gobbi (Ita) Preti Mangimi                                                4
9 Domenico Agosta (Ita) Nippo-Endeka                                               2
10 Francesco Bellotti (Ita) Barloworld                                             2
11 Jarno Van Mingeroet (Bel) Mitsubishi-Jartazi                                    2
12 Dainius Kairelis (Ltu) Ceramica Flaminia-Bossini Docce                          2