Hanes Park Classic - NE
USA, August 3, 2008
King victorious in Hanes Park
By Kirsten Robbins in Winston Salem, North Carolina
Ted King (Bissell) takes the win
Photo ©: Emory Ball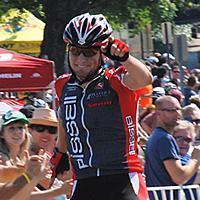 Ted King (Bissell) jumped off the front of a late race breakaway and rounded the final bend solo to take the victory at the Hanes Park Classic's first event. King claimed honours ahead of Jonathan Cantwell (Jittery Joe's).
"We only had two team-mates for yesterday and today, so we knew we were short handed," said King, who was also in a solo break away during the previous evening's Presbyterian Hospital Invitational. "Yesterday's break didn't work out, but at the end of today the efforts were all worth it - for the win and the champagne."
Ricardo Escuela (Successful Living) took third place in the bunch sprint. The Argentinean sprinter capitalized on Team Type 1's efforts to bring the pair of escapees back on the last lap.
United States of America Criterium Champion Kirk O'Bee initiated a break with five laps to go, but was unable to stay with his break-mates to the end. "It's usually the late moves that work, especially when the field sits up and watches one another," said Cantwell, regarding the numerous breaks reeled in after a lap or two.
How it unfolded
John Hamblen takes off at the gun.
Photo ©: Emory Ball

Some 129 riders lined up under high heat and humidity ready to compete for 90 minutes. The professional men raced through the suburbs of Winston Salem on a three-kilometre circuit.
The course offered several sweeping turns followed by a mild climb before the last corner to the finish. The race started with a flurry of attacks and the peloton showed no signs of tired legs from the previous evening's criterium.
"It was really hard to get a break going because of the momentum of the course," said King. "There were so many teams out there working hard to bring breaks back."
Local favourites Time Pro Cycling proved the most aggressive, sending riders off one-by-one each lap. Every attack wore down the field forcing teams like Rock Racing, Team Type 1, Rite Aid and Colavita-Sutter Home to respond. When Time Pro Cycling's riders needed a break from the action, other notable teams like Richmond Pro Cycling, Texas Roadhouse and Jittery Joe's took over the animation.
A mid-race break included David Guttenplan and John Hamblen (Time Pro Cycling) along with Daniel Holt (Team Type 1). The threatening break dangled off the front of the field for five laps before Colavita/Sutter Home organized a chase to bring it back.
King was joined by Johathan Cantwell.
Photo ©: Emory Ball

O'Bee separated himself from the field with five laps to go, quickly followed by King and Cantwell. "We immediately had a huge gap and were able to hold the field off for the last five laps," said King. "I think O'Bee just gave it full gas for two laps and then he was done. Cantwell said he was hurting but I still needed a bit of help so I wanted him to keep working with me."
The trio worked well together to gain a sizeable lead on the field but lost O'Bee with two laps to go. "When there is only three guys and with five laps to go everyone had to work or we'd get caught," said Cantwell.
Team Type 1 organized its lead with one lap to go for sprinter Emile Abraham. Its attempt to bring back the pair of escapees fell short by several seconds.
"I think for all intensive purposes, he gave me the win," said King of Cantwell. "I was working really hard and he said it was my race, if I just kept pulling. He came off on the hill and I came around the corner alone."
Miller outpowers Pic in crash-marred finale
Brooke Miller (Team Tibco)
Photo ©: Emory Ball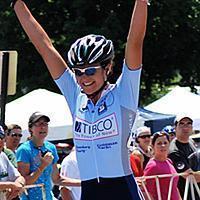 Brook Miller (Tibco) proved to be on superb sprinting form when she convincingly won the bunch sprint ahead of US national criterium champion Tina Pic (Colavita-Sutter Home) and Teresa Cliff-Ryan (Verducci).
A large crash through the start finish line with two laps to go caused officials to neutralize the pro women's field before the finish. More than fifteen injured riders lay on the road waiting for first aid and ambulance care.
The women restarted for the last lap with Tibco lead out train ready to deliver Miller to the line. "We wanted to come out and be aggressive today," said Miller, disappointed after Saturday's defensive performance in the Presbyterian Hospital Invitational.
"The whole field was aggressive today and our girls were covering everything, they did a great job," she continued.
"Lauren [Franges] is a phenomenal lead out and I found her wheel with three laps to go. She and Rachel [Heal] got me into position. Fortunately we were able to reorganize ourselves and do it all over again after being neutralized."
The women's field started the 50-minute event under the same heat and humidity as the men. Team's Cheerwine, Aaron's, Value Act Capital and Tibco pushed the speeds sending riders off the front for multiple flyers.
Colavita-Sutter Home covered the relentless attacks, holding the field together for Pic. "To be honest, I'm just really tired right now and Brook is a very strong sprinter," said Pic who will take some time to recover before national road and criterium championships next week.
"I got a bit chopped in the last corner and had to go around a few riders to catch back up. I really just don't have the legs right now and missing some of my snap."
A second crash caused a spilt in the field before the climb with one kilometer to the finish line causing Cliff-Ryan to chase the sprint. "All the sprinters were up front," said the former national criterium champion.
"I was stuck behind that and five riders got a gap on the field. I had to work hard to catch them and so I'm happy to pull off third place today."
Photography
For a thumbnail gallery of these images, click here
Images by Emory Ball/Cyclingnews.com
Results
Men - Pro/Cat 1
 
1 Edward King (Bissell Pro Cycling Team)                            1.27.16
2 Jonathan Cantwell (Jittery Joe's Pro Cycling)                        0.04
3 Ricardo Escuela (Successfuliving.com)                                0.06
4 Kayle Leo Grande (Rock Racing)                                           
5 Emile Abraham (Team Type 1)                                              
6 Adam Myerson (TIME Pro Cycling)                                          
7 Rahsaan Bahati (Rock Racing)                                         0.07
8 Mark Hekman (Toshiba-Santo Presented by Herbalife)                       
9 Kyle Wamsley (Colavita Sutter Home p/b Cookin)                           
10 Eric Barlevav (TIME Pro Cycling)                                        
11 Jared Babik (Hershey Cancer Institiute-GPOA)                            
12 James Baldesare (Team Inferno Pro Cycling)                          0.08
13 Sterling Magnell (Rock Racing)                                          
14 Alessandro Bazzana (Successfuliving.com)                                
15 Robert Giannini (Locos Grill & Pub)                                     
16 Logan Loader/Mooney (BPG/Montano Velo)                                  
17 Jeff Hopkins (Team Inferno Pro Cycling)                                 
18 Paul Martin (Texas Roadhouse Cycling)                                   
19 Maxime Vives (CALYON PRO CYCLING TEAM)                                  
20 Chuck Hutcheson (Battley Harley-Davidson/Capitol)                       
21 David Fuentes (Battley Harley-Davidson/Capitol)                         
22 Evan Elken (Jittery Joe's Pro Cycling)                                  
23 Esteban Jukich (Richmond Pro Cycling)                                   
24 Michael Stoop (TIME Pro Cycling)                                    0.09
25 Facundo Bazzi (Latino Cycling)                                          
26 William Elliston (Rite Aid Pro pb Shebell & Shebe)                  0.10
27 Carlos Hernandez (Latino Cycling)                                       
28 Sean O'rourke (Kenda/Raleigh Cycling Team)                              
29 Marcus Morgan (Sledgehammer Charlies)                                   
30 Charles Pendry (DLP Racing)                                         0.11
31 Clayton Barrows (Rite Aid Pro pb Shebell & Shebe)                       
32 Adam Bergman (Texas Roadhouse Cycling Team)                             
33 Will Hoffarth (Necodo)                                                  
34 Shawn Milne (Team Type 1)                                           0.12
35 Morgan Schmitt                                                          
36 Clay Murfet (Kelly Benefit Strategies/LSV Am)                           
37 Matthew Johnson (CRCA/Empire Cycling Team)                          0.13
38 Josh England (Team Inferno Pro Cycling)                                 
39 Gerardo Castro (Richmond Pro Cycling)                               0.14
40 Adam Farabaugh (Hershey Cancer Institute-GPOA p)                        
41 Elliot Gaunt (Hershey Cancer Institute-GPOA-)                           
42 Scottie Weiss (Hincapie/ Coca Cola)                                     
43 Torsten Wambold (DLP Racing)                                            
44 Evan Fader (Battley Harley-Davidson/Capitol)                            
45 Guido Palma (Rite Aid Pro pb Shebell & Shebe)                       0.15
46 Robbie King (Rite Aid Pro pb Shebell & Shebe)                           
47 Craig Dodson (Richmond Pro Cycling)                                     
48 John Durso (Liberty)                                                    
49 Michael Norton (CALYON PRO CYCLING TEAM)                                
50 Jaime Gandara (Team Inferno Pro Cycling)                                
51 Tommy Nankervis (DLP Racing)                                        0.16
52 Alejandro Borrajo (Colavita Sutter Home p/b Cookin)                 0.17
53 Keck Baker (Battley Harley-Davidson/Capitol)                        0.19
54 Jonathan Erdelyi (Rite Aid Pro pb Shebell & Shebe)                      
55 Stephen Delisle (Richmond Pro Cycling)                              0.20
56 Bennet Van Der Genugten (Team Inferno Pro Cycling)                      
57 Blair Berbert (NCVC/Inova Health System)                                
58 Stuart Lamp                                                         0.21
59 John Durango (Toshiba-Santo Presented by Herbalife)                     
60 Christopher Judy (DLP Racing)                                           
61 Evan Hyde (NashvilleCyclist.com p/b Bike P)                             
62 Christopher Hong (Kelly Benefit Strategies/LSV Am)                      
63 Omer Kem (Bissell Pro Cycling Team)                                 0.22
64 Ryan Gamm                                                               
65 Michael Margarite (CRCA/Empire Cycling Team)                            
66 Luis Alberto Romero Amaran (Colavita Sutter Home p/b Cookin)            
67 Richard Berg (Rite Aid Pro pb Shebell & Shebe)                      0.23
68 Robert Sweeting (Toshiba-Santo Presented by Herbalife)                  
69 Alexi Martinez (Successfuliving.com)                                0.24
70 Seth Hansley (Locos Grill & Pub)                                        
71 Alexander Hagman (Toshiba-Santo Presented by Herbalife)                 
72 Yosvany Falcon (Toshiba-Santo Presented by Herbalife)                   
73 Trent Wilson (Jittery Joe's Pro Cycling)                            0.25
74 John Delong (Team Alliance Environmental)                               
75 Jonathan Hamblen (TIME Pro Cycling)                                 0.26
76 Timothy Henry (Jittery Joe's Pro Cycling)                               
77 Owen Nielsen (DLP Racing)                                               
78 Andrew Olson (DLP Racing)                                               
79 Jeremiah Wiscovitch (Rock Racing)                                   0.27
80 Michael Mathis (CRCA/Empire Cycling Team)                               
81 Gustavo Artacho (Colavita Sutter Home p/b Cookin)                       
82 Charles (Joe) Eldridge (Team Type 1)                                0.28
83 R Blair Craig (Hincapie/ Coca Cola)                                     
84 Kevin Attkisson (Texas Roadhouse Cycling)                               
85 Dirk Pohlmann (Texas Roadhouse Cycling Team)                        0.39
86 Valeriy Kobzarenko (Team Type 1)                                    0.40
87 Scott Jackson (DLP Racing)                                              
88 Davide Frattini (Colavita Sutter Home p/b Cookin)                       
89 David Guttenplan (TIME Pro Cycling)                                     
90 Christopher Harkey (Hincapie/ Coca Cola)                                
91 Emilio Asconeouy (Latino Cycling)                                   0.47
92 Pete Cannell                                                        0.57
93 James Duncan Iii (TIME Pro Cycling)                                 1.01
94 Mark Warno (IMMEDIATE MORTGAGE - ARTEMIS EL)                        1.03
95 Cody Stevenson (Jittery Joe's Pro Cycling)                          1.04
96 Chad Burdzilauskas (Texas Roadhouse Cycling Team)                   1.13
97 Daniel Ramsey (TIME Pro Cycling)                                    1.16
98 Thomas Soladay (TIME Pro Cycling)                                   1.17
99 Daniel Holt (Team Type 1)                                           1.22
100 Kirk Albers (Texas Roadhouse Cycling Team)                         1.32
101 Turner Johnson (Hershey Cancer Institute-GPOA p)                       


Women - Pro/Cat 1/2
 
1 Brooke Miller (Team TIBCO)                                          45.20
2 Tina Mayolo-Pic (Colavita/Sutter Home p/b Cookin)                        
3 Theresa Cliff-Ryan (Verducci/Breakaway Racing)                           
4 Laura Van Gilder (Cheerwine Cycling)                                 0.01
5 Erica Allar (Aaron's Professional Women's Cy)                            
6 Lara Kroepsch (ValueAct Capital Cycling Team)                            
7 Sam Schneider (Colavita)                                             0.02
8 Rebecca Larson (Aaron's Professional Women's Cy)                         
9 Kelly Benjamin (Cheerwine Cycling)                                       
10 Anna Lang (Aaron's Professional Women's Cy)                             
11 Laura McCaughey (Juice Plus)                                            
12 Christina Smith (LoneStarWorks.com)                                 0.03
13 Kacey Manderfield (Verducci/Breakaway Racing)                           
14 Lauren Franges (Team TIBCO)                                             
15 Monique Hanley (Team Type 1)                                        0.04
16 Laura Bowles (Laura Bowles)                                             
17 Katherine Sherwin (Advil-ChapStick)                                     
18 Gina Voci (Juice Plus)                                                  
19 Leigh Valletti (Vanderkitten Racing)                                0.09
20 Jessie Maclean (Verducci/Breakaway Racing)                              
21 Tiffany Cromwell (Colavita/Sutter Home p/b Cookin)                  0.14
22 Christy Blakely (BMW-Bianchi)                                       0.16
23 Martina Patella (ValueAct Capital Cycling Team)                     0.19
24 Kathryn Clark                                                       0.21
25 Meredith Miller (Aaron's Professional Women's Cy)                   0.23
26 Robin Farina (Cheerwine Cycling)                                    0.24
27 Jennifer Greenberg                                                  0.25
28 Virginia Perkins (PROMAN Racing)                                    0.27
29 Brooke O'connor (Hub Racing)                                        0.36
30 Tonya Lail (BMW-Bianchi)                                            0.37
31 Leeanne Manderson (Hub Racing)                                      0.44
32 Carla Swart                                                         0.45
33 Lisa Jellett (Verducci/Breakaway Racing)                                
34 Elizabeth Morse Hill (Hub Racing)                                       
35 Alison Testroete (Aaron's Professional Women's Cy)                      
36 Kele Murdin (Verducci/Breakaway Racing)                             0.48
37 Leslie Jennings (Team CycleLife)