80th Giro del Veneto - 1.HC
Italy, August 31, 2008
2007 Results Results Past winners
Ginanni triples in debut season
By Gregor Brown
Francesco Ginanni (Diquigiovanni) takes the 80th Giro del Veneto from a small bunch sprint
Photo ©: Roberto Bettini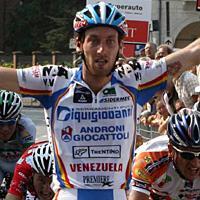 Francesco Ginanni of Team Diquigiovanni gave Franco Ballerini something to think about when he selects the national team in mid-September. The 22 year-old Italian took win number three in his debut season – adding to Tre Valli Varesine and GP di Carnago – with the 80th Giro del Veneto.
Ukrainian Serhiy Honchar (Preti Mangimi) and Italian Andrea Masciarelli (Acqua Sapone-Caffè Mokambo) finished second and third, respectively.
Italy's Danilo Di Luca (LPR Brakes) stirred up the course. His action – with highlights by LPR Brakes team-mate Gabriele Bosisio, Franco Pellizotti (Liquigas) and Stefano Garzelli (Acqua Sapone-Caffè Mokambo) – helped form the winning move. Di Luca did not stay with the leading 10 riders and led the second group home at 1'05".
Photography
For a thumbnail gallery of these images, click here
Images by Roberto Bettini/www.bettiniphoto.net
Images by REX
Results - 199.8 km
1 Francesco Ginanni (Ita) Serramenti PVC Diquigiovanni-Androni Giocattoli    4.52.40 (40.961 km/h)
2 Serhiy Honchar (Ukr) Preti Mangimi                                                
3 Andrea Masciarelli (Ita) Acqua Sapone-Caffè Mokambo                               
4 Donato Cannone (Ita) NGC Medical-OTC Industria Porte                              
5 Leonardo Giordani (Ita) Ceramica Flaminia-Bossini Docce                           
6 Pasquale Muto (Ita) Miche-Silver Cross                                            
7 Gabriele Bosisio (Ita) LPR Brakes                                                 
8 Alessandro Bertuola (Ita) Preti Mangimi                                           
9 Francesco Masciarelli (Ita) Acqua Sapone-Caffè Mokambo                            
10 Eddy Ratti (Ita) Nippo-Endeka                                                    
11 Danilo Di Luca (Ita) LPR Brakes                                              1.05
12 Luca Paolini (Ita) Acqua Sapone-Caffè Mokambo                                    
13 Fabrice Piemontesi (Ita) NGC Medical-OTC Industria Porte                         
14 Stefano Garzelli (Ita) Acqua Sapone-Caffè Mokambo                                
15 Maurizio Biondo (Ita) Ceramica Flaminia-Bossini Docce                            
16 Enrico Gasparotto (Ita) Barloworld                                               
17 Francesco Bellotti (Ita) Barloworld                                              
18 Przemyslaw Niemec (Pol) Miche-Silver Cross                                       
19 Vincenzo Garofalo (Ita) Nippo-Endeka                                             
20 Gilberto Simoni (Ita) Serramenti PVC Diquigiovanni-Androni Giocattoli            
21 Fabio Taborre (Ita) Serramenti PVC Diquigiovanni-Androni Giocattoli              
22 Luca Solari (Ita) Serramenti PVC Diquigiovanni-Androni Giocattoli                
23 Federico Canuti (Ita) CSF Group Navigare                                         
24 Santo Anzà (Ita) Serramenti PVC Diquigiovanni-Androni Giocattoli                 
25 Romas Sinicinas (Ltu) Cinelli-OPD                                                
26 Leonardo Moser (Ita) Serramenti PVC Diquigiovanni-Androni Giocattoli             
27 Sergey Rudaskov (Rus) Cycle Collstrop                                            
28 Niklas Axelsson (Swe) Serramenti PVC Diquigiovanni-Androni Giocattoli            
29 Franco Pellizotti (Ita) Liquigas                                                 
30 Francesco Reda (Ita) NGC Medical-OTC Industria Porte                             
31 Francesco Tizza (Ita) NGC Medical-OTC Industria Porte                            
32 Francesco Failli (Ita) Acqua Sapone-Caffè Mokambo                                
33 Steve Cummings (GBr) Barloworld                                                  
34 Volodymyr Zagorodny (Ukr) NGC Medical-OTC Industria Porte                        
35 Domenico Pozzovivo (Ita) CSF Group Navigare                                      
36 Giampaolo Caruso (Ita) Ceramica Flaminia-Bossini Docce                           
37 Massimo Giunti (Ita) Miche-Silver Cross                                          
38 John-Lee Augustyn (RSA) Barloworld                                               
39 Claudio Cucinotta (Ita) LPR Brakes                                           3.45
40 Juan Pablo Dotti (Arg) Cinelli-OPD                                           4.00
41 Manuele Spadi (Ita) Cinelli-OPD                                                  
42 Krzysztof Szczawinski (Pol) Miche-Silver Cross                                   
43 Alfonso Falzarano (Ita) Cinelli-OPD                                              
44 Martin Mares (Cze) PSK Whirlpool-Author                                          
45 Leopold König (Cze) PSK Whirlpool-Author                                         
46 Cameron Wurf (Aus) Cinelli-OPD                                                   
47 Vladimir Duma (Ukr) Ceramica Flaminia-Bossini Docce                              
48 Harald Totschnig (Aut) Elk Haus-Simplon                                          
49 Mauro Finetto (Ita) CSF Group Navigare                                           
50 Domenico Agosta (Ita) Nippo-Endeka                                               
51 Sergey Lagutin (Uzb) Cycle Collstrop                                             
52 Fabio Sacchi (Ita) Preti Mangimi                                                 
53 Gabriele Missaglia (Ita) Serramenti PVC Diquigiovanni-Androni Giocattoli         
54 Diego Caccia (Ita) Barloworld                                                    
55 Filippo Simeoni (Ita) Ceramica Flaminia-Bossini Docce                            
56 Simone Masciarelli (Ita) Acqua Sapone-Caffè Mokambo                              
57 Massimo Codol (Ita) Acqua Sapone-Caffè Mokambo                                   
58 Dario Andriotto (Ita) Acqua Sapone-Caffè Mokambo                                 
59 Roberto Traficante (Ita) Serramenti PVC Diquigiovanni-Androni Giocattoli         
60 Dainius Kairelis (Ltu) Ceramica Flaminia-Bossini Docce                           
61 Julian Dario Atehortua (Col) Ceramica Flaminia-Bossini Docce                     
62 Murilo Fischer (Bra) Liquigas                                                    
63 Michele Gobbi (Ita) Preti Mangimi                                                
64 Michal Golas (Pol) Cycle Collstrop                                               
65 Marco Marcato (Ita) Cycle Collstrop                                              
66 Marco Cattaneo (Ita) NGC Medical-OTC Industria Porte                             
67 Alexey Shchebelin (Rus) Cinelli-OPD                                              
68 Massimiliano Maisto (Ita) NGC Medical-OTC Industria Porte                        
69 Adriano Angeloni (Ita) Ceramica Flaminia-Bossini Docce                           
70 Maciej Bodnar (Pol) Liquigas                                                     
71 Mauricio Soler (Col) Barloworld                                                  
72 Devis Miorin (Ita) Nippo-Endeka                                                  
73 Daniele Pietropolli (Ita) LPR Brakes                                             
74 Giairo Ermeti (Ita) LPR Brakes                                                   



Past winners
2007 Alessandro Bertolini (Ita) Serramenti Pvc Diquigiovanni Selle Italia
2006 Rinaldo Nocentini (Ita) Acqua & Sapone -Caffe' Mokambo
2005 Eddy Mazzoleni (Ita) Lampre-Caffita
2004 Gilberto Simoni (Ita) Saeco
2003 Cristian Moreni (Ita) Alessio
2002 Danilo Di Luca (Ita) Saeco-Longoni Sport
2001 Giuliano Figueras (Ita) Ceramiche Panaria-Fiordo
2000 Davide Rebellin (Ita) Liquigas-Pata
1999 Davide Rebellin (Ita) Team Polti
1998 Davide Rebellin (Ita) Team Polti
1997 no event
1996 Michele Bartoli (Ita)
1995 Flavio Vanzella (Ita)
1994 Gianluca Bortolami (Ita)
1993 Maximilian Sciandri (Ita)
1992 Massimo Ghirotto (Ita)
1991 Roberto Pagnin (Ita)
1990 Massimo Ghirotto (Ita)
1989 Roberto Pagnin (Ita)
1988 Moreno Argentin (Ita)
1987 Gerhard Zadrobilek (Aut)
1986 Maurizio Rossi (Ita)
1985 Claudio Corti (Ita)
1984 Moreno Argentin (Ita)
1983 Jesper Worre (Den)
1982 Pierino Gavazzi (Ita)
1981 Giovanni Mantovani (Ita)
1980 Carmelo Barone (Ita)
1979 Francesco Moser (Ita)
1978 Valerio Lualdi (Ita)
1977 Giuseppe Saronni (Ita)
1976 Alfio Vandi (Ita)
1975 Roland Salm (Swi)
1974 Roger De Vlaeminck (Bel)
1973 Franco Bitosssi (Ita)
1972 Enrico Paolini (Ita)
1971 Giancarlo Polidori (Ita)
1970 Franco Bitossi (Ita)
1969 Mino Denti (Ita)
1968 Alberto Della-Torre (Ita)
1967 Luciano Galbo (Ita)
1966 Michele Dancelli (Ita)
1965 Michele Dancelli (Ita)
1964 Italo Zilioli (Ita)
1963 Italo Zilioli (Ita)
1962 Angelino Soler (Spa)
1961 Nino Defilippis (Ita)
1960 Diego Ronchini (Ita)
1959 Rino Benedetti (Ita)
1958 Adriano Zamboni (Ita)
1957 Angelo Conterno (Ita)
1956 Giorgio Albani (Ita)
1955 Adolfo Grosso (Ita)
1954 Luciano Maggini (Ita)
1953 Fiorenzo Magni (Ita)
1952 Adolfo Grosso (Ita)
1951 Antonio Bevilacqua (Ita)
1950 Luigi Casola (Ita)
1949 Fausto Coppi (Ita)
1948 Luciano Maggini (Ita)
1947 Fausto Coppi (Ita)
1945 Luigi Casola (Ita)
1942 Pierino Favalli (Ita)
1941 Fausto Coppi (Ita)
1939 Adolfo Leoni (Ita)
1938 Secondo Magni (Ita)
1936 Renato Scorticati (Ita)
1935 Vasco Bergamaschi (Ita)
1934 Aldo Canazza (Ita)
1931 Aldo Canazza (Ita)
1930 Aldo Canazza (Ita)
1928 Alfredo Binda (Ita)
1927 Alfonso Piccin (Ita)
1926 Costante Girardengo (Ita)
1925 Costante Girardengo (Ita)
1924 Costante Girardengo (Ita)
1923 Costante Girardengo (Ita)
1922 Alfredo Sivocci (Ita)
1912 Giovanni Roncon (Ita)
1911 no event
1910 no event
1909 Pogliani (Ita)


The first edition of this race was in 1909. There was no race in the years
  1910-11, 1913-21, 1929, 1932-33, 1937, 1940, 1943-44, 1946, and 1997.



Past winners by Mario Stiehl, www.world-of-cycling.com