Tour of Elk Grove - NE
Illinois, USA, August 1-3, 2008
Main Page Results Overall standings Next Stage
Prologue - August 1: Elk Grove Village Bank prologue time trial, 4.5mi
Zirbel motors to Elk Grove opener win
By Mark Zalewski, North American Editor in Elk Grove Village, Illinois
Tom Zirbel (Bissell)
Photo ©: Mark Zalewski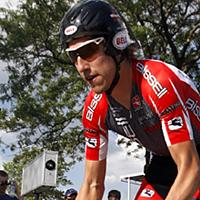 Known more for long, grueling breakaway riding than time trialing, Bissell's Tom Zirbel surprised even himself at the Tour of Elk Grove short opening time trial - a 4.5-mile course with three 180 degree and two 90 degree turns - holding the top spot for the entire list of riders and beating second place Chris Horner (Astana) by three seconds.
"I didn't think I would do very well," he said laughing. "I am absolutely awful at taking the correct line on 180s and then accelerating out of them! I'm just a big diesel... and with a trailer on the back!
But once that diesel gets going, it's hard to stop it. "It was just good legs. I was looking at my power metre and thinking that I was going to blow up. Everything felt easy and I was rolling, so it didn't matter how much I screwed up the turns."
For Horner, who finished fifth in the TT last year, the difference was the equipment. "This year I came with my own TT bike!" he said. "Last year I hopped on Freddie's [Rodriguez] TT bike right after he finished and literally took five minutes and started. We have the best equipment in the world and that is how I was able to compete, especially in such a short race since that is not what I am used to."
Sitting in second for much of the day was Canadian Francois Parisien (Team RACE) who said the course was his biggest advantage. "I think that was my kind of TT. It was really punchy and that is how I ride. The stretches were just long enough for me to punch it and last until the next turn."
Chris Horner (Astana)
Photo ©: Mark Zalewski

The extremely short time trial did not produce much in the way of separation heading into Saturday's 150km pancake flat road stage, with all but seven of the 55 riders within a minute. Kelly Benefits Strategies-Medifast has the numbers advantage with three in the top ten, with David Veilleux in fifth. But if the racing is at all like last year, Zirbel will only need to stay in the field and make sure the numerous time bonuses do not get away from him.
"I am going to have to rely heavily on my team-mates! But they will be there to help me out and will step up to the occasion."
Francois Parisien (Team RACE)
Photo ©: Mark Zalewski

While Parisien is not known as a sprinter, he said he has been working on it lately, which could serve him well. "I have been working a lot on my confidence. I have a good sprint to be honest, when we do sprint workouts there is not much difference, but because I am a small rider it's easier to push me around and I get a little hesitant and back off. I am going to try to work on that here."
For Horner, who is totally alone amongst entire teams such as Bissell, Rock Racing, Jelly Belly and Toyota-United, being in the leader's jersey might have been too much work. "I would rather have the win today, but for the overall second place is probably the better spot for me. It's less of a target and I won't be expected to pull a break back."
Photography
For a thumbnail gallery of these images, click here
Images by Mark Zalewski/Cyclingnews.com
Results
1 Tom Zirbel (Bissell Pro Cycling Team)                  0.08.36.37 (50.526 km/h)
2 Chris Horner (Astana)                                     0.03.21
3 Francois Parisien (Team Race Pro)                         0.08.30
4 Ryan Roth (Team Race Pro)                                 0.11.15
5 David Veilleux (Kelly Benefits Strategies/Medifast)       0.11.43
6 Reid Mumford (Kelly Benefits Strategies/Medifast)         0.12.70
7 Dominique Rollin (Toyota)                                 0.13.46
8 Brian Buchholz (Kelly Benefits Strategies/Medifast)       0.14.39
9 Bernard Van Ulden (Jelly Belly)                           0.14.74
10 Scott Zwizaski (Bissell Pro Cycling Team)                0.17.03
11 Garrett Peltonen (Bissell Pro Cycling Team)              0.17.35
12 Tyler Hamilton (Rock Racing)                             0.17.44
13 Graham Howard (Bissell Pro Cycling Team)                 0.17.64
14 Brad Huff (Jelly Belly)                                  0.17.67
15 Freddie Rodriguez (Rock Racing)                          0.18.56
16 Bradley White (SuccessfulLiving presented by)            0.19.33
17 Keven LaCombe (Kelly Benefits Strategies/Medifast)       0.19.47
18 Matt Winstead (Team Inferno Pro Cycling)                 0.19.97
19 Daniel Timmerman (Team Race Pro)                         0.21.41
20 Matty Rice (Jelly Belly)                                 0.23.23
21 Hilton Claeke (Toyota)                                   0.23.50
22 Nic Sanderson (Jelly Belly)                              0.24.37
23 Curtis Gunn (Successful Living p/b ParkPre)              0.24.43
24 Matt Wilson (Team Type 1)                                0.24.46
25 Alex Candelario (Kelly Benefits Strategies/Medifast)     0.27.36
26 Micheal Grabinger (Successful Living P/B Parkpre)        0.29.50
27 Charles Dionne (SuccesFul Living)                        0.29.91
28 Cesar Grajales (Rock Racing)                             0.30.26
29 Mark Walter (Team Race Pro)                              0.31.16
30 Jake Keough (Kelly Benefits Strategies/Medifast)         0.31.83
31 Chuck Coyle (Successful Living pb Parkpre)               0.32.88
32 Benjamin Kneller (Jittery Joe's)                         0.33.48
33 Brian Jensen (Successful Living)                         0.33.85
34 Johny Clarke (Toyota)                                    0.34.71
35 Richard England (Bissell Pro Cycling Team)               0.35.18
36 Bryce Mead (Jelly Belly)                                 0.35.46
37 Buck Miller (Team Race Pro)                              0.35.53
38 Matt Shriver (Jittery Joe's)                             0.36.40
39 Daniel Holloway (Garmin Chipotle)                        0.36.98
40 Ivan Doninguez (Toyota)                                  0.37.39
41 Nick Reistad (Jelly Belly)                               0.37.88
42 Steven Howard (Bissell Pro Cycling Team)                 0.42.09
43 Henk Vogels (Toyota)                                     0.43.93
44 Joe Cooper (Team Inferno Pro Cycling)                    0.44.70
45 Jake Rytlewski (Rite Aid Pro pb Shebell & Shebell)       0.45.24
46 Richard Harper (Team Inferno Pro Cyling)                 0.45.64
47 Remi McManus (Team Inferno Pro Cycling)                  0.55.15
48 Mark Batty (Team Race Pro)                               0.56.56
49 Swain Timothy (Team Inferno Pro Cycling)                 1.01.53
50 Sergio Hernandez (Rock Racing)                           1.04.46
51 Stephan Kincaid (Rite Aid Pro pb Shebell & Shebell)      1.14.29
52 Doug Ollerenshaw (Rock Racing)                           1.20.81
53 Chad Hartley (Jittery Joe's)                             1.26.96
54 Hayden Godfrey (Team Inferno Pro Cycling)                1.30.25
55 Ben Day (Toyota)                                        26.00.23