ZLM Tour - Arjaan de Schipper Trofee - 1.Ncup
Netherlands, April 19, 2008
Italian takes sprint in windy Netherlands
Jacopo Guarnieri of Italy wins the sprint
Photo ©: ZLM Tour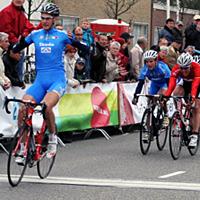 Jacopo Guarnieri won the 13th edition of the ZLM tour for the "Arjaan de Schipper Trophy" in a hottely contested bunch sprint. The Italian beat German John Degenkolb and another Italian, Pierpaolo de Negri. The trophy is part of the Nations Cup under 23. Coen Vermeltfoort won the "Ere Prijs Adrie de Winter" for the best rider. He finished fifth.
Foundation chairman Danny Moens was happy with the racing, stating that "It was clear beforehand that this would be a great race for young riders, with wind, rain, sun and everything else one could wish for. You can only dream of this. For the organisation, the event is certainly a success. The president and other jury members praise the organisation for the excellent job they did. If you hear that, you can be nothing but satisfied," according to the chairman.
The start was at 12:30 in the central square in Goes. But it didn't stay mellow for long and the peloton of 156 riders fell apart in the Dutch winds.
About 25 kilometres before the finish the famous "Kattendijkse Dijk" forced a preliminary decision. Only a small peloton of a good two dozen riders was left when the bunch entered Goes to go into the last final local lap.
Photography
For a thumbnail gallery of these images, click here
Images by ZLM Tour
Results
1 Jacopo Guarnieri (Italy)               4.07.17 (43.675 km/h)
2 John Degenkolb (Germany)                      
3 Pierpaolo de Negri (Italy)                    
4 Marco Cunha (Portugal)                        
5 Coen Vermeltfoort (Netherlands A)             
6 Jonathan Bellis (Great Britain)               
7 Kris Boeckmans (Belgium)                      
8 Kim Nielsen (Denmark)                         
9 Johnnie Walker (Australia)                    
10 Matteo Busato (Italy)                        
11 Victor Mironov (Equipe Mixte)                
12 Maciej Paterski (Poland)                     
13 Evaldas Siskevicius (Lithuania)              
14 Cole House (United States of America)        
15 Morgan Kneisky (France)                      
16 Tomas Mice (Lithuania)                       
17 Alexander Kristoff (Norway)                  
18 Rikke Dijkxhoorn (Netherlands A)             
19 Pavel Kochetkov (Russian Federation)         
20 Luc Hagenaars (Netherlands B)                
21 Bjorn Selander (United States of America)    
22 Kristjan Koren (Slovenia)                    
23 Stefan Schäfer (Germany)              4.07.20
24 Hayden Josefski (Australia)                  
25 Mathieu Simon (France)                       
26 Nico Keinath (Germany)                       
27 Simon Clarke (Australia)                     
28 Wesley Sulzberger (Australia)         4.07.23
29 Maurice Vrijmoed (Netherlands A)             
30 Manuele Boaro (Italy)                        
31 Nikolay Slonov (Kazakhstan)           4.07.27
32 Dennis Kreder (Netherlands B)                
33 Gatis Smukulis (Latvia)                      
34 Daniels Ernestovskis (Latvia)                
35 Adriano Malori (Italy)                       
36 Lars Jun (Netherlands B)                     
37 Edgaras Kovaliovas (Lithuania)               
38 Marcel Kittel (Germany)                      
39 Michaël Van Staeyen (Belgium)                
40 Ronan van Zandbeek (Netherlands A)    4.07.33
41 Boy van Poppel (Netherlands A)        4.07.44
42 Matt King (Australia)                        
43 Sergiu Coiban (Equipe Mixte)                 
44 Jonas Vangenechten (Belgium)                 
45 Andrew Tennant (Great Britain)        4.07.48
46 Marko Kump (Slovenia)                        
47 Troels Vinther (Denmark)              4.07.54
48 Dmitriy Gruzdev (Kazakhstan)          4.08.04
49 Cristoph Pfingsten (Germany)                 
50 Krisztian Lovassy (Equipe Mixte)             
51 Kanstantsin Shkredau (Belarus)               
52 Loïc Desriac (France)                        
53 Lars Vierbergen (Netherlands A)              
54 Vadim Izotov (Kazakhstan)             4.08.15
55 Gediminas Kaupas (Lithuania)          4.08.19
56 Kaspa Larsen Schjönemann (Denmark)    4.09.27
57 Ismael Kip (Netherlands B)            4.10.23
58 Thomas Guldhammer (Denmark)           4.11.17
59 Raymond Kreder (Netherlands B)        4.14.25