32nd Giro del Trentino - 2.1
Italy, April 22-25, 2008
2007 results Schedule Preview Start List Past winners
The Stages
Simoni and Bettini headline star-studded Trentino
By Gregor Brown
Gilberto Simoni, 36, will race the Giro del Trento – a race he won in 2003
Photo ©: Roberto Bettini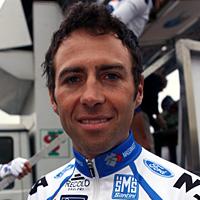 The 32nd Giro del Trentino will feature two-time Giro d'Italia Champion Gilberto Simoni and World Champion Palo Bettini in its startlist when it runs this Tuesday through Friday – April 22 to 25. The race in northeast Italy, won in 2007 by Italian Damiano Cunego, is considered a key warm-up event for the country's Grand Tour, the Giro d'Italia, May 10 to June 1.
"It is an important step towards the Giro, and this year I want to battle for the win," commented Italy's Simoni of team Serramenti PVC Diquigiovanni-Androni Giocattoli to Agr. The 36 year-old won the race in 2003 before going on to win the Giro d'Italia, which he had won two years previously, in 2001.
For more on Simoni's Giro d'Italia and mountain biking ambitions, read Gilberto Simoni's mountainous journey.
Bettini confirmed his Trentino participation after beginning forced to miss the Amstel Gold due to a crash in the País Vasco. "As a consequence of my fall in Spain I've not been able to train as much as I'd like, and I will not be able to take part in either the Amstel Gold Race or the Flèche Wallonne," Bettini stated April 16.
"I only started riding again on Sunday, but I won't be able to carry out intense training until Friday due to the pain from my broken rib and due to the physiotherapy sessions I'm having in order to resolve this problem."
The Quick Step rider still intends on racing in Belgium's Liège-Bastogne-Liège, two days after the Italian race ends. "I preferred to opt for this change in my program as I want to take part in the Liège. La Doyenne is the race that launched me, I have a special connection with this race."
The 34 year-old Italian from La California (Livorno) is a two-time winner of Liège-Bastogne-Liège, 2000 and 2002.
"With regard to the Giro del Trentino – Bettini continued – it is a race that I'm more than happy to take part in, it is one of the first races I ever participated in as a professional back in 1997. ... I'll be looking to honour the race as best I can, but it won't be easy due to the problems I'm suffering with."
Stay with Cyclingnews for daily stage reports and photos.
Start list
Quick Step                                  Liquigas
 
1 Paolo Bettini (Ita)                       11 Daniele Bennati (Ita)
2 Matteo Carrara (Ita)                      12 Vladimir Miholjevic (Cro)
3 Mauro Facci (Ita)                         13 Claudio Corioni (Ita)
4 Dmytro Grabovskyy (Ukr)                   14 Charles Wegelius (GBr)
5 Kevin Van Impe (Bel)                      15 Vincenzo Nibali (Ita)
6 Davide Vigano (Ita)                       16 Franco Pelizzotti (Ita)
7 Kevin Seedrayers (Bel)                    17 Andrea Noe (Ita)
                                            18 Alessandro Vanotti (Ita)
 
Lampre                                      Cofidis, Le Credit Par Telephone
 
21 Marzio Bruseghn (Ita)                    31 Alexandre Blain (Fra)
22 Lubos Pelanex (Cze)                      33 Samuel Dumoulin (Fra)
23 Mirco Lorenzetto (Ita)                   34 Bingen Fernandez Bustinza (Spa)
25 Roberto Longo (Ita)                      35 Romain Villa (Fra)
26 Emanuele Bindi (Ita)                     36 Damien Monier (Fra)
27 Sylvester Szmid (Pol)                    37 Nicolas Portal (Fra)
28 Massimiliano Mori (Ita)                  38 Nicolas Hartmann (Fra)
 
Ag2R La Mondiale                            LPR Brakes
 
41 Philip Deignan (Irl)                     51 Danilo Di Luca (Ita)
42 Cyril Dessel (Fra)                       52 Paolo Savoldelli (Ita)
43 Tanel Kangert (Est)                      53 Jure Golcer (Slo)
44 Christophe Riblon (Fra)                  54 Daniele Pietropolli (Ita)
45 Nicolas Rousseau (Fra)                   55 Riccardo Chiarini (Ita)
46 Ludovic Turpin (Fra)                     56 Alessandro Spezialetti (Ita)
47 Sylavain Calzati (Fra)                   57 Gabriele Bosisio (Ita)
48 Blaise Sonnery (Fra)                     58 Cristiano Salerno (Ita)
 
Serramenti PVC Diquigiovani                 Acqua&Sapone-Caffe' Mokambo
 
61 Gilberto Simoni (Ita)                    71 Stefano Garzelli (Ita)
62 Leonardo Moser (Ita)                     72 Dario Andriotto (Ita)
63 Santo Anza (Ita)                         73 Francesco Failli (Ita)
64 Raffaele Illiano (Ita)                   74 Andrea Masciarelli (Ita)
65 Ruslan Ivanov (Mda)                      75 Francesco Masciarelli (Ita)
66 Alessandro Bertolini (Ita)               76 Massimo Codol (Ita)
67 Roger Beuchat (Swi)                      77 Giuseppe Palumbo (Ita)
68 Jose Serpa Perez (Col)                   78 Luca Paolini (Ita)
 
Tinkoff Credit Systems                      CSF Group Navigare
 
81 Yauhen Sobal (Blr)                       91 Julio Alberto Perez Cuapio (Mex)
82 Evgeni Petrov (Rus)                      92 Emanuele Sella (Ita)
83 Walter Ferna Pedraza Morales (Col)       93 Mauro Finetto (Ita)
84 Daniele Contrini (Ita)                   94 Domenico Pozzovivo (Ita)
85 Nikolay Trusov (Rus)                     95 Luis Felipe Laverde Jimenez (Col)
86 Alexander Khatuntsev (Rus)               96 Marco Frapporti (Ita)
87 Ivan Rovny (Rus)                         97 Fortunato Baliani (Ita)
88 Ilya Chernetskiy (Rus)                   98 Andrea Pagoto (Ita)
 
Barloworld                                  NGC Medical-OTC Industrial
 
101 Mauricio Juan Soler Hernandez (Col)     111 Sylvere Ackermann (Swi)
102 Patrick Calcagni (Swi)                  112 Marco Cattaneo (Ita)
103 Steven Cummings (GBr)                   113 Diego Nosotti (Ita)
104 Enrico Gasparotto (Ita)                 114 Bruno Rizzi (Ita)
106 Daryl Impey (RSA)                       115 Massimiliano Maisto (Ita)
107 Francesco Bellotti (Ita)                116 Francesco Tizza (Ita)
108 Thomas Geraint (GBr)                    117 Stefano Trafelet (Swi)
                                            118 Volodymyr Zagorodny (Ukr)
 
Elk Haus-Simplon                            Team Volksbank
 
121 Bjorn Thurau (Ger)                      131 Christoph Sokoll (Aut)
122 Stefan Rucker (Aut)                     132 Gerrit Glomser (Aut)
123 Jan Valach (Svk)                        133 Andreas Dietziker (Swi)
124 Harald Totschnig (Aut)                  135 Elias Schmaeh (Swi)
125 Markus Eibegger (Aut)                   136 Florian Stadler (Swi)
126 Stefan Denifl (Aut)                     137 Alexander Gufler (Ita)
127 Gerhard Trampusch (Aut)                 138 Rene Weissinger (Ger)
 
Preti Mangimi                               Ceramica Flaminia Bossini
 
141 Alessandro Bertuola (Ita)               151 Filippo Simeoni (Ita)
142 Carlo Corra (Ita)                       152 Maurizio Biondo (Ita)
143 Boris Shpilevsky (Rus)                  153 Dainius Kairelis (Ltu)
144 Salvatore Commesso (Ita)                154 Hubert Krys (Pol)
145 Serhly Honchar (Ukr)                    155 Cristiano Fumagalli (Ita)
146 Marco Osella (Ita)                      156 Luigi Sestili (Ita)
147 Mattia Parravicini (Ita)                157 Julian Dari Atehortua Bedoya (Col)
148 Fabio Sacchi (Ita)                      158 Leonardo Giordani (Ita)
 
Adria Mobil                                 Miche - Silver Cross
 
161 Grega Bole (Slo)                        171 Maurizio Carta (Ita)
162 Benjamin Cujnik (Slo)                   172 Kriztofz Szczawinski (Pol)
163 Joze Senekovic (Slo)                    173 Edwin Carvajal Jaramello (Col)
164 Uros Murn (Slo)                         174 Massimo Giunti (Ita)
166 Robert Kiserlovski (Cro)                175 Lorenzo Cardellini (Ita)
167 Jure Zagar (Slo)                        176 Eddy Serri (Ita)
168 Jure Zrimsek (Slo)                      177 Pasquale Muto (Ita)
                                            178 Stefano Usai (Ita)
 
Team Nippo Endeka                           Katay Cicling Team
 
181 Domenico Agosta (Ita)                   191 Vladimir Autka (Blr)
182 Yoshiyuki Shimizu (Jpn)                 192 Marco Carletti (Ita)
183 Eddy Ratti (Ita)                        194 Domenico Loria (Ita)
184 Vincenzo Garofalo (Ita)                 195 Honorio Machado Perez (Ven)
185 Pierpaolo Tondo (Ita)                   196 Davide Torosantucci (Ita)
186 Marino Palandri (Ita)                   197 Roberto Antonio Richeze (Bra)
187 Marius Wiesiak (Pol)                    198 Rino Zampilli (Ita)
188 Stefan Koychev Hristov (Bul)            
 
Amore&Vita-McDonalds                        
 
201 Fabio Giglioli (Ita)                    
202 Soren Nissen (Den)                      
203 Michael Stevenson (Swe)                 
204 Seweryn Kohut (Pol)                     
205 Slawomyr Bury (Pol)                     
206 Shaun Davel (RSA)                       
207 Phil Cortes (Can)                       
208 Mikhail Timochine (Rus)                           

Past winners

2007 Damiano Cunego (Ita)     Michele Scarponi (Ita)    Luca Mazzanti (Ita)
2006 Damiano Cunego           Luca Mazzanti             Eddy Ratti
2005 J. A. Perez Cuapio       Evgeni Petrov             Sergio Ghisalberti
2004 Damiano Cunego           Jure Golcer               Gilberto Simoni 
2003 Gilberto Simoni          Stefano Garzelli          Tadej Valjavec
2002 Francesco Casagrande     Julio A. P. Cuapio        Gilberto Simoni
2001 Francesco Casagrande     Leonardo Piepoli          Raimondas Rumsas
2000 Simone Borgheresi        Niklas Axelsson           Paolo Savoldelli
1999 Paolo Savoldelli         Gilberto Simoni           Marco Pantani
1998 Paolo Savoldelli         Dario Frigo               Francesco Casagrande
1997 Luc Leblanc              Pavel Tonkov              Leonardo Piepoli
1996 Wladimir Belli           Enrico Zaina              Nelson Rodriguez
1995 Heinz Imboden            Mariano Piccoli           Francesco Frattini
1994 Moreno Argentin          Evgeni Berzin             Francesco Casagrande
1993 Maurizio Fondriest       Claudio Chiappucci        Leonardo Sierra
1992 Claudio Chiappucci       Roberto Conti             Zenon Jaskula
1991 Leonardo Sierra          Massimiliano Lelli        Stephen Hodge
1990 Gianni Bugno             Piotr Ugrumov             Leonardo Sierra
1989 Mauro Santaromita        Claudio Chiappucci        Luca Gelfi
1988 Urs Zimmerman            Toni Rominger             Helmut Wechselberger
1987 Claudio Corti            G.B.Baronchell            Toni Rominger
1986 Carrera Jeans            Del Tongo                 Atala-Ofmega *
1985 Harald Maier             Silvano Contini
1984 Franco Chioccioli        Emanuele Bombini
1983 Francesco Moser          Bruno Leali
1982 Giuseppe Saronni
1981 Roberto Visentini
1980 Francesco Moser
1979 Knut Knudsen
1963 Guido De Rosso
1962 Enzo Moser
* In 1986 the event was a teams competition called the "Coppa Italia"
 
Past winners by Mario Stiehl, www.world-of-cycling.com