42nd Tour de Bretagne Cycliste - Trophée des Granitiers - 2.2
France, April 25-May 1, 2008
Main Page Results Overall standings Previous Stage Next Stage
Stage 4 - April 28: Guingamp - Lesneven, 169.1 km
Antomarchi takes over from Rabobank
By Jean-François Quénet in Lesneven
Julien Antomarchi (V.C La Pomme Marseille)
Photo ©: Fabrice Lambert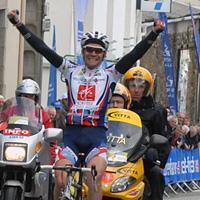 A big breakaway of 33 riders has put an end to the possibility of winning the Tour de Bretagne for race favourites Lars Boom, Coen Vermeltfoort, David Le Lay and Alexander Kristoff, but Rabobank might have done the right choice with Thomas Berkhout and Marcel Beima in an escape from which French amateur Julien Antomarchi of VC La Pomme took stage 4 and the lead.
"We would have liked to have one or two more riders in the front group," former race leader Vermeltfoort said. He didn't bring a message of real satisfaction from the Rabobank camp. "Now we'll protect Berkhout and Beima before the time trial on Wednesday," the young Dutchman added. It might be a better day than it looks like for Rabobank because they don't have to worry about Le Lay and Kristoff anymore. They have a major card to play against the clock with Berkhout but it will be interesting to see New Zealand time trial champion Logan Hutchings in action. He also found his way to the right move between Guingamp and Lesneven.
"I will try to keep the jersey until the end," new leader Antomarchi said. The 24 year-old from Marseille was fifth in the U23 French championship time trial, but he doesn't have many international references against the clock. He won a stage in the Three Days of Vaucluse in March this year. "I came to the Tour de Bretagne for at least winning a stage as well," he explained. "This is one of the biggest races in France for us. We don't have many opportunities to compete at that level. It's a chance to be noticed for someone like me who tries to turn professional."
He was smart to let the two Rabobank riders close some gaps in the finale before he found an open space and went solo with only seven kilometres to go. But the overall win remains a possibility for about 30 competitors.
How it unfolded
Bastien Delrot (Roubaix Lille Metropole)
Photo ©: Fabrice Lambert

All the climbs in stage 4 were concentrated in the first 60 kilometres, so it wasn't a surprise to see early attacks. Rolf Hofbauer (Ista), Olivier Nari (SCO Dijon) and Romain Hardy (Côtes d'Armor-Maître Jacques) tried their luck between km 12 and 24.
The decisive breakaway took shape in the second King of the Mountain price after 35 kilometres. In two waves, it included 33 riders: Thomas Berkhout and Marcel Beima (Rabobank), Stian Sommerseth (Joker-Bianchi), Piotr Zielinski, Sébastien Duret and Benoît Poilvet (Bretagne-Armor Lux), Erik Jan Kooiman (Van Hemert), Logan Hutchings and Gert Dockx (Beveren), Fabrice Jeandesbosz (Vendée U), Nico Keinath, Christoph Meschenmoser and Tim Klotz (Ista), Sven Vandousselaere (Davitamon-Lotto), Yoann Lucas and Jean-Philippe Maheau (U Nantes-Atlantique), Olivier Grammaire (SCO Dijon), Julien Antomarchi and David Tanner (VC La Pomme), Justas Volongevicius (Rietumu Bank), Jean-Marc Bideau, Bastien Delrot, Florian Guillou and Steven Tronet (VC Roubaix), Laurent Le Gac (Brest IC 2000), Yann Guyot and Mathieu Halléguen (Côtes d'Armor-Maître Jacques), Bram Schmitz and Johnny Hoogerland (Van Vliet), Franck Charrier (CC Nogent-sur-Oise), Yukiya Arashiro, Takashi Miyazawa and Miyataka Shimizu (Meitan-Hompo).
As 18 teams out of 22 were represented in the front, nobody in the bunch took care of the chase and the gap went up to a maximum lead of just above 18 minutes. In the front, Charrier tried to go solo a few times before the final circuit. When other riders joined him, the two Rabobank riders closed the gap, but they couldn't prevent Antomarchi from going clear with seven kilometres to go. The Frenchman won with 13 seconds and took the lead.
Photography
For a thumbnail gallery of these images, click here
Images by Jean-Francois Quenet
Images by Fabrice Lambert/Tour de Bretagne
Results
1 Julien Antomarchi (Fra) V.C La Pomme Marseille              4.18.36 (39.234 km/h)
2 Steven Tronet (Fra) Roubaix Lille Metropole                    0.13
3 Piotr Zielinski (Pol) Bretagne Armor Lux                           
4 Nico Keinath (Ger) Team Ista                                       
5 David Tanner (Aus) V.C La Pomme Marseille                          
6 Johnny Hoogerland (Ned) Van Vliet EBH Elshof                       
7 Takashi Miyazawa (Jpn) Meitan Hompo - GDR                          
8 Gert Dockx (Bel) Wielergroep Beveren 2000 - Quick Step             
9 Sven Vandousselac (Bel) Davitamon Lotto Jong Vlaanderen            
10 Franck Charrier (Fra) C.C. Nogent Sur Oise                        
11 Yann Guyot (Fra) Cotes d'Amor Cyclism                             
12 Justas Volungevicius (Ltu) Rietumu Bank-Riga                      
13 Olivier Grammaire (Fra) S.C.O. Dijon                              
14 Bram Schmitz (Ned) Van Vliet EBH Elshof                           
15 Mathieu Halleguen (Fra) Cotes d'Amor Cyclism                      
16 Laurent Le Gac (Fra) Brest Iroise Cyclisme                        
17 Yoann Lucas (Fra) Team U Nantes Atlantique                        
18 Benoît Poilvet (Fra) Bretagne Armor Lux                           
19 Thomas Berkhout (Ned) Rabobank Continental                        
20 Marcel Beima (Ned) Rabobank Continental                           
21 Jean-Philippe Maheau (Fra) Team U Nantes Atlantique               
22 Erik Jan Kooiman (Ned) Van Hemert Groep - de Jonge Renner         
23 Miyataka Shimizu (Jpn) Meitan Hompo - GDR                         
24 Duret Sébastien (Fra) Bretagne Armor Lux                          
25 Fabrice Jandesboz (Fra) Vende U                                   
26 Logan Hutchings (NZl) Wielergroep Beveren 2000 - Quick Step       
27 Bastien Delrot (Fra) Roubaix Lille Metropole                      
28 Stian Sommerseth (Nor) Joker Bianchi                              
29 Christoph Meschenmoser (Ger) Team Ista                            
30 Florian Guillou (Fra) Roubaix Lille Metropole                     
31 Yukiya Arashiro (Jpn) Meitan Hompo - GDR                          
32 Jean-Marc Bideau (Fra) Roubaix Lille Metropole                    
33 Tim Klotz (Ger) Team Ista                                     3.41
34 Ronan Van Zandbeek (Ned) Van Vliet EBH Elshof                26.14
35 Romain Hardy (Fra) Cotes d'Amor Cyclism                           
36 Michael Morkov (Den) Denmark National Team                        
37 Daniel Kreutzfeldt (Den) Denmark National Team                    
38 Alexander Kristoff (Nor) Joker Bianchi                            
39 Niek Basten (Ned) Van Hemert Groep - de Jonge Renner              
40 Michael Faerk Christensen (Den) Denmark National Team             
41 Lars Boom (Ned) Rabobank Continental                              
42 Aurélien Thilloy (Fra) C.C. Nogent Sur Oise                       
43 Maurice Vrijmoed (Ned) Van Vliet EBH Elshof                       
44 Alex Rasmussen (Den) Denmark National Team                        
45 Anthony Vignes (Fra) Team U Nantes Atlantique                     
46 Grégory Joseph (Bel) Davitamon Lotto Jong Vlaanderen              
47 Casper Jorgensen (Den) Denmark National Team                      
48 Maarten De Jonge (Ned) Wielergroep Beveren 2000 - Quick Step      
49 Renaud Pioline (Fra) V.C La Pomme Marseille                       
50 Jens Erik Madsen (Den) Denmark National Team                      
51 Markku Ainsalu (Est) Rietumu Bank-Riga                            
52 Coen Vermeltfoort (Ned) Rabobank Continental                      
53 Dennis Vanendert (Bel) Wielergroep Beveren 2000 - Quick Step      
54 Enrico Peruffo (Ita) De Naedi - Bergamasca                        
55 Aivaras Baranauskas (Ltu) Roubaix Lille Metropole                 
56 Quincy Vens (Bel) Davitamon Lotto Jong Vlaanderen                 
57 Jonathan Balbuena (Fra) V.C La Pomme Marseille                    
58 Ryan Bonser (GBr) Rapha-Condor - Recycling.co.uk                  
59 Raphaël Lesage (Fra) C.C. Nogent Sur Oise                         
60 Jetse Bol (Ned) Rabobank Continental                              
61 Bert De Backer (Bel) Wielergroep Beveren 2000 - Quick Step        
62 Baugnies Jérôme (Bel) Davitamon Lotto Jong Vlaanderen             
63 Yasuharu Nakajima (Jpn) Meitan Hompo - GDR                        
64 Gert Joeaar (Est) Vende U                                         
65 Jos Van Emden (Ned) Rabobank Continental                          
66 Thijs Van Amerongen (Ned) Van Vliet EBH Elshof                    
67 Cyrille Noel (Fra) Super Sport 35 ACNC                            
68 Tristan Le Yondre (Fra) Super Sport 35 ACNC                       
69 Florian Allaizeau (Fra) Team U Nantes Atlantique                  
70 David Le Lay (Fra) Bretagne Armor Lux                             
71 Evaldas Siskevicius (Ltu) V.C La Pomme Marseille                  
72 Steven De Neef (Bel) Davitamon Lotto Jong Vlaanderen              
73 Nikolai Schwarz (Ger) Team Ista                                   
74 Vincent Rouxel (Fra) Brest Iroise Cyclisme                        
75 Stijn Nierynck (Bel) Wielergroep Beveren 2000 - Quick Step        
76 Yannick Ricordel (Fra) Team U Nantes Atlantique                   
77 Fabio Donesana (Ita) De Naedi - Bergamasca                        
78 Kazuya Okazaki (Jpn) Meitan Hompo - GDR                           
79 Gaetan Guernion (Fra) Brest Iroise Cyclisme                       
80 Matthias Brandle (Aut) Team Ista                                  
81 Gaël Malacarne (Fra) Cotes d'Amor Cyclism                         
82 Joachim Bohler (Nor) Joker Bianchi                                
83 Nicolas Baldo (Fra) Super Sport 35 ACNC                           
84 Kenny Terweduwe (Bel) Davitamon Lotto Jong Vlaanderen             
85 Frederik Wilman (Nor) Joker Bianchi                               
86 Timothée Lefrancois (Fra) Team U Nantes Atlantique                
87 Bjorn Hoeben (Ned) Van Hemert Groep - de Jonge Renner             
88 Stéphane Bonsergent (Fra) Bretagne Armor Lux                      
89 Sierk Jan De Haan (Ned) Van Hemert Groep - de Jonge Renner        
90 Jonathan Manach (Fra) Brest Iroise Cyclisme                       
91 Giorgio Brambilla (Ita) De Naedi - Bergamasca                     
92 Tony Huet (Fra) Super Sport 35 ACNC                               
93 Denis Robin (Fra) Roubaix Lille Metropole                         
94 David Han (Fra) S.C.O. Dijon                                      
95 Benoît Geoffroy (Fra) S.C.O. Dijon                                
96 Robert Partridge (GBr) Rapha-Condor - Recycling.co.uk             
97 Michele Gaia (Ita) De Naedi - Bergamasca                          
98 Kristian House (GBr) Rapha-Condor - Recycling.co.uk               
99 Cherruault Kévin (Fra) Vende U                                    
100 Ben Van Der Kooi (Ned) Van Hemert Groep - de Jonge Renner        
101 Gatis Smukulis (Lat) V.C La Pomme Marseille                      
102 Sergey Firsanov (Rus) Rietumu Bank-Riga                          
103 Chris Newton (GBr) Rapha-Condor - Recycling.co.uk                
104 Kevin Lalouette (Fra) C.C. Nogent Sur Oise                       
105 Adam Bonser (GBr) Rapha-Condor - Recycling.co.uk                 
106 Tom Diggle (GBr) Rapha-Condor - Recycling.co.uk                  
107 Mathieu Jeannes (Fra) Brest Iroise Cyclisme                      
108 Lars Vierbergen (Ned) Van Vliet EBH Elshof                       
109 Julien Gonnet (Fra) Super Sport 35 ACNC                          
110 Stéphane Rossetto (Fra) C.C. Nogent Sur Oise                     
111 Landström Johan (Swe) Van Hemert Groep - de Jonge Renner         
112 Jocelyn Bar (Fra) C.C. Nogent Sur Oise                           
113 Tony Hurel (Fra) Vende U                                         
114 Julien Gay (Fra) Vende U                                         
115 Rolf Hofbauer (Ger) Team Ista                                    
116 Mart Ojavee (Est) Rietumu Bank-Riga                              
117 Loïc Muhlemann (Swi) S.C.O. Dijon                                
118 Olivier Nari (Fra) S.C.O. Dijon                                  
119 Ludovic Capelle (Bel) Rietumu Bank-Riga                          
120 Julien Fouchard (Fra) Cotes d'Amor Cyclism                       
121 Tyler Butterfield (Ber) Vende U                                  
122 Koji Fukushima (Jpn) Meitan Hompo - GDR                          
123 Arturs Ansons (Lat) Rietumu Bank-Riga                            
124 David Chopin (Fra) Super Sport 35 ACNC                           
125 Antoine Dalibard (Fra) Bretagne Armor Lux                        
DNF Julien Fourrier (Fra) S.C.O. Dijon                               
DNF Ludovic Poilvet (Fra) Brest Iroise Cyclisme                      
DNF Arnaud Madec (Fra) Cotes d'Amor Cyclism                          
 
General classification after stage 4
 
1 Julien Antomarchi (Fra) V.C La Pomme Marseille             14.47.23
2 Nico Keinath (Ger) Team Ista                                   0.12
3 Bram Schmitz (Ned) Van Vliet EBH Elshof                            
4 Piotr Zielinski (Pol) Bretagne Armor Lux                       0.16
5 Steven Tronet (Fra) Roubaix Lille Metropole                    0.17
6 Takashi Miyazawa (Jpn) Meitan Hompo - GDR                          
7 Yukiya Arashiro (Jpn) Meitan Hompo - GDR                           
8 Johnny Hoogerland (Ned) Van Vliet EBH Elshof                   0.19
9 David Tanner (Aus) V.C La Pomme Marseille                      0.20
10 Bastien Delrot (Fra) Roubaix Lille Metropole                      
11 Franck Charrier (Fra) C.C. Nogent Sur Oise                    0.21
12 Duret Sébastien (Fra) Bretagne Armor Lux                          
13 Thomas Berkhout (Ned) Rabobank Continental                        
14 Gert Dockx (Bel) Wielergroep Beveren 2000 - Quick Step        0.23
15 Yoann Lucas (Fra) Team U Nantes Atlantique                        
16 Marcel Beima (Ned) Rabobank Continental                           
17 Justas Volungevicius (Ltu) Rietumu Bank-Riga                      
18 Yann Guyot (Fra) Cotes d'Amor Cyclism                             
19 Jean-Marc Bideau (Fra) Roubaix Lille Metropole                    
20 Olivier Grammaire (Fra) S.C.O. Dijon                              
21 Christoph Meschenmoser (Ger) Team Ista                            
22 Miyataka Shimizu (Jpn) Meitan Hompo - GDR                         
23 Sven Vandousselac (Bel) Davitamon Lotto Jong Vlaanderen           
24 Laurent Le Gac (Fra) Brest Iroise Cyclisme                        
25 Logan Hutchings (NZl) Wielergroep Beveren 2000 - Quick Step       
26 Mathieu Halleguen (Fra) Cotes d'Amor Cyclism                      
27 Benoît Poilvet (Fra) Bretagne Armor Lux                           
28 Florian Guillou (Fra) Roubaix Lille Metropole                     
29 Jean-Philippe Maheau (Fra) Team U Nantes Atlantique               
30 Stian Sommerseth (Nor) Joker Bianchi                              
31 Fabrice Jandesboz (Fra) Vende U                               1.00
32 Erik Jan Kooiman (Ned) Van Hemert Groep - de Jonge Renner     8.45
33 Tim Klotz (Ger) Team Ista                                    20.48
34 Coen Vermeltfoort (Ned) Rabobank Continental                 25.55
35 Lars Boom (Ned) Rabobank Continental                         26.07
36 Jocelyn Bar (Fra) C.C. Nogent Sur Oise                       26.11
37 Matthias Brandle (Aut) Team Ista                             26.17
38 Alexander Kristoff (Nor) Joker Bianchi                       26.18
39 Giorgio Brambilla (Ita) De Naedi - Bergamasca                26.19
40 Antoine Dalibard (Fra) Bretagne Armor Lux                         
41 Cherruault Kévin (Fra) Vende U                               26.20
42 Gatis Smukulis (Lat) V.C La Pomme Marseille                  26.21
43 Maurice Vrijmoed (Ned) Van Vliet EBH Elshof                  26.22
44 Sierk Jan De Haan (Ned) Van Hemert Groep - de Jonge Renner        
45 Stéphane Bonsergent (Fra) Bretagne Armor Lux                 26.23
46 Tristan Le Yondre (Fra) Super Sport 35 ACNC                       
47 Julien Gay (Fra) Vende U                                          
48 Renaud Pioline (Fra) V.C La Pomme Marseille                  26.24
49 Maarten De Jonge (Ned) Wielergroep Beveren 2000 - Quick Step      
50 Aurélien Thilloy (Fra) C.C. Nogent Sur Oise                       
51 Stijn Nierynck (Bel) Wielergroep Beveren 2000 - Quick Step        
52 Romain Hardy (Fra) Cotes d'Amor Cyclism                           
53 Joachim Bohler (Nor) Joker Bianchi                                
54 Cyrille Noel (Fra) Super Sport 35 ACNC                            
55 Quincy Vens (Bel) Davitamon Lotto Jong Vlaanderen                 
56 Kenny Terweduwe (Bel) Davitamon Lotto Jong Vlaanderen             
57 Bert De Backer (Bel) Wielergroep Beveren 2000 - Quick Step        
58 Grégory Joseph (Bel) Davitamon Lotto Jong Vlaanderen              
59 Aivaras Baranauskas (Ltu) Roubaix Lille Metropole                 
60 David Han (Fra) S.C.O. Dijon                                      
61 Ben Van Der Kooi (Ned) Van Hemert Groep - de Jonge Renner         
62 Jos Van Emden (Ned) Rabobank Continental                          
63 Evaldas Siskevicius (Ltu) V.C La Pomme Marseille                  
64 Kazuya Okazaki (Jpn) Meitan Hompo - GDR                           
65 Markku Ainsalu (Est) Rietumu Bank-Riga                            
66 Dennis Vanendert (Bel) Wielergroep Beveren 2000 - Quick Step      
67 David Le Lay (Fra) Bretagne Armor Lux                             
68 Kristian House (GBr) Rapha-Condor - Recycling.co.uk               
69 Rolf Hofbauer (Ger) Team Ista                                     
70 Enrico Peruffo (Ita) De Naedi - Bergamasca                        
71 Stéphane Rossetto (Fra) C.C. Nogent Sur Oise                      
72 Raphaël Lesage (Fra) C.C. Nogent Sur Oise                         
73 Gaël Malacarne (Fra) Cotes d'Amor Cyclism                         
74 Mart Ojavee (Est) Rietumu Bank-Riga                               
75 Loïc Muhlemann (Swi) S.C.O. Dijon                                 
76 Timothée Lefrancois (Fra) Team U Nantes Atlantique                
77 Jonathan Balbuena (Fra) V.C La Pomme Marseille                    
78 Frederik Wilman (Nor) Joker Bianchi                               
79 Jonathan Manach (Fra) Brest Iroise Cyclisme                       
80 Thijs Van Amerongen (Ned) Van Vliet EBH Elshof                    
81 Robert Partridge (GBr) Rapha-Condor - Recycling.co.uk             
82 Sergey Firsanov (Rus) Rietumu Bank-Riga                           
83 Ludovic Capelle (Bel) Rietumu Bank-Riga                           
84 Mathieu Jeannes (Fra) Brest Iroise Cyclisme                       
85 Anthony Vignes (Fra) Team U Nantes Atlantique                     
86 Nikolai Schwarz (Ger) Team Ista                                   
87 Denis Robin (Fra) Roubaix Lille Metropole                         
88 Michael Morkov (Den) Denmark National Team                        
89 Yannick Ricordel (Fra) Team U Nantes Atlantique                   
90 Nicolas Baldo (Fra) Super Sport 35 ACNC                           
91 Landström Johan (Swe) Van Hemert Groep - de Jonge Renner          
92 Lars Vierbergen (Ned) Van Vliet EBH Elshof                        
93 Vincent Rouxel (Fra) Brest Iroise Cyclisme                   26.42
94 Jetse Bol (Ned) Rabobank Continental                         26.57
95 Baugnies Jérôme (Bel) Davitamon Lotto Jong Vlaanderen        27.03
96 Gaetan Guernion (Fra) Brest Iroise Cyclisme                  27.08
97 Adam Bonser (GBr) Rapha-Condor - Recycling.co.uk             27.48
98 Jens Erik Madsen (Den) Denmark National Team                      
99 Olivier Nari (Fra) S.C.O. Dijon                                   
100 Yasuharu Nakajima (Jpn) Meitan Hompo - GDR                  29.36
101 Ryan Bonser (GBr) Rapha-Condor - Recycling.co.uk            30.08
102 Tony Hurel (Fra) Vende U                                    30.34
103 Tom Diggle (GBr) Rapha-Condor - Recycling.co.uk             31.52
104 Gert Joeaar (Est) Vende U                                   31.58
105 Niek Basten (Ned) Van Hemert Groep - de Jonge Renner        33.12
106 Koji Fukushima (Jpn) Meitan Hompo - GDR                          
107 Michele Gaia (Ita) De Naedi - Bergamasca                    33.22
108 Julien Fouchard (Fra) Cotes d'Amor Cyclism                  33.35
109 Fabio Donesana (Ita) De Naedi - Bergamasca                  33.59
110 Ronan Van Zandbeek (Ned) Van Vliet EBH Elshof               35.33
111 Alex Rasmussen (Den) Denmark National Team                  36.19
112 David Chopin (Fra) Super Sport 35 ACNC                      36.58
113 Casper Jorgensen (Den) Denmark National Team                41.05
114 Benoît Geoffroy (Fra) S.C.O. Dijon                          50.37
115 Julien Gonnet (Fra) Super Sport 35 ACNC                     50.39
116 Arturs Ansons (Lat) Rietumu Bank-Riga                            
117 Kevin Lalouette (Fra) C.C. Nogent Sur Oise                       
118 Florian Allaizeau (Fra) Team U Nantes Atlantique            52.03
119 Bjorn Hoeben (Ned) Van Hemert Groep - de Jonge Renner            
120 Tony Huet (Fra) Super Sport 35 ACNC                              
121 Chris Newton (GBr) Rapha-Condor - Recycling.co.uk                
122 Tyler Butterfield (Ber) Vende U                             54.03
123 Steven De Neef (Bel) Davitamon Lotto Jong Vlaanderen        54.23
124 Daniel Kreutzfeldt (Den) Denmark National Team            1.11.54
125 Michael Faerk Christensen (Den) Denmark National Team            
 
Points classification
 
1 Coen Vermeltfoort (Ned) Rabobank Continental                     75 pts
2 Alexander Kristoff (Nor) Joker Bianchi                           41
3 Bram Schmitz (Ned) Van Vliet EBH Elshof                          38
4 Giorgio Brambilla (Ita) De Naedi - Bergamasca                    32
5 Nico Keinath (Ger) Team Ista                                     31
6 Jocelyn Bar (Fra) C.C. Nogent Sur Oise                           30
7 Steven Tronet (Fra) Roubaix Lille Metropole                      29
8 Takashi Miyazawa (Jpn) Meitan Hompo - GDR                        28
9 David Tanner (Aus) V.C La Pomme Marseille                        27
10 Lars Boom (Ned) Rabobank Continental                            26
11 Stéphane Bonsergent (Fra) Bretagne Armor Lux                    26
12 Julien Antomarchi (Fra) V.C La Pomme Marseille                  25
13 Piotr Zielinski (Pol) Bretagne Armor Lux                        23
14 Stijn Nierynck (Bel) Wielergroep Beveren 2000 - Quick Step      23
15 Alex Rasmussen (Den) Denmark National Team                      20
16 Johnny Hoogerland (Ned) Van Vliet EBH Elshof                    17
17 Franck Charrier (Fra) C.C. Nogent Sur Oise                      17
18 Antoine Dalibard (Fra) Bretagne Armor Lux                       14
19 Aurélien Thilloy (Fra) C.C. Nogent Sur Oise                     14
20 Matthias Brandle (Aut) Team Ista                                13
21 Sven Vandousselac (Bel) Davitamon Lotto Jong Vlaanderen         13
22 Yukiya Arashiro (Jpn) Meitan Hompo - GDR                        11
23 Maarten De Jonge (Ned) Wielergroep Beveren 2000 - Quick Step    10
24 Gert Dockx (Bel) Wielergroep Beveren 2000 - Quick Step           8
25 Cyrille Noel (Fra) Super Sport 35 ACNC                           8
26 Cherruault Kévin (Fra) Vende U                                   7
27 Raphaël Lesage (Fra) C.C. Nogent Sur Oise                        7
28 Benoît Geoffroy (Fra) S.C.O. Dijon                               7
29 Renaud Pioline (Fra) V.C La Pomme Marseille                      6
30 Bastien Delrot (Fra) Roubaix Lille Metropole                     5
31 Gatis Smukulis (Lat) V.C La Pomme Marseille                      5
32 Julien Fouchard (Fra) Cotes d'Amor Cyclism                       5
33 Yann Guyot (Fra) Cotes d'Amor Cyclism                            5
34 Justas Volungevicius (Ltu) Rietumu Bank-Riga                     4
35 Joachim Bohler (Nor) Joker Bianchi                               4
36 Julien Gonnet (Fra) Super Sport 35 ACNC                          4
37 Duret Sébastien (Fra) Bretagne Armor Lux                         3
38 Thomas Berkhout (Ned) Rabobank Continental                       3
39 Olivier Grammaire (Fra) S.C.O. Dijon                             3
40 Maurice Vrijmoed (Ned) Van Vliet EBH Elshof                      3
41 Sierk Jan De Haan (Ned) Van Hemert Groep - de Jonge Renner       3
42 Kenny Terweduwe (Bel) Davitamon Lotto Jong Vlaanderen            3
43 Dennis Vanendert (Bel) Wielergroep Beveren 2000 - Quick Step     3
44 Fabio Donesana (Ita) De Naedi - Bergamasca                       3
45 Christoph Meschenmoser (Ger) Team Ista                           2
46 Mathieu Halleguen (Fra) Cotes d'Amor Cyclism                     2
47 Fabrice Jandesboz (Fra) Vende U                                  2
48 Tim Klotz (Ger) Team Ista                                        2
49 Tristan Le Yondre (Fra) Super Sport 35 ACNC                      2
50 Julien Gay (Fra) Vende U                                         2
51 David Han (Fra) S.C.O. Dijon                                     2
52 Rolf Hofbauer (Ger) Team Ista                                    2
53 Marcel Beima (Ned) Rabobank Continental                          1
54 Jos Van Emden (Ned) Rabobank Continental                         1
 
Mountains classification
 
1 Johnny Hoogerland (Ned) Van Vliet EBH Elshof                     71 pts
2 Julien Fouchard (Fra) Cotes d'Amor Cyclism                       44
3 Christoph Meschenmoser (Ger) Team Ista                           35
4 Maurice Vrijmoed (Ned) Van Vliet EBH Elshof                      34
5 Duret Sébastien (Fra) Bretagne Armor Lux                         19
6 Tim Klotz (Ger) Team Ista                                        19
7 David Le Lay (Fra) Bretagne Armor Lux                            14
8 Fabrice Jandesboz (Fra) Vende U                                  12
9 Yukiya Arashiro (Jpn) Meitan Hompo - GDR                         12
10 David Tanner (Aus) V.C La Pomme Marseille                        9
11 Justas Volungevicius (Ltu) Rietumu Bank-Riga                     8
12 Sierk Jan De Haan (Ned) Van Hemert Groep - de Jonge Renner       8
13 Julien Antomarchi (Fra) V.C La Pomme Marseille                   6
14 Benoît Poilvet (Fra) Bretagne Armor Lux                          6
15 Bram Schmitz (Ned) Van Vliet EBH Elshof                          6
16 Gert Dockx (Bel) Wielergroep Beveren 2000 - Quick Step           4
17 Jean-Marc Bideau (Fra) Roubaix Lille Metropole                   4
18 Frederik Wilman (Nor) Joker Bianchi                              4
19 Coen Vermeltfoort (Ned) Rabobank Continental                     3
20 Yoann Lucas (Fra) Team U Nantes Atlantique                       2
21 Miyataka Shimizu (Jpn) Meitan Hompo - GDR                        2
22 Logan Hutchings (NZl) Wielergroep Beveren 2000 - Quick Step      2
23 Jocelyn Bar (Fra) C.C. Nogent Sur Oise                           2
24 Ronan Van Zandbeek (Ned) Van Vliet EBH Elshof                    2
25 Nico Keinath (Ger) Team Ista                                     1
26 Marcel Beima (Ned) Rabobank Continental                          1
27 Yann Guyot (Fra) Cotes d'Amor Cyclism                            1
28 Lars Boom (Ned) Rabobank Continental                             1
29 Romain Hardy (Fra) Cotes d'Amor Cyclism                          1
30 Niek Basten (Ned) Van Hemert Groep - de Jonge Renner             1
 
Sprints classification
 
1 Coen Vermeltfoort (Ned) Rabobank Continental                     15 pts
2 Matthias Brandle (Aut) Team Ista                                 13
3 Yukiya Arashiro (Jpn) Meitan Hompo - GDR                         11
4 Bram Schmitz (Ned) Van Vliet EBH Elshof                           9
5 Cherruault Kévin (Fra) Vende U                                    7
6 Johnny Hoogerland (Ned) Van Vliet EBH Elshof                      7
7 Piotr Zielinski (Pol) Bretagne Armor Lux                          7
8 Bastien Delrot (Fra) Roubaix Lille Metropole                      5
9 David Tanner (Aus) V.C La Pomme Marseille                         5
10 Julien Fouchard (Fra) Cotes d'Amor Cyclism                       5
11 Gatis Smukulis (Lat) V.C La Pomme Marseille                      5
12 Franck Charrier (Fra) C.C. Nogent Sur Oise                       3
13 Thomas Berkhout (Ned) Rabobank Continental                       3
14 Duret Sébastien (Fra) Bretagne Armor Lux                         3
15 Maurice Vrijmoed (Ned) Van Vliet EBH Elshof                      3
16 Sierk Jan De Haan (Ned) Van Hemert Groep - de Jonge Renner       3
17 Fabio Donesana (Ita) De Naedi - Bergamasca                       3
18 Benoît Geoffroy (Fra) S.C.O. Dijon                               3
19 Takashi Miyazawa (Jpn) Meitan Hompo - GDR                        3
20 Fabrice Jandesboz (Fra) Vende U                                  2
21 Julien Gay (Fra) Vende U                                         2
22 Tim Klotz (Ger) Team Ista                                        2
23 Tristan Le Yondre (Fra) Super Sport 35 ACNC                      2
24 Stéphane Bonsergent (Fra) Bretagne Armor Lux                     2
25 Giorgio Brambilla (Ita) De Naedi - Bergamasca                    2
26 Christoph Meschenmoser (Ger) Team Ista                           1
27 Nico Keinath (Ger) Team Ista                                     1
28 Lars Boom (Ned) Rabobank Continental                             1
29 Jos Van Emden (Ned) Rabobank Continental                         1
30 Mathieu Halleguen (Fra) Cotes d'Amor Cyclism                     1
31 Marcel Beima (Ned) Rabobank Continental                          1
32 Alex Rasmussen (Den) Denmark National Team                       1
 
Young rider classification
 
1 Nico Keinath (Ger) Team Ista                               14.47.35
2 Steven Tronet (Fra) Roubaix Lille Metropole                    0.05
3 Bastien Delrot (Fra) Roubaix Lille Metropole                   0.08
4 Gert Dockx (Bel) Wielergroep Beveren 2000 - Quick Step         0.11
5 Yann Guyot (Fra) Cotes d'Amor Cyclism                              
6 Sven Vandousselac (Bel) Davitamon Lotto Jong Vlaanderen            
7 Laurent Le Gac (Fra) Brest Iroise Cyclisme                         
8 Mathieu Halleguen (Fra) Cotes d'Amor Cyclism                       
9 Jean-Philippe Maheau (Fra) Team U Nantes Atlantique                
10 Erik Jan Kooiman (Ned) Van Hemert Groep - de Jonge Renner     8.33
11 Tim Klotz (Ger) Team Ista                                    20.36
12 Coen Vermeltfoort (Ned) Rabobank Continental                 25.43
13 Jocelyn Bar (Fra) C.C. Nogent Sur Oise                       25.59
14 Matthias Brandle (Aut) Team Ista                             26.05
15 Alexander Kristoff (Nor) Joker Bianchi                       26.06
16 Giorgio Brambilla (Ita) De Naedi - Bergamasca                26.07
17 Cherruault Kévin (Fra) Vende U                               26.08
18 Gatis Smukulis (Lat) V.C La Pomme Marseille                  26.09
19 Maurice Vrijmoed (Ned) Van Vliet EBH Elshof                  26.10
20 Tristan Le Yondre (Fra) Super Sport 35 ACNC                  26.11
21 Julien Gay (Fra) Vende U                                          
22 Aurélien Thilloy (Fra) C.C. Nogent Sur Oise                  26.12
23 Romain Hardy (Fra) Cotes d'Amor Cyclism                           
24 Quincy Vens (Bel) Davitamon Lotto Jong Vlaanderen                 
25 Kenny Terweduwe (Bel) Davitamon Lotto Jong Vlaanderen             
26 Grégory Joseph (Bel) Davitamon Lotto Jong Vlaanderen              
27 Ben Van Der Kooi (Ned) Van Hemert Groep - de Jonge Renner         
28 Evaldas Siskevicius (Ltu) V.C La Pomme Marseille                  
29 Dennis Vanendert (Bel) Wielergroep Beveren 2000 - Quick Step      
30 Rolf Hofbauer (Ger) Team Ista                                     
31 Raphaël Lesage (Fra) C.C. Nogent Sur Oise                         
32 Gaël Malacarne (Fra) Cotes d'Amor Cyclism                         
33 Jonathan Balbuena (Fra) V.C La Pomme Marseille                    
34 Jonathan Manach (Fra) Brest Iroise Cyclisme                       
35 Thijs Van Amerongen (Ned) Van Vliet EBH Elshof                    
36 Mathieu Jeannes (Fra) Brest Iroise Cyclisme                       
37 Anthony Vignes (Fra) Team U Nantes Atlantique                     
38 Nikolai Schwarz (Ger) Team Ista                                   
39 Yannick Ricordel (Fra) Team U Nantes Atlantique                   
40 Lars Vierbergen (Ned) Van Vliet EBH Elshof                        
41 Vincent Rouxel (Fra) Brest Iroise Cyclisme                   26.30
42 Jetse Bol (Ned) Rabobank Continental                         26.45
43 Baugnies Jérôme (Bel) Davitamon Lotto Jong Vlaanderen        26.51
44 Adam Bonser (GBr) Rapha-Condor - Recycling.co.uk             27.36
45 Tony Hurel (Fra) Vende U                                     30.22
46 Tom Diggle (GBr) Rapha-Condor - Recycling.co.uk              31.40
47 Gert Joeaar (Est) Vende U                                    31.46
48 Julien Fouchard (Fra) Cotes d'Amor Cyclism                   33.23
49 Fabio Donesana (Ita) De Naedi - Bergamasca                   33.47
50 Ronan Van Zandbeek (Ned) Van Vliet EBH Elshof                35.21
51 David Chopin (Fra) Super Sport 35 ACNC                       36.46
52 Florian Allaizeau (Fra) Team U Nantes Atlantique             51.51
53 Tony Huet (Fra) Super Sport 35 ACNC                               
54 Daniel Kreutzfeldt (Den) Denmark National Team             1.11.42
55 Michael Faerk Christensen (Den) Denmark National Team