Univest GP Criterium - NE
Doylestown, Pennsylvania, USA, September 9, 2007
2006 Results Results Past winners Univest GP
Gavazzi wins the stage; Roth wins the omnium
By Kirsten Robbins in Doylestown, Pennsylvania
Mattia Gavazzi (Kio Ene-Tonazzo-DMT)
Photo ©: Ellen Chandler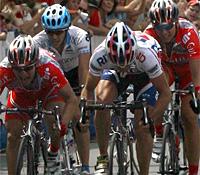 The Univest Grand Prix continued through the streets of Doylestown in a high-speed criterium that showcased the scenic town along with over one hundred UCI Professional Continental, Continental and invited domestic amateur riders. The fans were treated to an elbow-to-elbow on-street battle between top-level international sprinters down the 400 metre finishing straight.
Mattia Gavazzi (Doylestown Hospital-Italy) stomped on his pedals just hard enough to take a marginal win over Argentina's Alejandro Borrajo (Rite Aid) and Germany's Stefan Loffler (Cannon Capital-Germany). "It was truly a stupendous race," said Gavazzi through event director and Italian translator John Eustice.
"We were invited here and wanted to honour that invitation by winning," he added. "This is an incredible race and my team worked so hard for me. My team set up a train and brought me to the last corner. I didn't have great legs but I had to do it for my teammates and for my director Alberto Elli, a man who held the yellow jersey for four days in the Tour de France once."
Though Gavazzi was just one of many international riders invited to the UCI event the Italian was no stranger to the peloton at large nor to his toughest sprint contender, Alejandro Borrajo. The duo were team-mates while racing for the Italy-based team Panaria and Borrajo chose to take the Italian's wheel based on knowledge of his sprint talent. "The last kilometre was easy, what was more difficult were the laps before where there was a crash in the middle of the group," explained Borrajo. "But I had luck and regained a good position through the last corner. Only one rider passed me in the finish line - Gavazzi."
The men competed on a challenging two and half kilometre, eight corner circuit topped with a gradual up hill run to the finish line. The race was aggressive from the start with many teams vying for a break away to stick. Former race winner Mike Friedman (Slipstream-Chipotle) set off multiple back-to-back break away attempts, but with 10 laps to go it looked as though nothing would stick and he settle back in the field to prepare for a sprint finish. "We only had three guys here so our idea was to be in every move," said Friedman.
"After a while we wanted to be a little more aggressive and force a break," he continued. "The pace was high and in the end it came down to a field sprint but with three laps to go we were all set up, but I was involved in a crash with a couple of other guys that took us out for the count. Our team races against European riders all year and they are always strong. But the American teams are just as strong and really shine in races like this weekend."
None of the early breaks stuck for longer than a lap until both Stefan Parinussa (Canon Capital) and Jesse Anthony (Kodak-Sierra Nevada), deemed most aggressive rider, took separate flyers with eight laps remaining, forcing Kelly Benefits-Medifast's riders to chase in pursuit of the overall onmium victory for its team-mate Ryan Roth.
An obvious absence from the podium placings was the event's sprint leader Dominique Rollin (Kodak-Sierra Nevada). "The race was perfect for me," noted Rollin. "It was a nice circuit and made the race interesting and hard. There is a great finishing stretch for the crowd, a great circuit overall. I knew I had good legs after testing them in the intermediate sprint but I lost a few spaces in the crash at the end and I had to make a big effort to work my way back up. Luckily I was still able to crack the top five."
The overall Univest Grand Prix title was presented to Ryan Roth (Kelly Benefits-Medifast) in the form of a yellow jersey earned after accumulating the points from his second place in the previous day's tough UCI road race and his fifth place in the criterium. "There weren't a lot of guys that finished yesterday and some guys didn't race today," said Roth. "We were hoping for an aggressive race to split it up but in the ended it didn't work out that way. We wanted to try to take control of the race in the end. Even though I am not usually the designated sprinter we decided to try to get the race leaders jersey."
Photography
For a thumbnail gallery of these images, click here
Images by Ellen Chandler/Sparkle Media
Mattia Gavazzi (Kio Ene-Tonazzo-DMT) (l) sprints to victory ahead of Alejandro Borrajo (Rite Aid), Stefan Loffler (Team Sparkasse) and Dominique Rollin (Kodak Gallery-Sierra Nevada).
Images by Marco Quezada/www.velocitynation.com
Results

1 Mattia Gavazzi (Ita) Kio Ene-Tonazzo-Dmt                  1.50.49
2 Alejandro Borrajo (Arg) Rite Aid Pro Cycling                     
3 Stefan Loffler (Ger) Team Sparkasse                              
4 Dominique Rollin (Can) Kodak Gallery-Sierra Nevada               
5 Ryan Roth (Can) Kelly Benefit Strategies/Medifast                
6 Christian Lademann (Ger) Team Sparkasse                          
7 Anibel Borrajo (Arg) GS Mengoni                                  
8 Davide Frattini (Ita) Colavita/Sutter Home                   0.02
9 Juan Pablo Magallanes (Mex) Tecos De La Univ. Autonoma De        
10 Eric Schildge (USA) CRCA/Sakonnet Technology                    
11 Parra John Fredy (Col) Tecos De La Univ. Autonoma De        0.03
12 Maurizio Biondo (Ita) Kio Ene-Tonazzo-Dmt                       
13 Hector Hugo Rangel (Mex) Tecos De La Univ. Autonoma De          
14 Josh Dillon (USA) Fiordifrutta                                  
15 Yosvany Falcon (Cub) AEG-Toshiba-Jetnetwork                 0.04
16 Lucas Euser (USA) Team Slipstream-Chipotle                      
17 Nick Friesen (Can) GS Mengoni                                   
18 Ryan Dewald (USA) Rite Aid Pro Cycling                      0.05
19 Matt White (USA) Fiordifrutta                                   
20 Peter Morse (Can) Jet Fuel Coffee Can                           
21 Daniel Zmolik (USA) CRCA/Empire                                 
22 Stephan Kincaid (USA) Rite Aid Pro Cycling                      
23 Timo Honstein (Ger) Team Sparkasse                          0.06
24 Robbie Giannini (USA) CRCA/Sakonnet Technology                  
25 Esparza Fausto (Mex) Tecos De La Univ. Autonoma De              
26 Rida Cador (Hun) P-Nivo Betonexpressz 2000 Kft.S            0.07
27 Gavi Epstein (Can) CRCA/Sakonnet Technology                 0.08
28 Nick Frey (USA) Pennsylvania Lightning                      0.09
29 Scottie Weiss (USA) AEG-Toshiba-Jetnetwork                  0.10
30 Colin Sandberg (USA) Meredith Group-Gpoa-Cannondale             
31 Charles Marzot (USA) Fiordifrutta                           0.12
32 Bernardo Colex (Mex) Tecos De La Univ. Autonoma De          0.14
33 Peter Horn (USA) Pennsylvania Lightning                     0.15
34 Zarate Jesus (Mex) Tecos De La Univ. Autonoma De            0.16
35 Gregorio Ladino (Col) Tecos De La Univ. Autonoma De         0.22
36 Devis Miorin (Ita) Kio Ene-Tonazzo-Dmt                      0.24
37 John Leohner (USA) CRCA/Empire                                  
38 Dan Timmerman (USA) Kodak Gallery-Sierra Nevada             0.34
39 Hayden Brooks (Aus) Fiordifrutta                                
40 Mattia Parravicini (Ita) Kio Ene-Tonazzo-Dmt                0.36
41 Daniel Bowman (USA) Kelly Benefit Strategies/Medifast       0.39
42 Stefan Parinussa (Ger) Team Sparkasse                       0.41
43 Josh Lipka (USA) Fiordifrutta                               0.48
44 Francisco Matamoros (Mex) Tecos De La Univ. Autonoma De     0.52
45 Jonny Sundt (USA) Kelly Benefit Strategies/Medifast         1.02
46 Bruno Langlois (Can) Equipe Vallee De L'aluminium De            
47 Mike Friedman (USA) Team Slipstream-Chipotle                1.16
48 Clayton Barrows (USA) Rite Aid Pro Cycling                      
49 Alex Hagman (USA) AEG-Toshiba-Jetnetwork                    1.28
50 Mike Stubna (USA) Meredith Group-Gpoa-Cannondale            1.36
51 Cory Burns (USA) Fiordifrutta                               1.45
52 Mike Margarite (USA) CRCA/Empire                            1.49
53 Istvan Cziraki (Hun) P-Nivo Betonexpressz 2000 Kft.S        1.59
54 Dominique Perras (Can) Kelly Benefit Strategies/Medifast    2.00
55 Reid Mumford (USA) Kelly Benefit Strategies/Medifast        2.28
56 Justin Spinelli (USA) Kelly Benefit Strategies/Medifast         
57 Zack Morris (Can) Jet Fuel Coffee Can                       2.34
58 Kevin Hazzard (Can) Jet Fuel Coffee Can                     2.35

Past winners

2006 Christian Lademann (Ger) Sparkasse-Etta Maes Antiques
2005 Mike Friedman (USA) Northwestern Mortgage/FUJI
2004 Chad Hartley (USA) Jittery Joe's