3-Länder-Tour der Sparkassen Versicherung - 2.1
Germany, September 19-23, 2007
Main Page Results Overall standings Next Stage
Stage 1 - September 19: Gera - Gotha, 187.3km
Ciolek celebrates with a win
By Susan Westemeyer
The birthday boy
Photo ©: Florian Schaaf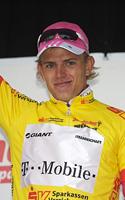 T-Mobile's Gerald Ciolek celebrated his 21st birthday in a big way today: winning the first stage of the 3-Länder Tour and taking the leader's jersey. The young gun sprinter edged out fellow Germans Marcel Sieberg and Sebastian Siedler, both of Team Milram. Sieberg came up fast at the end, and it took an examination of the finish-line photo to determine the winner.
"It's wonderful that it worked out today," the birthday boy said on the team's website, t-mobile-team.com. "When a race ends in a sprint, as a fast man I have to take advantage of it." It was his eighth win of the season.
The stage was dominated by a long breakaway by two French riders; Samuel Plouhinec (Agritubel) and Clement Lhottellerie (Skil-Shimano) broke away after only nine kilometres. The pair built a lead of up to eight minutes on the rolling parcours, before being hauled in only a few kilometres before the finish line.
Gerolsteiner had a scare today when domestique Volker Ordowski crashed and landed head first, shattering his helmet. "He seems to be fine," said directeur sportif Christian Henn. "But we will have to carefully examine him again."
Thursday's stage runs 140 km, or five times around a 28 km course around Lollar, including two Cat. 3 climbs per lap. Assuming the birthday celebrations don't get too out of hand, Ciolek will look to stay in the lead tomorrow, saying "I will do all I can, to defend my yellow jersey in the second stage. The profile is difficult, but the stage win today gave me extra motivation."
Photography
For a thumbnail gallery of these images, click here
Images by Florian Schaaf/www.cyclingpictures.de
Results
1 Gerald Ciolek (Ger) T-Mobile Team                   4.54.35 (39.92 km/h)
2 Marcel Sieberg (Ger) Team Milram                           
3 Sebastian Siedler (Ger) Team Milram                        
4 Luke Roberts (Aus) Team CSC                                
5 Marcus Burghardt (Ger) T-Mobile Team                       
6 Dirk Müller (Ger) Team Sparkasse                           
7 Jens Voigt (Ger) Team CSC                                  
8 Juan Antonio Flecha Giannoni (Spa) Rabobank                
9 Olaf Pollack (Ger) Team Wiesenhof Felt                     
10 Konstantin Schubert (Ger) Team Regiostrom - Senges        
11 Thomas Dekker (Ned) Rabobank                              
12 Daniel Musiol (Ger) Team Wiesenhof Felt                   
13 Frank Schleck (Lux) Team CSC                              
14 Simon Clarke (Aus) South Australia.com - AIS              
15 Maarten Den Bakker (Ned) Skil - Shimano                   
16 Nico Graf (Ger) Thüringer Energie Team                    
17 Sven Krauss (Ger) Gerolsteiner                            
18 Paul Martens (Ger) Skil - Shimano                         
19 Christian Knees (Ger) Team Milram                         
20 Harald Totschnig (Aut) Elk Haus - Simplon                 
21 Gene Bates (Aus) South Australia.com - AIS                
22 Richard Faltus (Cze) Team Sparkasse                       
23 Björn Schröder (Ger) Team Milram                          
24 Holger Sievers (Ger) Team 3C - Gruppe Lamonta             
25 Robert Retschke (Ger) Team Wiesenhof Felt                 
26 Christoph Meschenmoser (Ger) Skil - Shimano               
27 Michael Boogerd (Ned) Rabobank                            
28 Bobby Julich (USA) Team CSC                               
29 Björn Glasner (Ger) Team Regiostrom - Senges              
30 Ronny Scholz (Ger) Gerolsteiner                           
31 Kurt-Asle Arvesen (Nor) Team CSC                          
32 Malaya Van Ruitenbeek (Ned) Team Regiostrom - Senges      
33 Pieter Weening (Ned) Rabobank                         0.06
34 Samuel Plouhinec (Fra) Agritubel                      0.10
35 Clément Lhotellerie (Fra) Skil - Shimano              0.18
36 Dominik Roels (Ger) Team Akud-Rose Versand                
37 Marco Pinotti (Ita) T-Mobile Team                     1.00
38 Gerben Löwik (Ned) Rabobank                               
39 Maint Berkenbosch (Ned) Team Regiostrom - Senges          
40 Erik Hoffmann (Nam) Team 3C - Gruppe Lamonta              
41 Eduardo Gonzalo Ramirez (Spa) Agritubel                   
42 Aivaras Baranauskas (Ltu) Agritubel                       
43 Dennis Pohl (Ger) Heinz von Heiden Focus                  
44 Albert Timmer (Ned) Skil - Shimano                    2.31
45 Daniel Westmattelmann (Ger) Team Akud-Rose Versand        
46 Marcel Barth (Ger) Thüringer Energie Team                 
47 Enrico Poitschke (Ger) Team Milram                        
48 Ralf Grabsch (Ger) Team Milram                            
49 Patrick Gretsch (Ger) Thüringer Energie Team              
50 Stefan Ganser (Ger) Team Regiostrom - Senges              
51 Sergej Fuchs (Ger) Team 3C - Gruppe Lamonta               
52 Patric Röstel (Ger) Team Akud-Rose Versand                
53 Björn Papstein (Ger) Team 3C - Gruppe Lamonta             
54 Clemens Frankhauser (Aut) Elk Haus - Simplon              
55 Mitja Schlüter (Ger) Team Akud-Rose Versand               
56 Linus Gerdemann (Ger) T-Mobile Team                       
57 Thierry Dupont (Fra) Skil - Shimano                       
58 Christian Pfannberger (Aut) Elk Haus - Simplon            
59 Bernhard Kohl (Aut) Gerolsteiner                          
60 Andreas Schillinger (Ger) Team Sparkasse                  
61 Steffen Wesemann (Swi) Team Wiesenhof Felt                
62 Oliver Giesecke (Ger) Thüringer Energie Team              
63 Wesley Sulzberger (Aus) South Australia.com - AIS         
64 Johnny Walker (Aus) South Australia.com - AIS             
65 Jan Valach (Svk) Elk Haus - Simplon                       
66 Martin Velits (Svk) Team Wiesenhof Felt                   
67 Richard Geng (Ger) Heinz von Heiden Focus             4.48
68 Marc Weisshaupt (Ger) Elk Haus - Simplon                  
69 Timo Honstein (Ger) Team Sparkasse                        
70 Finn Heitmann (Ger) Heinz von Heiden Focus                
71 Marcel Beima (Ned) T-Mobile Team                          
72 Jonas Owczarek (Ger) Team Sparkasse                       
73 Manuel Calvente Gorbas (Spa) Agritubel                    
74 José Albert Martinez Trinidad (Spa) Agritubel             
75 Peter Velits (Svk) Team Wiesenhof Felt                    
76 Stefan Rucker (Aut) Elk Haus - Simplon                    
77 Lars Wackernagel (Ger) Team Sparkasse                     
78 Thorwald Veneberg (Ned) Rabobank                          
79 Lars Ytting Bak (Den) Team CSC                            
80 Oscar Gatto (Ita) Gerolsteiner                            
81 Frank Scherzinger (Ger) Team 3C - Gruppe Lamonta          
82 Florian Frohn (Ger) Thüringer Energie Team                
83 Elnathan Heizmann (Ger) Team 3C - Gruppe Lamonta          
84 Thomas Fothen (Ger) Gerolsteiner                          
85 Lucas Schädlich (Ger) Thüringer Energie Team              
86 Serge Herz (Ger) Heinz von Heiden Focus               9.25
87 Lachlan Norris (Aus) South Australia.com - AIS            
88 Christoph Von Kleinsorgen (Ger) Heinz von Heiden Focus    
89 Martin Hebik (Cze) Heinz von Heiden Focus                 
90 Sebastian Hans (Ger) Team Akud-Rose Versand               
91 Jens Grewe (Ger) Team Akud-Rose Versand                   
92 Volker Ordowski (Ger) Gerolsteiner                        
93 Anthony Ravard (Fra) Agritubel                       21.30
DNF Laurent Didier (Lux) Team Regiostrom - Senges            
                   
Points
 
Sprint 1
1 Clément Lhotellerie (Fra) Skil - Shimano                  6 pts
2 Samuel Plouhinec (Fra) Agritubel                          4
3 Christian Knees (Ger) Team Milram                         2
 
Sprint 2
1 Clément Lhotellerie (Fra) Skil - Shimano                  6 pts
2 Samuel Plouhinec (Fra) Agritubel                          4
3 Marco Pinotti (Ita) T-Mobile Team                         2
 
Finish
1 Gerald Ciolek (Ger) T-Mobile Team                        20 pts
2 Marcel Sieberg (Ger) Team Milram                         16
3 Sebastian Siedler (Ger) Team Milram                      13
4 Luke Roberts (Aus) Team CSC                              11
5 Marcus Burghardt (Ger) T-Mobile Team                      9
6 Dirk Müller (Ger) Team Sparkasse                          7
7 Jens Voigt (Ger) Team CSC                                 5
8 Juan Antonio Flecha Giannoni (Spa) Rabobank               3
9 Olaf Pollack (Ger) Team Wiesenhof Felt                    2
10 Konstantin Schubert (Ger) Team Regiostrom - Senges       1
 
General classification after stage 1
 
1 Gerald Ciolek (Ger) T-Mobile Team                   4.54.25
2 Marcel Sieberg (Ger) Team Milram                       0.04
3 Sebastian Siedler (Ger) Team Milram                    0.06
4 Christian Knees (Ger) Team Milram                      0.09
5 Luke Roberts (Aus) Team CSC                            0.10
6 Marcus Burghardt (Ger) T-Mobile Team                       
7 Dirk Müller (Ger) Team Sparkasse                           
8 Jens Voigt (Ger) Team CSC                                  
9 Juan Antonio Flecha Giannoni (Spa) Rabobank                
10 Olaf Pollack (Ger) Team Wiesenhof Felt                    
11 Konstantin Schubert (Ger) Team Regiostrom - Senges        
12 Thomas Dekker (Ned) Rabobank                              
13 Daniel Musiol (Ger) Team Wiesenhof Felt                   
14 Frank Schleck (Lux) Team CSC                              
15 Simon Clarke (Aus) South Australia.com - AIS              
16 Maarten Den Bakker (Ned) Skil - Shimano                   
17 Nico Graf (Ger) Thüringer Energie Team                    
18 Sven Krauss (Ger) Gerolsteiner                            
19 Paul Martens (Ger) Skil - Shimano                         
20 Harald Totschnig (Aut) Elk Haus - Simplon                 
21 Gene Bates (Aus) South Australia.com - AIS                
22 Richard Faltus (Cze) Team Sparkasse                       
23 Björn Schröder (Ger) Team Milram                          
24 Holger Sievers (Ger) Team 3C - Gruppe Lamonta             
25 Robert Retschke (Ger) Team Wiesenhof Felt                 
26 Christoph Meschenmoser (Ger) Skil - Shimano               
27 Michael Boogerd (Ned) Rabobank                            
28 Bobby Julich (USA) Team CSC                               
29 Björn Glasner (Ger) Team Regiostrom - Senges              
30 Ronny Scholz (Ger) Gerolsteiner                           
31 Kurt-Asle Arvesen (Nor) Team CSC                          
32 Malaya Van Ruitenbeek (Ned) Team Regiostrom - Senges      
33 Pieter Weening (Ned) Rabobank                         0.16
34 Samuel Plouhinec (Fra) Agritubel                          
35 Clément Lhotellerie (Fra) Skil - Shimano              0.22
36 Dominik Roels (Ger) Team Akud-Rose Versand            0.28
37 Marco Pinotti (Ita) T-Mobile Team                     1.09
38 Gerben Löwik (Ned) Rabobank                           1.10
39 Maint Berkenbosch (Ned) Team Regiostrom - Senges          
40 Erik Hoffmann (Nam) Team 3C - Gruppe Lamonta              
41 Eduardo Gonzalo Ramirez (Spa) Agritubel                   
42 Aivaras Baranauskas (Ltu) Agritubel                       
43 Dennis Pohl (Ger) Heinz von Heiden Focus                  
44 Albert Timmer (Ned) Skil - Shimano                    2.41
45 Daniel Westmattelmann (Ger) Team Akud-Rose Versand        
46 Marcel Barth (Ger) Thüringer Energie Team                 
47 Enrico Poitschke (Ger) Team Milram                        
48 Ralf Grabsch (Ger) Team Milram                            
49 Patrick Gretsch (Ger) Thüringer Energie Team              
50 Stefan Ganser (Ger) Team Regiostrom - Senges              
51 Sergej Fuchs (Ger) Team 3C - Gruppe Lamonta               
52 Patric Röstel (Ger) Team Akud-Rose Versand                
53 Björn Papstein (Ger) Team 3C - Gruppe Lamonta             
54 Clemens Frankhauser (Aut) Elk Haus - Simplon              
55 Mitja Schlüter (Ger) Team Akud-Rose Versand               
56 Linus Gerdemann (Ger) T-Mobile Team                       
57 Thierry Dupont (Fra) Skil - Shimano                       
58 Christian Pfannberger (Aut) Elk Haus - Simplon            
59 Bernhard Kohl (Aut) Gerolsteiner                          
60 Andreas Schillinger (Ger) Team Sparkasse                  
61 Steffen Wesemann (Swi) Team Wiesenhof Felt                
62 Oliver Giesecke (Ger) Thüringer Energie Team              
63 Wesley Sulzberger (Aus) South Australia.com - AIS         
64 Johnny Walker (Aus) South Australia.com - AIS             
65 Jan Valach (Svk) Elk Haus - Simplon                       
66 Martin Velits (Svk) Team Wiesenhof Felt                   
67 Richard Geng (Ger) Heinz von Heiden Focus             4.58
68 Marc Weisshaupt (Ger) Elk Haus - Simplon                  
69 Timo Honstein (Ger) Team Sparkasse                        
70 Finn Heitmann (Ger) Heinz von Heiden Focus                
71 Marcel Beima (Ned) T-Mobile Team                          
72 Jonas Owczarek (Ger) Team Sparkasse                       
73 Manuel Calvente Gorbas (Spa) Agritubel                    
74 José Albert Martinez Trinidad (Spa) Agritubel             
75 Peter Velits (Svk) Team Wiesenhof Felt                    
76 Stefan Rucker (Aut) Elk Haus - Simplon                    
77 Lars Wackernagel (Ger) Team Sparkasse                     
78 Thorwald Veneberg (Ned) Rabobank                          
79 Frank Scherzinger (Ger) Team 3C - Gruppe Lamonta          
80 Florian Frohn (Ger) Thüringer Energie Team                
81 Elnathan Heizmann (Ger) Team 3C - Gruppe Lamonta          
82 Lucas Schädlich (Ger) Thüringer Energie Team              
83 Lars Ytting Bak (Den) Team CSC                        5.08
84 Oscar Gatto (Ita) Gerolsteiner                        5.18
85 Thomas Fothen (Ger) Gerolsteiner                          
86 Serge Herz (Ger) Heinz von Heiden Focus               9.35
87 Lachlan Norris (Aus) South Australia.com - AIS            
88 Christoph Von Kleinsorgen (Ger) Heinz von Heiden Focus    
89 Martin Hebik (Cze) Heinz von Heiden Focus                 
90 Sebastian Hans (Ger) Team Akud-Rose Versand               
91 Jens Grewe (Ger) Team Akud-Rose Versand                   
92 Volker Ordowski (Ger) Gerolsteiner                        
93 Anthony Ravard (Fra) Agritubel                       21.40
 
Points classification
 
1 Gerald Ciolek (Ger) T-Mobile Team                        20 pts
2 Marcel Sieberg (Ger) Team Milram                         16
3 Sebastian Siedler (Ger) Team Milram                      13
4 Clément Lhotellerie (Fra) Skil - Shimano                 12
5 Luke Roberts (Aus) Team CSC                              11
6 Marcus Burghardt (Ger) T-Mobile Team                      9
7 Samuel Plouhinec (Fra) Agritubel                          8
8 Dirk Müller (Ger) Team Sparkasse                          7
9 Jens Voigt (Ger) Team CSC                                 5
10 Juan Antonio Flecha Giannoni (Spa) Rabobank              3
11 Christian Knees (Ger) Team Milram                        2
12 Marco Pinotti (Ita) T-Mobile Team                        2
13 Olaf Pollack (Ger) Team Wiesenhof Felt                   2
14 Konstantin Schubert (Ger) Team Regiostrom - Senges       1

Young rider classification
 
1 Gerald Ciolek (Ger) T-Mobile Team                 4.54.25
2 Marcel Sieberg (Ger) Team Milram                     0.04
3 Marcus Burghardt (Ger) T-Mobile Team                 0.10
4 Konstantin Schubert (Ger) Team Regiostrom - Senges       
5 Thomas Dekker (Ned) Rabobank                             
6 Daniel Musiol (Ger) Team Wiesenhof Felt                  
7 Simon Clarke (Aus) South Australia.com - AIS             
8 Nico Graf (Ger) Thüringer Energie Team                   
9 Sven Krauss (Ger) Gerolsteiner                           
10 Paul Martens (Ger) Skil - Shimano                       
11 Christoph Meschenmoser (Ger) Skil - Shimano             
12 Malaya Van Ruitenbeek (Ned) Team Regiostrom - Senges    
13 Clément Lhotellerie (Fra) Skil - Shimano            0.22
14 Dominik Roels (Ger) Team Akud-Rose Versand          0.28
15 Eduardo Gonzalo Ramirez (Spa) Agritubel             1.10
16 Dennis Pohl (Ger) Heinz von Heiden Focus                
17 Albert Timmer (Ned) Skil - Shimano                  2.41
18 Daniel Westmattelmann (Ger) Team Akud-Rose Versand      
19 Marcel Barth (Ger) Thüringer Energie Team               
20 Patrick Gretsch (Ger) Thüringer Energie Team            
21 Sergej Fuchs (Ger) Team 3C - Gruppe Lamonta             
22 Patric Röstel (Ger) Team Akud-Rose Versand              
23 Clemens Frankhauser (Aut) Elk Haus - Simplon            
24 Mitja Schlüter (Ger) Team Akud-Rose Versand             
25 Linus Gerdemann (Ger) T-Mobile Team                     
26 Thierry Dupont (Fra) Skil - Shimano                     
27 Bernhard Kohl (Aut) Gerolsteiner                        
28 Andreas Schillinger (Ger) Team Sparkasse                
29 Oliver Giesecke (Ger) Thüringer Energie Team            
30 Wesley Sulzberger (Aus) South Australia.com - AIS       
31 Johnny Walker (Aus) South Australia.com - AIS           
32 Martin Velits (Svk) Team Wiesenhof Felt                 
33 Richard Geng (Ger) Heinz von Heiden Focus           4.58
34 Timo Honstein (Ger) Team Sparkasse                      
35 Finn Heitmann (Ger) Heinz von Heiden Focus              
36 Marcel Beima (Ned) T-Mobile Team                        
37 Peter Velits (Svk) Team Wiesenhof Felt                  
38 Frank Scherzinger (Ger) Team 3C - Gruppe Lamonta        
39 Florian Frohn (Ger) Thüringer Energie Team              
40 Elnathan Heizmann (Ger) Team 3C - Gruppe Lamonta        
41 Lucas Schädlich (Ger) Thüringer Energie Team            
42 Oscar Gatto (Ita) Gerolsteiner                      5.18
43 Thomas Fothen (Ger) Gerolsteiner                        
44 Serge Herz (Ger) Heinz von Heiden Focus             9.35
45 Lachlan Norris (Aus) South Australia.com - AIS          
46 Martin Hebik (Cze) Heinz von Heiden Focus               
47 Sebastian Hans (Ger) Team Akud-Rose Versand             
48 Jens Grewe (Ger) Team Akud-Rose Versand                 

Team classification
 
1 Team Milram                                        14.43.45
2 Team CSC                                                   
3 Rabobank                                                   
4 Team Wiesenhof Felt                                        
5 Skil-Shimano                                               
6 Team Regio Strom-Senges                                    
7 T-Mobile Team                                          1.00
8 Agritubel                                              2.10
9 Team Sparkasse                                         2.31
10 Southaustralia.com-AIS                                    
11 Gerolsteiner                                              
12 Team 3 C Gruppe-Lamonta                               3.31
13 Thüringer Energie Team                                5.02
14 ELK Haus-Simplon                                          
15 Akud Rose                                             5.20
16 Heinz von Heiden Team Hannover                       10.36