3rd Memorial Cimurri / Gran Premio Bioera - 1.1
Italy, October 6, 2007
2006 Results Results Past winners
Bertagnolli benefits from team strength
By Gregor Brown
Leonardo Bertagnolli (Liquigas)
Photo ©: Roberto Bettini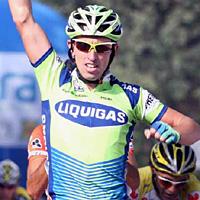 Leonardo Bertagnolli (Liquigas) took top honours in the 3rd Memorial Cimurri GP Bioera. The 29 year-old Italian, winner of the Clásica San Sebastián, won the sprint from a four-man group over compatriots Luca Mazzanti (Ceramica Panaria-Navigare) and Manuele Mori (Saunier Duval-Prodir), with Russian Pavel Brutt (Tinkoff Credit Systems) in fourth. Bertagnolli's team-mate Filippo Pozzato led a small group of chasers home, taking fifth over Alessandro Petacchi (Milram).
Bertagnolli had followed team orders and 'sat-on' with the winning move while team-mate and sprinter Murilo Fischer followed in the chasing group. The tactics increased the chances for a Liquigas win but caused polemics amongst those in the winning move, most notably from second place Mazzanti.
"It was a team victory because the presence of the green-blue jerseys at the escapees' heels; they permitted me to maintain a passive role," explained Bertagnolli of the races tactics.
The win was dedicated to his team-mate. "To [Filippo] Pozzato and his family. I knew that 'Pippo' wanted to win today to honour the memory of his grandmother who died yesterday morning."
Paolo Bettini (Quick.Step - Innergetic)
Photo ©: Roberto Bettini

'Berta' will aim for his third win this season in two weeks. "One win above all: the Giro di Lombardia. It is a race of my dreams," concluded the day's winner.
The day was the first outing for Paolo Bettini (Quick.Step - Innergetic) after claming his second World Championship title. The 33 year-old pulled out of the race after the first 100 kilometres to head home. Prior to the race, the bike that Paolo Bettini won the World Championships on was stolen along with several others of his Quick.Step team-mates' bikes.
Photography
For a thumbnail gallery of these images, click here
Images by Roberto Bettini/www.bettiniphoto.net
Images by Fotoreporter Sirotti
Results - 183km

1 Leonardo Bertagnolli (Ita) Liquigas                              4.21.56 (41.919 km/h)
2 Luca Mazzanti (Ita) Ceramica Panaria - Navigare                         
3 Manuele Mori (Ita) Saunier Duval-Prodir                          
4 Pavel Brutt (Rus) Tinkoff Credit System                                 
5 Filippo Pozzato (Ita) Liquigas                                      0.17
6 Alessandro Petacchi (Ita) Team Milram                                   
7 Boris Shpilevsky (Rus) Kio Ene - Tonazzi - DMT                          
8 Stefano Garzelli (Ita) Acqua & Sapone - Caffe Mokambo                   
9 Enrico Gasparotto (Ita) Liquigas                                        
10 Florian Stalder (Swi) Team Volksbank                                   
11 Krzysztof Szczawinski (Pol) Miche                                      
12 Giovanni Visconti (Ita) Quickstep - Innergetic                         
13 Giairo Ermeti (Ita) (Tenax Menikini)                                   
14 Andrea Tonti (Ita) Quickstep - Innergetic                              
15 Lorenzo Cardellini (Ita) Miche                                         
16 Steffen Weigold (Ger) Tinkoff Credit System                            
17 Alessandro Maserati (Ita) Team L.P.R.                                  
18 Davide Bragazzi (Ita) Kio Ene - Tonazzi - DMT                          
19 Alexandre Bazhenov (Rus) Cinelli - Endeka - OPD                        
20 Gabriele Bosisio (Ita) Tenax Salmilano                                 
21 Manuele Spadi (Ita) Ceramica Flaminia                                  
22 Peter Wrolich (Aut) Gerolsteiner                                       
23 Oliver Zaugg (Swi) Gerolsteiner                                        
24 Paolo Bailetti (Ita) Team L.P.R.                                       
25 Simone Masciarelli (Ita) Acqua & Sapone - Caffe Mokambo                
26 Donato Cannone (Ita) OTC Doors - Lauretana                             
27 Pascal Hungerbühler (Swi) Team Volksbank                               
28 Javier Benitez Pomares (Spa) Benfica                                   
29 Santo Anza (Ita) Serramenti PVC Diquigiovanni- Selle Italia            
30 Ivan De Gasperi (Ita) Serramenti PVC Diquigiovanni- Selle Italia       
31 Hugo Sabido (Por) Barloworld                                           
32 Hubert Krys (Pol) Ceramica Flaminia                                    
33 James Lewis Perry (RSA) Barloworld                                     
34 Massimiliano Maisto (Ita) OTC Doors - Lauretana                        
35 Niklas Axelsson (Swe) Serramenti PVC Diquigiovanni- Selle Italia       
36 Félix Rafael Cardenas Ravalo (Col) Barloworld                          
37 Rubens Bertogliati (Swi) Saunier Duval - Prodir                        
38 Gabriele Missaglia (Ita) Serramenti PVC Diquigiovanni- Selle Italia    
39 Marco Velo (Ita) Team Milram                                           
40 Leonardo Moser (Ita) Serramenti PVC Diquigiovanni- Selle Italia        
41 Gilberto Simoni (Ita) Saunier Duval - Prodir                           
42 Domenico Quagliarella (Ita) Ceramica Flaminia                          
43 Sylvester Szmyd (Pol) Lampre - Fondital                                
44 Pasquale Muto (Ita) Miche                                              
45 Vincenzo Nibali (Ita) Liquigas                                         
46 Domenico Pozzovivo (Ita) Ceramica Panaria - Navigare                   
47 Andrea Moletta (Ita) Gerolsteiner                                      
48 Riccardo Ricco (Ita) Saunier Duval - Prodir                            
49 Massimo Giunti (Ita) Miche                                             
50 Devis Miorin (Ita) Kio Ene - Tonazzi - DMT                         0.25
51 Fabio Sabatini (Ita) Team Milram                                       
52 Andreas Dietziker (Swi) Team L.P.R.                                    
53 Franco Pellizotti (Ita) Liquigas                                       
54 Matteo Tosatto (Ita) Quickstep - Innergetic                            
55 Murilo Fischer (Bra) Liquigas                                          
56 Luis Felipe Laverde Jimenez (Col) Ceramica Panaria - Navigare          
57 Alberto Ongarato (Ita) Team Milram                                     
58 Romas Sinicinas (Ltu) Amore & Vita-McDonald's                      0.56
59 Francesco Tizza (Ita) OTC Doors - Lauretana                        1.02
60 Alessandro Bertuola (Ita) Tenax Salmilano                              
61 Marco Jimenez (Swi) Hadimec                                        1.40
62 Riccardo Chiarini (Ita) Team L.P.R.                                1.50
63 Oleksandr Kvachuk (Ukr) Cinelli - Endeka - OPD                     2.01
64 Carlo Scognamiglio (Ita) Team Milram      

166 starters, 64 finishers                          

Past winners
2006 Enrico Gasparotto (Ita) Liquigas                                 199.5km in 4.44.40 (42.049 km/h)
2005 Murilo Fischer (Bra) Naturino-Sapore di Mare                     186km   in 4.08.40 (44.879 km/h)

Coppa Italia after Cimurri

1 Alessandro Bertolini (Ita) Serramenti PVC Diquigiovanni-Selle Italia    381 pts
2 Luca Mazzanti (Ita) Ceramica Panaria-Navigare                           273
3 Kanstantsin Siutsou (Blr) Barloworld                                    210
4 Daniele Pietropolli (Ita) Tenax-Salmilano                               195
5 Santo Anzà (Ita) Serramenti PVC Diquigiovanni-Selle Italia              189
6 Filippo Pozzato (Ita) Liquigas                                          179
7 Michele Scarponi (Ita) Acqua & Sapone-Caffè Mokambo                     169
8 Fortunato Baliani (Ita) Ceramica Panaria-Navigare                       162
9 Gabriele Bosisio (Ita) Tenax-Salmilano                                  152
10 Vincenzo Nibali (Ita) Liquigas                                         151
11 Paolo Bailetti (Ita) Team LPR                                          149
12 Emanuele Sella (Ita) Ceramica Panaria-Navigare                         143
13 Ruslan Pidgornyy (Ukr) Tenax-Salmilano                                 132
14 Davide Rebellin (Ita) Gerolsteiner                                     129
15 Franco Pellizotti (Ita) Liquigas                                       129
16 Alexander Efimkin (Rus) Barloworld                                     127
17 Christian Murro (Ita) Tenax-Salmilano                                  126
18 Massimo Giunti (Ita) Miche                                             123
19 Luca Pierfelici (Ita) Aurum Hotels                                     112
20 Volodymyr Zagorodny (Ukr) OTC Doors-Lauretana                          106
21 Danilo Di Luca (Ita) Liquigas                                           94
22 Matteo Carrara (Ita) Unibet.com                                         93
23 Mikhaylo Khalilov (Ukr) Ceramica Flaminia                               90
24 Damiano Cunego (Ita) Lampre-Fondital                                    89
25 Pasquale Muto (Ita) Miche                                               89
26 Yauhen Sobal (Blr) Cinelli-Endeka-OPD                                   88
27 Danilo Napolitano (Ita) Lampre-Fondital                                 80
28 Giuseppe Palumbo (Ita) Acqua & Sapone-Caffè Mokambo                     80
29 Domenico Pozzovivo (Ita) Ceramica Panaria-Navigare                      79
30 Riccardo Riccò (Ita) Saunier Duval-Prodir                               75
31 Sergey Klimov (Rus) Tinkoff Credit Systems                              74
32 Luis Felipe Laverde (Col) Ceramica Panaria-Navigare                     73
33 Sylvester Szmyd (Pol) Lampre-Fondital                                   73
34 Paride Grillo (Ita) Ceramica Panaria-Navigare                           72
35 Marco Marcato (Ita) Team LPR                                            71
36 Mirco Lorenzetto (Ita) Milram                                           71
37 Giovanni Visconti (Ita) Quick.Step - Innergetic                         69
38 Alessandro Bertuola (Ita) Tenax-Salmilano                               69
39 Daniele Nardello (Ita) Team LPR                                         68
40 Leonardo Moser (Ita) Serramenti PVC Diquigiovanni-Selle Italia          67
41 Andrea Noè (Ita) Liquigas                                               66
42 Pavel Brutt (Rus) Tinkoff Credit Systems                                62
43 Dario Cataldo (Ita) Liquigas                                            62
44 Alessandro Petacchi (Ita) Milram                                        58
45 Luca Paolini (Ita) Liquigas                                             58
46 Marlon Pérez (Col) Universal Caffè-Ecopterol                            57
47 Mikhail Ignatiev (Rus) Tinkoff Credit Systems                           56
48 Luca Solari (Ita) Team LPR                                              56
49 Niklas Axelsson (Swe) Serramenti PVC Diquigiovanni-Selle Italia         55
50 Branislau Samoilau (Blr) Acqua & Sapone-Caffè Mokambo                   54
51 Boris Shpilevsky (Rus) Kio-Ene-DMT                                      54
52 Francesco Chicchi (Ita) Liquigas                                        52
53 Robert Hunter (RSA) Barloworld                                          52
54 Daniele Bennati (Ita) Lampre-Fondital                                   52
55 Marco Osella (Ita) Kio-Ene-DMT                                          51
56 Mauricio Soler (Col) Barloworld                                         50
57 Patxi Vila (Spa) Lampre-Fondital                                        50
58 Andrei Kunitski (Blr) Acqua & Sapone-Caffè Mokambo                      50
59 Paolo Bossoni (Ita) Lampre-Fondital                                     50
60 Moisés Aldape Chavez (Mex) Ceramica Panaria-Navigare                    47
61 Stefano Garzelli (Ita) Acqua & Sapone-Caffè Mokambo                     47
62 Riccardo Chiarini (Ita) Team LPR                                        46
63 Leonardo Bertagnolli (Ita) Liquigas                                     45
64 Aurélien Passeron (Fra) Acqua & Sapone-Caffè Mokambo                    45
65 Félix Rafael Cárdenas (Col) Barloworld                                  45
66 Miguel Rubiano Chávez (Col) Ceramica Panaria-Navigare                   45
67 Ivan Rovny (Rus) Tinkoff Credit Systems                                 44
68 Giosuè Bonomi (Ita) Barloworld                                          44
69 Roman Kreuziger (Cze) Liquigas                                          43
70 Eddy Serri (Ita) Miche                                                  41
71 Enrico Rossi (Ita) OTC Doors-Lauretana                                  40
72 Morris Possoni (Ita) Lampre-Fondital                                    40
73 Jure Golcer (Slo) Tenax-Salmilano                                       38
74 Dario Andriotto (Ita) Acqua & Sapone-Caffè Mokambo                      38
75 Hugo Sabido (Por) Barloworld                                            37
76 Andreas Dietziker (Swi) Team LPR                                        37
77 Massimiliano Maisto (Ita) OTC Doors-Lauretana                           36
78 Manuele Mori (Ita) Saunier Duval-Prodir                                 33
79 Carlo Scognamiglio (Ita) Milram                                         32
80 Matteo Priamo (Ita) Ceramica Panaria-Navigare                           32
81 Gabriele Balducci (Ita) Acqua & Sapone-Caffè Mokambo                    32
82 Murilo Fischer (Bra) Liquigas                                           32
83 Andrea Masciarelli (Ita) Acqua & Sapone-Caffè Mokambo                   31
84 John-Lee Augustyn (RSA) Barloworld                                      29
85 Félix Rafael Cárdenas (Col) Barloworld                                  28
86 Cristian Moreni (Ita) Cofidis                                           28
87 Daniele Bennati (Ita) Lampre-Fondital                                   28
88 Mattia Gavazzi (Ita) Kio-Ene-DMT                                        26
89 Pedro Arreitunandia (Spa) Barloworld                                    26
90 Cristian Moreni (Ita) Cofidis                                           24
91 Pavel Brutt (Rus) Tinkoff Credit Systems                                24
92 Lorenzo Cardellini (Ita) Miche                                          23
93 Mirko Allegrini (Ita) Kio-Ene-DMT                                       23
94 Domenico Loria (Ita) Universal Caffè-Ecopterol                          22
95 Marco Marzano (Ita) Lampre-Fondital                                     21
96 Mikhaylo Khalilov (Ukr) Ceramica Flaminia                               21
97 Evgeni Petrov (Rus) Tinkoff Credit Systems                              21
98 Maximiliano Richeze (Arg) Ceramica Panaria-Navigare                     21
99 Raffaele Ferrara (Ita) Team LPR                                         20
100 Giairo Ermeti (Ita) Tenax-Salmilano                                    20
101 Maurizio Varini (Ita) Ceramica Flaminia                                20
102 José Serpa (Col) Serramenti PVC Diquigiovanni-Selle Italia             20
103 Gabriele Missaglia (Ita) Serramenti PVC Diquigiovanni-Selle Italia     19
104 Fabrizio Guidi (Ita) Barloworld                                        19
105 Emiliano Donadello (Ita) Serramenti PVC Diquigiovanni-Selle Italia     18
106 Crescenzo D'Amore (Ita) OTC Doors-Lauretana                            18
107 Donato Cannone (Ita) OTC Doors-Lauretana                               18
108 Gilberto Simoni (Ita) Saunier Duval-Prodir                             18
109 Antonio D'Aniello (Ita) Ceramica Flaminia                              18
110 Enrico Gasparotto (Ita) Liquigas                                       17
111 Paolo Longo Borghini (Ita) Barloworld                                  17
112 Luca Ascani (Ita) Aurum Hotels                                         17
113 Francesco Failli (Ita) Liquigas                                        16
114 Fabio Gilioli (Ita) Universal Caffè-Ecopterol                          15
115 Stefano Cavallari (Ita) Acqua & Sapone-Caffè Mokambo                   15
116 Manuele Spadi (Ita) Ceramica Flaminia                                  15
117 Marco Corsini (Ita) Tenax-Salmilano                                    14
118 Hubert Krys (Pol) Ceramica Flaminia                                    14
119 Tomasz Marczynski (Pol) Ceramica Flaminia                              14
120 Alessio Signego (Ita) OTC Doors-Lauretana                              13
121 Adam Wadecki (Pol) Ceramica Flaminia                                   13
122 Antonio Quadranti (Ita) Aurum Hotels                                   13
123 Ricardo Serrano (Spa) Tinkoff Credit Systems                           13
124 Antonio D'Aniello (Ita) Ceramica Flaminia                              12
125 Alexey Shchebelin (Rus) Cinelli-Endeka-OPD                             12
126 Cristiano Salerno (Ita) Tenax-Salmilano                                12
127 Alessandro Vanotti (Ita) Liquigas                                      12
128 Gianluca Coletta (Ita) Cinelli-Endeka-OPD                              11
129 Nikolai Trusov (Rus) Tinkoff Credit Systems                            11
130 Tiziano Dall'Antonia (Ita) Ceramica Panaria-Navigare                   11
131 Francesco Tizza (Ita) OTC Doors-Lauretana                              11
132 Francesco Gavazzi (Ita) Lampre-Fondital                                11
133 Borut Bozic (Slo) Team LPR                                             10
134 Alexandr Arekeev (Rus) Acqua & Sapone-Caffè Mokambo                    10
135 Manuele Spadi (Ita) Ceramica Flaminia                                  10
136 Devis Miorin (Ita) Kio-Ene-DMT                                         10
137 Paolo Tiralongo (Ita) Lampre-Fondital                                  10
138 Francesco Reda (Ita) OTC Doors-Lauretana                               10
139 Eros Capecchi (Ita) Liquigas                                            9
140 Domenico Quagliarello (Ita) Ceramica Flaminia                           9
141 Davide Bragazzi (Ita) Kio-Ene-DMT                                       9
142 Efrem Salvi (Ita) Milram                                                8
143 Diego Caccia (Ita) Barloworld                                           8
144 Mirko Celestino (Ita) Milram                                            8
145 Patrick Calcagni (Swi) Liquigas                                         8
146 James Perry (RSA) Barloworld                                            8
147 Giuseppe Palumbo (Ita) Acqua & Sapone-Caffè Mokambo                     8
148 Gorazd Stangelj (Slo) Lampre-Fondital                                   8
149 Roberto Ferrari (Ita) Tenax-Salmilano                                   8
150 Ruggero Marzoli (Ita) Tinkoff Credit Systems                            8
151 Cristian Gasperoni (Ita) Ceramica Flaminia                              7
152 Ivan Quaranta (Ita) Amore & Vita-McDonald's                             7
153 Maximiliano Richeze (Arg) Ceramica Panaria-Navigare                     7
154 Alessandro Maserati (Ita) Team LPR                                      7
155 Elia Rigotto (Ita) Milram                                               6
156 Alexandre Bazhenov (Rus) Cinelli-Endeka-OPD                             6
157 Mauro Santambrogio (Ita) Lampre-Fondital                                6
158 Davide Torosantucci (Ita) Universal Caffè-Ecopterol                     6
159 Claudio Cucinotta (Ita) Tenax-Salmilano                                 6
160 Danilo Napolitano (Ita) Lampre-Fondital                                 6
161 Enrico Zen (Ita) Kio-Ene-DMT                                            5
162 Andrea Tonti (Ita) Quick.Step - Innergetic                              5
163 Marco Velo (Ita) Milram                                                 5
164 Alessandro Ballan (Ita) Lampre-Fondital                                 5
165 Ivan Fanelli (Ita) Cinelli-Endeka-OPD                                   5
166 Fabio Terrenzio (Ita) Acqua & Sapone-Caffè Mokambo                      5
167 Fabio Sacchi (Ita) Milram                                               5
168 Emanuele Bindi (Ita) Universal Caffè-Ecopterol                          5
169 Rinaldo Nocentini (Ita) Ag2r Prévoyance                                 5
170 Vasil Kiryienka (Blr) Tinkoff Credit Systems                            5
171 Fabio Ciccarese (Ita)                                                   5
172 Luca Celli (Ita) Team LPR                                               5
173 Ricardo Serrano (Spa) Tinkoff Credit Systems                            5
174 Matteo Bono (Ita) Lampre-Fondital                                       5
175 Domenico Quagliarello (Ita) Ceramica Flaminia                           5
176 Valerio Agnoli (Ita) Aurum Hotels                                       4
177 Alfonso Falzarano (Ita) Cinelli-Endeka-OPD                              4
178 Adam Wadecki (Pol) Ceramica Flaminia                                    4
179 Fabio Baldato (Ita) Lampre-Fondital                                     3
180 Alexander Serov (Rus) Tinkoff Credit Systems                            3
181 Matej Jurco (Svk) Milram                                                2
182 Matteo Bono (Ita) Lampre-Fondital                                       2
183 Antonio Bucciero (Ita) Ceramica Panaria-Navigare                        2
184 Giampaolo Cheula (Ita) Barloworld                                       2
185 Miculà De Matteis (Ita) Tenax-Salmilano                                 2
186 Alberto Ongarato (Ita) Milram                                           2
187 Steffen Weigold (Ger) Tinkoff Credit Systems                            1
188 Samuele Marzoli (Ita) Team LPR                                          1
189 Rino Zampilli (Ita) Aurum Hotels                                        1
190 Andrus Aug (Est) Ceramica Flaminia                                      1
191 Francesco Masciarelli (Ita) Acqua & Sapone-Caffè Mokambo                1
192 Simone Masciarelli (Ita) Acqua & Sapone-Caffè Mokambo                   1
193 Anton Mindlin (Rus) Tinkoff Credit Systems                              1
194 Marco Fabbri (Ita) Aurum Hotels                                         1
195 Alessandro Donati (Ita) Acqua & Sapone-Caffè Mokambo                    1
196 Ricardo Serrano (Spa) Tinkoff Credit Systems                            1
197 Francesco Di Paolo (Ita) Acqua & Sapone-Caffè Mokambo                   1
198 Alexey Shchebelin (Rus) Cinelli-Endeka-OPD                              1
199 Tomasz Marczynski (Pol) Ceramica Flaminia                               1
200 Gorazd Stangelj (Slo) Lampre-Fondital                                   1
 
Teams Classification
 
1 Tenax                                                                   652 pts
2 Ceramica Panaria-Navigare                                               652
3 Acqua & Sapone-Caffè Mokambo                                            539
4 Barloworld                                                              467
5 Liquigas                                                                446
6 Serramenti PVC Diquigiovanni-Selle Italia                               440
7 Team LPR                                                                422
8 Ceramica Flaminia                                                       335
9 OTC Doors-Lauretana                                                     275
10 Tinkoff Credit Systems                                                 269
11 Lampre-Fondital                                                        249
12 Cinelli-Endeka-OPD                                                     223
13 Milram                                                                 222
14 Aurum Hotels                                                           215
15 Kio-Ene-DMT                                                            211
16 Universal Caffè-Ecopterol                                              173