Vuelta a Chihuahua Internacional - 2.2
Mexico, October 7-14, 2007
Main Page Results Overall standings Next Stage
Stage 1 - October 7: Juarez circuit, 82.6 km
Mejías takes first pro victory
By Monika Prell in Juarez
Javier Mejías (Saunier Duval) takes victory
Photo ©: Rafael Gómez Alonso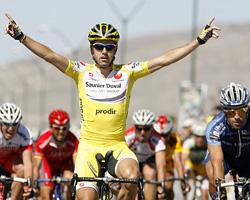 Javier Mejías (Saunier Duval) won the first stage of the Vuelta a Chihuahua in Mexico and added the first win to his palmarès account. The 24 year-old won the sprint ahead of the rest of his breakaway companions, including Filipe Cardoso (Liberty Seguros) and Tomasz Marczynski (Ceramica Flaminia).
The second edition of the Vuelta a Chihuahua began Sunday in Ciudad Juárez with a flat stage. This year, the participation was even better than last year, with the ProTour team Saunier Duval and other professional teams like Relax GAM and Fuerteventura Canarias. On the first day, the 96 riders had to endure 14 laps, or a total of 82.6 kilometres through a town that serves as a gateway to the US.
In the almost desert landscape of Northern Mexico, riders and the general public suffered in dust, wind and sun. Nevertheless, the activity of the peloton was fast from the beginning, with many attacks coming early. Already at the end of the first lap, 30 riders had escaped, including David Bernabeu and José Adrián Bonilla (Fuerteventura Canarias), Francisco Mancebo, Santi Pérez and Óscar Sevilla (Relax GAM), David de la Fuente and Javier Mejías (Saunier Duval Prodir). The peloton barely tried to catch them, and in the end, it came down to a sprint among the breakaway companions. Mejías was the strongest and won in a time of 1h44'07".
Three riders go off the front early
Photo ©: Rafael Gómez Alonso

A very happy Mejías said after the finish to Cyclingnews, "It was great that we reached [the final sprint] with this small group, so I had my chance. It's my first victory as professional and I dedicate it to my parents, Juan Manuel and Guadalupe, and my brother, Juan Manuel, who always supported me. The stage was not very hard, the only problem was the wind. There were a lot of attacks. I am happy that David de la Fuente was with me, he helped me in the final.
"Now I am keen on maintaining the leadership. I am confident, my form is good after the Vuelta a España, but you notice that the level is higher [here] than last year because of the ProTour teams and the [other] professional teams," said Mejías.
The public came out in force for the first stage, and more crowds are expected for Monday's stage, which will start in Chihuahua and finish in Camargo. The peloton will ride 147.8 kilometres, with a category-four mountain, but the stage will likely end in a mass sprint as the mountain is early - at kilometre 36.6.
Photography
For a thumbnail gallery of these images, click here
Images by Monika Prell
Images by Rafael Gómez Alonso
Results
1 Javier Mejías (Spa) Saunier Duval-Prodir                                1.44.07 (47.600 km/h)
2 Filipe Cardoso (Por) Liberty Seguros                                           
3 Tomasz Marczynski (Pol) Ceramica Flaminia                                      
4 Danny Pate (USA) Team Slipstream powered by Chipotle                           
5 Antonio D'aniello (Ita) Ceramica Flaminia                                      
6 Eduardo Graciano (Mex) Orven                                                   
7 Francisco Mancebo (Spa) Relax-Gam                                              
8 Cuitlahuac Ayala (Mex) Arenas Tlacala                                          
9 Francisco Matamoros (Mex) Tecos de la Universidad Autonoma de Guadalajara      
10 Maxime Bouet (Fra) Agritubel                                                  
11 José Adrian Bonilla (CRc) Fuerteventura-Canarias                              
12 Christian Meier (Can) Symmetrics Cycling Team                                 
13 Jose Gerardo Soto (Mex) Arenas Tlacala                                        
14 Lucas Euser (USA) Team Slipstream powered by Chipotle                         
15 Gilberto Porras (Mex) Rica Burguer                                            
16 David Salomon (Mex) Canel's Turbo                                             
17 Dan Bowman (USA) Kelly Benefit Strategies-Medifast                            
18 Antonio Aldape (Mex) Canel's Turbo                                            
19 Eric Keim (USA) AEG-Toshiba-Jetnetwork Pro Cycling Team                       
20 Santiago Perez Fernandez (Spa) Relax-Gam                                      
21 Martin Robles (Mex) Rica Burguer                                              
22 Emilien Benoit Bergès (Fra) Agritubel                                         
23 Gregorio Ladino (Col) Tecos de la Universidad Autonoma de Guadalajara         
24 Cameron Evans (Can) Symmetrics Cycling Team                                   
25 Pedro Covarrubias (Mex) Orven                                                 
26 David De La Fuente Rasilla (Spa) Saunier Duval-Prodir                         
27 Timothy Duggan (USA) Team Slipstream powered by Chipotle                      
28 David Bernabeu Armengol (Spa) Fuerteventura-Canarias                          
29 Vitor Rodrigues (Por) Liberty Seguros                                         
30 Oscar Barron (Mex) Orven                                               1.47.10
31 Mikel Artetxe Gezuraga (Spa) Fuerteventura-Canarias                           
32 Carlos Lopez (Mex) Canel's Turbo                                              
33 Daniel Moreno Fernandez (Spa) Relax-Gam                                       
34 Rafael Aguilar (Mex) Universidad Autonoma de Chihuahua                        
35 Jessel Valenzuela (Mex) Orven                                                 
36 Edgardo Lugo (Mex) Canel's Turbo                                              
37 Fausto Esparza (Mex) Tecos de la Universidad Autonoma de Guadalajara          
38 Misael Ramirez (Mex) Universidad Autonoma de Chihuahua                        
39 Fabian Reyes (Mex) Fullerton Bicycles-Novo                                    
40 Roberto Rodriguez (Mex) Fullerton Bicycles-Novo                               
41 Antonio Velazquez (Mex) Rica Burguer                                          
42 Domingo Gonzalez (Mex) Orven                                                  
43 Oscar Sevilla Ribera (Spa) Relax-Gam                                          
44 Ivan Borunda (Mex) Universidad Autonoma de Chihuahua                          
45 Eder Arenas (Mex) Arenas Tlacala                                              
46 César Antunes Quiterio (Por) Liberty Seguros                                  
47 Jonathan Reid Mumford (USA) Kelly Benefit Strategies-Medifast                 
48 Daniel Duarte (Mex) Universidad Autonoma de Chihuahua                         
49 Nacor Burgos Rojo (Spa) Relax-Gam                                             
50 Edgar Treviño (Mex) Orven                                                     
51 Arquimedes Lam (Mex) Canel's Turbo                                            
52 Steven Cozza (USA) Team Slipstream powered by Chipotle                        
53 Saul Figueroa (Mex) Universidad Autonoma de Chihuahua                         
54 Bernardo Colex Tepoz (Mex) Tecos de la Universidad Autonoma de Guadalajara    
55 Henry Swinty (USA) Rica Burguer                                               
56 Ruben Lobato Elvira (Spa) Saunier Duval-Prodir                                
57 Juan Pablo Villela (Mex) Rica Burguer                                         
58 Hector Rangel (Mex) Tecos de la Universidad Autonoma de Guadalajara           
59 Oswaldo Hernandez (Mex) Fullerton Bicycles-Novo                               
60 Ricardo Samuel Tapia (Mex) Arenas Tlacala                                     
61 Pedro Garibay (Mex) Fullerton Bicycles-Novo                                   
62 Jesus Grajeda (Mex) Orven                                                     
63 Arkaitz Duran (Spa) Saunier Duval-Prodir                                      
64 Iosvani Falcon (Cub) AEG-Toshiba-Jetnetwork Pro Cycling Team                  
65 Marco Rios (Mex) Fullerton Bicycles-Novo                                      
66 Eduardo Gonzalo Ramirez (Spa) Agritubel                                       
67 Edgar Gaytan (Mex) Fullerton Bicycles-Novo                                    
68 Nuno Ribeiro (Por) Liberty Seguros                                            
69 Alex Hagman (USA) AEG-Toshiba-Jetnetwork Pro Cycling Team                     
70 Luis Pinheiro (Por) Liberty Seguros                                           
71 Justin Spinelli (USA) Kelly Benefit Strategies-Medifast                       
72 Miguel Angel Gonzalez (Mex) Universidad Autonoma de Chihuahua                 
73 Jose Miguel Elias Galindo (Spa) Relax-Gam                                     
74 José de Jesus Gomez (Mex) Arenas Tlacala                                      
75 Blake Caldwell (USA) Team Slipstream powered by Chipotle                      
76 Dean Peters (USA) Fullerton Bicycles-Novo                                     
77 David Winston (USA) AEG-Toshiba-Jetnetwork Pro Cycling Team                   
78 Gabriel Juarez (Mex) Arenas Tlacala                                           
79 David Belda (Spa) Fuerteventura-Canarias                                      
80 Geoffrey Kabush (Can) Symmetrics Cycling Team                                 
81 Nicolas Vogondy (Fra) Agritubel                                               
82 John Fredy Parra (Col) Tecos de la Universidad Autonoma de Guadalajara        
83 Enrique Mendez (Mex) Universidad Autonoma de Chihuahua                        
84 Carlos Manuel Hernandez (Mex) Canel's Turbo                                   
85 Alberto Fernandez (Spa) Saunier Duval-Prodir                                  
86 Joel Alamillo (Mex) Arenas Tlacala                                            
87 Juan Miguel Mercado Martin (Spa) Agritubel                                    
88 William Frishkorn (USA) Team Slipstream powered by Chipotle                   
89 David Muñoz (Spa) Fuerteventura-Canarias                                      
90 Carlos Nozal Vega (Spa) Liberty Seguros                                       
91 Andrew Pinfold (Can) Symmetrics Cycling Team                                  
92 Adrian Palomares Villaplana (Spa) Fuerteventura-Canarias                      
93 Adriano Angeloni (Ita) Ceramica Flaminia                                      
94 Martin Gilbert (Can) Kelly Benefit Strategies-Medifast                        
95 Gianluca Geremia (Ita) Ceramica Flaminia                                      
96 Will Routley (Can) Symmetrics Cycling Team                                    
97 Kevin Lacombe (Can) Kelly Benefit Strategies-Medifast                         
98 Eduardo Vicencio (Mex) Rica Burguer                                           
99 Ryan Blicken (USA) Rica Burguer                                               
100 Ryan Roth (Can) Kelly Benefit Strategies-Medifast                            
101 Uriel Clara (Mex) Canel's Turbo                                       1.48.36
102 Adam Wadecki (Pol) Ceramica Flaminia                                  1.51.42

Sprints
 
1
1 Filipe Cardoso (Por) Liberty Seguros                                          3 pts
2 Eduardo Graciano (Mex) Orven                                                  2
3 Maxime Bouet (Fra) Agritubel                                                  1
 
2
1 Filipe Cardoso (Por) Liberty Seguros                                          3 pts
2 Eduardo Graciano (Mex) Orven                                                  2
3 Tomasz Marczynski (Pol) Ceramica Flaminia                                     1
 
Points
 
1 Javier Mejías (Spa) Saunier Duval-Prodir                                      5 pts
2 Filipe Cardoso (Por) Liberty Seguros                                          3
3 Tomasz Marczynski (Pol) Ceramica Flaminia                                     2
 
Most Combative
 
1 Filipe Cardoso (Por) Liberty Seguros                                          9 pts
2 Javier Mejías (Spa) Saunier Duval-Prodir                                      5
3 Eduardo Graciano (Mex) Orven                                                  4
4 Tomasz Marczynski (Pol) Ceramica Flaminia                                     3
5 Maxime Bouet (Fra) Agritubel                                                  1
 
Teams
 
1 Team Slipstream                                                         5.12.21
2 Relax Gam Fuenlabrada                                                      3.03
4 Arenas Tlax                                                                    
3 Orven                                                                          
5 Canel's Turbo                                                                  
6 Tecos Universidad Autonoma                                                     
7 Fuerte Ventura Canarias                                                        
8 Liberty Seguros                                                                
9 Rica Burguer                                                                   
10 Saunier Duval Prodir                                                          
11 Agritubel                                                                     
12 Ceramica Flamina Cycling                                                      
13 Symetrics Cycling Team                                                        
14 Kelly Benefit Strategies                                                 16.06
15 Aeg Toshiba                                                               6.06
16 Univeridad Autonoma De Chihuahua                                          9.09
17 Fullerton Bicycleo Novo