International Rheinland-Pfalz Rundfahrt - 2.1
Germany, May 16-20, 2007
Main Page Results Overall standings Previous Stage
Stage 5 - May 20: Bad Neuenahr - Ahrweiler - Koblenz, 169.8km
Ciolek wraps it up as Dietziker takes stage
The front half of the bunch stayed together
Photo ©: Frank Bodenmueller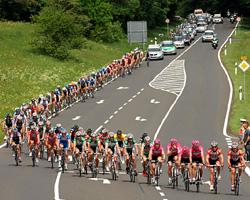 Gerald Ciolek went into the last stage of the Rheinland-Pfalz Rundfahrt in second place overall, one second back, but by the end of the day, he took the overall victory, as well as the best sprinter's and young rider's jerseys. Andreas Dietziker of Team LPR won the stage in front of Steffen Radochla of Wiesenhof and Steven Caethoven of Chocolade Jacques.
Ciolek finished fourth on the stage, but had won the two intermediate sprints during the stage, giving him time bonuses which propelled him in front of the previous leader, Luca Celli, who had led the German by only one second.
"The team worked perfectly today. Yesterday we had a little bad luck, but today we helped ourselves with our luck," the 20-year-old Ciolek said. "We were the strongest team on paper, and in the end we could prove it."
Ciolek collected those sprint points and bonus seconds by making a breakaway with teammate Andreas Klier. The two were caught by the peloton after the second sprint. At the end, Dietziker attempted to break for the win, and was able to stay ahead long enough to take the stage win.
Celli took second overall and third place went to Johan Coenen of Chocolade Jacques.
Photography
For a thumbnail gallery of these images, click here
Images by Frank Bodenmueller/www.mtbsector.com
Images by Team LPR
Images by Andrea Hübner/www.velo-photos.com
Results
1 Andreas Dietziker (Swi) Team L.P.R.                                3.52.27 (43.03 km/h)
2 Steffen Radochla (Ger) Team Wiesenhof Felt                                
3 Steven Caethoven (Bel) Chocolade Jacques-Topsport Vlaanderen              
4 Gerald Ciolek (Ger) T-Mobile Team                                         
5 Marco Marcato (Ita) Team L.P.R.                                           
6 René Weissinger (Ger) Team Volksbank                                      
7 Crescenzo d'Amore (Ita) OTC Doors - Lauretana                             
8 Gabriel Rasch (Nor) Team Maxbo Bianchi                                    
9 Harald Starzengruber (Aut) Elk Haus-Simplon                               
10 Clemens Frankhauser (Aut) Elk Haus-Simplon                               
11 Paolo Bailetti (Ita) Team L.P.R.                                         
12 Richard Faltus (Cze) Team Sparkasse                                      
13 Sergey Lagutin (Uzb) Navigators Insurance Cycling Team                   
14 David Verheyen (Bel) Landbouwkrediet-Tönissteiner                        
15 Marcel Fischer (Ger) Germany                                             
16 Michael Franzl (Ger) Germany                                             
17 Nikolas Maes (Bel) Chocolade Jacques-Topsport Vlaanderen                 
18 Corey Sweet (Aus) Team Regiostrom - Senges                               
19 Paul Martens (Ger) Skil - Shimano                                        
20 Massimiliano Maisto (Ita) OTC Doors - Lauretana                          
21 Bert De Waele (Bel) Landbouwkrediet-Tönissteiner                         
22 Jeremy Vennel (NZl) DFL - Cyclingnews - Litespeed                        
23 Sven Renders (Bel) Chocolade Jacques-Topsport Vlaanderen                 
24 Andreas Schillinger (Ger) Team Sparkasse                                 
25 Christoph Meschenmoser (Ger) Skil - Shimano                              
26 Manman Van Ruitenbeek (Ned) Team Regiostrom - Senges                     
27 Cameron Jennings (Aus) DFL - Cyclingnews - Litespeed                     
28 Serge Pauwels (Ned) Chocolade Jacques-Topsport Vlaanderen                
29 Florian Stalder (Swi) Team Volksbank                                     
30 Johan Coenen (Bel) Chocolade Jacques-Topsport Vlaanderen                 
31 Michael Wolf (USA) Navigators Insurance Cycling Team                     
32 Mariusz Witecki (Pol) Team Volksbank                                     
33 Jörg Ludewig (Ger) Team Wiesenhof Felt                                   
34 Wolfram Wiese (Ger) Team Regiostrom - Senges                             
35 Nico Sijmens (Bel) Landbouwkrediet-Tönissteiner                          
36 Luca Celli (Ita) Team L.P.R.                                             
37 Edvald Boasson Hagen (Nor) Team Maxbo Bianchi                            
38 Tomas Konecny (Cze) Elk Haus-Simplon                                     
39 Steven Kleynen (Bel) Landbouwkrediet-Tönissteiner                        
40 Frederik Wilmann (Nor) Team Maxbo Bianchi                                
41 Nico Keinath (Ger) Germany                                               
42 Philipp Mamos (Ger) Team Sparkasse                                       
43 Jelle Vanendert (Bel) Chocolade Jacques-Topsport Vlaanderen              
44 Björn Glasner (Ger) Team Regiostrom - Senges                             
45 Andreas Klier (Ger) T-Mobile Team                                        
46 Yukihiro Doi (Jpn) Skil - Shimano                                        
47 Lars Petter Nordhaug (Nor) Team Maxbo Bianchi                            
48 David O'Loughlin (Irl) Navigators Insurance Cycling Team                 
49 Maarten Den Bakker (Ned) Skil - Shimano                                  
50 Stephan Schreck (Ger) T-Mobile Team                                      
51 Stefan Parinussa (Ger) Team Sparkasse                                    
52 Frédéric Gabriel (Fra) Landbouwkrediet-Tönissteiner                      
53 Stian Sommerseth (Nor) Team Maxbo Bianchi                                
54 Dan Fleeman (GBr) DFL - Cyclingnews - Litespeed                          
55 Christian Leben (Ger) Team Wiesenhof Felt                                
56 Darren Lill (RSA) Navigators Insurance Cycling Team                      
57 Pascal Hungerbühler (Swi) Team Volksbank                                 
58 Glen Chadwick (Aus) Navigators Insurance Cycling Team                0.11
59 Donato Cannone (Ita) OTC Doors - Lauretana                               
60 Philipp Seubert (Ger) Germany                                            
61 Juan Pablo Wilches Rodriguez (Col) DFL - Cyclingnews - Litespeed         
62 Torsten Schmidt (Ger) Team Wiesenhof Felt                                
63 Alessio Signego (Ita) OTC Doors - Lauretana                          0.14
64 Roger Hammond (GBr) T-Mobile Team                                    0.15
65 Francesco Reda (Ita) OTC Doors - Lauretana                           0.38
66 Alexander Gottfried (Ger) Team Sparkasse                             0.40
67 Joachim Bøhler (Nor) Team Maxbo Bianchi                              1.22
68 Stefan Schäfer (Ger) Germany                                             
69 Kevin Neirynck (Bel) Landbouwkrediet-Tönissteiner                        
70 Robby Meul (Bel) DFL - Cyclingnews - Litespeed                       1.49
71 Bert Scheirlinckx (Bel) Landbouwkrediet-Tönissteiner                     
72 Robert Retschke (Ger) Team Wiesenhof Felt                            2.10
73 Dirk Müller (Ger) Team Sparkasse                                         
74 Tilo Schüler (Ger) Team Sparkasse                                        
75 Michael Pichler (Aut) Elk Haus-Simplon                                   
76 Jean-Claude Lebeau (Bel) Landbouwkrediet-Tönissteiner                3.52
77 Maint Berkenbosch (Ned) Team Regiostrom - Senges                         
78 Nazareno Rossi (Swi) Team L.P.R.                                         
79 Piergiorgio Camussa (Ita) OTC Doors - Lauretana                          
80 Jan Valach (Svk) Elk Haus-Simplon                                        
81 Francesco Tizza (Ita) OTC Doors - Lauretana                              
82 Riccardo Chiarini (Ita) Team L.P.R.                                      
83 Thomas Rohregger (Aut) Elk Haus-Simplon                                  
84 Raffaele Ferrara (Ita) Team L.P.R.                                       
85 Daniel Musiol (Ger) Team Wiesenhof Felt                                  
86 Viktor Rapinski (Blr) Navigators Insurance Cycling Team                  
87 Lars Wackernagel (Ger) Team Sparkasse                                    
88 Patrick Riedesser (Aut) Team Volksbank                                   
89 Hans-Jürgen Juretzek (Ger) Team Regiostrom - Senges                  4.29
90 Konstantin Schubert (Ger) Team Regiostrom - Senges                       
91 André Greipel (Ger) T-Mobile Team                                    6.10
92 Servais Knaven (Ned) T-Mobile Team                                       
93 Alexander Kristoff (Nor) Team Maxbo Bianchi                              
94 Gert Vanderaerden (Bel) DFL - Cyclingnews - Litespeed                    
95 Kane Oakley (Aus) DFL - Cyclingnews - Litespeed                          
96 Diego Genovesi (Ita) OTC Doors - Lauretana                               
97 Peter Möhlmann (Ned) Team Regiostrom - Senges                            
98 Josef Benetseder (Aut) Team Volksbank                                    
99 Roger Beuchat (Swi) Team L.P.R.                                          
100 Tom Stubbe (Bel) Chocolade Jacques-Topsport Vlaanderen              7.55
DNF Kenny De Haes (Bel) Chocolade Jacques-Topsport Vlaanderen               
DNF Robert Lauscha (Aut) Elk Haus-Simplon                                   
DNF Sten Stenersen (Nor) Team Maxbo Bianchi                                 
DNF Christian Pömer (Aut) Team Volksbank                                    
DNF Robert Wagner (Ger) Team Wiesenhof Felt                                 
DNF André Korff (Ger) T-Mobile Team            

Sprints

Sprint 1 (45.5km)

1 Johan Coenen (Bel) Chocolade Jacques-Topsport Vlaanderen                 5 pts
2 Bert De Waele (Bel) Landbouwkrediet-Tönissteiner                         3
3 Massimiliano Maisto (Ita) OTC Doors - Lauretana                          2
4 Corey Sweet (Aus) Team Regiostrom - Senges                               1

Sprint 2 (109.8km)

1 Gerald Ciolek (Ger) T-Mobile Team                                        5 pts
2 Corey Sweet (Aus) Team Regiostrom - Senges                               3
3 André Greipel (Ger) T-Mobile Team                                        2
4 Marco Marcato (Ita) Team L.P.R.                                          1

Sprint 3 (164.6km)

1 Gerald Ciolek (Ger) T-Mobile Team                                        5 pts
2 Corey Sweet (Aus) Team Regiostrom - Senges                               3
3 Gabriel Rasch (Nor) Team Maxbo Bianchi                                   2
4 Andreas Schillinger (Ger) Team Sparkasse                                 1

Mountains

Mountains 1 (37.2km)

1 Florian Stalder (Swi) Team Volksbank                                     5 pts
2 Marco Marcato (Ita) Team L.P.R.                                          3
3 Corey Sweet (Aus) Team Regiostrom - Senges                               2
4 Paul Martens (Ger) Skil - Shimano                                        1

Mountains 2 (152.5km)

1 Juan Pablo Wilches Rodriguez (Col) DFL - Cyclingnews - Litespeed         3 pts
2 Bert De Waele (Bel) Landbouwkrediet-Tönissteiner                         2
3 Clemens Frankhauser (Aut) Elk Haus-Simplon                               1                             
 
Final General Classification

1 Gerald Ciolek (Ger) T-Mobile Team                                 19.56.59
2 Luca Celli (Ita) Team L.P.R.                                          0.05
3 Johan Coenen (Bel) Chocolade Jacques-Topsport Vlaanderen              0.08
4 Corey Sweet (Aus) Team Regiostrom - Senges                            0.15
5 Paul Martens (Ger) Skil - Shimano                                     0.16
6 Bert De Waele (Bel) Landbouwkrediet-Tönissteiner                      0.18
7 Marco Marcato (Ita) Team L.P.R.                                       0.21
8 Gabriel Rasch (Nor) Team Maxbo Bianchi                                    
9 Massimiliano Maisto (Ita) OTC Doors - Lauretana                           
10 Richard Faltus (Cze) Team Sparkasse                                  0.22
11 Paolo Bailetti (Ita) Team L.P.R.                                         
12 Florian Stalder (Swi) Team Volksbank                                     
13 Pascal Hungerbühler (Swi) Team Volksbank                                 
14 Maarten Den Bakker (Ned) Skil - Shimano                              0.40
15 Jelle Vanendert (Bel) Chocolade Jacques-Topsport Vlaanderen          1.04
16 Sergey Lagutin (Uzb) Navigators Insurance Cycling Team               7.21
17 Björn Glasner (Ger) Team Regiostrom - Senges                         7.31
18 Edvald Boasson Hagen (Nor) Team Maxbo Bianchi                        7.47
19 Jörg Ludewig (Ger) Team Wiesenhof Felt                               7.48
20 Mariusz Witecki (Pol) Team Volksbank                                 7.49
21 Steven Kleynen (Bel) Landbouwkrediet-Tönissteiner                        
22 Wolfram Wiese (Ger) Team Regiostrom - Senges                         7.50
23 Marcel Fischer (Ger) Germany                                         7.51
24 Harald Starzengruber (Aut) Elk Haus-Simplon                              
25 Nikolas Maes (Bel) Chocolade Jacques-Topsport Vlaanderen                 
26 Sven Renders (Bel) Chocolade Jacques-Topsport Vlaanderen                 
27 Frédéric Gabriel (Fra) Landbouwkrediet-Tönissteiner                      
28 Lars Petter Nordhaug (Nor) Team Maxbo Bianchi                            
29 Yukihiro Doi (Jpn) Skil - Shimano                                        
30 Andreas Klier (Ger) T-Mobile Team                                        
31 Dan Fleeman (GBr) DFL - Cyclingnews - Litespeed                          
32 Nico Sijmens (Bel) Landbouwkrediet-Tönissteiner                          
33 Torsten Schmidt (Ger) Team Wiesenhof Felt                            8.01
34 Donato Cannone (Ita) OTC Doors - Lauretana                           8.02
35 Alessio Signego (Ita) OTC Doors - Lauretana                          8.04
36 Tomas Konecny (Cze) Elk Haus-Simplon                                 8.10
37 Darren Lill (RSA) Navigators Insurance Cycling Team                  8.23
38 Jeremy Vennel (NZl) DFL - Cyclingnews - Litespeed                    8.26
39 Alexander Gottfried (Ger) Team Sparkasse                             8.31
40 Roger Hammond (GBr) T-Mobile Team                                        
41 Glen Chadwick (Aus) Navigators Insurance Cycling Team                8.54
42 Stephan Schreck (Ger) T-Mobile Team                                 10.08
43 Steven Caethoven (Bel) Chocolade Jacques-Topsport Vlaanderen        10.37
44 Andreas Dietziker (Swi) Team L.P.R.                                 10.41
45 Michael Franzl (Ger) Germany                                        10.42
46 Michael Wolf (USA) Navigators Insurance Cycling Team                     
47 Francesco Reda (Ita) OTC Doors - Lauretana                          10.46
48 Maint Berkenbosch (Ned) Team Regiostrom - Senges                    11.43
49 Thomas Rohregger (Aut) Elk Haus-Simplon                                  
50 Francesco Tizza (Ita) OTC Doors - Lauretana                              
51 Piergiorgio Camussa (Ita) OTC Doors - Lauretana                     12.37
52 Dirk Müller (Ger) Team Sparkasse                                    13.30
53 Riccardo Chiarini (Ita) Team L.P.R.                                 14.19
54 Nazareno Rossi (Swi) Team L.P.R.                                    14.21
55 Serge Pauwels (Ned) Chocolade Jacques-Topsport Vlaanderen           14.25
56 Raffaele Ferrara (Ita) Team L.P.R.                                  15.00
57 Robert Retschke (Ger) Team Wiesenhof Felt                           15.09
58 Juan Pablo Wilches Rodriguez (Col) DFL - Cyclingnews - Litespeed    15.55
59 André Greipel (Ger) T-Mobile Team                                   16.17
60 Stian Sommerseth (Nor) Team Maxbo Bianchi                           16.25
61 Roger Beuchat (Swi) Team L.P.R.                                     16.39
62 Michael Pichler (Aut) Elk Haus-Simplon                              17.54
63 Crescenzo d'Amore (Ita) OTC Doors - Lauretana                       18.01
64 Josef Benetseder (Aut) Team Volksbank                               21.20
65 Clemens Frankhauser (Aut) Elk Haus-Simplon                          21.44
66 Stefan Schäfer (Ger) Germany                                        21.54
67 David O'Loughlin (Irl) Navigators Insurance Cycling Team            22.31
68 Servais Knaven (Ned) T-Mobile Team                                  23.45
69 Lars Wackernagel (Ger) Team Sparkasse                               26.13
70 Tom Stubbe (Bel) Chocolade Jacques-Topsport Vlaanderen              27.22
71 René Weissinger (Ger) Team Volksbank                                29.09
72 Manman Van Ruitenbeek (Ned) Team Regiostrom - Senges                29.15
73 Christoph Meschenmoser (Ger) Skil - Shimano                              
74 Christian Leben (Ger) Team Wiesenhof Felt                                
75 Stefan Parinussa (Ger) Team Sparkasse                               29.56
76 Frederik Wilmann (Nor) Team Maxbo Bianchi                           30.26
77 Bert Scheirlinckx (Bel) Landbouwkrediet-Tönissteiner                31.04
78 Cameron Jennings (Aus) DFL - Cyclingnews - Litespeed                32.06
79 Andreas Schillinger (Ger) Team Sparkasse                            33.03
80 Kevin Neirynck (Bel) Landbouwkrediet-Tönissteiner                   33.28
81 Viktor Rapinski (Blr) Navigators Insurance Cycling Team             35.19
82 Steffen Radochla (Ger) Team Wiesenhof Felt                          35.27
83 Daniel Musiol (Ger) Team Wiesenhof Felt                             35.58
84 Konstantin Schubert (Ger) Team Regiostrom - Senges                  36.35
85 Hans-Jürgen Juretzek (Ger) Team Regiostrom - Senges                 37.13
86 Robby Meul (Bel) DFL - Cyclingnews - Litespeed                      38.35
87 Philipp Mamos (Ger) Team Sparkasse                                  39.05
88 Patrick Riedesser (Aut) Team Volksbank                              41.00
89 Jean-Claude Lebeau (Bel) Landbouwkrediet-Tönissteiner               44.16
90 David Verheyen (Bel) Landbouwkrediet-Tönissteiner                   44.39
91 Philipp Seubert (Ger) Germany                                       46.13
92 Jan Valach (Svk) Elk Haus-Simplon                                   46.33
93 Diego Genovesi (Ita) OTC Doors - Lauretana                          47.30
94 Joachim Bøhler (Nor) Team Maxbo Bianchi                             50.42
95 Nico Keinath (Ger) Germany                                          53.44
96 Gert Vanderaerden (Bel) DFL - Cyclingnews - Litespeed               54.13
97 Tilo Schüler (Ger) Team Sparkasse                                   55.54
98 Peter Möhlmann (Ned) Team Regiostrom - Senges                       57.44
99 Kane Oakley (Aus) DFL - Cyclingnews - Litespeed                     59.54
100 Alexander Kristoff (Nor) Team Maxbo Bianchi                      1.05.57
 
Sprint Classification

1 Gerald Ciolek (Ger) T-Mobile Team                                       20 pts
2 Johan Coenen (Bel) Chocolade Jacques-Topsport Vlaanderen                17
3 Andreas Schillinger (Ger) Team Sparkasse                                15
4 Lars Wackernagel (Ger) Team Sparkasse                                   13
5 Corey Sweet (Aus) Team Regiostrom - Senges                              12
6 Björn Glasner (Ger) Team Regiostrom - Senges                             6
7 Bert De Waele (Bel) Landbouwkrediet-Tönissteiner                         6
8 Viktor Rapinski (Blr) Navigators Insurance Cycling Team                  6
9 Jörg Ludewig (Ger) Team Wiesenhof Felt                                   5
10 Clemens Frankhauser (Aut) Elk Haus-Simplon                              5
11 Tom Stubbe (Bel) Chocolade Jacques-Topsport Vlaanderen                  5
12 Marco Marcato (Ita) Team L.P.R.                                         4
13 Riccardo Chiarini (Ita) Team L.P.R.                                     4
14 Maarten Den Bakker (Ned) Skil - Shimano                                 3
15 Mariusz Witecki (Pol) Team Volksbank                                    3
16 Steven Kleynen (Bel) Landbouwkrediet-Tönissteiner                       3
17 Gabriel Rasch (Nor) Team Maxbo Bianchi                                  2
18 Massimiliano Maisto (Ita) OTC Doors - Lauretana                         2
19 Wolfram Wiese (Ger) Team Regiostrom - Senges                            2
20 Torsten Schmidt (Ger) Team Wiesenhof Felt                               2
21 Alessio Signego (Ita) OTC Doors - Lauretana                             2
22 Tomas Konecny (Cze) Elk Haus-Simplon                                    2
23 Steven Caethoven (Bel) Chocolade Jacques-Topsport Vlaanderen            2
24 André Greipel (Ger) T-Mobile Team                                       2
25 Pascal Hungerbühler (Swi) Team Volksbank                                1
26 David O'Loughlin (Irl) Navigators Insurance Cycling Team                1
27 René Weissinger (Ger) Team Volksbank                                    1
28 Manman Van Ruitenbeek (Ned) Team Regiostrom - Senges                    1
 
Mountains Classification

1 Lars Wackernagel (Ger) Team Sparkasse                                   29 pts
2 Luca Celli (Ita) Team L.P.R.                                            12
3 Jörg Ludewig (Ger) Team Wiesenhof Felt                                  11
4 Maarten Den Bakker (Ned) Skil - Shimano                                  9
5 Christian Leben (Ger) Team Wiesenhof Felt                                7
6 Florian Stalder (Swi) Team Volksbank                                     6
7 Torsten Schmidt (Ger) Team Wiesenhof Felt                                5
8 Juan Pablo Wilches Rodriguez (Col) DFL - Cyclingnews - Litespeed         5
9 Corey Sweet (Aus) Team Regiostrom - Senges                               5
10 Riccardo Chiarini (Ita) Team L.P.R.                                     4
11 Andreas Schillinger (Ger) Team Sparkasse                                4
12 Johan Coenen (Bel) Chocolade Jacques-Topsport Vlaanderen                4
13 Bert De Waele (Bel) Landbouwkrediet-Tönissteiner                        4
14 Francesco Reda (Ita) OTC Doors - Lauretana                              3
15 Paul Martens (Ger) Skil - Shimano                                       3
16 Marco Marcato (Ita) Team L.P.R.                                         3
17 Thomas Rohregger (Aut) Elk Haus-Simplon                                 3
18 Tom Stubbe (Bel) Chocolade Jacques-Topsport Vlaanderen                  3
19 Edvald Boasson Hagen (Nor) Team Maxbo Bianchi                           2
20 Mariusz Witecki (Pol) Team Volksbank                                    2
21 Sven Renders (Bel) Chocolade Jacques-Topsport Vlaanderen                2
22 Tomas Konecny (Cze) Elk Haus-Simplon                                    2
23 Jeremy Vennel (NZl) DFL - Cyclingnews - Litespeed                       2
24 Paolo Bailetti (Ita) Team L.P.R.                                        1
25 Massimiliano Maisto (Ita) OTC Doors - Lauretana                         1
26 Björn Glasner (Ger) Team Regiostrom - Senges                            1
27 Piergiorgio Camussa (Ita) OTC Doors - Lauretana                         1
28 André Greipel (Ger) T-Mobile Team                                       1
29 Josef Benetseder (Aut) Team Volksbank                                   1
30 Clemens Frankhauser (Aut) Elk Haus-Simplon                              1
31 Christian Pömer (Aut) Team Volksbank                                    1
 
Best Young Rider Classification

1 Gerald Ciolek (Ger) T-Mobile Team                                 19.56.59
2 Paul Martens (Ger) Skil - Shimano                                     0.16
3 Marco Marcato (Ita) Team L.P.R.                                       0.21
4 Florian Stalder (Swi) Team Volksbank                                  0.22
5 Jelle Vanendert (Bel) Chocolade Jacques-Topsport Vlaanderen           1.04
6 Edvald Boasson Hagen (Nor) Team Maxbo Bianchi                         7.47
7 Marcel Fischer (Ger) Germany                                          7.51
8 Nikolas Maes (Bel) Chocolade Jacques-Topsport Vlaanderen                  
9 Lars Petter Nordhaug (Nor) Team Maxbo Bianchi                             
10 Yukihiro Doi (Jpn) Skil - Shimano                                        
11 Dan Fleeman (GBr) DFL - Cyclingnews - Litespeed                          
12 Donato Cannone (Ita) OTC Doors - Lauretana                           8.02
13 Alessio Signego (Ita) OTC Doors - Lauretana                          8.04
14 Darren Lill (RSA) Navigators Insurance Cycling Team                  8.23
15 Alexander Gottfried (Ger) Team Sparkasse                             8.31
16 Andreas Dietziker (Swi) Team L.P.R.                                 10.41
17 Michael Franzl (Ger) Germany                                        10.42
18 Michael Wolf (USA) Navigators Insurance Cycling Team                     
19 Francesco Reda (Ita) OTC Doors - Lauretana                          10.46
20 Thomas Rohregger (Aut) Elk Haus-Simplon                             11.43
21 Riccardo Chiarini (Ita) Team L.P.R.                                 14.19
22 Nazareno Rossi (Swi) Team L.P.R.                                    14.21
23 Serge Pauwels (Ned) Chocolade Jacques-Topsport Vlaanderen           14.25
24 Juan Pablo Wilches Rodriguez (Col) DFL - Cyclingnews - Litespeed    15.55
25 André Greipel (Ger) T-Mobile Team                                   16.17
26 Stian Sommerseth (Nor) Team Maxbo Bianchi                           16.25
27 Michael Pichler (Aut) Elk Haus-Simplon                              17.54
28 Josef Benetseder (Aut) Team Volksbank                               21.20
29 Clemens Frankhauser (Aut) Elk Haus-Simplon                          21.44
30 Stefan Schäfer (Ger) Germany                                        21.54
31 Manman Van Ruitenbeek (Ned) Team Regiostrom - Senges                29.15
32 Christoph Meschenmoser (Ger) Skil - Shimano                              
33 Christian Leben (Ger) Team Wiesenhof Felt                                
34 Frederik Wilmann (Nor) Team Maxbo Bianchi                           30.26
35 Andreas Schillinger (Ger) Team Sparkasse                            33.03
36 Kevin Neirynck (Bel) Landbouwkrediet-Tönissteiner                   33.28
37 Daniel Musiol (Ger) Team Wiesenhof Felt                             35.58
38 Konstantin Schubert (Ger) Team Regiostrom - Senges                  36.35
39 Philipp Mamos (Ger) Team Sparkasse                                  39.05
40 Philipp Seubert (Ger) Germany                                       46.13
41 Nico Keinath (Ger) Germany                                          53.44
42 Peter Möhlmann (Ned) Team Regiostrom - Senges                       57.44
43 Alexander Kristoff (Nor) Team Maxbo Bianchi                       1.05.57