Recently on Cyclingnews.com
28th International Bayern Rundfahrt - 2.HC
Germany, May 30-June 3, 2007
Main Page Results Overall standings Previous Stage Next Stage
Stage 4 - June 2: Einzelzeitfahren Rothenburg ob der Tauber, 24 km
Schumacher takes time trial and leader's jersey
Stefan Schumacher (Gerolsteiner)
Photo ©: Andrea Hübner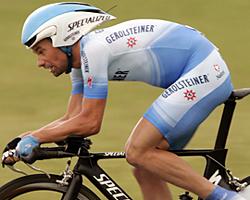 Stefan Schumacher of Team Gerolsteiner won the time trial in the fourth stage of the Bayern Rundfahrt, taking over the leader's jersey going into the final stage Sunday. T-Mobile's Bert Grabsch was a surprise second, three seconds back, and CSC's Jens Voigt was third, with both of them also taking over those positions in the general classement.

"When you win, then you're always satisfied," said Schumacher, who won the Amstel Gold Race this spring. "The season has been great for me so far, it can keep on like this. In the Bayern Rundfahrt there is 'Tour d'honneur' in the last stage. There will be attacks, but we are here with a strong team and I think we will keep things under control."

Andreas Klöden, who had been favored to win the stage, set an early best time of 31'08, but he ended up fifth in the end, 24 seconds behind Schumacher. Former leader Erik Zabel performed as expected, finishing 27th on the day and falling from first to 17th.

Both Schumacher and Voigt had to ride in heavy rain. "Of course I would have liked to have been first, but I'm not disappointed. I have to remain realistic," Voigt said. "The rain was not a deciding factor. I rode in the rain, but Schumi did too, and even for Bert Grabsch it rained for half the time. Certainly I don't take a lot of risks -- after all, I'm 35 years old and have four children. The others were simply faster than me and so they deserved to finish higher."

Sunday's final stage runs from Rothenburg to Furth, covering 160.7 km on a realtively flat course.
Photography
For a thumbnail gallery of these images, click here
Images by Andrea Hübner/www.velo-photos.com
Results
1 Stefan Schumacher (Ger) Gerolsteiner                                    30.44 (46.84 km/h)
2 Bert Grabsch (Ger) T-Mobile Team                                         0.03
3 Jens Voigt (Ger) Team CSC                                                0.14
4 Frank Schleck (Lux) Team CSC                                             0.19
5 Andreas Klöden (Ger) Astana                                              0.24
6 Olaf Pollack (Ger) Team Wiesenhof Felt                                   0.43
7 Nicki Sørensen (Den) Team CSC                                            0.45
8 Fabian Wegmann (Ger) Gerolsteiner                                        0.48
9 Peter Velits (Svk) Team Wiesenhof Felt                                   0.51
10 Sebastian Siedler (Ger) Team Milram                                     0.52
11 René Weissinger (Ger) Team Volksbank                                    0.54
12 Björn Glasner (Ger) Team Regiostrom - Senges                            0.55
13 Lukasz Bodnar (Pol) Intel - Action                                      0.59
14 Jörg Ludewig (Ger) Team Wiesenhof Felt                                  0.59
15 Torsten Schmidt (Ger) Team Wiesenhof Felt                               1.00
16 Marcel Sieberg (Ger) Team Milram                                        1.01
17 Aivaras Baranauskas (Ltu) Agritubel                                     1.02
18 Marek Rutkiewicz (Pol) Intel - Action                                   1.04
19 Stuart O'Grady (Aus) Team CSC                                           1.06
20 Steffen Wesemann (Swi) Team Wiesenhof Felt                              1.07
21 Harald Totschnig (Aut) Elk Haus - Simplon                               1.17
22 Patrik Sinkewitz (Ger) T-Mobile Team                                    1.26
23 Stefan Rucker (Aut) Elk Haus - Simplon                                  1.29
24 Bernhard Kohl (Aut) Gerolsteiner                                        1.30
25 Bart Vanheule (Bel) Chocolade Jacques - Topsport Vlaanderen             1.30
26 Blazej Janiaczyk (Pol) Intel - Action                                   1.32
27 Erik Zabel (Ger) Team Milram                                            1.32
28 Gerhard Trampusch (Aut) Team Volksbank                                  1.33
29 Corey Sweet (Aus) Team Regiostrom - Senges                              1.34
30 Giairo Ermetti (Ita) Tenax Salmilano                                    1.37
31 Alexey Kolessov (Kaz) Astana                                            1.41
32 Malaya Van Ruitenbeek (Ned) Team Regiostrom - Senges                    1.42
33 Christian Murro (Ita) Tenax Salmilano                                   1.47
34 Karsten Kroon (Ned) Team CSC                                            1.48
35 Bartosz Huzarski (Pol) Intel - Action                                   1.48
36 Thomas Rohregger (Aut) Elk Haus - Simplon                               1.49
37 Tobias Erler (Ger) Team 3C - Gruppe Lamonta                             1.51
38 Emilien Benoit Bergès (Fra) Agritubel                                   1.52
39 Santo Anza (Ita) Serramenti PVC Diquigiovanni- Selle Italia             1.52
40 Rui Costa (Por) Benfica                                                 1.53
41 Pascal Hungerbühler (Swi) Team Volksbank                                1.54
42 Björn Papstein (Ger) Team 3C - Gruppe Lamonta                           1.57
43 Malte Urban (Ger) Heinz von Heiden Focus                                1.57
44 Jure Golcer (Slo) Tenax Salmilano                                       2.00
45 Elnathan Heizmann (Ger) Team 3C - Gruppe Lamonta                        2.02
46 Andreas Klier (Ger) T-Mobile Team                                       2.03
47 Renato Silva (Por) Benfica                                              2.04
48 Samuel Plouhinec (Fra) Agritubel                                        2.04
49 Mikel Pradera Rodriguez (Spa) Benfica                                   2.06
50 Daniel Navarro Garcia (Spa) Astana                                      2.06
51 Gerrit Glomser (Aut) Team Volksbank                                     2.08
52 Anders Lund (Den) Team CSC                                              2.09
53 Thomas Frei (Swi) Astana                                                2.09
54 Robert Retschke (Ger) Team Wiesenhof Felt                               2.09
55 Maint Berkenbosch (Ned) Team Regiostrom - Senges                        2.09
56 Erik Hoffmann (Nam) Team 3C - Gruppe Lamonta                            2.13
57 Carlos Sastre Candil (Spa) Team CSC                                     2.14
58 Matthias Kessler (Ger) Astana                                           2.15
59 Bruno Miguel Castanheira Gomes (Por) Benfica                            2.15
60 André Korff (Ger) T-Mobile Team                                         2.18
61 Michael Schär (Swi) Astana                                              2.19
62 Ralf Grabsch (Ger) Team Milram                                          2.19
63 David Kopp (Ger) Gerolsteiner                                           2.22
64 Gerald Ciolek (Ger) T-Mobile Team                                       2.22
65 Heinrich Haussler (Ger) Gerolsteiner                                    2.24
66 Steven Caethoven (Bel) Chocolade Jacques - Topsport Vlaanderen          2.31
67 Linas Balciunas (Ltu) Agritubel                                         2.31
68 Serge Herz (Ger) Heinz von Heiden Focus                                 2.32
69 Peter Wrolich (Aut) Gerolsteiner                                        2.38
70 Enrico Poitschke (Ger) Team Milram                                      2.42
71 Stephan Schreck (Ger) T-Mobile Team                                     2.43
72 Pieter Ghyllebert (Bel) Chocolade Jacques - Topsport Vlaanderen         2.43
73 Helder Miranda (Spa) Benfica                                            2.43
74 Pedro Miguel Lopes Goncalves (Por) Benfica                              2.44
75 Javier Benitez Pomares (Spa) Benfica                                    2.46
76 Sebastian Schwager (Ger) Team Milram                                    2.50
77 Alessandro Bertuola (Ita) Tenax Salmilano                               2.51
78 Wolfgang Murer (Aut) Elk Haus - Simplon                                 2.51
79 Matthias Friedemann (Ger) Team 3C - Gruppe Lamonta                      2.57
80 Benny De Schrooder (Bel) Chocolade Jacques - Topsport Vlaanderen        3.01
81 Florian Stalder (Swi) Team Volksbank                                    3.01
82 Wolfram Wiese (Ger) Team Regiostrom - Senges                            3.02
83 Denis Robin (Fra) Agritubel                                             3.03
84 Tomas Konecny (Cze) Elk Haus - Simplon                                  3.03
85 Harald Morscher (Aut) Team Volksbank                                    3.03
86 Holger Sievers (Ger) Team 3C - Gruppe Lamonta                           3.08
87 Benoît Salmon (Fra) Agritubel                                           3.11
88 Sven Renders (Bel) Chocolade Jacques - Topsport Vlaanderen              3.11
89 Christoph Von Kleinsorgen (Ger) Heinz von Heiden Focus                  3.17
90 Philippe Schnyder (Swi) Serramenti PVC Diquigiovanni- Selle Italia      3.21
91 René Obst (Ger) Team 3C - Gruppe Lamonta                                3.22
92 Jan Valach (Svk) Elk Haus - Simplon                                     3.26
93 Martin Hebik (Cze) Heinz von Heiden Focus                               3.30
94 Björn Schröder (Ger) Team Milram                                        3.31
95 Konstantin Schubert (Ger) Team Regiostrom - Senges                      3.32
96 Luca Sabatino (Ita) Tenax Salmilano                                     3.33
97 Felix Gniot (Ger) Heinz von Heiden Focus                                3.34
98 Marcus Burghardt (Ger) T-Mobile Team                                    3.38
99 Claudio Cucinotta (Ita) Tenax Salmilano                                 3.40
100 Emiliano Donadello (Ita) Serramenti PVC Diquigiovanni- Selle Italia    3.43
101 Carlo Westphal (Ger) Gerolsteiner                                      3.43
102 Niklas Axelsson (Swe) Serramenti PVC Diquigiovanni- Selle Italia       3.45
103 Hans Dekkers (Ned) Agritubel                                           3.46
104 Kenny Lisabeth (Bel) Chocolade Jacques - Topsport Vlaanderen           3.47
105 Honorio Machado Perez (Ven) Tenax Salmilano                            3.51
106 Koen Barbé (Bel) Chocolade Jacques - Topsport Vlaanderen               3.55
107 Evgeniy Sladkov (Kaz) Astana                                           3.57
108 Hans-Jürgen Juretzek (Ger) Team Regiostrom - Senges                    4.03
109 Mattia Turrina (Ita) Serramenti PVC Diquigiovanni- Selle Italia            
110 Jason Phillips (Aus) Heinz von Heiden Focus                            4.11
111 Jochen Summer (Aut) Elk Haus - Simplon                                 4.14
112 André Schulze (Ger) Team Wiesenhof Felt                                4.45
113 Sebastian Skiba (Pol) Intel - Action                                   4.49
114 Dariusz Rudnicki (Pol) Intel - Action                                  5.13
115 Leonardo Moser (Ita) Serramenti PVC Diquigiovanni- Selle Italia        5.17
 
General classification after stage 4
 
1 Stefan Schumacher (Ger) Gerolsteiner                                 13.51.58
2 Bert Grabsch (Ger) T-Mobile Team                                         0.08
3 Jens Voigt (Ger) Team CSC                                                0.14
4 Frank Schleck (Lux) Team CSC                                             0.24
5 Andreas Klöden (Ger) Astana                                              0.29
6 Sebastian Siedler (Ger) Team Milram                                      0.47
7 Nicki Sørensen (Den) Team CSC                                            0.50
8 Fabian Wegmann (Ger) Gerolsteiner                                        0.53
9 Peter Velits (Svk) Team Wiesenhof Felt                                   0.56
10 Stuart O'Grady (Aus) Team CSC                                           0.57
11 René Weissinger (Ger) Team Volksbank                                    0.59
12 Björn Glasner (Ger) Team Regiostrom - Senges                            1.00
13 Torsten Schmidt (Ger) Team Wiesenhof Felt                               1.05
14 Marcel Sieberg (Ger) Team Milram                                        1.06
15 Marek Rutkiewicz (Pol) Intel - Action                                   1.09
16 Steffen Wesemann (Swi) Team Wiesenhof Felt                              1.12
17 Erik Zabel (Ger) Team Milram                                            1.17
18 Harald Totschnig (Aut) Elk Haus - Simplon                               1.22
19 Patrik Sinkewitz (Ger) T-Mobile Team                                    1.31
20 Bart Vanheule (Bel) Chocolade Jacques - Topsport Vlaanderen             1.35
21 Blazej Janiaczyk (Pol) Intel - Action                                   1.36
22 Malaya Van Ruitenbeek (Ned) Team Regiostrom - Senges                    1.37
23 Gerhard Trampusch (Aut) Team Volksbank                                  1.38
24 Corey Sweet (Aus) Team Regiostrom - Senges                              1.39
25 Christian Murro (Ita) Tenax Salmilano                                   1.52
26 Karsten Kroon (Ned) Team CSC                                            1.53
27 Thomas Rohregger (Aut) Elk Haus - Simplon                               1.54
28 Santo Anza (Ita) Serramenti PVC Diquigiovanni- Selle Italia             1.57
29 Björn Papstein (Ger) Team 3C - Gruppe Lamonta                           2.01
30 Malte Urban (Ger) Heinz von Heiden Focus                                2.02
31 Jure Golcer (Slo) Tenax Salmilano                                       2.05
32 Elnathan Heizmann (Ger) Team 3C - Gruppe Lamonta                        2.07
33 Andreas Klier (Ger) T-Mobile Team                                       2.08
34 Renato Silva (Por) Benfica                                              2.09
35 Mikel Pradera Rodriguez (Spa) Benfica                                   2.11
36 Erik Hoffmann (Nam) Team 3C - Gruppe Lamonta                            2.18
37 Carlos Sastre Candil (Spa) Team CSC                                     2.19
38 Matthias Kessler (Ger) Astana                                           2.20
39 Bruno Miguel Castanheira Gomes (Por) Benfica                                
40 Alexey Kolessov (Kaz) Astana                                            2.24
41 Ralf Grabsch (Ger) Team Milram                                              
42 Gerald Ciolek (Ger) T-Mobile Team                                       2.27
43 Steven Caethoven (Bel) Chocolade Jacques - Topsport Vlaanderen          2.36
44 Rui Costa (Por) Benfica                                                     
45 Pascal Hungerbühler (Swi) Team Volksbank                                2.37
46 Javier Benitez Pomares (Spa) Benfica                                    2.42
47 Samuel Plouhinec (Fra) Agritubel                                        2.47
48 Stephan Schreck (Ger) T-Mobile Team                                     2.48
49 Helder Miranda (Spa) Benfica                                                
50 Daniel Navarro Garcia (Spa) Astana                                      2.49
51 Thomas Frei (Swi) Astana                                                2.52
52 Maint Berkenbosch (Ned) Team Regiostrom - Senges                            
53 Alessandro Bertuola (Ita) Tenax Salmilano                               2.56
54 Michael Schär (Swi) Astana                                              3.00
55 David Kopp (Ger) Gerolsteiner                                           3.01
56 Florian Stalder (Swi) Team Volksbank                                    3.06
57 Wolfram Wiese (Ger) Team Regiostrom - Senges                            3.07
58 Holger Sievers (Ger) Team 3C - Gruppe Lamonta                           3.13
59 Benoît Salmon (Fra) Agritubel                                           3.16
60 Sven Renders (Bel) Chocolade Jacques - Topsport Vlaanderen                  
61 Enrico Poitschke (Ger) Team Milram                                      3.25
62 Tomas Konecny (Cze) Elk Haus - Simplon                                  3.46
63 Harald Morscher (Aut) Team Volksbank                                        
64 Bartosz Huzarski (Pol) Intel - Action                                   3.49
65 Emilien Benoit Bergès (Fra) Agritubel                                   3.50
66 Jörg Ludewig (Ger) Team Wiesenhof Felt                                  3.57
67 René Obst (Ger) Team 3C - Gruppe Lamonta                                4.05
68 Jan Valach (Svk) Elk Haus - Simplon                                     4.09
69 Felix Gniot (Ger) Heinz von Heiden Focus                                4.17
70 Marcus Burghardt (Ger) T-Mobile Team                                    4.19
71 Claudio Cucinotta (Ita) Tenax Salmilano                                 4.23
72 Koen Barbé (Bel) Chocolade Jacques - Topsport Vlaanderen                4.38
73 Bernhard Kohl (Aut) Gerolsteiner                                        4.46
74 Sebastian Skiba (Pol) Intel - Action                                    4.54
75 Benny De Schrooder (Bel) Chocolade Jacques - Topsport Vlaanderen        5.02
76 Lukasz Bodnar (Pol) Intel - Action                                      5.17
77 Anders Lund (Den) Team CSC                                              5.24
78 Konstantin Schubert (Ger) Team Regiostrom - Senges                      5.33
79 André Korff (Ger) T-Mobile Team                                         5.34
80 Pieter Ghyllebert (Bel) Chocolade Jacques - Topsport Vlaanderen         5.39
81 Peter Wrolich (Aut) Gerolsteiner                                        5.54
82 Evgeniy Sladkov (Kaz) Astana                                            5.58
83 Denis Robin (Fra) Agritubel                                             6.06
84 Mattia Turrina (Ita) Serramenti PVC Diquigiovanni- Selle Italia         6.21
85 Philippe Schnyder (Swi) Serramenti PVC Diquigiovanni- Selle Italia      6.24
86 Björn Schröder (Ger) Team Milram                                        6.27
87 Aivaras Baranauskas (Ltu) Agritubel                                     6.36
88 Niklas Axelsson (Swe) Serramenti PVC Diquigiovanni- Selle Italia        7.01
89 Leonardo Moser (Ita) Serramenti PVC Diquigiovanni- Selle Italia         7.02
90 Honorio Machado Perez (Ven) Tenax Salmilano                             7.07
91 Giairo Ermetti (Ita) Tenax Salmilano                                    7.10
92 Jochen Summer (Aut) Elk Haus - Simplon                                  7.30
93 Pedro Miguel Lopes Goncalves (Por) Benfica                              8.18
94 Robert Retschke (Ger) Team Wiesenhof Felt                               8.35
95 Christoph Von Kleinsorgen (Ger) Heinz von Heiden Focus                  8.46
96 Gerrit Glomser (Aut) Team Volksbank                                         
97 Emiliano Donadello (Ita) Serramenti PVC Diquigiovanni- Selle Italia     9.37
98 Olaf Pollack (Ger) Team Wiesenhof Felt                                  9.59
99 Serge Herz (Ger) Heinz von Heiden Focus                                10.21
100 Hans-Jürgen Juretzek (Ger) Team Regiostrom - Senges                   10.41
101 André Schulze (Ger) Team Wiesenhof Felt                               10.57
102 Stefan Rucker (Aut) Elk Haus - Simplon                                10.58
103 Martin Hebik (Cze) Heinz von Heiden Focus                             11.19
104 Luca Sabatino (Ita) Tenax Salmilano                                   11.22
105 Sebastian Schwager (Ger) Team Milram                                  11.29
106 Matthias Friedemann (Ger) Team 3C - Gruppe Lamonta                    11.31
107 Heinrich Haussler (Ger) Gerolsteiner                                  11.40
108 Tobias Erler (Ger) Team 3C - Gruppe Lamonta                           12.09
109 Wolfgang Murer (Aut) Elk Haus - Simplon                               12.20
110 Linas Balciunas (Ltu) Agritubel                                       12.49
111 Hans Dekkers (Ned) Agritubel                                          13.02
112 Kenny Lisabeth (Bel) Chocolade Jacques - Topsport Vlaanderen          13.14
113 Carlo Westphal (Ger) Gerolsteiner                                     14.01
114 Dariusz Rudnicki (Pol) Intel - Action                                 15.31
115 Jason Phillips (Aus) Heinz von Heiden Focus                           15.40
 
Points classification
 
1 Erik Zabel (Ger) Team Milram                                               12 pts
2 Stuart O'Grady (Aus) Team CSC                                              11
3 André Schulze (Ger) Team Wiesenhof Felt                                    10
4 Malaya Van Ruitenbeek (Ned) Team Regiostrom - Senges                        9
5 Javier Benitez Pomares (Spa) Benfica                                        7
6 Sebastian Siedler (Ger) Team Milram                                         7
7 Stefan Schumacher (Ger) Gerolsteiner                                        5
8 Jens Voigt (Ger) Team CSC                                                   5
9 Matthias Friedemann (Ger) Team 3C - Gruppe Lamonta                          5
10 Jörg Ludewig (Ger) Team Wiesenhof Felt                                     5
11 Giairo Ermetti (Ita) Tenax Salmilano                                       3
12 David Kopp (Ger) Gerolsteiner                                              3
13 Gerald Ciolek (Ger) T-Mobile Team                                          2
14 Michael Schär (Swi) Astana                                                 2
15 Emilien Benoit Bergès (Fra) Agritubel                                      2
16 Marcus Burghardt (Ger) T-Mobile Team                                       2
17 Aivaras Baranauskas (Ltu) Agritubel                                        2
18 Jochen Summer (Aut) Elk Haus - Simplon                                     2
19 Pedro Miguel Lopes Goncalves (Por) Benfica                                 2
20 Björn Papstein (Ger) Team 3C - Gruppe Lamonta                              1
21 Steven Caethoven (Bel) Chocolade Jacques - Topsport Vlaanderen             1
22 Honorio Machado Perez (Ven) Tenax Salmilano                                1
 
Mountains classification
 
1 Fabian Wegmann (Ger) Gerolsteiner                                           9 pts
2 Thomas Rohregger (Aut) Elk Haus - Simplon                                   7
3 Giairo Ermetti (Ita) Tenax Salmilano                                        5
4 Michael Schär (Swi) Astana                                                  3
5 Christoph Von Kleinsorgen (Ger) Heinz von Heiden Focus                      3
6 Matthias Friedemann (Ger) Team 3C - Gruppe Lamonta                          3
7 Björn Papstein (Ger) Team 3C - Gruppe Lamonta                               2
8 Jörg Ludewig (Ger) Team Wiesenhof Felt                                      2
9 Pedro Miguel Lopes Goncalves (Por) Benfica                                  2
10 Malaya Van Ruitenbeek (Ned) Team Regiostrom - Senges                       1
11 Matthias Kessler (Ger) Astana                                              1
12 Niklas Axelsson (Swe) Serramenti PVC Diquigiovanni- Selle Italia           1
 
Young rider classification
 
1 Peter Velits (Svk) Team Wiesenhof Felt                               13.52.54
2 Bart Vanheule (Bel) Chocolade Jacques - Topsport Vlaanderen              1.35
3 Blazej Janiaczyk (Pol) Intel - Action                                    1.36
4 Alexey Kolessov (Kaz) Astana                                             2.24
5 Gerald Ciolek (Ger) T-Mobile Team                                        2.27
6 Rui Costa (Por) Benfica                                                  2.36
7 Daniel Navarro Garcia (Spa) Astana                                       2.49
8 Thomas Frei (Swi) Astana                                                 2.52
9 Michael Schär (Swi) Astana                                               3.00
10 Emilien Benoit Bergès (Fra) Agritubel                                   3.50
11 Felix Gniot (Ger) Heinz von Heiden Focus                                4.17
12 Marcus Burghardt (Ger) T-Mobile Team                                    4.19
13 Anders Lund (Den) Team CSC                                              5.24
14 Evgeniy Sladkov (Kaz) Astana                                            5.58
15 Mattia Turrina (Ita) Serramenti PVC Diquigiovanni- Selle Italia         6.21
16 Leonardo Moser (Ita) Serramenti PVC Diquigiovanni- Selle Italia         7.02
17 Emiliano Donadello (Ita) Serramenti PVC Diquigiovanni- Selle Italia     9.37
18 Serge Herz (Ger) Heinz von Heiden Focus                                10.21
19 Luca Sabatino (Ita) Tenax Salmilano                                    11.22
20 Sebastian Schwager (Ger) Team Milram                                   11.29
21 Matthias Friedemann (Ger) Team 3C - Gruppe Lamonta                     11.31
22 Heinrich Haussler (Ger) Gerolsteiner                                   11.40
23 Carlo Westphal (Ger) Gerolsteiner                                      14.01
 
Team classification
 
1 Team CSC                                                             41.37.02
2 Team Wiesenhof Felt                                                      1.15
3 Gerolsteiner                                                             1.38
4 Team Milram                                                              2.07
5 T-Mobile Professional Cycling                                            2.14
6 Intel-Action                                                             2.16
7 Team Regiostrom-Senges                                                   2.52
8 Team Volksbank                                                           3.03
9 Astana                                                                   3.31
10 Elk Haus-Simplon                                                        3.55
11 Tenax-Menikini                                                          4.06
12 Team 3C-Gruppe Lamonta                                                  4.32
13 Benfica                                                                 4.45
14 Chocolade Jacques-Topsport Vlaanderen                                   5.26
15 Agritubel                                                               6.13
16 Serramenti PVC Diquigiovanni- Selle Italia                              9.18
17 Heinz von Heiden Focus                                                 12.30