47th Nevada City Classic - NE
USA, June 17, 2007
2006 Results Results Past winners
South African dominates in Nevada City
Darren Lill (Navigators) rolls home alone
Photo ©: Kris Wakefield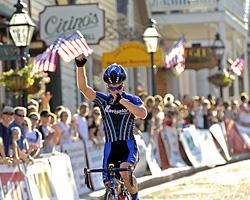 Some of the top professional cyclists from around the globe fronted in Nevada City, California for one of the oldest, physically, and technically challenging races in the United States. Thousands of spectators lined the 1.1-mile hilly course to watch a field of over 100 Pro-1-2 riders contest the historic race from teams including Discovery, BMC, Jelly Belly, Kodak Gallery/Sierra Nevada, Navigators, Rock Racing, Successful Living, Lombardi, Vitamin Cottage, and California Giant.
Navigators' Darren Lill, a last minute entry in the event, turned the Pro field upside down with a vicious attack on the fourth lap that most thought was fruitless. Fans who expected one of the past masters of the Nevada City Classic to step atop the podium were doing a double take each time Darren Lill blasted by.
While previous NCC champ and lone Discovery Team rider Tony Cruz was the early favourite, he was a marked-man as BMC stacked the deck with another crowd favourite Scott Moninger, accompanied by Jackson Stewart, Nathan Miller, Scott Nydam and Mike Sayers.
While Lill was off the front by several seconds for most of the race, the crowd watched what was perceived as the race within the race, which was a group of 10 riders trading positions, including Cruz, who was being doggedly marked by Moninger.
As the race blew apart with a record-setting pace, two additional chase packs formed with riders constantly trying to bridge to the next group, or falling back to the group behind. At this point it became that Lill had increased his lead to nearly a minute and a half and they needed to work together to have any chance of reeling him in with only 15 laps to go.
Cruz attacked on two consecutive laps, followed by Moninger who had been tight on his wheel on the third lap. The pairs move left them and Rios as the only riders with any realistic chance of tracking down Lill in the remaining eight laps.
Men's podium (L-R): Scott Moninger (BMC), Darren Lill (Navigators), and Tony Cruz (Discovery)
Photo ©: Kris Wakefield

At four laps to go they had cut the gap almost in half to 48 seconds, but with three laps to go they appeared to accept the race would be for second place. Cruz held on for a third-place finish behind defending champion Scott Moninger. Marcos Rios and Jackson Stewart took fourth and fifth respectively.
"This one was hard for me," Cruz said. "There were so many people to watch today. The other teams all had three or four guys, which makes it tough. I knew just about anything I did was a gamble.
"Only the strongest riders win here," Cruz said. "It's such a difficult course. If you win this one, it's like you have bragging rights on the West Coast. It's almost like winning a national championship."
Speaking with announcer Dave Towle, Darren Lill addressed the fans with a wry smile on his face. "I don't think you ever come into a race expecting to win, you just have confidence that you'll do well," he said. "In this case it worked out - this is a big win. I was hoping to wait until about halfway through before attacking, but we were into the race about 20 minutes and the time just felt right to go. The BMC rider who stuck with me wasn't willing to do any work with Moninger, Sayers and Stewart in the chase group, and I wasn't going to let him sit on me, so I just rode him off my wheel."
In the Women's Pro 1-2 field Shelly Olds ran away from the competition, keeping the event title in her ProMan team for another year. Olds took victory in a very international field, which included the Jazz Apple women's squad from New Zealand. The Kiwi squad pushed the pace early along with 2006 winner Helene Drumm (ProMan), who finished fifth this year after working hard to help Olds get away.
Olds, a 26 year-old Californian, lapped many riders en route to her first win at Nevada City, and third of the 2007 season. "This is one that goes on the résumé, for sure," said Olds, who was contesting the race for the second time. "To get on the podium or to win, it's always great. There's always great competition here."
Olds' teammate Rachael Lloyd took second, while Rushlee Bucahanan (Jazz Apple) finished third from Bettina Hold (Cheerwine).
Photography
For a thumbnail gallery of these images, click here
Images by Kris Wakefield
Results
Pro/Cat 1/2 Men  
  
1 Darren Lill (USA) Navigators                                   
2 Scott Moninger (USA) BMC Pro Cycling Team                      
3 Tony Cruz (USA) Discovery                                      
4 Marco Rios (USA) Kahala LeGrange                               
5 Jackson Stewart (USA) BMC Pro Cycling Team                     
6 Jared Barrilleaux (USA) Metromint                              
7 Mark Santurbane (USA) Team Bobs-Bicycles.Com                   
8 Jonathan Baker (USA) Vitamin Cottage                           
9 Micheal Grabinger (USA) Successful Living.com P/B Park         
10 Jesse Moore (USA) California Giant/Specialized                
11 Rudolph Napolitano (USA) Rock Racing                          
12 Edmund Overend (USA) Unattached                               
13 David Rodriguez (USA) Navigators                              
14 Kayle Leogrande (USA) Rock Racing                             
15 Jeremiah Wiscovitch (USA) Rock Racing                         
16 Scott Nydam (USA) BMC Pro Cycling Team                        
17 Andres Gil (USA) Pacific State Bank/Anderson Ho               
18 Michael Sayers (USA) BMC Pro Cycling Team                     
19 Stephen Dey (USA) DBC Elite                                   
20 Jonathan Eropkin (USA) CVC                                    
21 Jason Moeschler (USA) WTB/Fox/Santa Cruz                      
22 Chris Coble (USA) Easton/Specialized                          
23 Mitchell Trux (USA) DBC Elite                                 
24 Kevin Klein (USA) Team Rock                                   
25 Micheal Hutchinson (USA) Team Spine                           
26 Austin Carroll (USA) Rock Racing                              
27 Dan Sweet (USA) Davis Bike Club                               
28 Patrick Caro (USA) Successful Living.com P/B Park             
29 Jimmy Miller (USA) Adobe/Schwalbe/Lombardi Sports             
30 Ariel Herrmann (USA) Pacific State Bank                       
31 Peter Graf (USA) Pegasus/VandenBerghe Propertie               
32 Jonz Norine (USA) Owens Healthcare                            
33 Patrick Briggs (USA) California Giant/Specialized             
34 Nathan Miller (USA) BMC Pro Cycling Team                      
35 Kevin Ring (USA) Kovarns                                      
36 Chris Swan (USA) Lombardi Sports                              
37 Adam Curry (USA) Hagens Berman, LLP                           
38 Jamel Danseh (USA) Kodak Gallery                              
39 Matt Ream (USA) Owens Healthcare                              
40 Michael Telega (USA) California Giant/Specialized             
41 Mark Shimahara (USA) TGI Hazards                              
42 Joe Pinkerton (USA) Vitamin Cottage                           
43 Vincent Owens (USA) Central Valley Cycling Club               
44 Ricardo Escuela (Arg) Successful Living.com P/B Park          
45 Ian Burnett (USA) Fort Lewis College                          
46 Sean Mazich (USA) Waste Management                            
47 Devon Vigus (USA) California Giant/Specialized                
48 John Staroba (USA) Eastside Cycles                            
49 Sergio Hernandez (USA) Rock Racing                            
50 Bill Reuss (USA) Owens Healthcare                             
51 Ross Spero (USA) Hagens Berman, LLP                           
52 Anastasio Flores (USA) Another Bike Shop                      
53 Timmy Doud (USA) Waste Management                             
54 Mark Deterline (USA) Pegasus/VandenBerghe Propertie           
DNF Zac Coolman (USA) Waste Management                           
DNF Ron Jentzen (USA) Waste Managemnt                            
DNF Dave Bailey (USA) AMD-Discovery Channel Masters              
DNF Michael Tymoff (USA) Arete Racing/Vellum Cycles              
DNF Evan Lawrence (USA) BPG/ Montano Velo                        
DNF Salvador Borrego-Crum (USA) California Giant/Specialized     
DNF Patrick Dunaway (USA) California Giant/Specialized           
DNF Keith Miller (USA) California Giant/Specialized              
DNF Steven Reaney (USA) California Giant/Specialized             
DNF Mike Taylor (USA) California Giant/Specialized               
DNF Taylor Kuphaldt (USA) Davis Bike Club                        
DNF Tyler Dibble (USA) DBC Elite                                 
DNF Stephen Maluk (USA) Etna Brewing/DeSalvo Cycles              
DNF Cooper Lange (USA) Hagens Berman, LLP                        
DNF Jorge Alvarado (USA) Kahala-La Grange                        
DNF Marco Rios (Mex) Kahala-La Grange                            
DNF Cameron Hoffman (USA) Ogden One Cycling Team                 
DNF Bob Newman (USA) pacific state bank/ anderson h              
DNF Rahsaan Bahati (USA) Rock Racing                             
DNF Mariano Friedick (USA) Rock Racing                           
DNF Haldane Morris (USA) Rock Racing                             
DNF Sebastian Haedo (Arg) Rock Racing                            
DNF Adam Switters (USA) Rock Racing                              
DNF Dan Martin (USA) Safeway/G.A. Communications                 
DNF Michael Hernandez (USA) Safeway/GA Communications            
DNF Brian Choi (USA) Specialized/Sierra Nevada                   
DNF Alessandro Bazzana (Ita) Successful Living.com P/B Park      
DNF Chuck Coyle (USA) Successful Living.com P/B Park             
DNF Dusan Ganic (SCG) Successful Living.com P/B Park             
DNF Curtis Gunn (USA) Successful Living.com P/B Park             
DNF Alexi Martinez (USA) Successful Living.com P/B Park          
DNF Christian Valenzuela (Mex) Successful Living.com P/B Park    
DNF Mark Fennell (USA) TGI / Hazard's                            
DNF Dean Peters (USA) unattached                                 
DNF Eric Riggs (USA) USA National Team // VMG                    
DNF Dominic Giampaolo (USA) Webcor/Alto Velo                     
DNF Mark Sasser (USA) CVC                                        
DNF Jorge Alvarado (USA) Kauala LeGrange                         
DNF Jono Coulter (Aus) Webcor Alto Velo                          

Past winners


     Men                                        Women
2006 Scott Moninger (Health Net-Maxxis)         Helene Drumm (Proman/Paradigm)
2005 T. Burke Swindlehurst (Team Seasilver)     Barbara Howe (Velo Bella)