58th GP Llodio - 1.1
Spain, June 3, 2007
2006 Results Results Past winners
First pro victory for de la Fuente
By Monika Prell
David de la Fuente wins
Photo ©: Monika Prell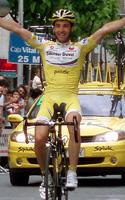 Saunier Duval's string of recent successes continued today when David de la Fuente capped off a dominant team performance with victory in the GP Llodio, his first ever professional win. The 26 year-old, who began has pro career with Vini Caldirola back in 2003, broke away on the final climb to finish 20 seconds clear of team-mate Jesus Del Nero who in turn held off Relax-GAM's Jose Miguel Elias.
"I'm very content with this victory, my first as a professional cyclist," de la Fuente told Cyclingnews after the award ceremony. "From the beginning I was in many different breakaway groups and then I managed to ride away from [José Miguel] Elias on the final climb. I dedicate this victory to my parents and my girlfriend who are here with me and who I owe so much."
de la Fuente also picked up the mountains prize while Saunier Duval were easily the best team, placing three riders in the top six. Mexican Ignacio de Sarabia (Extremadura Spiuk) won the special sprints classification while José Ruiz (Andalucía Cajasur) took the 'metas volantes' competition.
How it unfolded
The first large breakaway group
Photo ©: Monika Prell

One hundred and two riders signed on for the 175 undulating kilometres starting and finishing in the Basque village of Llodio in northern Spain. Perfect weather conditions greeted the 12 teams, two of them ProTour squads in the form of Saunier Duval-Prodir and local favourites Euskaltel-Euskadi. The big guns were eager to please their vocal Basque fans and a large group of around 25 riders split from the peloton after 12 kilometres.
Despite the firepower from Euskaltel riders Haimar Zubeldia, Mikel Astarloza and Iban Iriondo, the peloton, driven mainly by Relax GAM and Grupo Nicolas Mateos riders recaptured the large group as the heat began to rise.
With six categorised climbs to be tackled - the Alto de Altube (Cat. 2), three ascents of the Alto de Garate (Cat. 3) and two of the Alto de Malkuartu (Cat. 3) - many riders couldn't stand the heat and chose to abandon the race in one of many idyllic Basque villages scattered along the race route.
Not so de la Fuente who initiated with winning move at 30 kilometres to go on the Alto do Malkuartu with only José Miguel Elias (Relax-GAM) able to follow the Cantabrian who was nominated as most aggressive rider in last year's Tour de France. On the final mountain, the Alto de Garate, de la Fuente abandoned his companion and hit out alone. Elias was caught by a fast pursuing Jesús del Nero who then out sprinted him for second.
Photography
For a thumbnail gallery of these images, click here
Images by Monika Prell
Results - 176.5 km

1 David De La Fuente (Spa) Saunier Duval-Prodir    4.11.27 (41.877 km/h)
2 Jesus Del Nero (Spa) Saunier Duval-Prodir           0.21
3 Jose Miguel Elias (Spa) Relax-GAM                   0.23
4 Mikel Astarloza (Spa) Euskaltel-Euskadi             0.45
5 David Garcia (Spa) Karpin-Galicia                   1.13
6 Javier Megias (Spa) Saunier Duval-Prodir            1.22
7 Daniel Moreno (Spa) Relax-GAM                           
8 Haimar Zubeldia (Spa) Euskaltel-Euskadi                 
9 Carlos Torrent (Spa) Viña Magna-Cropu                   
10 Fco. Jose Ventoso (Spa) Saunier Duval-Prodir           
11 Marco Marcato (Ita) Team LPR                           
12 Daniele Callegarin (Ita) Team LPR                      
13 Antonio Olmo (Spa) Andalucia-Cajasur                   
14 Jesus Ramirez (Spa) Extremadura-Spiuk                  
15 Xabat Otxotorena (Spa) Orbea-Oreka                     
16 Paolo Bailetti (Ita) Team LPR                          
17 Amets Txurruka (Spa) Euskaltel-Euskadi                 
18 Vicente Ballester (Spa) Fuerteventura-Canaria          
19 David Martin (Spa) Viña Magna-Cropu                    
20 Israel Perez (Spa) Extremadura-Spiuk               1.28
21 Alberto Fernandez (Spa) Saunier Duval-Prodir       1.29
22 Claudio J Casas (Spa) Andalucia-Cajasur            1.45
23 Javier Moreno (Spa) Extremadura-Spiuk                  
24 Oscar Garcia-Casarr (Spa) Relax-GAM                2.14
25 Roberto Traficante (Ita) Team LPR                      
26 Juan Olmo (Spa) Andalucia-Cajasur                      
27 Beñat Albizuri (Spa) Euskaltel-Euskadi                 
28 Adrian Palomares (Spa) Fuerteventura-Canaria           
29 Aaron Villegas (Spa) Orbea-Oreka                   2.20
30 David Herrero (Spa) Karpin-Galicia                     
31 Iker Leonet (Spa) Fuerteventura-Canaria            2.22
32 Arkaitz Duran (Spa) Saunier Duval-Prodir               
33 Joseba Zumeta (Spa) Orbea-Oreka                        
34 Ignacio Sarabia (Mex) Extremadura-Spiuk            2.25
35 Raul Garcia (Spa) Relax-GAM                        4.02
36 Jesus Rosendo (Spa) Andalucia-Cajasur                  
37 Diego Milan (Spa) Grupo Nicolas Mateos                 
38 Angel Vallejo (Spa) Relax-GAM                          
39 Manuel Ortega (Spa) Andalucia-Cajasur                  
40 Jose Luis Carrasco (Spa) Andalucia-Cajasur         6.20
41 Serafin Martinez (Spa) Karpin-Galicia                  
42 Luis Perez Rom. (Spa) Andalucia-Cajasur            6.21
43 Unai Etxebarria (Ven) Euskaltel-Euskadi                
44 Pablo De Pedro (Spa) Grupo Nicolas Mateos          8.11
45 Oleg Chuzhda (Ukr) Fuerteventura-Canaria               
46 Antonio Cosme (Spa) Viña Magna-Cropu                   
47 Martin Mata (Spa) Viña Magna-Cropu                     
48 Egoitz Murgoitio (Spa) Grupo Nicolas Mateos            
49 Iban Iriondo (Spa) Euskaltel-Euskadi                   
50 Ramon Troncoso (Spa) Karpin-Galicia                    
51 Juan José Abril (Spa) Viña Magna-Cropu                 
52 Jorge Perez (Spa) Relax-GAM                            
53 Sergi Escobar (Spa) Grupo Nicolas Mateos               
54 Gaizka Lasa (Spa) Karpin-Galicia                   8.14
55 Walter Proch (Ita) Team LPR                            
56 Denis Kudashev (Rus) Relax-GAM                     9.00
57 Jose Ruiz (Spa) Andalucia-Cajasur                  9.27
58 Pedro Romero (Spa) Extremadura-Spiuk                   
59 Juan C. Carinena (Spa) Andalucia-Cajasur               
60 Iban Mayoz (Spa) Euskaltel-Euskadi                10.40
61 Josu Mondelo (Spa) Extremadura-Spiuk              11.44
62 Raul Alarcon (Spa) Saunier Duval-Prodir                
63 Michael Blanchy (Bel) Babes Only Villapark             
64 Ronny Poelvoorde (Bel) Babes Only Villapark            
65 Fernando Torres (Spa) Extremadura-Spiuk                
66 Ramuntxo Garmendia (Fra) Babes Only Villapark          
67 Lander Aperribai (Spa) Euskaltel-Euskadi               
68 Sergio Herrero (Spa) Extremadura-Spiuk                 
69 Gorka Amuriza (Spa) Grupo Nicolas Mateos               
70 Luis Fernandez (Spa) Karpin-Galicia                    
71 David Belda (Spa) Fuerteventura-Canaria                
72 Eduard Vorganov (Rus) Karpin-Galicia              11.47
 
Outside time limit (hors delai)
 
HD Asier Fernandez (Spa) Orbea-Oreka                 16.43
 
Mountains
 
Puerto de Altube (Cat. 2), km 42.2
1 David De La Fuente (Spa) Saunier Duval-Prodir         10 pts
2 Francisco Lara (Spa) Andalucia-Cajasur                 7
3 Serafin Martinez (Spa) Karpin-Galicia                  5
4 Eladio Sanchez (Spa) Relax-GAM                         3
5 Jose Miguel Elias (Spa) Relax-GAM                      2
6 Beñat Albizuri (Spa) Euskaltel-Euskadi                 1
 
Alto de Garate (Cat. 3) km 99.9
1 David De La Fuente (Spa) Saunier Duval-Prodir          6 pts
2 Jose Miguel Elias (Spa) Relax-GAM                      4
3 Mikel Astarloza (Spa) Euskaltel-Euskadi                2
 
Alto de Malkuartu (Cat. 3), km 145.5
1 David De La Fuente (Spa) Saunier Duval-Prodir          6 pts
2 Jose Miguel Elias (Spa) Relax-GAM                      4
3 Roberto Traficante (Ita) Team LPR                      2
4 Mikel Astarloza (Spa) Euskaltel-Euskadi                1
 
Alto de Garate (Cat. 3), km 153.7
1 David De La Fuente (Spa) Saunier Duval-Prodir          6 pts
2 Jose Miguel Elias (Spa) Relax-GAM                      4
3 Mikel Astarloza (Spa) Euskaltel-Euskadi                2
4 David Garcia (Spa) Karpin-Galicia                      1
 
Alto de Malkuartu (Cat. 3), km 162.7
1 Jose Miguel Elias (Spa) Relax-GAM                      6 pts
2 David De La Fuente (Spa) Saunier Duval-Prodir          4
3 Mikel Astarloza (Spa) Euskaltel-Euskadi                2
4 David Garcia (Spa) Karpin-Galicia                      1
 
Alto de Garate (Cat. 3), km 170.9
1 David De La Fuente (Spa) Saunier Duval-Prodir          6 pts
2 Jose Miguel Elias (Spa) Relax-GAM                      4
3 Jesus Del Nero (Spa) Saunier Duval-Prodir              2
4 Mikel Astarloza (Spa) Euskaltel-Euskadi                1
 
Sprints
 
Amurrio, km 83.7
1 Jose Ruiz (Spa) Andalucia-Cajasur                      3 pts
2 Oleg Chuzhda (Ukr) Fuerteventura-Canaria               2
3 Juan C. Carinena (Spa) Andalucia-Cajasur               1
 
Arespalditza, km 129.3
1 Jose Ruiz (Spa) Andalucia-Cajasur                      3 pts
2 David Garcia (Spa) Karpin-Galicia                      2
3 Juan C. Carinena (Spa) Andalucia-Cajasur               1
 
Special sprints
 
Murgia, km 47.2
1 Ignacio Sarabia (Mex) Extremadura-Spiuk                3 pts
2 Serafin Martinez (Spa) Karpin-Galicia                  2
3 Oleg Chuzhda (Ukr) Fuerteventura-Canaria               1
 
Llodio, km 95.5
1 Ignacio Sarabia (Mex) Extremadura-Spiuk                3 pts
2 Oleg Chuzhda (Ukr) Fuerteventura-Canaria               2
3 Pedro Romero (Spa) Extremadura-Spiuk                   1
 
Teams
 
1 Saunier Duval-Prodir                            12.36.04
2 Euskaltel-Euskadi                                   1.46
3 Relax-GAM                                           2.16
4 Team LPR                                            2.23
5 Extremadura-Spiuk                                   2.52
6 Andalucia-Cajasur                                   3.38
7 Fuerteventura-Canarias                              4.15
8 Orbea-Oreka                                         4.21
9 Karpin-Galicia                                      8.10
10 Viña Magna-Cropu                                   9.12
11 Grupo Nicolas Mateos                              18.41
12 Babes Only Villapark                              33.29

Past winners
2006 Jaume Rovira (Spa) Andalucia-Paul Versan
2005 David Herrero (Spa) Euskaltel-Euskadi
2004 Unai Etxebarria (Ven) Euskaltel-Euskadi
2003 Juan Fuentes (Spa) Saeco
2002 Jose Ivan Gutierrez (Spa) iBanesto.com
2001 Juan J De Los Angeles (Spa)
2000 Miguel A. M. Perdiguero (Spa)
1999 Marco Velo (Ita)
1998 Sergej Smetanine (Rus)
1997 José Rodriguez-Garcia (Spa)
1996 David Etxebarria (Spa)
1995 Marino Alonso (Spa)
1994 Asiat Saitov (Rus)
1993 Miguel-Angel Martinez (Spa)
1992 Angel Edo (Spa)
1991 Juan-Carlos Martin (Spa)
1990 Aitor Garmendia (Spa)
1989 Manuel-Jorge Dominguez (Spa)
1988 Carlos Hernandez (Spa)
1987 Pello Ruiz-Cabestany (Spa)
1986 Angel Cgolden (Spa)
1985 Julian Gorospe (Spa)
1984 Alfonso Guttierez (Spa)
1982 Antonio Coll (Spa)
1981 Jorge Ruiz-Cabestany (Spa)
1980 Felipe Yanez (Spa)
1979 Francisco Albelda (Spa)
1978 Ismaél Lejarreta (Spa)
1977 Bernardo Alfonsel (Spa)
1976 Luis-Alberto Ordiales (Spa)
1975 José-Luis Uribezubia (Spa)
1974 Antonio Menendez (Spa)
1973 Javier Elorriaga (Spa)
1972 (3) Domingo Perurena (Spa)
1971 Celestino Padilla (Spa)
1970 (2) Domingo Perurena (Spa)
1969 Domingo Perurena (Spa)
1968 Luis Ocana (Spa)
1967 José-Antonio Momene (Spa)
1966 José-M. Lopez-Rodriguez (Spa)
1965 Andrés Incera (Spa)
1964 Juan José Sagarduy (Spa)
1963 V. Urionabarrenechea (Spa)
1962 Juan María Balier (Spa)
1961 José Bernárdez (Spa)
1960 Julio Jiménez (Spa)
1959 (2) Antonio Ferraz (Spa)
1958 Antonio Ferraz (Spa)
1957 Carlos Pérez (Spa)
1956 Roberto Morales (Spa)
1955 Martín Erausquin (Spa)
1954 (2) Antón Barrutia (Spa)
1953 Antón Barrutia (Spa)
1952 Jesús Galdeano (Spa)
1951 Carmelo Morales (Spa)
1950 Jesús Morales (Spa)
1949 Félix Vidaurreta (Spa)

Past winners by Mario Stiehl, www.world-of-cycling.com