British National Criterium Championship - NE
Otley, Yorkshire, Great Britain, June 20, 2007
McCallum triumphs in British Championship
By Gerry McManus
Muscle man McCallum wins.
Photo ©: Gerry McManus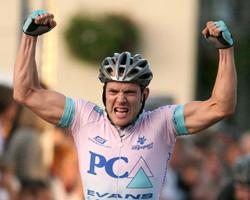 Scotland's James McCallum (Plowman Craven/Evans Cycles) powered to his first national title when he sprinted across the finish line in the British National Criterium Championship in Otley on Wednesday.
The former gymnast now has a gold medal to add to the silver he won in the British derny paced track championships last weekend and the bronze medal he won for Scotland in the 20km scratch race in the Commonwealth Games in Melbourne last year. The 28 year-old, originally from Glasgow, crossed the line ahead of world team pursuit champion Ed Clancy (Landbowkredit) and Matt Cronshaw (Science in Sport/Trek) after an hour of racing in front of thousands of spectators in the Yorkshire town.
McCallum was overjoyed at winning the national champion's jersey after working for the Plowman Craven team all year. "I thought I was going to puke with four laps to go," said McCallum. "That climb on every lap seemed to sap the legs out of you but all of a sudden I felt good and my legs came round. I put an effort in on the back of the circuit to get across to the break and James (Taylor) shouted at me that we were away.
"On the last two laps I felt I was floating up the climb. On the last lap Ben Greenwood attacked and I got on to his wheel then Ed Clancy put a big dig in on the long climb and I was struggling to get on to him. I looked at my speed as we were coming around the last corner and we were doing 65 km/h. I was praying that my tyres would be grippy. Matt Cronshaw was in front of me and I left a gap, rushed on to him and went round him on the left. This is the first time I have had the opportunity to use my sprint this season but it's a pretty good time to use it."
"In the BC Premier races I am riding for Gordie (McCauley) and in the crits I am riding for James Taylor and Gibbie (Tony Gibb)," continued McCallum. "I know the form is there and it's just a matter of taking the opportunities when they get here like I did in the Commonwealth Games. I can't be any happier."
How it unfolded
Ed Clancy (Landbowkredit)
Photo ©: Gerry McManus

Ed Clancy had been a late entry and got the reserve ride he wanted on his return from racing with his Landbowkredit team in Belgium. Steve Cummings (Discovery Channel) was a no show but all the other big names were there.
After a few attacks had failed on the warm summer's evening, it was Tom Collins (SIS/Trek) who made the first real effort of the race. Collins broke away on his own and stayed clear for over three laps despite a serious chase group doing their best to reach him. After he was brought back to the main field it had looked like a mass sprint was inevitable as the bunch jumped on everything that tried to escape.
Pre-race favourite Russell Downing (Team Health Net- Maxxis) had been in a couple of moves but his temporary companions seemed unwilling to work with him and take him to the finish in the leading group.
The podium
Photo ©: Gerry McManus

The key break was made with four laps to go after a small group went clear and was gradually enlarged to make the nine-man selection. Collins was away again with Tom Diggle (Recycling.co.uk), McCallum, Cronshaw, Clancy, Ben Greenwood (Bedogni), Simon Holt (Recycling.co.uk), Ross Muir (Rapha Condor) and last year's champion James Taylor (Plowman Craven/Evans).
Collins paid for his earlier efforts falling out of contention as the race reached its conclusion and the remaining eight riders managed to forge a 15 second lead by keeping up the blistering pace to hold off the pursuing bunch. McCallum just had enough left in the final sprint to enjoy his victory, punching the air as he crossed the finish line.
Clancy may have been disappointed at missing out on the championship gold but bronze medallist Cronshaw was almost speechless after the 18 year-old made the podium in only his second year of cycle racing. "I am so chuffed," he said. "I had a go at winning it and attacked down the hill to the last corner. I think I looked over my shoulder and maybe I shouldn't have done. I am doing my A-level exams at the moment and I can't get the all the miles in that I would like. I will be riding in the Ryedale GP this weekend and then the national championships in Beverley and do as much for the team as I can."
Photography
For a thumbnail gallery of these images, click here
Images by Gerry McManus/www.gerrymcmanus.co.uk
Results
1 James McCallum (Plowman Craven/Evans Cycles) 
2 Ed Clancy (Landbowkredit - Tonnisteiner)
3 Matt Cronshaw (SiS/Trek)
4 Simon Holt (Recycling.co.uk)
5 Ross Muir (Rapha Condor)
6 Tom Diggle (Recycling.co.uk)
7 James Taylor (Plowman Craven/Evans Cycles)
8 Ben Greenwood (Bedogni-Natalini-Praga)
9 Ian Bibby (SiS/Trek)
10 Adam Blythe (SiS/Trek)
11 Tom Barras (Merlin)
12 Russell Downing (Team Health Net-Maxxis
13 Ian WIlkinson (SiS/Trek)
14 Dean Downing (Rapha Condor)
15 John Tanner (Sportscover Planet X)
16 Adam Bonser (Recycling.co.uk
17 James Millard (Plowman Craven/Evans Cycles)
18 Tom Murray (Kinesis)
19 Alistair Rutherford (Wills Wheels)
20 James Sampson (Kinesis)
21 Graham Baxter (GDLA- Aqualra)