International Tour de Toona - NE
USA, July 23-29, 2007
Main Page Results Overall standings Previous Stage
Stage 7 - July 29: Downtown Altoona Criterium, 1.2 km
Menzies, Health Net-Maxxis stomp on NRC in 'Toona
By Mark Zalewski
Karl Menzies (Health Net) vaults off the wheel
Photo ©: Kurt Jambretz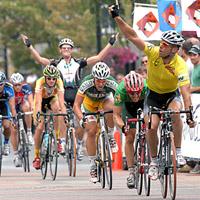 This week in Altoona, Pennsylvania, the NRC standings took a significant change, both in terms of the team and individual standings. Health Net-Maxxis' Karl Menzies and Rory Sutherland dominated the race with a one-two overall finish. With NRC leader Ben Jacques-Maynes (Priority Health) not in 'Toona this week, Sutherland's second place should vault him into first place in the NRC, while Menzies' two stage wins, six days in the leader's jersey and the overall win will easily move him up into the top five as well. And winning today's final criterium, making it three stage wins, confirmed this.
"The team wanted to be on the front from the start," said Menzies. "We didn't care about the time bonuses, just wanted to keep it together for a sprint at the end. Toyota and Navigators would have had to take every time bonus and split us at the end. I just had too strong a team, all week."
Into the final lap, the GC was all sewn up with Sutherland leading Menzies around the final turns. From there it was icing on the cake. "As he has done so many times for me, Rory took it through the last corners. Dionne was on his wheel and he went at the same time as me up the final straight."
The final straight is a slightly uphill finish with brick pavers across the line. "I was just able to come over the top of him," said Menzies. "But it's easy with the kind of team I have. I think I spent one kilometre on the front all week!"
Slipstream Chipotle won the men's overall
Photo ©: Kurt Jambretz

As for Menzies' closest threat, Chris Baldwin (Toyota-United), the time trial specialist put all his cards on the table to at least make-up the 9 second difference between him and second-place Sutherland, if not the 26 seconds he was behind Menzies -- going for the first intermediate sprint and time bonus solo. "I felt awesome today!" said Baldwin. "You get good legs and it's frustrating that it isn't a time trial. Criteriums are fun when you feel good and not when you don't." But it was not to be, as everyone was looking to improve their lower GC placing, keeping the average speed above 46 km/h.
"It's always been a great race and well attended," said team director Jeff Corbett about the quality of the field his team dismantled. "In the spring teams like Navigators and Slipstream are in Europe somewhere. It's great those guys were here with good names. We really wanted to bring a special squad to this like everyone else does. Great courses and a true seven days -- it was great to do a TTT too!"
'Toona represents the last road race of the NRC calendar and only seven races left in total -- all criteriums with three rated 1.2 or higher. This sets the stage for a NRC showdown in the month of August.
VanGilder takes finale; Armstrong takes the overall
By Kirsten Robbins in Altoona, Pennsylvania
Another look at the victory salute
Photo ©: Kurt Jambretz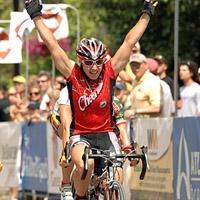 The 2007 International Tour de Toona ended with a explosion when Cheerwine's renowned sprinter Laura VanGilder came blasting out of the final corner to take the field sprint victory over Canadian national champion Gina Grain (Expresscopy) and Lauren Franges(TEAm Lipton).
"The criterium comes after a long race and certainly Cheerwine wanted the win," VanGilder said after her third career win at the Altoona criterium. "We have won here before and we wanted to be on the podium again today. On the last lap I had two team-mates in front of me. Leigh Hobson took over the whole back side of the course and down the hill into the headwind section and Catherine Cheatley came through as the cavalry and took it all the way out of the last corner for me and kept me protected so I had a clear shot up the front straight. The race went perfect and I couldn't have asked for a better group of girls riding for you. Cheerwine has been a wonderful experience this year."
Kristin Armstrong (TEAm Lipton) solidified her victory of the yellow and polka dot jerseys for the second consecutive season ahead of a very tough adversary, US national champion Mara Abbott (Webcor-Builder's). TEAm Lipton continued their podium success with Kori Seehafer's third place.
Armstrong's team decide against sitting in and protecting the yellow jersey and instead went with a more unconventional approach that involved enjoying the finale of a tough week by racing the criterium as aggressive as the rest. "Last night when we had our team meeting we had to decide whether we wanted to just protect the yellow jersey or if we wanted to go out there and race our bikes," Armstrong said while reflecting on the sunset year for her Olympic focused team. "We wanted to end this year and this season tough, to just have a really strong ending to a really great team. We raced aggressive all week to get the yellow jersey and so we didn't want to just sit in today. I think the terrain here can be really intimidating but everyone continued to race not only with strength but by being smart and so women's cycling is showing to be moving in a good direction."
TEAm Lipton rode aggressively at the front
Photo ©: Kurt Jambretz

The thirty lap criterium started just as Armstrong had hoped, with as much competitive spark as would be expected from an exceptionally strong field of cyclists. With time bonuses and sprint points up for grabs the field shot off like a rocket in pursuit of them for the first lap. A small break formed almost every lap but when the whole field wants to be apart of a break away it fell unlikely for one to form before the sprint finale.
Gina Grain (Expresscopy.com) commented on the intensity of the field and her team's goals in bringing home the sprinters jersey with Alison Testroete. "I think the depth of women's racing this year has really increased and it is better than I have ever seen it," Grain said. "Our main priority was to protect the green jersey and after that it was an aggressive finish to the criterium. The pace wasn't super high coming around the last lap so you had to get your elbows out there to keep your place. It came down to a fight for position and who ever had good legs to follow through to the end."
The 2007 Tour de Toona has officially been recognized as a display of the toughest, most aggressive and tactically raced event in the US. VanGilder praised each difficult event after her podium appearance along with all of the teams that took part in seven decisive stages. "I have never begun a stage race at the pace that we began here," VanGilder noted. "The racing never let up and it was incredible and it was exciting to be apart of it all. All the teams were dialed in because there was so much going on tactically that everyone had to be on their toes. I really disagree with those who felt that it wasn't 'raced' by the women and I think that this has been the best racing on US soil all year. I think the women should be proud of that and I think their sponsors should be proud of that."
VanGilder added, "Mara Abbott and Kristin Armstrong are the best riders in this country and hopefully they are going to be the best riders in the world and represent us at the Olympic level. That is the way this race was laid out and the rest of us raced our race too. As an outsider looking it in may have seemed different but I don't think we let anyone down this week and I think that everyone's victories were great because everyone worked hard and should hold their head up high. I don't think anyone should criticize that effort. We are out there doing the best that we can and sometimes we make great choices and sometimes we don't but everyone raced their bikes hard this week."
Photography
For a thumbnail gallery of these images, click here
Images by Mark Zalewski / Cyclingnews
Images by Kurt Jambretz/www.actionimages.cc
Results
Women
 
1 Laura Van Gilder (Cherrwine)                 1.09.31
2 Gina Grain (Team expresscopy.com)                   
3 Lauren Franges (TEAm Lipton)                        
4 Brooke Miller (Team TIBCO)                          
5 Alex Wrubleski (Colavita/Sutter Home)               
6 Theresa Cliff-Ryan (Verducci Breakaway)             
7 Nichole Wangsgard (Bike Hugger)                     
8 Alison Testroete (Team expresscopy.com)             
9 Katharine Carroll (Aaron's)                         
10 Joelle Numainville (Team expresscopy.com)          
11 Heather Labance (Advil Chapstick)                  
12 Catherine Cheatley (Cherrwine)                     
13 Annette Bentler (Colavita/Sutter Home)             
14 Kristin Sanders (Aaron's)                          
15 Amber Rais (Webcor Builders)                       
16 Jennifer Stephenson (Team Ultralink)               
17 Kori Seehafer (TEAm Lipton)                        
18 Robin Farina (Bike Hugger)                         
19 Betina Hold (Cherrwine)                            
20 Felicia Gomez (Aaron's)                            
21 Katheryn Curi (Webcor Builders)                    
22 Marni Hambleton (ValueAct Capital)                 
23 Julie Beveridge (Bike Hugger)                      
24 Rebecca Larson (Aaron's)                           
25 Chrissy Ruiter (Cherrwine)                         
26 Mara Abbott (Webcor Builders)                      
27 Dotsie Bausch (Colavita/Sutter Home)               
28 Leigh Hobson (Cherrwine)                           
29 Anna Milkowski (Advil Chapstick)                   
30 Kathleen Billington (TargetTraining Women)         
31 Christine Thorburn (Webcor Builders)               
32 Kristin Armstrong (TEAm Lipton)                    
33 Erinne Willock (Team expresscopy.com)              
34 Alison Powers (Colavita/Sutter Home)               
35 Iona Wynter (Colavita/Sutter Home)                 
36 Anne Samplonius (Team expresscopy.com)             
37 Meredith Miller (TEAm Lipton)                  0.53
38 Megan Guarnier (Bike Hugger)                   1.05
39 Laura Yoisten (Webcor Builders)                3.02
40 Kele Murdin (Team Ultralink)                   3.14
41 Melissa Holt (Team expresscopy.com)                
42 Stacy Marple (Team TIBCO)                          
43 Kristin Wentworth (Team Kenda Tire)                
44 Suz Weldon (Bike Hugger)                           
45 Genevieve Gauthier (Bike Hugger)                   
46 Laura Bowles (Advil Chapstick)                 3.30
47 Marisa Asplund (Team TIBCO)                        
48 Sarah Bamberger (Cherrwine)                    3.53
49 Katie Lambden (Team TIBCO)                         
50 Maria Monica (Waste Management)                4.23
51 Heather Sborz (Team Kenda Tire)                    
52 Natalie Klemko (Advil Chapstick)                   
53 Joanie Caron (Equpe du Qubec)                      
54 Amanda Lozano (TargetTraining Women)               
55 Helen Kelly (Webcor Builders)                      
56 Rachel Heal (Webcor Builders)                      
57 Catherine Powers (Aaron's)                         
58 Jessie MacLean (Verducci Breakaway)                
59 Victoria Bastide (Team TIBCO)                      
60 Sarah Tillotson (Colavita/Sutter Home)             
61 Rebecca Much (TargetTraining Women)            4.33
62 Elizabeth Frye (Cherrwine)                         
63 Julie Bellerose (Waste Management)                 
64 Elisa Gagnon (Advil Chapstick)                     
65 Catherine Hogan (Equpe du Qubec)                   
DNF Beverly Harper (Webcor Builders)                  
DNF Brooke Ourada (Cherrwine)                         
DNF Carmen McNellis (Aaron's)                         
DNF Kirsten Robbins (Advil Chapstick)                 
DNF Moriah MacGregor (ValueAct Capital)               
DNF Lyne Bessette (Equpe du Qubec)                    
DNF Karol-Ann Canuel (Equpe du Qubec)                 
DNF Cecelia Pleva (Waste Management)                  
DNF Olivia Dillon (Waste Management)                  
DNF Andrea Myers (TargetTraining Women)               
 
Sprint 1
 
1 Gina Grain (Team expresscopy.com)                  5 pts
2 Alison Testroete (Team expresscopy.com)            3
3 Theresa Cliff-Ryan (Verducci Breakaway)            2
4 Kristin Armstrong (TEAm Lipton)                    1
 
Sprint 2
 
1 Laura Van Gilder (Cherrwine)                      10 pts
2 Gina Grain (Team expresscopy.com)                  9
3 Lauren Franges (TEAm Lipton)                       8
4 Brooke Miller (Team TIBCO)                         7
5 Alex Wrubleski (Colavita/Sutter Home)              6
6 Theresa Cliff-Ryan (Verducci Breakaway)            5
7 Nichole Wangsgard (Bike Hugger)                    4
8 Alison Testroete (Team expresscopy.com)            3
9 Katharine Carroll (Aaron's)                        2
10 Joelle Numainville (Team expresscopy.com)         1
 
Teams
 
1 Team expresscopy.com                         3.28.33
2 UCI WPT Cheerwine                                   
3 Aaron's                                             
4 Colavita/ Sutter Home                               
5 Bike Hugger                                         
6 TEAm Lipton                                         
7 Webcor Builders                                     
8 Advil Chapstick                                 3.30
9 Team TIBCO                                      6.44
10 TargetTraining Women                           8.56
 
 
Final General classification
 
1 Kristin Armstrong (TEAm Lipton)             18.24.56
2 Mara Abbott (Webcor Builders)                   2.02
3 Kori Seehafer (TEAm Lipton)                     2.30
4 Felicia Gomez (Aaron's)                         3.47
5 Lauren Franges (TEAm Lipton)                    4.15
6 Katheryn Curi (Webcor Builders)                 4.17
7 Chrissy Ruiter (Cherrwine)                      4.25
8 Annette Bentler (Colavita/Sutter Home)          4.52
9 Kristin Sanders (Aaron's)                       5.33
10 Amber Rais (Webcor Builders)                   5.42
11 Christine Thorburn (Webcor Builders)               
12 Alison Powers (Colavita/Sutter Home)           6.18
13 Alex Wrubleski (Colavita/Sutter Home)          6.30
14 Alison Testroete (Team expresscopy.com)        6.54
15 Erinne Willock (Team expresscopy.com)          7.01
16 Laura Van Gilder (Cherrwine)                   7.08
17 Julie Beveridge (Bike Hugger)                  7.27
18 Leigh Hobson (Cherrwine)                       7.29
19 Dotsie Bausch (Colavita/Sutter Home)           7.38
20 Betina Hold (Cherrwine)                        8.40
21 Marisa Asplund (Team TIBCO)                    9.52
22 Catherine Cheatley (Cherrwine)                10.40
23 Heather Labance (Advil Chapstick)             11.01
24 Anne Samplonius (Team expresscopy.com)        11.42
25 Genevieve Gauthier (Bike Hugger)              13.24
26 Kathleen Billington (TargetTraining Women)    18.45
27 Katharine Carroll (Aaron's)                   19.32
28 Joelle Numainville (Team expresscopy.com)     25.44
29 Rebecca Much (TargetTraining Women)           25.47
30 Megan Guarnier (Bike Hugger)                  27.34
31 Jennifer Stephenson (Team Ultralink)          29.32
32 Heather Sborz (Team Kenda Tire)               30.40
33 Victoria Bastide (Team TIBCO)                 32.00
34 Stacy Marple (Team TIBCO)                     32.11
35 Rachel Heal (Webcor Builders)                 37.47
36 Maria Monica (Waste Management)               39.57
37 Brooke Miller (Team TIBCO)                    40.44
38 Iona Wynter (Colavita/Sutter Home)            43.46
39 Robin Farina (Bike Hugger)                    47.17
40 Meredith Miller (TEAm Lipton)                 48.51
41 Rebecca Larson (Aaron's)                      54.56
42 Laura Bowles (Advil Chapstick)                55.36
43 Marni Hambleton (ValueAct Capital)            55.58
44 Theresa Cliff-Ryan (Verducci Breakaway)       56.14
45 Nichole Wangsgard (Bike Hugger)               59.58
46 Kele Murdin (Team Ultralink)                1.00.02
47 Gina Grain (Team expresscopy.com)           1.01.17
48 Elizabeth Frye (Cherrwine)                  1.03.09
49 Suz Weldon (Bike Hugger)                    1.03.16
50 Catherine Powers (Aaron's)                  1.04.00
51 Melissa Holt (Team expresscopy.com)         1.05.46
52 Helen Kelly (Webcor Builders)               1.07.50
53 Jessie MacLean (Verducci Breakaway)         1.08.27
54 Sarah Tillotson (Colavita/Sutter Home)      1.08.47
55 Julie Bellerose (Waste Management)          1.09.29
56 Laura Yoisten (Webcor Builders)             1.10.31
57 Sarah Bamberger (Cherrwine)                 1.10.49
58 Joanie Caron (Equpe du Qubec)               1.11.25
59 Elisa Gagnon (Advil Chapstick)              1.12.27
60 Anna Milkowski (Advil Chapstick)            1.12.31
61 Natalie Klemko (Advil Chapstick)            1.15.14
62 Catherine Hogan (Equpe du Qubec)            1.15.36
63 Kristin Wentworth (Team Kenda Tire)         1.16.56
64 Katie Lambden (Team TIBCO)                  1.23.05
65 Amanda Lozano (TargetTraining Women)        1.31.48
 
Points
 
1 Alison Testroete (Team expresscopy.com)           44 pts
2 Theresa Cliff-Ryan (Verducci Breakaway)           37
3 Brooke Miller (Team TIBCO)                        31
4 Laura Van Gilder (Cherrwine)                      29
5 Kristin Armstrong (TEAm Lipton)                   23
6 Lauren Franges (TEAm Lipton)                      22
7 Kori Seehafer (TEAm Lipton)                       22
8 Annette Bentler (Colavita/Sutter Home)            19
9 Gina Grain (Team expresscopy.com)                 18
10 Catherine Cheatley (Cherrwine)                   18
11 Felicia Gomez (Aaron's)                          17
12 Katharine Carroll (Aaron's)                      17
13 Alison Powers (Colavita/Sutter Home)             16
14 Mara Abbott (Webcor Builders)                    12
15 Katheryn Curi (Webcor Builders)                  10
16 Chrissy Ruiter (Cherrwine)                       10
17 Amber Rais (Webcor Builders)                      9
18 Joelle Numainville (Team expresscopy.com)         8
19 Rachel Heal (Webcor Builders)                     8
20 Melissa Holt (Team expresscopy.com)               8
21 Kristin Sanders (Aaron's)                         7
22 Alex Wrubleski (Colavita/Sutter Home)             6
23 Sarah Bamberger (Cherrwine)                       6
24 Robin Farina (Bike Hugger)                        5
25 Dotsie Bausch (Colavita/Sutter Home)              5
26 Anne Samplonius (Team expresscopy.com)            5
27 Nichole Wangsgard (Bike Hugger)                   4
28 Christine Thorburn (Webcor Builders)              3
29 Marisa Asplund (Team TIBCO)                       3
30 Stacy Marple (Team TIBCO)                         3
31 Catherine Powers (Aaron's)                        3
32 Jennifer Stephenson (Team Ultralink)              2
33 Betina Hold (Cherrwine)                           1
34 Megan Guarnier (Bike Hugger)                      1
35 Meredith Miller (TEAm Lipton)                     1
36 Rebecca Larson (Aaron's)                          1
 
Mountains
 
1 Kristin Armstrong (TEAm Lipton)                   38 pts
2 Felicia Gomez (Aaron's)                           31
3 Mara Abbott (Webcor Builders)                     28
4 Alison Powers (Colavita/Sutter Home)               9
5 Kori Seehafer (TEAm Lipton)                        9
6 Rachel Heal (Webcor Builders)                      8
7 Chrissy Ruiter (Cherrwine)                         7
8 Anne Samplonius (Team expresscopy.com)             7
9 Annette Bentler (Colavita/Sutter Home)             5
10 Katheryn Curi (Webcor Builders)                   3
11 Christine Thorburn (Webcor Builders)              2
12 Erinne Willock (Team expresscopy.com)             1
13 Julie Beveridge (Bike Hugger)                     1
14 Dotsie Bausch (Colavita/Sutter Home)              1
 
Teams
 
1 TEAm Lipton                                 54.31.30
2 Webcor Builders                                 5.02
3 UCI WPT Cheerwine                               7.34
4 Colavita/ Sutter Home                           8.27
5 Team expresscopy.com                           11.22
6 Bike Hugger                                    18.10
7 Aaron's                                        19.34
8 Team TIBCO                                     50.11
9 Advil Chapstick                              1.49.33
10 TargetTraining Women                        1.50.29
 
Mens
 
1 Karl Menzies (Health Net - Maxxis)           1.02.35
2 Charles Dionne (Colavita Sutter Home)               
3 Martin Gilbert (Kelly Benefit Strategies)           
4 Ben Raby (Kodak Gallery)                            
5 Davide Frattini (Colavita Sutter Home)              
6 Ben Brooks (Navigators Insurance)                   
7 Rory Sutherland (Health Net - Maxxis)               
8 Johnny Clarke (Colavita Sutter Home)                
9 Chris Baldwin (Toyota-United)                       
10 Michael Freedman (Team Slipstream)                 
11 Dan Schmatz (BMC Racing Team)                      
12 Darren Lill (Navigators Insurance)                 
13 Mark Walters (Kodak Gallery)                       
14 Tommy Nankervis (Jittery Joe's)                    
15 Chris Wherry (Toyota-United)                       
16 Dan Timmerman (Kodak Gallery)                      
17 Valeriy Kobzarenko (Navigators Insurance)          
18 Taylor Tolleson (Team Slipstream)                  
19 Ben Day (Navigators Insurance)                     
20 Frank Travieso (AEG-TOSHIBA-JetNetwork)            
21 Michael Creed (Team Slipstream)                    
22 Justin England (Toyota-United)                     
23 Daniel Bowman (Kelly Benefit Strategies)           
24 Christopher Jones (NERAC Pro Cycling)              
25 Andy Gutill (Colavita Sutter Home)                 
26 Daniel Vaillancourt (Colavita Sutter Home)         
27 Ryan DeWald (Rite Aid Pro Cycling)                 
28 Nathan O'Neil (Health Net - Maxxis)                
29 Jacob Rytlewski (Rite Aid Pro Cycling)             
30 Todd Henriksen (AEG-TOSHIBA-JetNetwork)            
31 Jonathan Garcia (BMC Racing Team)                  
32 David Nelson (Team Waste Management)               
33 Burke Swindlehurst (Toyota-United)                 
34 Jesse Anthony (Kodak Gallery)                      
35 Scott Moninger (BMC Racing Team)                   
36 Dominique Perras (Kelly Benefit Strategies)        
37 David Suiza (BMC Racing Team)                      
38 Scott Nydam (BMC Racing Team)                      
39 Anthony Colby (Colavita Sutter Home)               
40 Ryan Roth (Kelly Benefit Strategies)               
41 Yosvany Falcon (AEG-TOSHIBA-JetNetwork)            
42 Johnny Hayes (CRCA/Sakonnet Techno)                
43 Ian MacGregor (Team Slipstream)                    
44 Peter Stetina (Team Slipstream)                    
45 Joshua Dillon (Fiordifrutta Cycling)               
46 Robert Sweeting (AEG-TOSHIBA-JetNetwork)           
47 Neil Shirley (Jittery Joe's)                       
48 Gavriel Epstein (CRCA/Sakonnet Techno)             
49 James Mattis (California Giant)                    
50 Michael Norton (Rite Aid Pro Cycling)              
51 Mathieu Roy (Equipe du Qubec)                      
52 Jean Sebastian (Calyon / Litespeed)                
53 Ian McKissick (BMC Racing Team)                    
54 Garrett Peltonen (Priority Health-Bissell)         
55 Dustin Macburnie (Team Race.com)                   
56 Peter Hatton (Colavita Sutter Home)                
57 Glen Chadwick (Navigators Insurance)               
58 Caleb Manion (Toyota-United)                       
59 Tyler Dibble (DBC Elite)                           
60 William Goodfellow (Equipe du Qubec)               
61 Clayton Barrows (Rite Aid Pro Cycling)             
62 Todd Nordblom (Fiordifrutta Cycling)               
63 Andrew Boone (Kenda/Raleigh Racing)                
64 Matt Cooke (Navigators Insurance)                  
65 Bryan Sheedy (Priority Health-Bissell)             
66 Jonathan Sundt (Kelly Benefit Strategies)      0.22
67 Keven Lacombe (Kelly Benefit Strategies)       0.26
68 Kiel Riejnen (Hagens Berman, LLP)              0.35
69 Sam Johnson (Hagens Berman, LLP)                   
70 Craig Luekens (Capitol Bicycle Racing)             
71 Nick Clayville (Hagens Berman, LLP)                
72 Edward King (Priority Health-Bissell)              
73 Frank Pipp (Health Net - Maxxis)                   
74 Greg Reain (Calyon / Litespeed)                    
75 Heath Blackgrove (Toyota-United)               0.42
76 Trent Wilson (Jittery Joe's)                   1.02
77 Sergey Lagutin (Navigators Insurance)              
78 Shawn Rosenthal (DBC Elite)                    1.12
79 Bernard Van Ulden (Navigators Insurance)       1.14
80 Adrian Hegyvary (Hagens Berman, LLP)           1.19
81 Aidan Charles (NERAC Pro Cycling)              1.29
82 Richard England (Priority Health-Bissell)      1.42
83 Tim Johnson (Health Net - Maxxis)              2.14
84 Scott Zwizanski (Priority Health-Bissell)          
85 Jason Baer (Kenda/Raleigh Racing)              2.18
86 Aaron Fillion (Ottawa Bicycle Club)                
87 Derrick St John (Ottawa Bicycle Club)              
88 Jesse Moore (California Giant)                     
89 Shawn Milne (Health Net - Maxxis)                  
90 Lee Rosenthal (Kenda/Raleigh Racing)           2.28
91 Craig Lewis (Team Slipstream)                      
92 Trevor Connor (Ottawa Bicycle Club)            2.30
93 Charly Vives (Calyon / Litespeed)              3.22
94 Osvaldo Olmos (California Giant)               3.30
DNS Phillip Cortes (Calyon / Litespeed)               
DNS Matt White (Fiordifrutta Cycling)                 
DNS William Dugan (CL Noonan/Coast to Coast)          
DNF Maxime Vives (Calyon / Litespeed)                 
DNF Ulrich DeYoung (Hagens Berman, LLP)               
DNF Keir Plaice (Ottawa Bicycle Club)                 
DNF Eric Tremble (Kenda/Raleigh Racing)               
 
Sprint 1
 
1 Jesse Anthony (Kodak Gallery)                      5 pts
2 Dominique Perras (Kelly Benefit Strategies)        3
3 Mark Walters (Kodak Gallery)                       2
4 Tim Johnson (Health Net - Maxxis)                  1
 
Sprint 2
 
1 Karl Menzies (Health Net - Maxxis)                10 pts
2 Charles Dionne (Colavita Sutter Home)              9
3 Martin Gilbert (Kelly Benefit Strategies)          8
4 Ben Raby (Kodak Gallery)                           7
5 Davide Frattini (Colavita Sutter Home)             6
6 Ben Brooks (Navigators Insurance)                  5
7 Rory Sutherland (Health Net - Maxxis)              4
8 Johnny Clarke (Colavita Sutter Home)               3
9 Chris Baldwin (Toyota-United)                      2
10 Michael Freedman (Team Slipstream)                1
 
Teams
 
1 Colavita Sutter Home                         3.07.45
2 Kodak Gallery                                       
3 Navigators Insurance                                
4 Health Net - Maxxis                                 
5 Toyota-United                                       
6 Team Slipstream                                     
7 Kelly Benefit Strategies                            
8 BMC Racing Team                                     
9 AEG-TOSHIBA-JetNetwork                              
10 Rite Aid Pro Cycling                               
11 Priority Health-Bissellell                     0.35
12 Jittery Joe's                                  1.02
13 Hagens Berman, LLP                             1.45
14 Calyon / Litespeed                             3.57
15 Kenda/Raleigh Racing                           4.46
16 California Giant                               5.48
17 Ottawa Bicycle Club                            7.06
 
Final General classification 
 
1 Karl Menzies (Health Net - Maxxis)          15.51.59
2 Rory Sutherland (Health Net - Maxxis)           0.20
3 Chris Baldwin (Toyota-United)                   0.29
4 Chris Wherry (Toyota-United)                    0.31
5 Justin England (Toyota-United)                      
6 Burke Swindlehurst (Toyota-United)                  
7 Darren Lill (Navigators Insurance)              0.34
8 Ben Day (Navigators Insurance)                  0.38
9 Valeriy Kobzarenko (Navigators Insurance)           
10 Ian MacGregor (Team Slipstream)                0.53
11 Michael Creed (Team Slipstream)                    
12 Peter Stetina (Team Slipstream)                    
13 Christopher Jones (NERAC Pro Cycling)          1.08
14 Taylor Tolleson (Team Slipstream)              1.09
15 David Suiza (BMC Racing Team)                  1.20
16 Jonathan Garcia (BMC Racing Team)                  
17 Scott Moninger (BMC Racing Team)                   
18 Johnny Clarke (Colavita Sutter Home)           1.22
19 Davide Frattini (Colavita Sutter Home)             
20 Andy Gutill (Colavita Sutter Home)                 
21 Dominique Perras (Kelly Benefit Strategies)    1.23
22 Daniel Bowman (Kelly Benefit Strategies)           
23 Ryan Roth (Kelly Benefit Strategies)               
24 Glen Chadwick (Navigators Insurance)           1.28
25 Jesse Anthony (Kodak Gallery)                  1.43
26 Scott Nydam (BMC Racing Team)                      
27 Yosvany Falcon (AEG-TOSHIBA-JetNetwork)        1.46
28 Daniel Vaillancourt (Colavita Sutter Home)     2.07
29 Anthony Colby (Colavita Sutter Home)           2.12
30 Jacob Rytlewski (Rite Aid Pro Cycling)         2.19
31 Sam Johnson (Hagens Berman, LLP)               3.27
32 Nathan O'Neil (Health Net - Maxxis)            3.47
33 Edward King (Priority Health-Bissell)          3.54
34 Joshua Dillon (Fiordifrutta Cycling)           4.31
35 Charles Dionne (Colavita Sutter Home)          4.38
36 Heath Blackgrove (Toyota-United)               4.40
37 Ian McKissick (BMC Racing Team)                4.45
38 Sergey Lagutin (Navigators Insurance)          5.03
39 Dan Timmerman (Kodak Gallery)                  5.44
40 Greg Reain (Calyon / Litespeed)                6.21
41 James Mattis (California Giant)                7.32
42 Matt Cooke (Navigators Insurance)              9.30
43 Craig Lewis (Team Slipstream)                 11.08
44 Frank Pipp (Health Net - Maxxis)              11.57
45 Bryan Sheedy (Priority Health-Bissell)        13.47
46 Jonathan Sundt (Kelly Benefit Strategies)     14.04
47 Neil Shirley (Jittery Joe's)                  14.45
48 Mark Walters (Kodak Gallery)                  15.06
49 Bernard Van Ulden (Navigators Insurance)      15.12
50 Richard England (Priority Health-Bissell)     15.29
51 Todd Henriksen (AEG-TOSHIBA-JetNetwork)       16.22
52 Caleb Manion (Toyota-United)                  16.49
53 Trent Wilson (Jittery Joe's)                  17.23
54 Dustin Macburnie (Team Race.com)              17.59
55 Michael Freedman (Team Slipstream)            18.56
56 Garrett Peltonen (Priority Health-Bissell)    19.49
57 Ben Raby (Kodak Gallery)                      20.45
58 Frank Travieso (AEG-TOSHIBA-JetNetwork)       21.00
59 Kiel Riejnen (Hagens Berman, LLP)             21.12
60 Nick Clayville (Hagens Berman, LLP)                
61 Andrew Boone (Kenda/Raleigh Racing)           21.22
62 Tim Johnson (Health Net - Maxxis)             21.24
63 Ben Brooks (Navigators Insurance)             21.50
64 David Nelson (Team Waste Management)          22.33
65 Trevor Connor (Ottawa Bicycle Club)           23.25
66 Tyler Dibble (DBC Elite)                      23.34
67 Johnny Hayes (CRCA/Sakonnet Techno)           23.48
68 Mathieu Roy (Equipe du Qubec)                 23.53
69 Peter Hatton (Colavita Sutter Home)           24.35
70 Derrick St John (Ottawa Bicycle Club)         24.42
71 Scott Zwizanski (Priority Health-Bissell)          
72 Jesse Moore (California Giant)                25.35
73 Craig Luekens (Capitol Bicycle Racing)        26.51
74 Aaron Fillion (Ottawa Bicycle Club)           26.54
75 Clayton Barrows (Rite Aid Pro Cycling)        27.15
76 Michael Norton (Rite Aid Pro Cycling)         27.18
77 Robert Sweeting (AEG-TOSHIBA-JetNetwork)      28.04
78 Martin Gilbert (Kelly Benefit Strategies)     28.09
79 Tommy Nankervis (Jittery Joe's)               28.30
80 Jean Sebastian (Calyon / Litespeed)           28.32
81 Charly Vives (Calyon / Litespeed)             29.23
82 Dan Schmatz (BMC Racing Team)                 30.15
83 William Goodfellow (Equipe du Qubec)          32.23
84 Gavriel Epstein (CRCA/Sakonnet Techno)        33.08
85 Lee Rosenthal (Kenda/Raleigh Racing)          34.16
86 Shawn Milne (Health Net - Maxxis)             34.20
87 Todd Nordblom (Fiordifrutta Cycling)          34.33
88 Keven Lacombe (Kelly Benefit Strategies)      35.24
89 Shawn Rosenthal (DBC Elite)                   37.30
90 Aidan Charles (NERAC Pro Cycling)             37.36
91 Adrian Hegyvary (Hagens Berman, LLP)          37.46
92 Ryan DeWald (Rite Aid Pro Cycling)            38.52
93 Osvaldo Olmos (California Giant)              39.13
94 Jason Baer (Kenda/Raleigh Racing)             41.10
 
Points
 
1 Charles Dionne (Colavita Sutter Home)             54 pts
2 Karl Menzies (Health Net - Maxxis)                39
3 Mark Walters (Kodak Gallery)                      27
4 Michael Freedman (Team Slipstream)                24
5 Jesse Anthony (Kodak Gallery)                     14
6 Ben Raby (Kodak Gallery)                          14
7 Sergey Lagutin (Navigators Insurance)             14
8 Scott Nydam (BMC Racing Team)                     11
9 Davide Frattini (Colavita Sutter Home)            11
10 Martin Gilbert (Kelly Benefit Strategies)        11
11 Taylor Tolleson (Team Slipstream)                10
12 Ben Brooks (Navigators Insurance)                10
13 Edward King (Priority Health-Bissell)             9
14 Keven Lacombe (Kelly Benefit Strategies)          9
15 Christopher Jones (NERAC Pro Cycling)             8
16 Ryan Roth (Kelly Benefit Strategies)              8
17 Rory Sutherland (Health Net - Maxxis)             7
18 David Suiza (BMC Racing Team)                     7
19 Trent Wilson (Jittery Joe's)                      7
20 Richard England (Priority Health-Bissell)         6
21 Matt Cooke (Navigators Insurance)                 5
22 Ian McKissick (BMC Racing Team)                   5
23 James Mattis (California Giant)                   5
24 Mathieu Roy (Equipe du Qubec)                     5
25 Yosvany Falcon (AEG-TOSHIBA-JetNetwork)           4
26 Bernard Van Ulden (Navigators Insurance)          4
27 Dan Schmatz (BMC Racing Team)                     4
28 Valeriy Kobzarenko (Navigators Insurance)         3
29 Johnny Clarke (Colavita Sutter Home)              3
30 Dominique Perras (Kelly Benefit Strategies)       3
31 Neil Shirley (Jittery Joe's)                      3
32 Anthony Colby (Colavita Sutter Home)              2
33 Chris Baldwin (Toyota-United)                     2
34 Tim Johnson (Health Net - Maxxis)                 2
35 Heath Blackgrove (Toyota-United)                  1
36 Ian MacGregor (Team Slipstream)                   1
37 Frank Pipp (Health Net - Maxxis)                  1
38 Frank Travieso (AEG-TOSHIBA-JetNetwork)           1
 
Mountains
 
1 Anthony Colby (Colavita Sutter Home)              28 pts
2 Valeriy Kobzarenko (Navigators Insurance)         26
3 Darren Lill (Navigators Insurance)                16
4 Heath Blackgrove (Toyota-United)                  11
5 Matt Cooke (Navigators Insurance)                 10
6 Rory Sutherland (Health Net - Maxxis)              9
7 Chris Baldwin (Toyota-United)                      8
8 Ben Brooks (Navigators Insurance)                  8
9 Taylor Tolleson (Team Slipstream)                  7
10 Scott Nydam (BMC Racing Team)                     6
11 Ben Day (Navigators Insurance)                    6
12 Karl Menzies (Health Net - Maxxis)                3
13 Mark Walters (Kodak Gallery)                      3
14 Ian MacGregor (Team Slipstream)                   3
15 Jonathan Garcia (BMC Racing Team)                 3
16 Bernard Van Ulden (Navigators Insurance)          3
17 Christopher Jones (NERAC Pro Cycling)             2
18 Davide Frattini (Colavita Sutter Home)            1
 
Teams
 
1 Team Slipstream                             46.53.03
2 BMC Racing Team                                 0.27
3 Toyota-United                                   1.15
4 Navigators Insurance                            1.22
5 Colavita Sutter Home                            2.06
6 Kelly Benefit Strategies                        2.07
7 Health Net - Maxxis                             4.31
8 Kodak Gallery                                  15.53
9 AEG-TOSHIBA-JetNetwork                         19.06
10 Priority Health-Bissell                       29.18
11 Hagens Berman, LLP                            42.03
12 Rite Aid Pro Cycling                          46.20
13 California Giant                              50.55
14 Jittery Joe's                                 51.49
15 Calyon / Litespeed                            53.44
16 Ottawa Bicycle Club                         1.07.39
17 Kenda/Raleigh Racing                        1.15.44