20th Internationale Thüringen-Rundfahrt der Frauen - 2.1 (W)
Germany, July 24-29, 2007
Main Page Results Overall standings Previous Stage Next Stage
Stage 5a - July 28: Schmölln ITT, 18.6 km
Neben takes over lead, Soeder takes the stage
By Susan Westemeyer
Christiane Soeder (Raleigh)
Photo ©: CJ Farquharson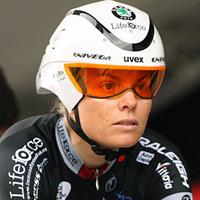 Christiane Soeder of Team Raleigh beat her teammate, 2005 World Time Trial Champion Karin Thürig, to win the Thüringen Rundfahrt's Individual Time Trial, while Amber Neben took over the leader's jersey from Judith Arndt.
Neben finished third on the stage, and Arndt was eighth, 41 seconds behind. The German fell to second place in the GC. "I am amazed at how much time I loss to Amber Neben, and of course disappointed to have lost the yellow jersey," said Arndt.
An unusual incident forced the winner of the women's Giro d'Italia, Edita Pucinskaite (Equipe Nürnberger), out of the race. She crashed off the start ramp for the 18.6 km Time Trial and was taken to the hospital. Fortunately she suffered only bruises, scrapes and cuts.
Photography
For a thumbnail gallery of these images, click here
Images by CJ Farquharson/WomensCycling.net
Results
1 Christiane Soeder (Aut) Raleigh Lifeforce Pro Cycling Team       28.12 (39.574 km/h)
2 Karin Thürig (Swi) Raleigh Lifeforce Pro Cycling Team             0.12
3 Amber Neben (USA) Team Flexpoint                                  0.18
4 Priska Doppmann (Swi) Raleigh Lifeforce Pro Cycling Team          0.23
5 Sara Carrigan (Aus) Australian National Team                      0.29
6 Susanne Ljungskog (Swe) Team Flexpoint                            0.45
7 Charlotte Becker (Ger) Equipe Nürnberger Versicherung             0.54
8 Judith Arndt (Ger) T-Mobile Team - Women                          0.59
9 Trixi Worrack (Ger) Equipe Nürnberger Versicherung                1.00
10 An Van Rie (Bel) AA-Drink Cycling Team                           1.12
11 Sarah Düster (Ger) Raleigh Lifeforce Pro Cycling Team            1.17
12 Amanda Spratt (Aus) Australian National Team                     1.21
13 Nicole Brändli (Swi) Bigla Cycling Team                              
14 Edwige Pitel (Fra) Team Uniqa                                    1.27
15 Andrea Thürig (Swi) Bigla Cycling Team                           1.40
16 Andrea Graus (Aut) Equipe Nürnberger Versicherung                1.51
17 Luise Keller (Ger) Team Flexpoint                                2.05
18 Anita Valen (Nor) Vrienden Van Het Platteland                    2.07
19 Emma Pooley (GBr) Team Specialized Designs For Women             2.17
20 Karen Steurs (Bel) AA-Drink Cycling Team                         2.19
21 Inge Van den Broeck (Bel) AA-Drink Cycling Team                  2.22
22 Elke Gebhardt (Ger) Team Getränke-Hoffmann                       2.30
23 Noemi Cantele (Ita) Bigla Cycling Team                           2.33
24 Larissa Kleinmann (Ger) German National Team                     2.34
25 Iris Slappendel (Ned) Team Flexpoint                             2.41
26 Kimberly Anderson (USA) T-Mobile Team - Women                    2.42
27 Carla Ryan (Aus) Australian National Team                        2.43
28 Natalie Bates (Aus) Team Getränke-Hoffmann                       2.45
29 Jocelyn Loane (Aus) Australian National Team                     2.49
30 Oenone Wood (Aus) T-Mobile Team - Women                              
31 Tatiana Guderzo (Ita) AA-Drink Cycling Team                      2.51
32 Suzanne Van Veen (Ned) Team Flexpoint                            3.07
33 Virginia Hennig (Ger) Team Getränke-Hoffmann                     3.11
34 Tina Liebig (Ger) Team Getränke-Hoffmann                         3.13
35 Miho Oki (Jpn) Menikini - Gysko                                  3.16
36 Angela Brodtka (Ger) Team Getränke-Hoffmann                      3.20
37 Emma Rickards (Aus) Raleigh Lifeforce Pro Cycling Team               
38 Joanne Kiesanowski (NZl) Raleigh Lifeforce Pro Cycling Team      3.23
39 Tanja Hennes (Ger) Bigla Cycling Team                            3.34
40 Karin Aune (Swe) Menikini - Gysko                                3.35
41 Lang Meng (Chn) Giant Pro Cycling Team                           3.43
42 Dorte Lohse Rasmussen (Den) Menikini - Gysko                     3.51
43 Sarah Grab (Swi) Team Specialized Designs For Women              3.52
44 Wang Fei (Chn) Giant Pro Cycling Team                            3.53
45 Alexandra Nöhles (Ger) Koga-Miyata Cycling Team                  3.55
46 Monica Höller (Swe) Bigla Cycling Team                           4.01
47 Jana Schemmer (Ger) Koga-Miyata Cycling Team                     4.10
48 Yong Li Liu (Chn) Giant Pro Cycling Team                         4.11
49 Rochelle Gilmore (Aus) Menikini - Gysko                          4.14
50 Nina Göhl (Ger) German National Team                             4.16
51 Claudia Seidel (Ger) German National Team                        4.17
52 Britta Martin (Ger) Team Stuttgart                               4.28
53 Anke Wichmann (Ger) T-Mobile Team - Women                        4.30
54 Sandra Dietel (Ger) Team Stuttgart                               4.35
55 Nicole Heine (Ger) Koga-Miyata Cycling Team                      4.40
56 Bernadette Schober (Aut) Team Uniqa                              4.44
57 Alexis Rhodes (Aus) T-Mobile Team - Women                        4.46
58 Britta Nadler (Ger) Koga-Miyata Cycling Team                     4.53
59 Daniela Pintarelli (Aut) Team Uniqa                                  
60 Jennifer Hohl (Swi) Bigla Cycling Team                           4.54
61 Marina Romoli (Ita) Menikini - Gysko                             5.01
62 Sandra Mißbach (Ger) Team Getränke-Hoffmann                      5.05
63 Jaccolien Wallaard (Ned) Vrienden Van Het Platteland             5.08
64 Regina Schleicher (Ger) Equipe Nürnberger Versicherung           5.09
65 Rosmarie Mayer (Ger) Team Specialized Designs For Women          5.11
66 Claudia Stumpf (Ger) Equipe Nürnberger Versicherung              5.12
67 Catrine Josefsson (Swe) Team Specialized Designs For Women       5.19
68 Xiao Mei Huang (Chn) Giant Pro Cycling Team                      5.24
69 Min Gao (Chn) Giant Pro Cycling Team                             5.40
70 Katharina Blum (Ger) German National Team                        5.44
71 Sabine Fischer (Ger) Team Stuttgart                              5.51
72 Eneritz Iturriaga Echevarria Mazag (Spa) Menikini - Gysko        5.58
73 Emma Mackie (Aus) Vrienden Van Het Platteland                    5.59
74 Janne Brok (Ned) Vrienden Van Het Platteland                     6.00
DNF Edita Pucinskaite (Ltu) Equipe Nürnberger Versicherung              
 
Young rider
 
1 Amanda Spratt (Aus) Australian National Team                     29.33
2 Suzanne Van Veen (Ned) Team Flexpoint                             1.46
3 Virginia Hennig (Ger) Team Getränke-Hoffmann                      1.50
4 Wang Fei (Chn) Giant Pro Cycling Team                             2.32
5 Jana Schemmer (Ger) Koga-Miyata Cycling Team                      2.49
6 Marina Romoli (Ita) Menikini - Gysko                              3.40
 
General Classification after Stage 5
 
1 Amber Neben (USA) Team Flexpoint                              11.19.23
2 Judith Arndt (Ger) T-Mobile Team - Women                          0.10
3 Noemi Cantele (Ita) Bigla Cycling Team                            2.00
4 Emma Pooley (GBr) Team Specialized Designs For Women              3.52
5 Susanne Ljungskog (Swe) Team Flexpoint                            6.51
6 Trixi Worrack (Ger) Equipe Nürnberger Versicherung                7.03
7 Nicole Brändli (Swi) Bigla Cycling Team                           7.18
8 Andrea Graus (Aut) Equipe Nürnberger Versicherung                 7.54
9 Edwige Pitel (Fra) Team Uniqa                                     8.06
10 Oenone Wood (Aus) T-Mobile Team - Women                          8.35
11 Angela Brodtka (Ger) Team Getränke-Hoffmann                      9.27
12 Tina Liebig (Ger) Team Getränke-Hoffmann                         9.43
13 Christiane Soeder (Aut) Raleigh Lifeforce Pro Cycling Team      16.27
14 Tatiana Guderzo (Ita) AA-Drink Cycling Team                     17.30
15 Karin Thürig (Swi) Raleigh Lifeforce Pro Cycling Team           36.32
16 Priska Doppmann (Swi) Raleigh Lifeforce Pro Cycling Team        36.43
17 An Van Rie (Bel) AA-Drink Cycling Team                          38.05
18 Charlotte Becker (Ger) Equipe Nürnberger Versicherung           38.58
19 Anita Valen (Nor) Vrienden Van Het Platteland                   39.00
20 Inge Van den Broeck (Bel) AA-Drink Cycling Team                      
21 Sarah Düster (Ger) Raleigh Lifeforce Pro Cycling Team           39.33
22 Joanne Kiesanowski (NZl) Raleigh Lifeforce Pro Cycling Team     39.42
23 Karen Steurs (Bel) AA-Drink Cycling Team                        40.31
24 Rochelle Gilmore (Aus) Menikini - Gysko                         40.53
25 Larissa Kleinmann (Ger) German National Team                    41.00
26 Natalie Bates (Aus) Team Getränke-Hoffmann                      41.18
27 Carla Ryan (Aus) Australian National Team                       41.25
28 Lang Meng (Chn) Giant Pro Cycling Team                          42.07
29 Karin Aune (Swe) Menikini - Gysko                               42.08
30 Dorte Lohse Rasmussen (Den) Menikini - Gysko                    42.24
31 Claudia Seidel (Ger) German National Team                       42.38
32 Nina Göhl (Ger) German National Team                            42.41
33 Luise Keller (Ger) Team Flexpoint                               42.42
34 Wang Fei (Chn) Giant Pro Cycling Team                           42.51
35 Sara Carrigan (Aus) Australian National Team                    43.03
36 Jennifer Hohl (Swi) Bigla Cycling Team                          43.06
37 Miho Oki (Jpn) Menikini - Gysko                                 43.10
38 Daniela Pintarelli (Aut) Team Uniqa                             44.00
39 Virginia Hennig (Ger) Team Getränke-Hoffmann                    44.01
40 Min Gao (Chn) Giant Pro Cycling Team                            44.25
41 Kimberly Anderson (USA) T-Mobile Team - Women                   44.52
42 Iris Slappendel (Ned) Team Flexpoint                            45.04
43 Emma Rickards (Aus) Raleigh Lifeforce Pro Cycling Team               
44 Amanda Spratt (Aus) Australian National Team                    45.10
45 Suzanne Van Veen (Ned) Team Flexpoint                           45.15
46 Yong Li Liu (Chn) Giant Pro Cycling Team                        45.24
47 Monica Höller (Swe) Bigla Cycling Team                          46.00
48 Jocelyn Loane (Aus) Australian National Team                    46.38
49 Alexandra Nöhles (Ger) Koga-Miyata Cycling Team                 46.42
50 Regina Schleicher (Ger) Equipe Nürnberger Versicherung          46.54
51 Marina Romoli (Ita) Menikini - Gysko                            47.18
52 Sandra Mißbach (Ger) Team Getränke-Hoffmann                     50.57
53 Anke Wichmann (Ger) T-Mobile Team - Women                       53.52
54 Sandra Dietel (Ger) Team Stuttgart                              57.28
55 Andrea Thürig (Swi) Bigla Cycling Team                          58.56
56 Elke Gebhardt (Ger) Team Getränke-Hoffmann                    1.00.04
57 Sarah Grab (Swi) Team Specialized Designs For Women           1.01.41
58 Nicole Heine (Ger) Koga-Miyata Cycling Team                   1.02.32
59 Bernadette Schober (Aut) Team Uniqa                           1.02.42
60 Britta Nadler (Ger) Koga-Miyata Cycling Team                  1.02.45
61 Xiao Mei Huang (Chn) Giant Pro Cycling Team                   1.03.07
62 Catrine Josefsson (Swe) Team Specialized Designs For Women    1.03.08
63 Tanja Hennes (Ger) Bigla Cycling Team                         1.03.09
64 Claudia Stumpf (Ger) Equipe Nürnberger Versicherung           1.04.54
65 Rosmarie Mayer (Ger) Team Specialized Designs For Women       1.05.20
66 Jana Schemmer (Ger) Koga-Miyata Cycling Team                  1.05.24
67 Britta Martin (Ger) Team Stuttgart                            1.05.45
68 Emma Mackie (Aus) Vrienden Van Het Platteland                 1.06.05
69 Janne Brok (Ned) Vrienden Van Het Platteland                  1.06.06
70 Jaccolien Wallaard (Ned) Vrienden Van Het Platteland          1.06.16
71 Alexis Rhodes (Aus) T-Mobile Team - Women                     1.10.02
72 Eneritz Iturriaga Echevarria Mazag (Spa) Menikini - Gysko     1.14.59
73 Sabine Fischer (Ger) Team Stuttgart                           1.15.10
74 Katharina Blum (Ger) German National Team                     1.15.39
 
Young rider classification
 
1 Wang Fei (Chn) Giant Pro Cycling Team                         12.02.14
2 Virginia Hennig (Ger) Team Getränke-Hoffmann                      1.10
3 Amanda Spratt (Aus) Australian National Team                      2.19
4 Suzanne Van Veen (Ned) Team Flexpoint                             2.24
5 Marina Romoli (Ita) Menikini - Gysko                              4.27
6 Jana Schemmer (Ger) Koga-Miyata Cycling Team                     22.33