Tour of Siam - 2.2
Thailand, January 20-25, 2007
Main Page Results Overall standings Previous Stage
Stage 6 - January 25: Kanchanaburi – Phetchaburi, 186.4 km
Soepenberg wins final stage; Crawford hangs on to the yellow jersey
Today's winner
Photo ©: Laszlo Szilasi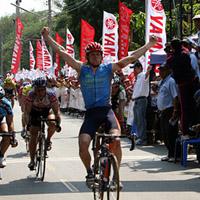 After losing the orange jersey yesterday due to a bad crash inside the last kilometer, Dutch sprinter Ger Soepenberg (Altipower) finished this year's Tour of Siam today as he started-with a win. The 186 kilometer closing stage from Kanchanaburi to Phetchaburi ended with a mass sprint in which Soepenberg was the fastest. He celebrated his victory in Cipollini style.
Eight riders had the luck to fight it out for the final stage. They broke away early in the race and built up a four minute lead, but their effort was insufficient to stay away. The bunch brought them back with 20 kilometers to go.
The overall wins went to Jai Crawford and his Giant Asia Team. Today, they along with the Australian National Track Endurance Team, controlled the race perfectly and blocked all the powerful attacks by the Japanese riders.
Photography
For a thumbnail gallery of these images, click here
Images by Laszlo Szilasi/www.velo.hu
Results
1 Ger Soepenberg (Ned) Altipower                                    4.23.37
2 Sergey Kudentsov (Rus) Discovery Channel Marco Polo Team                 
3 Artemiy Timofeev (Rus) Polygon Sweet Nice                                
4 Darren Harry (Aus) City of Perth                                         
5 Rune Udby (Den) Glud & Marstand Horsens                                  
6 Takashi Miyazawa (Jpn) Nippo Meitan                                      
7 Shinichi Fukushima (Jpn) Nippo Meitan                                    
8 Jacob Nielsen (Den) Glud & Marstand Horsens                              
9 Ekachai Tawonlumlerd (Tha) Royal Thai Air Force                          
10 Hai Jun Ma (Chn) Qinghai Team                                           
11 Cor Van Leeuwen (Ned) Ruiter Dakkapellen Wielerteam                     
12 Morten Christiansen (Den) Glud & Marstand Horsens                       
13 Kai Tsun Lam (HKg) Hong Kong Pro Cycling                                
14 Thijs Poelstra (Ned) Altipower                                          
15 Kin San Wu (HKg) Hong Kong Pro Cycling                                  
16 Haidar Ahmad (Mas) Le Tua                                               
17 Puchong Saiudomsil (Tha) Siam Bara Cycling Team                         
18 Nutthapon Cheepthaworn (Tha) Sin Kit Paiboon Lohakarn Royal Sky         
19 Okart Bualoi (Tha) Sin Kit Paiboon Lohakarn Royal Sky                   
20 Jakkapong Supannapong (Tha) Siam Bara Cycling Team                      
21 Yevgeniy Yakovlev (Kaz) Polygon Sweet Nice                              
22 Masahiro Shinagawa (Jpn) Skil Shimano                                   
23 Robert Wijaya (Ina) Polygon Sweet Nice                                  
24 Abdullah Riza Pahlani (Ina) Polygon Sweet Nice                          
25 Thanawat Samana (Tha) Siam Bara Cycling Team                            
26 Manan Anuar (Mas) Le Tua                                                
27 Peter Dawson (Aus) Australian National Track Endurance                  
28 Radius Ginting (Ina) Benteng Muda Tangerang                             
29 Hossein Askari (Irn) Giant A.R.T                                        
30 Thiijs Zonneveld (Ned) Discovery Channel Marco Polo Team                
31 Brad Hall (Aus) City of Perth                                           
32 Prajak Mahawong (Tha) Siam Bara Cycling Team                            
33 Saree Ruangsiri (Tha) Royal Thai Navy                                   
34 Kam Po Wong (HKg) Hong Kong Pro Cycling                                 
35 Jai Crawford (Aus) Giant A.R.T                                          
36 Sirous Hashemzadeh (Irn) Azad University                                
37 Tanet Pitthayathonlert (Tha) Sin Kit Paiboon Lohakarn Royal Sky         
38 Steve Mouritze (Aus) City of Perth                                      
39 Koji Fukushima (Jpn) Nippo Meitan                                       
40 Will Ford (Aus) Australian National Track Endurance                     
41 Phillip Thauax (Aus) Australian National Track Endurance                
42 Mumuh Muhsin (Ina) Benteng Muda Tangerang                               
43 Junaidi Bin Hashim (Sin) Singapore National Team                        
44 Pol Nabben (Ned) Discovery Channel Marco Polo Team                      
45 Paul Griffin (Irl) Giant A.R.T                                          
46 Iman Suparman (Ina) Benteng Muda Tangerang                              
47 Yukihiro Doi (Jpn) Skil Shimano                                         
48 Yukiya Arashiro (Jpn) Nippo Meitan                                      
49 Ghader Mizbani (Irn) Giant A.R.T                                        
50 Nicolaj Olesen (Den) Glud & Marstand Horsens                            
51 Vyascheslav Dyadichkin (Kaz) Polygon Sweet Nice                         
52 Xing Yan Dong (Chn) Discovery Channel Marco Polo Team                   
53 Jatupoom Lakawata (Tha) Royal Thai Army                                 
54 Tomoya Kano (Jpn) Skil Shimano                                          
55 Abbas Saeiditanha (Irn) Azad University                                 
56 Montri Chompuviset (Tha) Royal Thai Air Force                           
57 Biao Liu (Chn) Qinghai Team                                             
58 Mehdi Faridikoevj (Irn) Azad University                                 
59 Nathan Dahlberg (NZl) Altipower                                         
60 Chun Hing Chan (HKg) Hong Kong Pro Cycling                              
61 Thomas Benicvengo (USA) Champion System Sommerville Sports              
62 Anno Pedersen (Ned) Altipower                                           
63 Wai Man Chau (HKg) Champion System Sommerville Sports                   
64 S. Mostafa S. Rezaei. (Irn) Azad University                             
65 Rosdi Mdnor Umardi (Mas) Le Tua                                         
66 Ryan Connor (Irl) Giant A.R.T                                           
67 Zainal Mdnor Rizuan (Mas) Le Tua                                        
68 Jared Bunde (USA) Champion System Sommerville Sports                    
69 Stephen Wooldridge (Aus) Australian National Track Endurance            
70 Yoshimasa Hirose (Jpn) Skil Shimano                                     
71 Hidenori Nodera (Jpn) Skil Shimano                                      
72 Kurniawan (Ina) Benteng Muda Tangerang                                  
73 Rudy Vriend (Ned) Ruiter Dakkapellen Wielerteam                         
74 Peter Van Agtmaal (Ned) Altipower                                       
75 Jamsran Ulzil-Orshikh (Mgl) Discovery Channel Marco Polo Team           
76 Pinkeaw Pornthep (Tha) Siam Bara Cycling Team                           
77 Hilton Mc.Murdo (Aus) City of Perth                                     
78 Wang Yip Tang (HKg) Hong Kong Pro Cycling                               
79 Lex Nederlof (Ned) Ruiter Dakkapellen Wielerteam                        
80 Jirod Wisuhiran (Tha) Sin Kit Paiboon Lohakarn Royal Sky            1.08
81 Sumet Sorrasak (Tha) Royal Thai Navy                                1.13
82 A. Rahman Md Asril (Mas) Le Tua                                     2.07
83 Wen Jun Daniel Loy (Sin) Singapore National Team                    3.02
84 Miyataka Shimizu (Jpn) Nippo Meitan                                 4.33
DNF Michael Berling (Den) Glud & Marstand Horsens                          
DNF Menno De Boer (Ned) Ruiter Dakkapellen Wielerteam                      
DNF Stefan Rothe (Ger) Champion System Sommerville Sports                  
DNF Jittipong Tongkumnueng (Tha) Royal Thai Air Force                      
DNS Jirawat Sinthupoon (Tha) Royal Thai Police                             
 
Sprint 1 at Don Thab Tako (km 44.2)
 
1 Morten Christiansen (Den) Glud & Marstand Horsens                       5 pts
2 Jamsran Ulzil-Orshikh (Mgl) Discovery Channel Marco Polo Team           3
3 Menno De Boer (Ned) Ruiter Dakkapellen Wielerteam                       1
 
Sprint 2 at Ban Ka Kindergaten (km 85)
 
1 Morten Christiansen (Den) Glud & Marstand Horsens                       5 pts
2 Jared Bunde (USA) Champion System Sommerville Sports                    3
3 Jamsran Ulzil-Orshikh (Mgl) Discovery Channel Marco Polo Team            
 
Sprint 3 at Ban Tha Taklor (km 156.2)
 
1 Jamsran Ulzil-Orshikh (Mgl) Discovery Channel Marco Polo Team           5 pts
2 Yukiya Arashiro (Jpn) Nippo Meitan                                       
3 Morten Christiansen (Den) Glud & Marstand Horsens                       1
 
Individual Asian
 
1 Ekachai Tawonlumlerd (Tha) Royal Thai Air Force                   4.23.37
2 Haidar Ahmad (Mas) Le Tua                                                
3 Puchong Saiudomsil (Tha) Siam Bara Cycling Team                          
4 Nutthapon Cheepthaworn (Tha) Sin Kit Paiboon Lohakarn Royal Sky          
5 Okart Bualoi (Tha) Sin Kit Paiboon Lohakarn Royal Sky                    
 
Team
 
1 Glud & Marstand Horsens Glu                                      13.10.51
2 Polygon Sweet Nice Psn                                                   
3 Nippo Meitan Npm                                                         
4 Hong Kong Pro Cycling Hkg                                                
5 Siam Bara Cycling Team Sab                                               
6 City Of Perth Cop                                                        
7 Altipower Atp                                                            
8 Sin Kit Paiboon Lohakarn Royal Sky Skp                                   
9 Discovery Channel Marco Polo Team Mpc                                    
10 Le Tua L2A                                                              
11 Australian National Track Endurance Aus                                 
12 Giant A.R.T Gnt                                                         
13 Benteng Muda Tangerang Bmt                                              
14 Skil Shimano Sks                                                        
15 Azad University Azd                                                     
16 Ruiter Dakkapellen Wielerteam Rdk                                       
17 Champion System Sommerville Sports Css                                  
 
Final General Classification
 
1 Jai Crawford (Aus) Giant A.R.T                                   24.04.43
2 Yukihiro Doi (Jpn) Skil Shimano                                      0.26
3 Will Ford (Aus) Australian National Track Endurance                  0.53
4 Koji Fukushima (Jpn) Nippo Meitan                                    0.56
5 Ghader Mizbani (Irn) Giant A.R.T                                     1.03
6 Hossein Askari (Irn) Giant A.R.T                                     1.29
7 Lex Nederlof (Ned) Ruiter Dakkapellen Wielerteam                     1.31
8 Kam Po Wong (HKg) Hong Kong Pro Cycling                              1.51
9 Yevgeniy Yakovlev (Kaz) Polygon Sweet Nice                           1.53
10 Jacob Nielsen (Den) Glud & Marstand Horsens                         1.56
11 Hai Jun Ma (Chn) Qinghai Team                                       1.57
12 Thiijs Zonneveld (Ned) Discovery Channel Marco Polo Team                
13 Paul Griffin (Irl) Giant A.R.T                                          
14 Vyascheslav Dyadichkin (Kaz) Polygon Sweet Nice                     2.12
15 Pol Nabben (Ned) Discovery Channel Marco Polo Team                  2.47
16 Xing Yan Dong (Chn) Discovery Channel Marco Polo Team               2.58
17 Sirous Hashemzadeh (Irn) Azad University                            3.15
18 Artemiy Timofeev (Rus) Polygon Sweet Nice                           3.21
19 Takashi Miyazawa (Jpn) Nippo Meitan                                 3.55
20 Iman Suparman (Ina) Benteng Muda Tangerang                          3.58
21 Prajak Mahawong (Tha) Siam Bara Cycling Team                        4.16
22 Yukiya Arashiro (Jpn) Nippo Meitan                                  4.21
23 Ger Soepenberg (Ned) Altipower                                      5.57
24 Phillip Thauax (Aus) Australian National Track Endurance            6.05
25 Shinichi Fukushima (Jpn) Nippo Meitan                               6.22
26 Brad Hall (Aus) City of Perth                                           
27 Tomoya Kano (Jpn) Skil Shimano                                          
28 Morten Christiansen (Den) Glud & Marstand Horsens                   6.34
29 Thanawat Samana (Tha) Siam Bara Cycling Team                        7.36
30 Kin San Wu (HKg) Hong Kong Pro Cycling                              7.40
31 Radius Ginting (Ina) Benteng Muda Tangerang                         7.44
32 Puchong Saiudomsil (Tha) Siam Bara Cycling Team                         
33 Tanet Pitthayathonlert (Tha) Sin Kit Paiboon Lohakarn Royal Sky         
34 Chun Hing Chan (HKg) Hong Kong Pro Cycling                              
35 Wai Man Chau (HKg) Champion System Sommerville Sports                   
36 Thomas Benicvengo (USA) Champion System Sommerville Sports              
37 Junaidi Bin Hashim (Sin) Singapore National Team                    7.50
38 Hilton Mc.Murdo (Aus) City of Perth                                 8.06
39 Mehdi Faridikoevj (Irn) Azad University                                 
40 Saree Ruangsiri (Tha) Royal Thai Navy                               8.16
41 Abdullah Riza Pahlani (Ina) Polygon Sweet Nice                      8.23
42 Okart Bualoi (Tha) Sin Kit Paiboon Lohakarn Royal Sky               8.28
43 Rudy Vriend (Ned) Ruiter Dakkapellen Wielerteam                     9.13
44 Mumuh Muhsin (Ina) Benteng Muda Tangerang                           9.35
45 Nathan Dahlberg (NZl) Altipower                                     9.53
46 Jamsran Ulzil-Orshikh (Mgl) Discovery Channel Marco Polo Team      15.32
47 Jakkapong Supannapong (Tha) Siam Bara Cycling Team                 15.48
48 Rosdi Mdnor Umardi (Mas) Le Tua                                    16.10
49 Hidenori Nodera (Jpn) Skil Shimano                                 16.13
50 Montri Chompuviset (Tha) Royal Thai Air Force                      16.40
51 Zainal Mdnor Rizuan (Mas) Le Tua                                   16.42
52 Ekachai Tawonlumlerd (Tha) Royal Thai Air Force                    16.57
53 Masahiro Shinagawa (Jpn) Skil Shimano                              17.07
54 Anno Pedersen (Ned) Altipower                                           
55 Yoshimasa Hirose (Jpn) Skil Shimano                                18.00
56 S. Mostafa S. Rezaei. (Irn) Azad University                        19.22
57 Haidar Ahmad (Mas) Le Tua                                          19.52
58 Steve Mouritze (Aus) City of Perth                                 22.25
59 Kurniawan (Ina) Benteng Muda Tangerang                             28.57
60 Sergey Kudentsov (Rus) Discovery Channel Marco Polo Team           32.40
61 Abbas Saeiditanha (Irn) Azad University                            34.47
62 Ryan Connor (Irl) Giant A.R.T                                      35.33
63 A. Rahman Md Asril (Mas) Le Tua                                    42.34
64 Kai Tsun Lam (HKg) Hong Kong Pro Cycling                           42.37
65 Jatupoom Lakawata (Tha) Royal Thai Army                            43.11
66 Peter Dawson (Aus) Australian National Track Endurance             43.17
67 Wang Yip Tang (HKg) Hong Kong Pro Cycling                          44.47
68 Nutthapon Cheepthaworn (Tha) Sin Kit Paiboon Lohakarn Royal Sky    45.01
69 Manan Anuar (Mas) Le Tua                                           45.14
70 Robert Wijaya (Ina) Polygon Sweet Nice                             45.37
71 Jared Bunde (USA) Champion System Sommerville Sports               45.58
72 Pinkeaw Pornthep (Tha) Siam Bara Cycling Team                      47.42
73 Rune Udby (Den) Glud & Marstand Horsens                            49.48
74 Miyataka Shimizu (Jpn) Nippo Meitan                                53.32
75 Jirod Wisuhiran (Tha) Sin Kit Paiboon Lohakarn Royal Sky           56.05
76 Peter Van Agtmaal (Ned) Altipower                                  57.05
77 Biao Liu (Chn) Qinghai Team                                        57.54
78 Darren Harry (Aus) City of Perth                                   59.41
79 Stephen Wooldridge (Aus) Australian National Track Endurance     1.00.45
80 Cor Van Leeuwen (Ned) Ruiter Dakkapellen Wielerteam              1.01.16
81 Thijs Poelstra (Ned) Altipower                                   1.17.41
82 Wen Jun Daniel Loy (Sin) Singapore National Team                 1.35.28
83 Sumet Sorrasak (Tha) Royal Thai Navy                             1.37.32
84 Nicolaj Olesen (Den) Glud & Marstand Horsens                     1.50.33
 
Mountains Classification
 
1 Jai Crawford (Aus) Giant A.R.T                                         24 pts
2 Ghader Mizbani (Irn) Giant A.R.T                                       17
3 Sirous Hashemzadeh (Irn) Azad University                               12
4 Koji Fukushima (Jpn) Nippo Meitan                                       8
5 Hossein Askari (Irn) Giant A.R.T                                        5
6 Lex Nederlof (Ned) Ruiter Dakkapellen Wielerteam                        2
7 Jacob Nielsen (Den) Glud & Marstand Horsens                             2
8 Paul Griffin (Irl) Giant A.R.T                                          2
9 Hai Jun Ma (Chn) Qinghai Team                                           1
10 Vyascheslav Dyadichkin (Kaz) Polygon Sweet Nice                        1
11 Thanawat Samana (Tha) Siam Bara Cycling Team                           1
 
Points Classification
 
1 Takashi Miyazawa (Jpn) Nippo Meitan                                    60 pts
2 Ger Soepenberg (Ned) Altipower                                         54
3 Artemiy Timofeev (Rus) Polygon Sweet Nice                              46
4 Morten Christiansen (Den) Glud & Marstand Horsens                      34
5 Lex Nederlof (Ned) Ruiter Dakkapellen Wielerteam                       32
6 Jai Crawford (Aus) Giant A.R.T                                         31
7 Shinichi Fukushima (Jpn) Nippo Meitan                                  28
8 Sergey Kudentsov (Rus) Discovery Channel Marco Polo Team               28
9 Kam Po Wong (HKg) Hong Kong Pro Cycling                                27
10 Manan Anuar (Mas) Le Tua                                              27
11 Darren Harry (Aus) City of Perth                                      25
12 Ghader Mizbani (Irn) Giant A.R.T                                      24
13 Haidar Ahmad (Mas) Le Tua                                             23
14 Yevgeniy Yakovlev (Kaz) Polygon Sweet Nice                            23
15 Jacob Nielsen (Den) Glud & Marstand Horsens                           22
16 Koji Fukushima (Jpn) Nippo Meitan                                     20
17 Hai Jun Ma (Chn) Qinghai Team                                         17
18 Thiijs Zonneveld (Ned) Discovery Channel Marco Polo Team              17
19 Stephen Wooldridge (Aus) Australian National Track Endurance          16
20 Kai Tsun Lam (HKg) Hong Kong Pro Cycling                              16
21 Ekachai Tawonlumlerd (Tha) Royal Thai Air Force                       15
22 Rune Udby (Den) Glud & Marstand Horsens                               15
23 Cor Van Leeuwen (Ned) Ruiter Dakkapellen Wielerteam                   15
24 Hossein Askari (Irn) Giant A.R.T                                      14
25 Yukihiro Doi (Jpn) Skil Shimano                                       13
26 Will Ford (Aus) Australian National Track Endurance                   13
27 Pol Nabben (Ned) Discovery Channel Marco Polo Team                    13
28 Nathan Dahlberg (NZl) Altipower                                       13
29 Yukiya Arashiro (Jpn) Nippo Meitan                                    12
30 Rudy Vriend (Ned) Ruiter Dakkapellen Wielerteam                       12
31 Yoshimasa Hirose (Jpn) Skil Shimano                                   11
32 Prajak Mahawong (Tha) Siam Bara Cycling Team                          11
33 Peter Dawson (Aus) Australian National Track Endurance                10
34 Paul Griffin (Irl) Giant A.R.T                                        10
35 Jamsran Ulzil-Orshikh (Mgl) Discovery Channel Marco Polo Team          9
36 Brad Hall (Aus) City of Perth                                          9
37 Nutthapon Cheepthaworn (Tha) Sin Kit Paiboon Lohakarn Royal Sky        7
38 Phillip Thauax (Aus) Australian National Track Endurance               6
39 Tomoya Kano (Jpn) Skil Shimano                                         5
40 Xing Yan Dong (Chn) Discovery Channel Marco Polo Team                  3
41 Puchong Saiudomsil (Tha) Siam Bara Cycling Team                        3
42 Zainal Mdnor Rizuan (Mas) Le Tua                                       3
43 Jared Bunde (USA) Champion System Sommerville Sports                   3
44 Thanawat Samana (Tha) Siam Bara Cycling Team                           2
45 Thijs Poelstra (Ned) Altipower                                         2
46 Sirous Hashemzadeh (Irn) Azad University                               1
47 Kin San Wu (HKg) Hong Kong Pro Cycling                                 1

Individual Asian Classification
 
1 Iman Suparman (Ina) Benteng Muda Tangerang                       24.08.41
2 Prajak Mahawong (Tha) Siam Bara Cycling Team                         0.18
3 Thanawat Samana (Tha) Siam Bara Cycling Team                         3.38
4 Radius Ginting (Ina) Benteng Muda Tangerang                          3.46
5 Puchong Saiudomsil (Tha) Siam Bara Cycling Team                          
6 Tanet Pitthayathonlert (Tha) Sin Kit Paiboon Lohakarn Royal Sky          
7 Junaidi Bin Hashim (Sin) Singapore National Team                     3.52
8 Saree Ruangsiri (Tha) Royal Thai Navy                                4.18
9 Abdullah Riza Pahlani (Ina) Polygon Sweet Nice                       4.25
10 Okart Bualoi (Tha) Sin Kit Paiboon Lohakarn Royal Sky               4.30
 
Team Classification
 
1 Giant A.R.T Gnt                                                  72.16.04
2 Discovery Channel Marco Polo Team Mpc                                5.37
3 Polygon Sweet Nice Psn                                               5.39
4 Nippo Meitan Npm                                                     7.50
5 Hong Kong Pro Cycling Hkg                                           13.18
6 Azad University Azd                                                 15.46
7 Siam Bara Cycling Team Sab                                          17.41
8 Benteng Muda Tangerang Bmt                                          18.25
9 Skil Shimano Sks                                                    19.29
10 Champion System Sommerville Sports Css                             21.11
11 Altipower Atp                                                      30.46
12 City Of Perth Cop                                                  34.58
13 Australian National Track Endurance Aus                            43.11
14 Sin Kit Paiboon Lohakarn Royal Sky Skp                             45.31
15 Le Tua L2A                                                         47.54
16 Glud & Marstand Horsens Glu                                        55.10
17 Ruiter Dakkapellen Wielerteam Rdk                                  56.16
 
Asian Team classification
 
1 Polygon Sweet Nice Psn                                           72.21.43
2 Siam Bara Cycling Team Sab                                          12.02
3 Benteng Muda Tangerang Bmt                                          12.46
4 Sin Kit Paiboon Lohakarn Royal Sky Skp                              39.52
5 Le Tua L2A                                                          42.15

Thailand Team Classification

1 Siam Bara Cycling Team Sab                                       72.33.45
2 Sin Kit Paiboon Lohakarn Royal Sky Skp                              27.50