Jelajah Malaysia - 2.2
Malaysia, January 6-12, 2007
Main Page Results Overall standings Next Stage
Stage 1 - January 6: Bentung - Kuantan, 194.7 km
Iijima becomes first international winner for 2007
By Jean-François Quénet in Kuantan
Top three after day one. (L-R) Kai Tsun Lam, winner Makoto Iijima and Mehdi Sorahbi.
Photo ©: Jean-François Quénet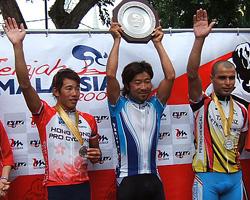 Not to be confused with Le Tour de Langkawi, scheduled for February 2 to 11, the Jelajah Malaysia is the second revival of the 44 year-old Tour of Malaysia - Jalajah is a Bahasa Malaysian translation for Tour. After two years off the event started today from Bentong on a flat, 194 kilometre-long stage to Kuantan, near the South China Sea.
Victory on the opening stage has crowned Makoto Iijima, from the Japanese national team, as the first winner of an international race in 2007. He's no stranger to the fans of Asian cycling. At 36 years old Iijima won a silver medal at the Asian Games one month ago with Iranian Mehdi Sohrabi taking third place behind him.
Sohrabi is the 2006 Asian Champion, a crown he claimed ahead of Iijima. Since the Jelajah Malaysia gathers most of Asia's best riders - plus two clubs from Denmark and the US - it's no huge surprise to find Iijima and Sohrabi battling for the lead in Kuantan.
Anuar Manan from Malaysia's first continental team LeTua.jpg
Photo ©: Jean-François Quénet

"For our team, in a stage race it's very important to win Stage 1, so I'm very happy," Iijima said after the finish.
Before half way, a group of 14 riders broke from the main group. Then, with 75 km remaining on the opening stage, 15 counter attackers joined them. "But the communication was not very good" explained Sohrabi. "It was like everybody was hesitating. Iijima pursued, so I decided to attack with less than 40km and the two other guys came with me."
Iran's Hossain Jahanbanian and Kai Tsun Lam from Hong Kong followed but only Lam managed to stay with Iijima until the end, claiming him second place. Behind the lead pair Sohrabi and Danish rider Thomas Just had escaped the pack to take third and fourth place respectively.
The main peloton reached Kuantan four-minutes behind the breakaway group containing Hong Kong's Kam Po Wong. The Asian Games champion seems to have taken the best benefit of the opening stage, because he got a nice lead on other race favorites like Giant's Ghader Mizbani but didn't have to take part in any chase behind his compatriot and team-mate Lam.
The Jelajah Malaysia is set to be a flat race on all but one day. Tuesday's Stage 4 travels through a hilly jungle location, where Gianni Bugno got the second last win of his career at the 1997 Tour de Langkawi, before finishing in Gerik.
Photography
For a thumbnail gallery of these images, click here
Images by Jean-François Quénet/Cyclingnews.com
Images by Francis Cerny
Results

1 Makoto Iijima (Jpn) Japan National Team                            4.29.31
2 Kai Tsun Lam (HKg) Hong Kong Pro Cycling                              0.07
3 Mehdi Sohrabi (IRI) Tabriz Petrochemical Cycling Team                 0.40
4 Thomas Just (Den) Team Farso Cycling                                  0.47
5 Anuar Manan (Mas) Team Le Tua                                         1.02
6 Chun Hing Chan (HKg) Hong Kong Pro Cycling                            1.03
7 Hossain Jahanbanian (IRI) Tabriz Petrochemical Cycling Team
8 Ahad Kazemi Sarai (IRI) Tabriz Petrochemical Cycling Team             1.04
9 Mohd Zamri Salleh (Mas) Terengganu
10 Ahmed Alhanadsa (UAE) United Arab Emirates National Team             1.05
11 Kudentsov Sergey (Rus) Discovery Channel Marco Polo Team
12 Kam Po Wong (HKg) Hong Kong Pro Cycling
13 Satoshi Hirose (Jpn) Japan National Team
14 Sayuti Mohd Zahit (Mas) Putrajaya
15 Radius Ginting (Ina) Benteng Muda Selangor
16 Kin San Wu (HKg) Hong Kong Pro Cycling
17 Safwan Sawai (Mas) Malaysian National Team
18 Budi Santoso (Ina) Polygon Sweet Nice
19 Jared T Bunde (USA) Champion System Sommerville Sports
20 Stefan Rothe (Ger) Champion System Sommerville Sports
21 Yoshiyuki Abe (Jpn) Japan National Team
22 Badr Bhanihammad (UAE) United Arab Emirates National Team
23 Paul Griffin (Irl) Giant Asia Racing Team
24 Chun Te Ching (Tpe) Giant Asia Racing Team
25 Hossein Ashkari (IRI) Giant Asia Racing Team
26 Vyacheslav Dyadichkin (Kaz) Polygon Sweet Nice
27 Nathan Dahlberg (NZl) Team Farso Cycling
28 Hari Fitrianto (Ina) Polygon Sweet Nice                              1.11
29 Pol Nabben (Ned) Discovery Channel Marco Polo Team
30 Tong Yu (Chn) Discovery Channel Marco Polo Team                      1.22
31 Rizuan Zainal (Mas) Team Le Tua                                      2.13
32 Firdaus Daud (Mas) Putrajaya                                         2.26
33 Mohamad Anuar Mohamed Zam (Mas) Terengganu                           5.03
34 Heksa P Prasetya (Ina) Indonesian National Team
35 Mohammad Partoui (IRI) Tabriz Petrochemical Cycling Team
36 Yevgeniy Yakolev (Kaz) Polygon Sweet Nice
37 Mumuh Muhsin (Ina) Tabriz Petrochemical Cycling Team                 5.05
38 Kuei Hsiang Peng (Tpe) Giant Asia Racing Team                        5.06
39  Parno (Ina) Indonesian National Team
40 Raziff Jaafar (Mas) Kuala Lumpur
41 Iwan Setiawan (Ina) Indonesian National Team
42 Md Asril A Rahman (Mas) Pahang
43 Harnizam Basri (Mas) Majlis Sukan Negara Malaysia
44 Wang Yip Tang (HKg) Hong Kong Pro Cycling
45 Mohd Khairuz Abd. Ghani (Mas) Pahang
46 Sazlee Ismail (Mas) Kuala Lumpur
47 Ebrahim Hussein Ahmed (Brn) Bahrain National Team
48 Badr Shambih (UAE) United Arab Emirates National Team
49 Suhardi Hassan (Mas) Kuala Lumpur
50 Mohd Arif Syukri Ahmad Sabil (Mas) Terengganu
51 Khalid Shambih (UAE) United Arab Emirates National Team
52 Mohamad Faris Abd Razak (Mas) Malaysian National Team
53 Artemiy Timofeev (Rus) Polygon Sweet Nice
54 Hamid Shiri (IRI) Tabriz Petrochemical Cycling Team
55 Yan Dong Xing (Chn) Discovery Channel Marco Polo Team
56 Taufiq Muhamad (Ina) Benteng Muda Selangor
57 Ching Man Chung (HKg) Champion System Sommerville Sports
58 Zaki Nasir (Mas) Team Le Tua
59 Agung Ali Sahbana (Ina) Indonesian National Team
60 Ahmed Al Doseri (Brn) Bahrain National Team
61 Haidar Ahmad (Mas) Team Le Tua
62 Amir Mustafa Rusli (Mas) Majlis Sukan Negara Malaysia
63 Jamal Aldoseri (Brn) Bahrain National Team
64 Stanley Jalip Jr. (Mas) Putrajaya
65 King Wai Cheung (HKg) Hong Kong Pro Cycling
66 Mohd Yusof Abd. Nasir (Mas) Benteng Muda Selangor
67 Endra Wijaya (Ina) Indonesian National Team
68 Ting Pong Lam (HKg) Champion System Sommerville Sports
69 Weng Kin Thum (Mas) Malaysian National Team
70 Umardi Rosdi (Mas) Team Le Tua
71 Thijs Zonneveld (Ned) Discovery Channel Marco Polo Team
72 Sayed Ahmed Alawi (Brn) Bahrain National Team
73 Mohd Rauf Nur Misbah (Mas) Malaysian National Team
74 Yoshiyuki Shimizu (Jpn) Japan National Team
75 Shah Adam Mohd Arifin (Mas) Pahang
76 Duaij Al Doseri (Brn) Bahrain National Team
77  Aang Zuanda (Ina) Indonesian National Team
78 David Sommerville (USA) Champion System Sommerville Sports
79 Mohd Akmal Amrun (Mas) Majlis Sukan Negara Malaysia
80 Thomas Bencivengo (USA) Champion System Sommerville Sports
81 Nariyuki Masuda (Jpn) Japan National Team
82 Kuan Hua Lai (Tpe) Giant Asia Racing Team
83 Herwin Jaya (Ina) Polygon Sweet Nice
84 Mohd Saiful Anuar Aziz (Mas) Majlis Sukan Negara Malaysia
85 Mohd Saiful Fazli Zakaria (Mas) Pahang
86 Wibowo Adi (Ina) Benteng Muda Selangor
87 Najmee Wan Mohd (Mas) Kuala Lumpur
88 Fallanie Ali (Mas) Kuala Lumpur
89 Mohd Jasmin Ruslan (Mas) Majlis Sukan Negara Malaysia
90 Mohd Hafiz Rozli (Mas) Pahang
91 Syed Mohd Hussaini Syed Mazlan (Mas) Terengganu                      5.17
92 Jesper Norgaard Lund (Den) Team Farso Cycling
93 Soren B Petersen (Den) Team Farso Cycling
94 Kurniawan Kurniawan (Ina) Pahang
95 Loh Sea Keong (Mas) Discovery Channel Marco Polo Team                5.19
96 Iman Suparman (Ina) Benteng Muda Selangor
97 Ghader Mizbani (IRI) Giant Asia Racing Team
98 Yoshinori Iino (Jpn) Japan National Team
99 Wim Spijkerboer (Ned) Team Farso Cycling
100 Azizul Azli Shaari (Mas) Terengganu
101 Khairul Naim Azhar (Mas) Putrajaya
102 Fuad Daud (Mas) Putrajaya
103 Muhammad Fauzan Ahmad Lutfi (Mas) Malaysian National Team
104 Mohd Harrif Saleh (Mas) Majlis Sukan Negara Malaysia
105 Bjorn Glasner (Ger) Team Farso Cycling                              5.29
106 Fahmi Tajuddin (Mas) Putrajaya

Sprints

Lancang, 39 km

1 Yevgeniy Yakolev (Kaz) Polygon Sweet Nice                                5 pts
2 Kurniawan Kurniawan (Ina) Pahang                                         3
3 Mumuh Muhsin (Ina) Tabriz Petrochemical Cycling Team                     2
4 Mohd Jasmin Ruslan (Mas) Majlis Sukan Negara Malaysia                    1

Maran, 119.3 km
1 Anuar Manan (Mas) Team Le Tua                                            5 pts
2 Chun Hing Chan (HKg) Hong Kong Pro Cycling                               3
3 Mohd Zamri Salleh (Mas) Terengganu                                       2
4 Budi Santoso (Ina) Polygon Sweet Nice                                    1

Gambang, 166 km

1 Makoto Iijima (Jpn) Japan National Team                                  5 pts
2 Hossain Jahanbanian (IRI) Tabriz Petrochemical Cycling Team              3
3 Kai Tsun Lam (HKg) Hong Kong Pro Cycling                                 2
4 Anuar Manan (Mas) Team Le Tua                                            1

Sprints Classification

1 Anuar Manan (Mas) Team Le Tua                                            6 pts
2 Makoto Iijima (Jpn) Japan National Team                                  5
3 Yevgeniy Yakolev (Kaz) Polygon Sweet Nice                                5
4 Chun Hing Chan (HKg) Hong Kong Pro Cycling                               3
5 Hossain Jahanbanian (IRI) Tabriz Petrochemical Cycling Team              3
6 Kurniawan Kurniawan (Ina) Pahang                                         3
7 Kai Tsun Lam (HKg) Hong Kong Pro Cycling                                 2
8 Mohd Zamri Salleh (Mas) Terengganu                                       2
9 Mumuh Muhsin (Ina) Tabriz Petrochemical Cycling Team                     2
10 Budi Santoso (Ina) Polygon Sweet Nice                                   1
11 Mohd Jasmin Ruslan (Mas) Majlis Sukan Negara Malaysia                   1

Malaysian Riders Classification

1 Anuar Manan (Mas) Team Le Tua                                      4.30.33
2 Mohd Zamri Salleh (Mas) Terengganu                                    0.02
3 Sayuti Mohd Zahit (Mas) Putrajaya                                     0.03
4 Safwan Sawai (Mas) Malaysian National Team
5 Rizuan Zainal (Mas) Team Le Tua                                       1.15
6 Firdaus Daud (Mas) Putrajaya                                          1.24
7 Mohamad Anuar Mohamed Zam (Mas) Terengganu                            4.04
8 Raziff Jaafar (Mas) Kuala Lumpur
9 Md Asril A Rahman (Mas) Pahang
10 Harnizam Basri (Mas) Majlis Sukan Negara Malaysia

Teams Classification
 
1 Japan National Team                                               13.30.56
2 Hong Kong Pro Cycling                                                 0.01
3 Tabriz Petrochemical Cycling Team                                     0.30
4 Giant Asia Racing Team                                                0.52
5 Polygon Sweet Nice                                                    0.58
6 Discovery Channel Marco Polo Team                                     1.15
7 Team Farso Cycling                                                    4.46
8 United Arab Emirates National Team                                    4.53
9 Champion System Sommerville Sports                                    4.53
10 Team Le Tua                                                          6.01
11 Putrajaya                                                            6.14
12 Terengganu                                                           8.51
13 Benteng Muda Selangor                                                8.54
14 Malaysian National Team
15 Indonesian National Team                                            12.52
16 Kuala Lumpur                                                        12.55
17 Pahang
18 Bahrain National Team
19 Majlis Sukan Negara Malaysia