Recently on Cyclingnews.com
Tour of Thailand - 2.2
Thailand, December 16-21, 2007
Main Page Results Overall standings Previous Stage Next Stage
Stage 4 - December 19: Loei - Chattakarn Waterfall National Park, 214 km
Kazemi wins "toughest stage"
By Steve Thomas
One very happy, and tired Iranian
Photo ©: Steve Thomas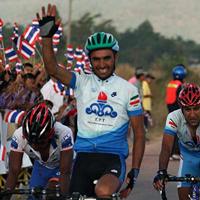 It was all change today in the Tour of Thailand. The race finally hit the mountains - and in no uncertain style. The stage distance was epic in itself - 214 kilometres, but add in the terrain and it became one of the toughest days racing ever seen in Asia. Eventual winner Ahar Kazemi of Iran confirmed, "It's the toughest stage of any race in Asia, and I've ridden most of them. It was very long and hot, but the hills were really tough. They were very steep and long, and none stop; there was no rest in between them."
This was the first time this particular route had been used in the Tour, and it proved to be epic, if not too epic for many riders. Within an hour of racing the climbing started, gently at first, but then the riders hit the first of the serious climbs, an ultra steep beast which forced some riders to their feet. And that was just the start of it. The field ripped apart at the seams with the relentless climbing, and as anticipated the Iranians were at the head of affairs, along with Asian veteran Tonton Susanto.
By the time the late afternoon finish came along, after more than six hot hours in the saddle Kazemi crossed the line ahead of Susanto and fellow Iranian Jahanbanian Hossein. With two long hard days ahead, the trio also comfortably hold the top three positions on GC.
Photography
For a thumbnail gallery of these images, click here
Images by Steve Thomas
Results

1 Ahad Sarai Kazemi (IRI) Tabriz Petrochem          6.08.08 (34.88 km/h)
2 Tonton Susanto (Ina) Faeso Denmark                       
3 Jahanbanian Hossein (IRI) Tabriz Petrochem               
4 Paul Griffin (Irl) Giant Asia Racing                 3.31
5 Masakazu Ito (Jpn) Japan                                 
6 Patnk Tybor (Svk) Dukla Trencin                          
7 Lloyd Lucien Reynante (Phi) Philippines                  
8 Okan Bualoi (Tha) Thailand                               
9 Soren Peterson (Den) Kuota Senges                        
10 Prajak Mahawong (Tha) Thailand                          
11 Akira Kakinuma (Jpn) Japan                              
12 Irish Valenzuela (Phi) Philippines                      
13 Yoshimitsu Hiratsuka (Jpn) Japan                        
14 Victor Espiritu (Phi) Philippines                       
15 Suhardi Hassan (Mas) Malaysia                      11.19
16 Muhammad Fauzan Ahmad Lufti (Mas) Malaysia              
17 Phuchong Sai-Udomsin (Tha) Thailand                     
18 Kuan Hua Lai (Tpe) Giant Asia Racing               18.18
19 Ryan Ariham (Ina) Faeso Denmark                    18.22
20 Panup Koonrungruangkit (Tha) Thailand                   
21 Matej Vyssna (Svk) Dukla Trencin                        
22 Nguyen Hung Mai (Vie) Vietnam                      19.47
23 Agung Alisyahbana (Ina) Customs Cycling                 
24 Seree Ruangsiri (Tha) All Star Thailand                 
25 Trung Hieu Dang (Vie) Vietnam                           
26 Shiri Sisan Hamid (IRI) Tabriz Petrochem                
27 Endra Wijaya (Ina) Customs Cycling                      
28 Badr Mohammed Banihammead (UAE) United Arab Emirates    
29 Warren Davadilla (Phi) Philippines                      
30 Cong Hieu Mai (Vie) Vietnam                             
31 Phat Dat Trinh (Vie) Vietnam                            
32 Mitsuhiro Matsumura (Jpn) Matrix Powetag           21.42
34 Edi Purnomo (Ina) Customs Cycling                       
36 Natthapon Jeebthaworn (Tha) Thailand                    
36 Christoph von Kleinsorgen (Ger) Kuota Senges            
37 Lex Nederlof (Ned) Ysselstreek                          
38 Thomas Just (Den) Faeso Denmark                         
39 Kohei Uchima (Jpn) Japan                                
40 Alexander van Bavel (Ned) Ysselstreek                   
41 Nicholas Dale Swallow (Sin) Cycleworx Singapore         
42 Bjorn Glasner (Ger) Kuota Senges                        
43 Muhammad Faris Abdul Razak (Mas) Malaysia               
44 Seiichi Koshiumi (Jpn) Japan                            
45 Ronald Gorantes (Phi) Philippines                       
46 Hsiang Kuei (Tpe) Giant Asia Racing                     
47 Wim Spijkerboer (Ned) Ysselstreek                       
48 Jan Sipeky (Svk) Dukla Trencin                          
49 Masahiko Mifune (Jpn) Matrix Powetag               12.42
50 Maros Kovac (Svk) Dukla Trencin                    21.42
51 Yuli Haryanto (Ina) Customs Cycling                47.00
52 Jurag Sagan (Svk) Dukla Trencin                         
53 Jatuphoom Lekhawat (Tha) All Star Thailand              
54 Matthias Berting (Ger) Kuota Senges                     
56 Morten Knudsen (Den) Faeso Denmark                      
56 Daisuke Hioki (Jpn) Matrix Powetag                      
57 Yoshimitsu Tsuji (Jpn) Matrix Powetag                   
58 Wakumoto Masaki (Jpn) Matrix Powetag                    
59 Muhammad Rauf Nur Nisbah (Mas) Malaysia                 
 
General Classification after Stage 4
 
1 Ahad Sarai Kazemi (IRI) Tabriz Petrochem                 
2 Tonton Susanto (Ina) Faeso Denmark                       
3 Jahanbanian Hossein (IRI) Tabriz Petrochem               
4 Prajak Mahawong (Tha) Thailand                           
5 Irish Valenzuela (Phi) Philippines                       
6 Okan Bualoi (Tha) Thailand                               
7 Paul Griffin (Irl) Giant Asia Racing                     
8 Lloyd Lucien Reynante (Phi) Philippines                  
9 Soren Peterson (Den) Kuota Senges                        
10 Akira Kakinuma (Jpn) Japan                              
11 Masakazu Ito (Jpn) Japan                                
12 Suhardi Hassan (Mas) Malaysia                           
13 Phuchong Sai-Udomsin (Tha) Thailand                     
14 Yuli Haryanto (Ina) Customs Cycling                     
15 Yoshimitsu Hiratsuka (Jpn) Japan                        
16 Victor Espiritu (Phi) Philippines                       
17 Malaya van Ruitenbeek (Ned) Kuota Senges                
18 Kuan Hua Lai (Tpe) Giant Asia Racing                    
19 Muhammad Fauzan Ahmad Lufti (Mas) Malaysia              
20 Nguyen Hung Mai (Vie) Vietnam                           
21 Warren Davadilla (Phi) Philippines                      
22 Shiri Sisan Hamid (IRI) Tabriz Petrochem                
23 Badr Mohammed Banihammead (UAE) United Arab Emirates    
24 Maros Kovac (Svk) Dukla Trencin                         
25 Kohei Uchima (Jpn) Japan                                
26 Thomas Just (Den) Faeso Denmark                         
27 Hsiang Kuei (Tpe) Giant Asia Racing                     
28 Jan Sipeky (Svk) Dukla Trencin                          
29 Ryan Ariham (Ina) Faeso Denmark                         
30 Matej Vyssna (Svk) Dukla Trencin                        
31 Agung Alisyahbana (Ina) Customs Cycling                 
32 Seree Ruangsiri (Tha) All Star Thailand                 
33 Okan Bualoi (Tha) Thailand                              
34 Endra Wijaya (Ina) Customs Cycling                      
35 Cong Hieu Mai (Vie) Vietnam                             
36 Phat Dat Trinh (Vie) Vietnam                            
37 Masahiko Mifune (Jpn) Matrix Powetag                    
38 Christoph von Kleinsorgen (Ger) Kuota Senges            
39 Mitsuhiro Matsumura (Jpn) Matrix Powetag                
40 Panup Koonrungruangkit (Tha) Thailand                   
41 Edi Purnomo (Ina) Customs Cycling                       
42 Natthapon Jeebthaworn (Tha) Thailand                    
43 Lex Nederlof (Ned) Ysselstreek                          
44 Janaidi Bin Hashim (Sin) Cycleworx Singapore            
45 Bjorn Glasner (Ger) Kuota Senges                        
46 Muhammad Faris Abdul Razak (Mas) Malaysia               
47 Seiichi Koshiumi (Jpn) Japan                            
48 Ronald Gorantes (Phi) Philippines                       
49 Wim Spijkerboer (Ned) Ysselstreek                       
50 Alexander van Bavel (Ned) Ysselstreek                   
51 Jatuphoom Lekhawat (Tha) All Star Thailand              
52 Jurag Sagan (Svk) Dukla Trencin                         
53 Muhammad Rauf Nur Nisbah (Mas) Malaysia                 
54 Matthias Berting (Ger) Kuota Senges                     
56 Tonton Susanto (Ina) Faeso Denmark                      
56 Yuli Haryanto (Ina) Customs Cycling                                                     
57 Daisuke Hioki (Jpn) Matrix Powetag