82nd Rund um die Hainleite - 1.1
Germany, August 4, 2007
2006 Results Results Past winners
Van Avermaet first Belgian to win the Hainleite
By Susan Westemeyer
Greg Van Avermaert (Predictor-Lotto)
Photo ©: AFP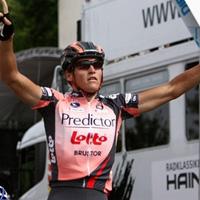 Greg Van Avermaet of Predictor-Lotto pulled off a surprise win in Erfurt, Germany today, taking the 10-man sprint to become the first Belgian victor in the Rund um die Hainleite's 100-year history. Sven Krauss (Gerolsteiner) and Paul Martens (Skil-Shimano), finished second and third respectively.
Van Avermaet started his sprint with 200 metres to go. "I was sure then that I would win," the 22 year-old said. The young Belgian also expressed confidence in his fellow riders, in light of cycling's current doping cloud, saying, "I am sure, that especially the young riders who were on the podium today have nothing to do with doping."
The race was dominated by a five-man escape group of Marcel Kittel (Thüringer Energie Team), Niki Terpstra (Milram), Kevin Neirynck (Landbouwkrediet), Yoshimase Hirose (Skil-Shimano) and Mariusz Witecki(Volksbank), who held up to a seven minute lead over the peloton, which finally caught them with 20 km to go. Shortly thereafter, a 10-man group formed and stayed away to the finish.
Photography
For a thumbnail gallery of these images, click here
Images by AFP Photo
Results - 182.1 km

1 Greg Van Avermaet (Bel) Predictor-Lotto         4.20.01 (42.02 km/h)
2 Sven Krauss (Ger) Gerolsteiner                        
3 Paul Martens (Ger) Skil-Shimano                       
4 Florian Stalder (Swi) Team Vorarlberg                 
5 Robert Retschke (Ger) Team Wiesenhof Akud             
6 Matija Kvasina (Cro) Perutnina Ptuj                   
7 Chris-Anke Sorensen (Den) Team CSC                    
8 Holger Sievers (Ger) Team 3C - Gruppe Lamonta         
9 Frederik Wilmann (Nor) Team Maxbo Bianchi             
10 Bjorn Leukemans (Bel) Predictor-Lotto            0.07
11 Gabriel Rasch (Nor) Team Maxbo Bianchi           0.52
12 Paul Voss (Ger) Team 3C - Gruppe Lamonta         0.58
13 Matej Stare (Slo) Perutnina Ptuj                     
14 Geert Steurs (Bel) Predictor-Lotto                   
15 Edvaldboasso Hagen (Nor) Team Maxbo Bianchi          
16 Andy Capelle (Bel) Landbouwkrediet-Colnago           
17 Maarten Denbakker (Ned) Skil-Shimano             1.03
18 Bert Grabsch (Ger) T-Mobile Team                     
19 Rene Weissinger (Ger) Team Vorarlberg            1.11
20 Larspette Nordhaug (Nor) Team Maxbo Bianchi          
21 Fabio Sabatini (Ita) Team Milram                     
22 Bartosz Huzarski (Pol) Intel-Action                  
23 Jens Voigt (Ger) Team CSC                            
24 Pieter Mertens (Bel) Predictor-Lotto                 
25 Radoslav Rogina (Cro) Perutnina Ptuj                 
26 Daniel Musiol (Ger) Team Wiesenhof Akud          2.17
27 Frederik Ericsson (Swe) Procomm-Van Hemert           
28 Albert Timmer (Ned) Skil-Shimano                     
29 Piet Rooyakkers (Ned) Skil-Shimano               2.19
30 Roy Sentjens (Ned) Predictor-Lotto               2.21
31 Marcel Barth (Ger) Thüringer Energie Team        2.49
32 Christ Meschenmoser (Ger) Skil-Shimano               
33 Peter Jakobs (Bel) Unibet.com                        
34 Matej Marin (Slo) Perutnina Ptuj                     
35 Clement Lhotellerie (Fra) Skil-Shimano               
36 Laurent Didier (Lux) Team Regiostrom-Senges          
37 Mitja Mahoric (Slo) Perutnina Ptuj                   
38 Sierkjan Dehaan (Ned) Procomm-Van Hemert             
39 Tony Martin (Ger) Thüringer Energie Team             
40 Harald Morscher (Aut) Team Vorarlberg                
41 Oliver Giesecke (Ger) Thüringer Energie Team     2.52
42 Torsten Hiekmann (Ger) Gerolsteiner                  
43 Thomas Ziegler (Ger) T-Mobile Team                   
44 Matt Wilson (Aus) Unibet.com                         
45 Pascal Hungerbühler (Swi) Team Vorarlberg            
46 Sergej Fuchs (Ger) Team 3C - Gruppe Lamonta          
47 Stuart Shaw (Aus) Drapac Porsche                     
48 Olivier Kaisen (Bel) Predictor-Lotto                 
49 Kristijan Durasek (Cro) Perutnina Ptuj               
50 Kasper Klostergaard (Den) Team CSC                   
51 Martin Velits (Svk) Team Wiesenhof Akud              
52 Sebastian Skiba (Pol) Intel-Action                   
53 Karsten Volkamnn (Ger) ISAAC                         
54 Bert Scheirlinckx (Bel) Landbouwkrediet-Colnago      
55 Peter Velits (Svk) Team Wiesenhof Akud               
56 Sebastian Lang (Ger) Gerolsteiner                    
57 Luke Roberts (Aus) Team CSC                          
58 Enrico Poitschke (Ger) Team Milram                   
59 Gregor Gazvoda (Slo) Perutnina Ptuj                  
60 Eric Baumann (Ger) T-Mobile Team                     
61 Stephan Schreck (Ger) T-Mobile Team                  
62 Andrej Omulec (Slo) Perutnina Ptuj                   
63 André Greipel (Ger) T-Mobile Team                    
64 Thomas Fothen (Ger) Gerolsteiner                     
65 Björn Papstein (Ger) Team 3C - Gruppe Lamonta        
66 Niki Terpstra (Ned) Team Milram                      
67 David Kopp (Ger) Gerolsteiner                        
68 Alessandro Petacchi (Ita) Team Milram                
69 Andreas Klier (Ger) T-Mobile Team                    
70 Erik Hoffmann (Nam) Team 3C - Gruppe Lamonta         
71 Maximilian May (Ger) Thüringer Energie Team      6.54
72 Rob Peeters (Bel) Landbouwkrediet-Colnago        7.33
73 Stef Dewilde (Bel) Landbouwkrediet-Colnago           
74 James Vanlandschoot (Bel) Landbouwkrediet-Colnago    
75 Christoph Klipp (Ger) Team Notebooksbilliger.de      
76 Darren Lapthorne (Aus) Drapac Porsche                
77 Alexander Kristoff (Nor) Team Maxbo Bianchi          
78 Baden Cooke (Aus) Unibet.com                         
79 Jeroen Boelen (Ned) Procomm-Van Hemert               
80 Sveinerik Vold (Nor) Team Maxbo Bianchi              
81 Karsten Hess (Ger) Thüringer Energie Team        9.27
82 Henri Werner (Ger) ISAAC                             
83 Fabian Pohl (Ger) Team Notebooksbilliger.de          
84 Yvo Kusters (Ned) Procomm-Van Hemert                 
85 Martin Pedersen (Den) Team CSC                       

Starters: 148
Classified: 85
Past Winners
2006 Jens Voigt (Ger) Team CSC                     186.1 kms in 4.22.47
2005 Bert Grabsch (Ger) Phonak Hearing Systems     187 kms in 4.13.24
2004 Peter Wrolich (Aut) Team Gerolsteiner  
2003 Enrico Poitschke (Ger) Team Wiesenhof  
2002 Sasa Sviben (Slo) Team Nürnberger Versicherung 
2001 Christian Wegmann (Ger) Saeco
2000 Nicki Sörensen (Den)
1999 Holger Sievers (Ger)
1998 Thomas Liese (Ger)
1997 Dirk Müller (Ger)
1996 (3) Mario Kummer (Ger)
1995 Roland Nestler (Ger)
1994 T.Schenderlein (Ger)
1993 Hagen Bernutz (Ger)
1989 S. Rein (Ger)
1987 UweAmpler (Ger)
1986 (2) Mario Kummer (Ger)
1983 Uwe Raab (Ger)
1982 (b)Bernd Drogan (Ger)
1982 (a) Olaf Ludwig (Ger)
1981 Mario Kummer (Ger)
1980 Thomas Barth (Ger)
1970 D. Grabe (Ger)
1969 W. Braune (Ger)
1967 B. Patzig (Ger)
1966 Klaus Ampler (Ger)
1965 D. Marks (Ger)
1964 G. Kellermann (Ger)
1963 K. Taufmann(Ger)
1962 L. Butzke (Ger)
1961 (2) E. Hagen (Ger)
1960 (a) (3) Gustav-Adolf Schur (Ger)
1960 (b)E. Hagen (Ger)
1959 V. Eeckhandt (Bel)
1958 M. Weißleder(Ger)
1957 (b) W. Seidel (Ger)
1957(a) (2) Gustav-Adolf Schur (Ger)
1956 G. Oldenburg (Ger)
1955(a) R. Kirchoff (Ger)
1955 (b) S. Wustrow (Ger)
1954 Gustav-Adolf Schur (Ger)
1953 E. Ziegler (Ger)
1952L. Meister (Ger)
1951 (b) F. Funke (Ger)
1951 (a) W. Fritzsche (Ger)
1950(b) B. Wille (Ger)
1950 (a) H. Gaede (Ger)
1949 P. Scherner (Ger)
1944 K. Claessen (Ger)
1943 H. Bresching (Ger)
1942 Harry Saager (Ger)
1941 B. Schulze (Ger)
1940 F. Scheller(Ger)
1939 (b) W. Schiffner (Ger)
1939 (a) H. Siegel (Ger)
1938 (b) W. Richter(Ger)
1938 (a) G. Umbenhauer (Ger)
1937 (b) W. Oberquelle (Ger)
1937 (a) W. Nickel (Ger)
1936 (b) P. Machleidt (Ger)
1936(a) F. Ruland (Ger)
1935 (b) E. Westhaus (Ger)
1935 (a) E. Scheller (Ger)
1934 (a) F. Anger (Ger)
1934 (b) H.Schumann (Ger)
1933 (b) F. Mertens (Bel)
1933 (a) G.Stach (Ger)
1932 (b) K. Kerber (Ger)
1932 (a) R. Risch (Ger)
1931 (a) O. Michael (Ger)
1931 (b) S.Kley (Ger)
1930 O. Beyer (Ger)
1929 (b)H. Putkammer (Ger)
1929 (a) H. Stache (Ger)
1928 (c) W. Haucke (Ger)
1928(b) R. Hahn (Ger)
1928 (a) (3) P. Kohl (Ger)
1927 (b) R. Schuster (Ger)
1927(a) G. Zind (Ger)
1926 (b) O. Gugau (Ger)
1926 (a) P. Belloni (Ita)
1925(b) R. Beyer (Ger)
1925 (a) (2) P. Kohl (Ger)
1924 O. Nitze (Ger)
1923 (2) M. Werner (Ger)
1922 (b) A. Roßner (Ger)
1922 (a) P. Kohl (Ger)
1921 (b) M. Werner (Ger)
1921 (a) Adolf Huschke (Ger)
1920 K. Ohme (Ger)
1914 (b) P. Fehlau (Ger)
1914 (a) (2) E. Aberger (Ger)
1913 (b) H. Koch (Ger)
1913 (a) E. Aberger (Ger)
1912 (b) A. Frömming (Ger)
1912 (a) F. Suter (Swi)
1911 (b) K.Trettenborn (Ger)
1911 (a) K. Zander (Ger)
1910 G. Schgulze (Ger)
1909 (2) H. Schröckel (Ger)
1908 H. Schröckel (Ger)
1907 W. Ochs (Ger)
 
Past winners by Mario Stiehl, www.world-of-cycling.com