Tour of Elk Grove - NE
Illinois, USA, August 11-12, 2007
Main Page Results Overall standings Next Stage
Prologue - August 11: Citi prologue time trial, 6.75 km
O'Neill tops again at TT
By Mark Zalewski, North American Editor in Elk Grove, Illinois
Nathan O'Neill (Health Net-Maxxis)
Photo ©: Mark Zalewski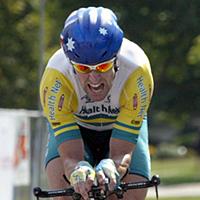 Aussie time trial champion Nathan O'Neill was unsure of how well he could perform in the short opening prologue of the Tour of Elk Grove near Chicago. The 6.75 km course featured long and flat straights with two 180 degree turns. "You gotta ride hard before. It's not really my forte -- this flat and so short -- my best shot was to put a big gear on and crush it on the straightaways." Crush it he did, beating two Slipstream-Chipotle riders, Mike Friedman and Timmy Duggan by 3 and 6 seconds respectively to lead the three stage race.
O'Neill was initially upset with his performance, thinking that he was well out of the money from initial time reports. "I was down on myself at first," he told Cyclingnews. "I thought I was in the low 20s and I was basing my ride off Jacques-Maynes and Wherry who were thought to be in around 17 -- which is way fast! I knew how hard I pushed... how the hell can they go that much faster!"
But once the officials sorted out wrong bib numbers, O'Neill came out on top. Another rider who was upset with his performance was Mike Friedman. "I came across the line thinking I hadn't done well at all," he said. "I was sitting back in the van thinking about it when they told me I was second. I was shocked!"
This is not the first high placing in a time trial for Friedman, after finishing a surprising fourth at last year's USPRO time trial championships in Greenville.
The prologue sets the stage for two big-money criteriums -- one tonight and the last Sunday afternoon. With the overall winner's prize of $26,000 based on time, one would think O'Neill need only finish in the pack. However, promoters have set a tough task of that by adding amounts of time bonuses to match the cash.
"There are so many time bonuses, like two minutes," said O'Neill. "The guys right behind me, like Friedman, are good sprinters. But my weekend has already been a success, winning this time trial. Now I'll ride for the team, get home safely and prepare for Tour of Missouri."
Photography
For a thumbnail gallery of these images, click here
Images by Mark Zalewski/Cyclingnews.com
Images by Kurt Jambretz/www.actionimages.cc
Results
1 Nathan O'Neill (Health Net presented by Maxxis)          8.30 (47.647 km/h)
2 Mike Friedman (Team Slipstream)                          0.03
3 Timmy Duggan (Team Slipstream)                           0.06
4 Benjamin Jacques-Maynes (Priority Health/Bissell)        0.10
5  Darren Lill (Navigators)                                    
6 Chris Horner (Predictor-Lotto)                           0.12
7 Chris Wherry (Priority Health/Bissell)                       
8 Edward King (Priority Health/Bissell)                    0.13
9 Chris Baldwin (Toyota-United Pro Cycling)                0.15
10 John Murphy (Health Net presented by Maxxis)            0.17
11 Ryan Roth (Kelly Benefit Strategies/Medifast)           0.18
12 Frank Travieso (AEG-Toshiba-Jetnetwork)                 0.19
13 Adam Bergman (Colavita Sutter Home)                         
14 Brad Huff (Team Slipstream)                             0.22
15 Dominique Rollin (Kodakgallery.com)                     0.23
16 Curtis Gunn (Team Successful Living/Parkpre)                
17 Shawn Milne (Health Net presented by Maxxis)            0.25
18 Josh Thornton (Kodakgallery.com)                        0.26
19 Yosvany Falcon (AEG-Toshiba-Jetnetwork)                     
20 Ben Brooks (Navigators)                                 0.27
21 Alejandro Acton (Colavita Sutter Home)                      
22 Freddie Rodriguez (Predictor-Lotto)                         
23 Justin England (Toyota-United Pro Cycling)              0.28
24 Matty Rice (Jelly Belly)                                    
25 Brian Sheedy (Priority Health/Bissell)                      
26 Kristian House (Navigators)                                 
27 Rory Sutherland (Health Net presented by Maxxis)            
28 Jackson Stewart (BMC)                                   0.30
29 Taylor Tolleson (Team Slipstream)                           
30 Heath Blackgrove (Toyota-United Pro Cycling)                
31 Todd Henriksen (AEG-Toshiba-Jetnetwork)                 0.31
32 Valeriy Kobzarenko (Navigators)                             
33 Greg Reain (Calyon/Litespeed Pro Cycling Team)          0.33
34 Jonathan Mumford (Kelly Benefit Strategies/Medifast)    0.34
35 James Meadley (Jelly Belly)                             0.35
36 Sean Sullivan (Toyota-United Pro Cycling)                   
37 Patrick Walsh (Nerac Pro Cycling)                           
38 Eric Keim (AEG-Toshiba-Jetnetwork)                          
39 Ivan Dominguez (Toyota-United Pro Cycling)              0.37
40 Jesse Anthony (Kodakgallery.com)                        0.39
41 Andrew Baradali (Jelly Belly)                           0.40
42 Kyle Wamsley (Navigators)                                   
43 Scott Zwizanski (Toyota-United Pro Cycling)                 
44 Mark Walters (Kodakgallery.com)                             
45 Trent Wilson (Jittery Joe's Pro Cycling)                0.41
46 Todd Yezefski (Nerac Pro Cycling)                           
47 Austin King (Jittery Joe's Pro Cycling)                     
48 Frank Pipp (Health Net presented by Maxxis)             0.43
49 O'bee Kirk (Health Net presented by Maxxis)             0.44
50 Matt Shriver (Jittery Joe's Pro Cycling)                    
51 Jonathan Clarke (Colavita Sutter Home)                      
52 Bryce Mead (Jelly Belly)                                    
53 Ben Raby (Kodakgallery.com)                             0.45
54 Keven Lacombe (Kelly Benefit Strategies/Medifast)           
55 Gustavo Artacho (Colavita Sutter Home)                  0.47
56 Luca Damiani (Colavita Sutter Home)                     0.48
57 Martin Gilbert (Kelly Benefit Strategies/Medifast)          
58 Brice Jones (Jelly Belly)                               0.49
59 Oleg Grishkin (Navigators)                              0.50
60 Daniel Holt (Nerac Pro Cycling)                             
61 Evan Elken (Jittery Joe's Pro Cycling)                  0.52
62 Rudolph Napolitano (Rock Racing)                            
63 Daniel Schmatz (BMC)                                    0.53
64 Ian Macgregor (Team Slipstream)                             
65 Cody Stevenson (Jittery Joe's Pro Cycling)                  
66 Alex Candelario (Jelly Belly)                           0.54
67 Jacob Nielson                                               
68 Jeffery Hopkins (Jittery Joe's Pro Cycling)             0.57
69 Phillip Cortes (Calyon/Litespeed Pro Cycling Team)          
70 Jeremiah Wiscovitch (Rock Racing)                       0.58
71 Cody O'reilley (Kodakgallery.com)                       0.59
72 Adam Myerson (Nerac Pro Cycling)                        1.00
73 Ricardo Escuela (Team Successful Living/Parkpre)        1.04
74 Kasper Klostergaard                                     1.05
75 Alessandro Bazzana (Team Successful Living/Parkpre)     1.08
76 Charles Coyle (Team Successful Living/Parkpre)              
77 Emile Abraham (Priority Health/Bissell)                 1.09
78 Sebastian Haedo (Rock Racing)                               
79 Rahsaan Bahati (Rock Racing)                            1.10
80 Sterling Magnell (Rock Racing)                          1.13
81 Charly Vives (Calyon/Litespeed Pro Cycling Team)            
82 Richard England (PRIORITY/BISSEL)                           
83 Mariano Friedick (Rock Racing)                          1.15
84 Scottie Weiss (AEG-Toshiba-Jetnetwork)                  1.20
85 Chad Hartley (BMC)                                      1.23
86 Jonathan Page (Battley Harley-Davidson)                 1.24
87 Maxime Vives (Calyon/Litespeed Pro Cycling Team)        1.26
88 Mike Norton (Rite Aid Pro Racing)                       1.38
89 Keith Norris (AEG-Toshiba-Jetnetwork)                       
90 Lyman Erik (Calyon/Litespeed Pro Cycling Team)          1.39
91 Alejandro Borrajo (Rite Aid Pro Racing)                 1.40
92 Guido Palma (Rite Aid Pro Racing)                       1.45
93 Alexi Martinez (Team Successful Living/Parkpre)         2.03
94 Stephan Kincaid (Rite Aid Pro Racing)                   2.21
95 David McCook (Kelly Benefit Strategies/Medifast)        3.26
96 Ryan DeWald (Rite Aid Pro Racing)                       7.29
97 Jonathan Sundt (Kelly Benefit Strategies/Medifast)