4th Garrett Lemire Memorial GP - NE
Ojai, California, USA, April 1, 2007
Dominguez and Van Gilder showdown
By Kirsten Robbins in Ojai, California
Ivan Dominguez (Toyota-United)
Photo ©: Dan Holmes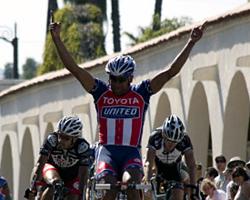 Multiple breaks and an aggressive field served to set up Toyota-United's 'Cuban missile' in his sprint win against Health Net's Russell Downing and Rock Racing's Sebastian Haedo at the Garrett Lemire Memorial GP in Ojai, California on Sunday.
Dominguez, who has been racking up field sprint wins since his Tour of California stage eight victory, remained almost invisible in the peloton only to come flying out of the final corner larger than life. "I like to be in the middle of the group so that guys forget about me," Dominguez said with a grin. "I was trying to save my legs as much as I could but to be honest, I wish the race was twenty laps longer; I was feeling really good all day. Coming to the end, I was hoping that some one would pass me so I could show him how to sprint from the last corner to the line. I was waiting for that moment."
One hundred and twenty men started the race and during each lap the field dwindled. Attacks on every lap split the field over a grueling one hundred and fifty meter climb on the backside of the course. Successful Living was the most aggressive team, firing their guns one by one in a massive effort to create a breakaway. "Every time we race we try to be aggressive," said the California team's director, owner and rider, Ryan Yee. "We know we don't have a ton of horsepower but not everyone can go with the best guys at the end of the race so it is good for us to try to make the race early with a break."
Henk Vogels (Toyota United)
Photo ©: Dan Holmes

A trio that included Colavita/Sutter Home's Peter Hatton, Toyota-United's Henk Vogels and Successful Living's Ricardo Escuela snapped off the front with ten laps to go. The gap grew to approximately thirty seconds but the field was eager for a field sprint and reeled back the riders within four laps to go. "Henk being in the break put a lot of pressure on the other teams so it was good for us," Dominguez said.
During the last lap, the sprinters rallied at the front over the climb and down toward the final corner. Health Net's Russell Downing took the first position through the final corner. Dominguez was on his wheel followed close behind by Rock Racing's Sebastian Haedo. Haedo is a new rider on North America's professional circuit and younger brother to sprint phenom JJ Haedo. "Downing was in front of me coming to the final corner and as we turned I caught him pretty fast," Dominguez said. "He is a good sprinter and he was going fast. I was happy for Haedo too. It is only his second race in the US and that is a good result. He is a good rider and we are going to have to keep an eye on him."
The event is organized in the memory of Garrett Lemire, a cyclist killed in a head on collision during the 2003 Tucson Bicycle Classic. Yee grew up with Lemire and has helps organize the NRC event each year. "This the fourth year for the even," Yee said. "It has been really nice to see the event grow over the years. We had wanted to be NRC and reached that goal two years ago. The community has gotten really involved in the race and it keeps growing each year."
Over the two-fifty mark
The women's field
Photo ©: Dan Holmes

In the women's race, Cheerwine's 'Power puff of the Pocono's' Laura Van Gilder added another victory to her more than two hundred and fifty career wins. Van Gilder came around Colavita/Sutter Home's Mackenzie Dickey in the last hundred meters and Bicycle John's Nikki Wansgaard scooped up third place on the podium.
"Ojai is always a really challenging course with that hill and it is harder than it seems," Van Gilder said. "We had five people and we wanted to be present in all the moves."
Cheerwine, Expresscopy.com, Touchstone and Webcor Builders split the field several times during the sixty minute timed event. Many small breaks countered the crowd primes but did not make it for more than one lap before being chased down. "It was a really animated race and we wanted to be represented in everything until the final lap," VanGilder said. "We were able to capitalize off of Lipton. Laura Kroepsch was leading out Brenda Lyons and I was able to be on third wheel."
Van Gilder nestled herself behind the TEAm Lipton duo in the last three hundred meters when Colavita/Sutter Home's Mackenzie Dickey attacked from behind. "I felt confident that I had time to come around her on the end straight," Van Gilder said. "It is certainly always a gamble but I felt confident and fresh today because my teammates did so much work through out the race."
Dickey added, "We didn't have a full team here so we knew we all had to be at the front and active. We didn't want to dictate the race by attacking but we wanted to be represented in anything that went up the road."
Photography
For a thumbnail gallery of these images, click here
Images by DanHolmesPhoto/homepage.mac.com/holmesvt
Images by Brian Dallas/www.rideventura.com
Results

Men
 
1 Ivan Dominguez (Toyota - United Pro Cycling Team)
2 Russell Downing (Health Net Presented By Maxxis)
3 Sebastian Haedo (Rock Racing)
4 Alexander Candelario (Jelly Belly Cycling Team)
5 Rory Sutherland (Health Net Presented By Maxxis)
6 Frank Travieso (AEG - Toshiba - Jetnetwork Pro Cycling Team)
7 Charles DIONNE (Colavita - Sutter Home presented by Cooking Light)
8 Martin Gilbert (Kelly Benefit Strategies - Medifast)
9 Eric Keim (AEG - Toshiba - Jetnetwork Pro Cycling Team)
10 Kayle Leo Grande (Rock Racing)
11 Anthony Colby (Colavita - Sutter Home presented by Cooking Light)
12 Kenneth Hanson (BMC Professional Cycling Team)
13 Neil Shirley (The Jittery Joe's Pro Cycling Team)
14 Jackson Stewart (BMC Professional Cycling Team)
15 Predrag Prokic (AEG - Toshiba - Jetnetwork Pro Cycling Team)
16 Yosvany Falcon (AEG - Toshiba - Jetnetwork Pro Cycling Team)
17 Sean Sullivan (Toyota - United Pro Cycling Team)
18 Timothy Johnson (Health Net Presented By Maxxis)
19 Jeff Hopkins (The Jittery Joe's Pro Cycling Team)
20 Chad Hartley (BMC Professional Cycling Team)
21 Cody O'Reilly (KodakGallery Pro Cycling Team Presented by Sierra Nevada Brewing Co.)
22 Jorge Alvarado
23 Karl Bordine (Team 5 Star Fish)
24 Todd Henriksen (AEG - Toshiba - Jetnetwork Pro Cycling Team)
25 Daniel Schmatz (BMC Professional Cycling Team)
26 Michael Hernandez (SAFEWAY/G.A.Communications)
27  Unknown
28 Lucas Euser (Team Slipstream powered by Chipotle)
29 Micheal Grabinger (Lake Washington Velo)
30 Brian Forbes (RIDECLEAN)
31 Daniel Bowman (Kelly Benefit Strategies - Medifast)
32 R Curtis Gunn (Successful Living Presented by Parkpre)
33 Roman Kilun (Health Net Presented By Maxxis)
34 Dean Peters (Unattached)
35 Davide Frattini (Colavita - Sutter Home presented by Cooking Light)
36 Matthew Johnson (Team 5 Star Fish)
37 Chris DeMarchi (Team 5 Star Fish)
38 Jesse Moore (California Giant Berry Farms/Specialized)
39 Brandon Gritters (Team 5 Star Fish)
40  Unknown2
41 Luis-Alejandro Zamudio
42 Jose Quintero (Unattached)
43 Ryan Roth (Kelly Benefit Strategies - Medifast)
44 Jose Manuel Garcia
45 Rigoberto Meza (Coates Cyclery/Arce Bros)
46 Jamiel Reza Danesh (Kodakgallery.com - Sierra Nevada Brewing Co.)
47 Alex Hagman (AEG - Toshiba - Jetnetwork Pro Cycling Team)
48 Carlos Mayoral
49 Christian Walker (Time Factory Team)
50 Rahsaan Bahati (Rock Racing)
51 Ryan Yee (Successfulliving.com presented by Parkpre)
52 Sterling Magnell (Rock Racing)
53 Joshua Webster (Southern California Velo)
54 Daniel Vaillancourt (Colavita - Sutter Home presented by Cooking Light)
55 Oslualdu Hernandel
56 Eric Wohlberg (Symmetrics Cycling Team)
57 Rudolph Napolitano (Rock Racing)
58 Jesse Anthony (Kodakgallery.com - Sierra Nevada Brewing Co.)
59 Tyler Wren (Colavita - Sutter Home presented by Cooking Light)
60 Jonathan Sundt (Kelly Benefit Strategies - Medifast)
61 Ricardo Escuela (Successfulliving.com presented by Parkpre)

Women

1 Laura Van Gilder (Cheerwine)
2 Mackenzie Dickey (Colavita-Sutter Home represented by Cooking Light)
3 Nichole Wangsgard (Vitesse Cycling LLC)
4 Brenda Lyons (Team Lipton)
5 Kelly Benjamin (Cheerwine)
6 Anne Samplonius (Team Expresscopy.com)
7 Jennifer Wilson (South Bay Wheelmen)
8 Brooke Miller (Team TIBCO)
9 Martina Patella (ValueAct Capital Cycling Team)
10 Taitt Sato (ValueAct Capital Cycling Team)
11 Coryn Rivera (South Bay Wheelmen)
12 Lara Kroepsch (Team Lipton)
13 Melissa Holt (Team Expresscopy.com)
14 Jill McLaughlin (Touchstone Climbing)
15  Unknown
16 Michelle Beltran (USC Chirio Forno d'Asolo)
17 Stacey Spencer (Colavita-Sutter Home represented by Cooking Light)
18 Hannah Banks
19 Victoria Bastide (Team TIBCO)
20 Elizabeth (Betsy) Galenti (America's Dairyland)
21 Martina Sturm (Bicycle Johns Serious Cycling)
22 Jessica Phillips (Team Expresscopy.com)
23 Kirsten Robbins
24  Red & Blue Jersey
25 Jennifer Reither (South Bay Wheelmen)
26 Jacqueline Kurth (ABD Cycle Club)
27 Kate Ligler (Proman/Paradigm)
28 Yukie Nakamura (Team TIBCO)
29 Rachel O'Connell (Cheerwine)
30 Andrea Dvorak (Colavita Sutter Home presented by Cooking Light)
31 Liza Rachetto (USC Chirio Forno D'Asolo)
32 Sarah Bamberger (Cheerwine)

Past winners
2006 Alejandro Acton (Targetraining)  Tina Pic (Colavita Cooking Light)
2005 Harm Jansen (Ned)                Laura Van Gilder (USA)
2004 Harm Jansen (Ned)                Suzanne Sonye (USA)