92nd Rund um Köln - 1.HC
Germany, April 9, 2007
2006 Results Results Past winners
Haedo surprises Petacchi at finish line
By Susan Westemeyer
JJ Haedo (Team CSC) wins
Photo ©: AFP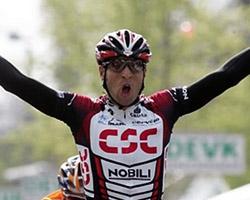 Rund um Köln came down to a sprint finish again this year, but the winner did not come from one of the highly favoured German teams. Instead, CSC's Juan Jose Haedo dashed around Alessandro Petacchi at the last minute to take the win, with Rabobank's Greame Brown claiming second and Petacchi ending up third, a few metres ahead of the bunch.
"That was my first win in Europe. A super thing and a great experience before such a big public. I am happy," said the Argentinian, who won a stage in the Tour of California this winter.
Petacchi didn't hide his disappointment. "30 meters before the finish line, I was out of power. I am really sorry for my team, which worked very hard for me today," the Italian said. He admitted that he had underestimated how it would be for him to come back this year after his injuries of last season. "I have tried too much and made a lot of misjudgments. It hasn't been as easy as I thought it would be."
How it unfolded
190 riders set out in the cool but sunny German spring morning. An early breakaway of five riders, including CSC's Andy Schleck and Gerolsteiner's Markus Fothen tried their luck, but never got more than 30 seconds ahead before being absorbed back into the field.
Two laps to go
Photo ©: Elmar Krings
A more successful escape group formed on the first climb. Quick.Step's Andrea Tonti and Kevin Seeldraeyers were joined by Jelle Vanendert of Chocolade Jacques and Pascal Hungerbühler from Team Volksbank. The peloton let them ride, not undertaking any organised action to chase them down, but the quartet was not able to build up more than a four-minute lead.
With about 80 km to go, the peloton got down to business and started chasing. Last year's winner Christian Knees was frequently at the front, trying to bring things together for his captain Petacchi.
Christian Pfannberger of Team Elk Haus made his way to the leading group, and eventually he and Tonti were alone in the lead. They were soon caught by the charging peloton, led by the German teams of T-Mobile, Gerolsteiner and Milram. Milram took over control of the race to prepare the way for Petacchi, holding the group together and preventing any new breakaways. T-Mobile shared the work, hoping to do the same for young sprinter Gerald Ciolek.
There were few crashes in the race, but German champion Dirk Müller tangled with the barriers and went down 30 km before the finish. He was taken to the hospital with a suspected broken collarbone.
The podium
Photo ©: Elmar Krings

The race ended with three laps of a course along the banks of the Rhine River, with the string of riders stretched out as the pace increased. Gerolsteiner no longer participated in the lead work, as sprinter Robert Förster had had to drop out because of stomach problems.
T-Mobile moved into the lead, with up to six riders near the front, in what turned out to be a vain attempt to bring Ciolek the victory. A crash in the last 1000 metres took him down, and he ended up finishing 103rd, with a torn jersey but no apparent serious injuries.
Meanwhile, a dangerous trio of Haedo, Petacchi and Brown gained a few metres on the peloton and sprinted for the win. Petacchi led, but was in the wind too early, and Haedo came around him at the last minute to claim the victory. Petacchi slowed as he saw he would not win, and Brown was able to pass him for second place.
Photography
For a thumbnail gallery of these images, click here
Images by AFP Photo
Images by Elmar Krings
Results - 203 km
1 Juan Jose Haedo (Arg) Team CSC             4.50.09 (42.02 km/h)
2 Graeme Brown (Aus) Rabobank                       
3 Alessandro Petacchi (Ita) Team Milram             
4 Ciaran Power (Irl) Navigators                     
5 Markus Zberg (Sui) Gerolsteiner                   
6 Tilo Schüler (Ger) Team Sparkasse                 
7 René Obst (Ger) Team 3CG-Gru                      
8 Luke Roberts (Aus) Team CSC                       
9 Rene Weissinger (Ger) Team Volksbank              
10 Sergey Lagutin (Uzb) Navigators                  
11 Peter Wrolich (Aut) Gerolsteiner                 
12 Marco Marcato (Ita) LPR                          
13 Benny De Schrooder (Bel) Chocolade Jacques       
14 Steffen Radochla (Ger) Wiesenhof                 
15 Danilo Wyss (Sui) Team Atlas-Romer               
16 Daniele Callegarin (Ita) LPR                     
17 Peter Pichler (Aut) Team Elkhaus                 
18 Mala Van Ruitenbeek (Ned) Team Regiostrom        
19 Andreas Schillinger (Ger) Team Sparkasse         
20 Martin Hebik (Cze) Team Heinz von Heiden         
21 Benjamin Brooks (Aus) Navigators                 
22 Geert Steurs (Bel) Predictor-Lotto               
23 Peter Velits (Svk) Wiesenhof                     
24 Laurent Didier (Lux) Team Regiostrom             
25 Sergej Fuchs (Ger) Team 3CG-Gru                  
26 Richard Faltus (Cze) Team Sparkasse              
27 Andre Greipel (Ger) T-Mobile                     
28 David Harrigan (Aus) DFL-Cyclingnews             
29 Holger Sievers (Ger) Team 3CG-Gru                
30 Volker Ordowski (Ger) Gerolsteiner               
31 Nicolas Gates (Aus) Predictor-Lotto              
32 Marco Velo (Ita) Team Milram                     
33 Corey Sweet (Aus) Team Regiostrom                
34 Björn Thurau (Ger) Team Atlas-Romer              
35 Christophe Brandt (Bel) Predictor-Lotto          
36 Konstantin Schubert (Ger) Team Regiostrom    0.05
37 Evan Oliphant (GBr) DFL-Cyclingnews              
38 Erik Hoffmann (Nam) Team 3CG-Gru                 
39 Alessandro Proni (Ita) Quickstep-Innergetic      
40 Martin Velits (Svk) Wiesenhof                    
41 Martin Comploi (Aut) Team Elkhaus            0.09
42 Gregory Henderson (Nzl) T-Mobile                 
43 Serge Pauwels (Bel) Chocolade Jacques            
44 Marcel Wyss (Sui) Team Atlas-Romer               
45 Frederic Gabriel (Fra) Landbouwkrediet       0.11
46 Carlo Westphal (Ger) Gerolsteiner                
47 Matthias Friedemann (Ger) Team 3CG-Gru           
48 Laurent Arn (Sui) Team Atlas-Romer           0.14
49 Thomas Ziegler (Ger) T-Mobile                    
50 Andy Schleck (Lux) Team CSC                      
51 Mauro Facci (Ita) Quickstep-Innergetic       0.18
52 Stephan Parinussa (Ger) Team Sparkasse           
53 Philipp Mamos (Ger) Team Sparkasse               
54 Rick Flens (Ned) Rabobank                        
55 Robert Gesink (Ned) Rabobank                     
56 Steven Kleynen (Bel) Landbouwkrediet             
57 Rubens Bertogliati (Sui) Saunier Duval           
58 Peter Andres (Sui) Team Atlas-Romer              
59 Cameron Jennings (Aus) DFL-Cyclingnews           
60 Robert Retschke (Ger) Wiesenhof                  
61 Johannes Fröhlinger (Ger) Gerolsteiner           
62 Christian Knees (Ger) Team Milram                
63 Hubert Schwab (Sui) Quickstep-Innergetic         
64 Kurt-Asle Arvesen (Nor) Team CSC                 
65 Björn Glasner (Ger) Team Regiostrom              
66 Elio Rigotto (Ita) Team Milram                   
67 Matti Helminen (Fin) DFL-Cyclingnews             
68 Maurizio Bellin (Ita) LPR                    0.22
69 Michael Blaudzun (Den) Team CSC              0.26
70 Dmitry Kozontchuk (Rus) Rabobank                 
71 Marco Duchting (Ger) Team Akud                   
72 Ivan Santaromita (Ita) Quickstep-Innergetic      
73 Preben Van Hecke (Bel) Predictor-Lotto           
74 Christi Pfannberger (Aut) Team Elkhaus           
75 Volodymir Gustov (Ukr) Team CSC                  
76 Anders Lund (Den) Team CSC                       
77 Christian Leben (Ger) Wiesenhof                  
78 Leonardo Scarselli (Ita) Quickstep-Innergetic    
79 Daniel Musiol (Ger) Wiesenhof                    
80 Matthew Goss (Aus) Team CSC                      
81 William Walker (Aus) Rabobank                    
82 Roberto Traficante (Ita) LPR                     
83 Nico Sijmens (Bel) Landbouwkrediet               
84 Maint Berkenbosch (Ned) Team Regiostrom      0.43
85 Nic Ingels (Bel) Predictor-Lotto             0.44
86 Maarten Wynants (Bel) Quickstep-Innergetic       
87 Gerrit Glomser (Aut) Team Volksbank              
88 Luca Solari (Ita) LPR                        0.50
89 Domenik Klemme (Ger) Team 3CG-Gru            0.53
90 Bart Vanheule (Bel) Chocolade Jacques        1.10
91 Pascal Hungerbühler (Sui) Team Volksbank     1.26
92 Josep Jufre Pou (Spa) Predictor-Lotto            
93 Arkaitz Duran Aroca (Spa) Saunier Duval          
94 Aaron Olson (USA) T-Mobile                       
95 Torsten Schmidt (Ger) Wiesenhof                  
96 Eric Baumann (Ger) T-Mobile                  1.51
97 Frantisek Rabon (Cze) T-Mobile                   
98 Marcus Fothen (Ger) Gerolsteiner             1.57
99 Thomas Fothen (Ger) Gerolsteiner                 
100 Remmert Wielinga (Ned) Saunier Duval            
101 Enrico Poitschke (Ger) Team Milram              
102 Andrea Tonti (Ita) Quickstep-Innergetic     2.01
103 Gerald Ciolek (Ger) T-Mobile                    
104 Martin Müller (Ger) Team Milram             3.53
105 Haral Starzengruber (Aut) Team Elkhaus          
106 Tom Stubbe (Bel) Chocolade Jacques              
107 Lars Wackernagel (Ger) Team Sparkasse           
108 Marco Pinotti (Ita) T-Mobile                4.14
109 Christophe Rinero (Fra) Saunier Duval           
110 Samuele Marzoli (Ita) LPR                   4.19



Past winners
Professional event (Cat. 1.1)

2006 Christian Knees (Ger) Team Milram
2005 David Kopp (Ger) Team Wiesenhof

Professional event (Cat. 1.2)

2004 Erik Zabel (Ger) T-Mobile Team
2003 Jan Ullrich (Ger) Team Coast

Professional event (Cat. 1.3)

2002 Peter Wrolich (Aut) Gerolsteiner   
2001 Gian Matteo Fagnini (Ita) Telekom
2000 Steffen Wesemann (Ger)
1999 Jens Heppner (Ger)
1998 Not Held
1997 Frank Vandenbroucke (Bel)
1996 Erik Zabel (Ger)
1995 Erik Dekker (Ned)
1994 Udo Bölts (Ger)
1993 Wim Van Eynde (Bel)
1992 Louis De Koning (Ned)
1991 Jerry Coman (Bel)
1990 Noél Segers (Bel)

Amateur event

1989 Domenik Krieger (Ger)
1988 Lutz Losch (Ger)
1987 Werner Wüller (Ger)
1986 Remig Stumpf (Ger)
1985 Han Vaanhold (Ned)
1984 Stani Mikolajczuk (Ger)
1983 Wolf-Dieter Wohlfshohl (Ger)
1982 J. Echter-mann (Ger)
1981 Michael Mohr (Ger)
1980 Achim Stadler (Ger)
1979 (3) Wilfried Trott (Ger)
1978 Arie Hassink (Ned)
1977 Scheunemann (Ned)
1976 (2) Wilfried Trott (Ger)
1975 Jan Smyrak (Ger)
1974 Dietrich Thurau (Ger)
1973 H. Jungbluth (Ger)
1972 Wilfried Trott (Ger)
1971 R. Gilson (Lux)
1970 Streckies (Ger)
1969 Jürgen Tschan (Ger)

Professional event

1968 Burkhard Ebert (Ger)
1967 Noél Foré (Bel)
1966 Piet Glemser (Ger)
1965 (2) Horst Oldenburg (Ger)
1964 Horst Oldenburg (Ger)

Amateur event

1963 Wilfried Bölke (Ger)
1962 S. Koch (Ger)
1961 Smits (Bel)
1960 Mathias Löder (Ger)
1959 H. Hofmann (Ger)
1958 W.-J. Edler (Ger)
1957 W. Grabo (Ger)
1956 Edi Ziegler (Ger)
1955 (2) Hans Preiskeit (Ger)
1954 W. Irr-gang (Ger) - Amateur
1953 Günther Otto (Ger)
1952 Popp (Ger) - Amateur
1951 H. Schwarzer (Ger)
1950 a) Holzmann - b) Scherpenborg (Ger) - Amateur
1949 Schultenjohann (Ger)
1948 (2) H. Schwarzer (Ger) - Amateur
1947 Holthöfer (Ger) - Amateur
1946 Nowa-kowski (Ger) - Amateur

1944-1945: Not Held

1943 Kittsteiner (Ger) - Amateur
1942 H. Schwarzer (Ger) - Amateur
1941 Hans Preiskeit (Ger) - Amateur
1940 J. Kropp (Ger) - Amateur
1939 Willi Meurer (Ger) - Amateur
1938 Franz Bronold  (Ger) - Amateur
1937 (29 Emil Kijewski (Ger)
1936 (2) Erich Bautz (Ger)
1935 Emil Kijewski (Ger)
1934 Kurt Stöpel (Ger)
1933 a) Erich Bautz - J. Neumeyer (Ger) - Amateur
1932 a) J. Kraus (Lux) - b) H. Weiß - Amateur
1931 H. Rü-diger (Ger)
1930 Otto Kratz (Ger) - Amateur
1929 a) Franz Schmitz - b) W. Frielingsdorf (Ger) - Amateur
1928 Alfredo Binda (Ita)
1927 Gaetano Belloni (Ita)
1926 Heinriich Suter (Swi)
1925 (2) Paul Kohl (Ger)
1924 Paul Kohl (Ger)
1923 Fritz Fischer (Ger)
1922 Paul Koch (Ger)
1921 (2) Adolf Huschke (Ger)
1920 Adam Sachs (Ger) - Amateur

1915-1919: Not Held

1914 (2) Ernst Franz (Ger)
1913 Ernst Franz (Ger)
1912 J. Steingass (Ger)
1911 Adolf Huschke (Ger)
1910 Jean Rosellen & Karl Wittig (Ger)
1909 Otto Wincziers (Ger)
1908 Fritz Tacke (Ger)

Past winners by Mario Stiehl, www.world-of-cycling.com