68th Paris-Camembert Lepetit - 1.1
France, April 17, 2007
2006 Results Results Past winners
Cheese and dessert for Sébastien Joly
By Jean-François Quénet in Vimoutiers
Sébastien Joly (Française des Jeux) wins in Camembert,
Photo ©: Régis Garnier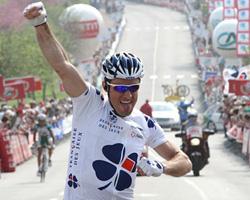 Watching the first and second riders hugging each other at the end of Paris-Camembert, it's obvious that cycling is a very fair-play sport. Sébastien Joly (Française des Jeux) who grabbed his first victory of the year put his bike on the ground to congratulate his runner-up Anthony Charteau (Crédit Agricole) - the winner of Le Tour de Langkawi - who paired with him in the last ten kilometres of the 'cheese classic'.
"Before being adversaries, we're big friends", Joly explained. Both riders started their career with Bonjour, the team now called Bouygues Telecom, which is the only one from the ProTour with no win at all this year although their former protégés are doing pretty well in other squads.
Joly's victory is logical, considering that Française des Jeux outnumbered the other teams in the final move of six riders who occupied the front of the race for the last hour and half of the event. Notably, Cofidis which was represented with six riders in the initial break of 40, and Bouygues Telecom who had four riders up there, were the losing teams at the end.
"Because they (FDJ) were two in the group, I had to anticipate," Charteau described. "Brard rode hard behind me." However, the French champion was courageous to keep fighting in the hardest of the French Cup races only two days after completing Paris-Roubaix. "I paid Sunday's race though," he said. "I was full of pain at the end of the race."
Anthony Charteau (Crédit Agricole) attacks
Photo ©: Régis Garnier

"We almost caught the Crédit Agricole rider [Charteau]," said Tom Stubbe, who was the nice surprise of the race. "Joly counter-attacked. I was just behind but I couldn't go with. I'm happy with my race though. I never did Paris-Camembert before. It's very hard. My next races might be even harder: it's Amstel Gold Race, Flèche Wallonne and Liège-Bastogne-Liège."
It came down to a two-men sprint. "I had done a lot of efforts already when Seb [Joly] caught me," Charteau commented. "It was very hard for me to stay on his wheel at the top of the Mur des Champeaux. My only chance of winning would have been a mistake from him but it didn't happen. I did a little mistake myself by starting the sprint with a too big gear. I didn't manage to jump behind him straight away, then it was too late."
"When I attacked with one km to go, Yvon Madiot told me from the car that it was too early," Joly reckoned. "But I wanted to make sure that I'd get rid of him." Joly was the first Frenchman in Paris-Nice (11th). "Except in Cholet, I've done well at all the races I took part in. That day, it was because Paris-Nice had been very demanding for me, physically and nervously. Now I'll take eight days holiday because at this time of the year I always suffer from allergies. I'll come back at the Four Days of Dunkirk and I'll train in the Alps before the Dauphiné."
Coming in eighth, the winner of Cholet Stéphane Augé from Cofidis became the new leader of the French Cup, taking over from his teammate Maryan Hary.
How it unfolded
Joly salutes the crowd
Photo ©: Régis Garnier

40 riders broke clear after 20 kilometres: Laurent Brochard, Pierre Drancourt, Pierrick Fedrigo and Laurent Lefèvre (Bouygues Telecom), Philip Deignan (Ag2r), Charles Guilbert (Bretagne-Armor Lux), Christian Lener (Volksbank), Niels Brouzes and Christophe Diguet (Auber 93), Stéphane Augé, Frédéric Bessy, Yann Huguet, Sylvain Chavanel, David Moncoutié and Rik Verbrugghe (Cofidis), Sandy Casar, Lilian Jégou, Sébastien Joly and Benoît Vaugrenard (Française des Jeux), Kilian Patour and Steven Cozza (Slipstream), Nicolas Jalabert, Romain Feillu and Alberto Martinez (Agritubel), Nikolas Maes, Frederik Veuchelen, Serge Pauwels and Tom Stubbe (Chocolate Jacques), Eric Berthou, Florent Brard, Ruben Plaza, Nicolas Portal and Joaquin Rojas (Caisse d'Epargne), Cédric Pineau and Jean Zen (Roubaix), Anthony Charteau, Jean-Marc Marino and Nicolas Roche (Crédit Agricole), Jonas Ljungblad and Sergey Kolesnikov (Unibet.com).
Arriving in the area of Vimoutiers, six riders went away when they passed the côte de Roisville for the first time with 66km to go: Joly, Vaugrenard, Stubbe, Guilbert, Charteau and Brard. The chasing trio of Jalabert, Marino and Moncoutié didn't make it across while Bouygues Telecom, who had missed all the splits, rode hard with Lefèvre in front of the bunch, but it was game over for them once again.
The six leaders had a 1.30 advantage with 21km to go. Charteau attacked in the côte de Moulin-Neuf and Joly rejoined him at the bottom of the Mur des Champeaux, with the climb's summit being 9.5km away from the finishing line. With 600 meters to go, Joly put the hammer down and won pretty easily.
Photography
For a thumbnail gallery of these images, click here
Images by Régis Garnier/www.velofotopro.com
Images by Alain Quenderf
Results - 205 km
1 Sébastien Joly (Fra) Française des Jeux                        4.32.06 (45.205 km/h)
2 Anthony Charteau (Fra) Crédit Agricole                            0.10
3 Benoît Vaugrenard (Fra) Française des Jeux                        1.35
4 Tom Stubbe (Bel) Chocolade Jacques - Topsport Vlaanderen              
5 Florent Brard (Fra) Caisse d'Epargne                                  
6 Charles Guilbert (Fra) Bretagne - Armor Lux                           
7 Nicolas Jalabert (Fra) Agritubel                                  3.38
8 Stéphane Augé (Fra) Cofidis - Le Crédit par Téléphone             3.41
9 Nicholas Roche (Irl) Crédit Agricole                                  
10 Laurent Brochard (Fra) Bouygues Telecom                          3.45
11 Niels Brouzes (Fra) Auber                                        3.54
12 Ruben Plaza (Spa) Caisse d'Epargne                               3.55
13 Nicolas Portal (Fra) Caisse d'Epargne                                
14 Sandy Casar (Fra) Française des Jeux                                 
15 Frédéric Bessy (Fra) Cofidis - Le Crédit par Téléphone               
16 Frederik Veuchelen (Bel) Chocolade Jacques - Topsport Vlaanderen     
17 Jonas Ljungblad (Swe) Unibet.com                                 5.12
18 David Moncoutié (Fra) Cofidis - Le Crédit par Téléphone              
19 Eric Berthou (Fra) Caisse d'Epargne                              5.14
20 Sergey Kolesnikov (Rus) Unibet.com                                   
21 Jean-Marc Marino (Fra) Crédit Agricole                           6.36
22 Steven Cozza (USA) Team Slipstream powered by Chipotle           7.03
23 Nikolas Maes (Bel) Chocolade Jacques - Topsport Vlaanderen           
24 Pierrick Fedrigo (Fra) Bouygues Telecom                              
25 Cédric Pineau (Fra) Roubaix Lille Metropole                          
26 Serge Pauwels (Bel) Chocolade Jacques - Topsport Vlaanderen          
27 Rik Verbrugghe (Bel) Cofidis - Le Crédit par Téléphone               
28 Christian Lener (Aut) Team Volksbank                                 
29 Philip Deignan (Irl) AG2r Prévoyance                                 
30 Yann Huguet (Fra) Cofidis - Le Crédit par Téléphone              7.08
31 Mathieu Drujon (Fra) Auber                                       7.28
32 Anthony Geslin (Fra) Bouygues Telecom                                
33 Pierre Rolland (Fra) Crédit Agricole                                 
34 Alexander Khatuntsev (Rus) Unibet.com                                
35 Stéphane Petilleau (Fra) Bretagne - Armor Lux                        
36 Imanol Erviti Ollo (Spa) Caisse d'Epargne                            
37 Josef Benetseder (Aut) Team Volksbank                                
38 Samuel Dumoulin (Fra) AG2r Prévoyance                                
39 Maryan Hary (Fra) Cofidis - Le Crédit par Téléphone                  
40 Johan Coenen (Bel) Chocolade Jacques - Topsport Vlaanderen           
41 Maxime Méderel (Fra) Auber                                           
42 Antoine Dalibard (Fra) Bretagne - Armor Lux                          
43 David Derepas (Fra) Roubaix Lille Metropole                          
44 Freddy Bichot (Fra) Agritubel                                        
45 Christophe Edaleine (Fra) Crédit Agricole                            
46 Guillaume Levarlet (Fra) Auber                                       
47 Rémy Di Grégorio (Fra) Française des Jeux                            
48 Yann Pivois (Fra) Bretagne - Armor Lux                               
49 Olivier Bonnaire (Fra) Bouygues Telecom                              
50 Arnaud Gérard (Fra) Française des Jeux                               
51 Jonathan Hivert (Fra) Crédit Agricole                                
52 Nicolas Vogondy (Fra) Agritubel                                      
53 Sylvain Chavanel (Fra) Cofidis - Le Crédit par Téléphone             
54 Rémi Pauriol (Fra) Crédit Agricole                                   
55 Vincent Jérôme (Fra) Bouygues Telecom                            7.50
56 Benjamin Johnson (Aus) Team Slipstream powered by Chipotle      11.40
HD Pierre Drancourt (Fra) Bouygues Telecom                         16.10
HD Blaise Sonnery (Fra) AG2r Prévoyance                                 
DNF Nicolas Crosbie (Fra) Bouygues Telecom                              
DNF Laurent Lefevre (Fra) Bouygues Telecom                              
DNF John Gadret (Fra) AG2r Prévoyance                                   
DNF Julien Loubet (Fra) AG2r Prévoyance                                 
DNF René Mandri (Est) AG2r Prévoyance                                   
DNF Carl Naibo (Fra) AG2r Prévoyance                                    
DNF Ludovic Turpin (Fra) AG2r Prévoyance                                
DNF Stéphane Bonsergent (Fra) Bretagne - Armor Lux                      
DNF Piotr Zielinski (Pol) Bretagne - Armor Lux                          
DNF David Lelay (Fra) Bretagne - Armor Lux                              
DNF Noan Lelarge (Fra) Bretagne - Armor Lux                             
DNF Tyson Apostol (USA) Team Volksbank                                  
DNF Philippe Ludescher (Aut) Team Volksbank                             
DNF Christian Pömer (Aut) Team Volksbank                                
DNF Werner Riebenbauer (Aut) Team Volksbank                             
DNF Christophe Diguet (Fra) Auber                                       
DNF Jeremie Galland (Fra) Auber                                         
DNF Renaud Pioline (Fra) Auber                                          
DNF Florian Morizot (Fra) Auber                                         
DNF Nicolas Hartmann (Fra) Cofidis - Le Crédit par Téléphone            
DNF Timothy Gudsell (NZl) Française des Jeux                            
DNF Lilian Jégou (Fra) Française des Jeux                               
DNF Johan Lindgren (Swe) Française des Jeux                             
DNF Kilian Patour (Fra) Team Slipstream powered by Chipotle             
DNF Peter Stetina (USA) Team Slipstream powered by Chipotle             
DNF Tyler Butterfield (Ber) Team Slipstream powered by Chipotle         
DNF William Frishkorn (USA) Team Slipstream powered by Chipotle         
DNF Taylor Tolleson (USA) Team Slipstream powered by Chipotle           
DNF Ian Macgregor (USA) Team Slipstream powered by Chipotle             
DNF Romain Feillu (Fra) Agritubel                                       
DNF Cédric Hervé (Fra) Agritubel                                        
DNF Cédric Coutouly (Fra) Agritubel                                     
DNF José Alberto Martinez Trinidad (Spa) Agritubel                      
DNF Linas Balciunas (Ltu) Agritubel                                     
DNF Jelle Vanendert (Bel) Chocolade Jacques - Topsport Vlaanderen       
DNF Benny De Schrooder (Bel) Chocolade Jacques - Topsport Vlaanderen    
DNF Sven Renders (Bel) Chocolade Jacques - Topsport Vlaanderen          
DNF David Lopez Garcia (Spa) Caisse d'Epargne                           
DNF Vicente Reynes Mimo (Spa) Caisse d'Epargne                          
DNF Jose Joaquin Rojas Gil (Spa) Caisse d'Epargne                       
DNF Paul Brousse (Fra) Roubaix Lille Metropole                          
DNF Frédéric Finot (Fra) Roubaix Lille Metropole                        
DNF Yauheni Hutarovich (Blr) Roubaix Lille Metropole                    
DNF Arnaud Lesvenan (Fra) Roubaix Lille Metropole                       
DNF Jean Zen (Fra) Roubaix Lille Metropole                              
DNF Lukasz Bodnar (Pol) Intel - Action                                  
DNF Krzysztof Miara (Pol) Intel - Action                                
DNF Dariusz Rudnicki (Pol) Intel - Action                               
DNF Marek Rutkiewicz (Pol) Intel - Action                               
DNF Sebastian Skiba (Pol) Intel - Action                                
DNF Christophe Le Mével (Fra) Crédit Agricole                           
DNF Pieter Jacobs (Bel) Unibet.com                                      
DNF Niels Scheuneman (Ned) Unibet.com                                   
DNF Gil Suray (Bel) Unibet.com                                          
DNF Marco Zanotti (Ita) Unibet.com                                      
DNS René Weissinger (Ger) Team Volksbank                                
DNS Krzysztof Kuzniak (Pol) Intel - Action                              
DNS José Rujano Guillen (Ven) Unibet.com                                



Past winners
Paris-Camembert (Trophée Lepetit)

2006  Anthony Geslin (Fra) Bouygues Telecom
2005  Laurent Brochard (Fra) Bouygues Telecom
2004  Franck Bouyer (Fra) Brioches La Boulangère  
2003  Laurent Brochard (Fra) Ag2r-Prévoyance
2002  Marcus Ljungqvist (Swe) Team fakta
2001  Laurent Brochard (Fra) Jean Delatour
2000  Didier Rous (Fra)
1999  Fabio Fontanelli (Ita)
1998  Pascal Lino (Fra)
1997  Mauro Gianetti (Swi)
1996  Adriano Baffi (Ita)
1995  Andrej Tchmil (Mol)
1994  Armand De las Cuevas (Fra)
1993  Oleg Kozlitine (Kaz)
1992  Patrice Esnault (Fra)
1991  Brian Holm (Den)
1990  Thierry Marie (Fra)
1989  Andreas Kappes (Ger)
1988  Laurent Fignon (Fra)
1987  Mathieu Hermans (Ned)
1986  Kim Andersen (Den)
1985  Martial Gayant (Fra)
1984  Hubert Linard (Fra)
1983  Christian Jourdan (Fra)
1982  Christian Jourdan (Fra)
1981  Guy Gallopin (Fra)
1980  Pierre-Raymond Villemiane (Fra)
1979  Raymond Martin (Fra)
1978  Joop Zoetemelk (Ned)
1977  Hubert Linard (Fra)
1976  Bernard Hinault (Fra)
1975  Raymond Martin (Fra)
1974  Alain Santy (Fra)
1973  Regis Delephin (Fra)
1972  José Catieau (Fra)
1971  Gerard Moneyron (Fra)
1970  Georges Chappe (Fra)
1969  Raymond Riotte (Fra)
1968  Harry Stevens (Ned)
1967  Georges Chappe (Fra)
1966  Desire Letort (Fra)
1965  Pierre Everaert (Fra)
1964  Arie Den Hertog (Ned)
1963  Jacques Simon (Fra)
1962  Piet Rentmeester (Ned)
1961  Jean-Claude Annaert (Fra)
1960  Joseph Groussard (Fra)
1959  Nicolas Barone (Fra)
1958  Nicolas Barone (Fra)
1957  Joseph Groussard (Fra)
1956  René Fournier (Fra)
1955  Jean-Marie Cieleska (Fra)
1954  Gilbert Bauvin (Fra)
1953  Jean Gueguen (Fra)
1952  Robert Varnajo (Fra)
1951  Jean Baldassari (Fra)
1950  Ange Le Strat (Fra)
1949  Jean Rey (Fra)
1948  Raoul Remy (Fra)
1947  Robert Dorgebray (Fra)
1946  Paul Neri (Ita)
1944  Maurice De Muer (Fra)
1943  Victor Cosson (Fra)

Paris-Vimoutiers, 1906-1942

1942  Joseph Goutourbe (Fra)
1939  Pierre Cloarec (Fra)
1938  Jean-Marie Goasmat (Fra)
1937  André Auville (Fra)
1936  Yvon Marie (Fra)
1935  Marcel Bat (Fra)
1934  Louis Thietard (Fra)
1906  Mary (Fra)

Past winners by Mario Stiehl, www.world-of-cycling.com