Univest Grand Prix - 1.2
Souderton, Pennsylvania, USA, September 9, 2005
2005 Results Results Past winners
Milne, Navigators continue winning at Univest
by Mark Zalewski, North American Editor
Shawn Milne (Navigators Insurance)
Photo ©: FJ Hughes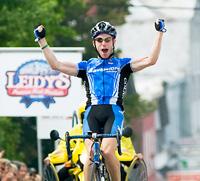 The Navigators Insurance team kept their winning ways rolling this weekend with Shawn Milne winning another east coast race -- this time it was the one day UCI Univest Grand Prix. Milne, who won two stages of the Fitchburg Longsjo Classic and the Bank of America Invitational, solidified his ability to win races, breaking away in the finishing circuits with Fausto Marcelino Esparza Muņoz (Tecos-Alderfer Auction,) and beating him in a two-up sprint.
The race around the Pennsylvania farm country reminded Milne of European parcours. "It's a really nice course," said Milne. "Like Europe with small roads and up and down. The climbs were short but it wore everyone out."
The warm weather today combined with the rolling course kept the field mostly together out on the course with occiaisional attacks. But coming into the finishing circuits the field was together and the real racing began.
TIAA-CREF
Photo ©: FJ Hughes

Multiple attacks quickly broke the tired field. "I got away with Davide Frattini (Colavita-Sutter Home) and Bernard [Van Ulden,]" said Milne. "But there was still a group about 1:40 up the road. When it got close I bridged across by myself. Frank Pipp (TargeTraining) attacked and stretched everyone out but I went with him. He pulled off and I kept going with a Tecos rider."
From there the race was down to two, with Toyota-United's Sean Sulluivan chasing hard in third. "Sean Sullivan was five seconds behind us the whole time," said Milne. "It was good because it kept us motivated. We both did a lot of work -- we agreed to work together to stay away. But I made sure he did a big pull before the finish."
The finish is a quick downhill into a small rise to the line, making for a fast sprint. "I was in my 11 going up the hill because you come in at 60kph!" Milne's strategy of putting the Tecos rider on the front before the downhill payed off, as he was able to come around at the bottom of the hill for the win.
With this win, Milne's stock rises to even higher levels, which is sure to have many teams knocking on his door. Though he would not say which, he did confirm interest from multiple teams for next year.
Milne also bettered a previous record today -- the time sitting in the anti-doping waiting for fluids to go through his system. "It was pretty hot -- I broke my record for sitting at USADA, 45 minutes at the Bank of America race to ninety minutes today!"
The podium
Photo ©: FJ Hughes

The racing continues tomorrow with a criterium in Doylestown.
Photography
For a thumbnail gallery of these images, click here
Images by FJ Hughes/www.fhughesphoto.com
Images by Marco Quezada/www.marcoquezada.com
Results

1 Shawn Milne (USA) Navigators Insurance Cycling Team            4.15.17
2 Fausto Marcelino Muņoz (Mex) TECOS-Alderfer Auction Esparza       0.01
3 Sean Sullivan (Aus) Toyota-United Pro Cycling Team                0.11
4 Frank Pipp (USA) TARGETRAINING Cycling Team                       0.57
5 Jhon Fredy Parra Celada (Col) TECOS-Alderfer Auction                  
6 Edward King (USA) Priority Health Cycling Team                    0.58
7 Gregorio Ladino Vega (Col) TECOS-Alderfer Auction                 1.00
8 Mike Friedman (USA) Team TIAA-CREF                                1.13
9 Jose Garcia (Mex) Toyota-United Pro Cycling Team                  1.14
10 Bryan Smith (USA) Team TIAA-CREF                                     
11 Kevin Miller (Can) Fiordifrutta                                      
12 Graham Howard (USA) Abercrombie & Fitch presented by Inferno         
13 Peter Morse (Can) Jet Fuel Coffee                                    
14 Matthew Cooke (USA) LSV/Kelly Benefit Strategies                 1.15
15 Fco. Javier Navarro (Mex) TECOS-Alderfer Auction Matamoros           
16 Dan Vaillencourt (USA) CCB-Volkswagen                                
17 Bruno Langlois (Can) AEG-Toshiba-JetNetwork                          
18 Kenneth Johnson (USA) LSV/Kelly Benefit Strategies               1.16
19 Tom Zirbel (USA) Priority Health Cycling Team                    4.30
20 Wojciech Kalemba (Pol) MBK-Doylestown Hospital-Poland            5.11
21 Philipp Mamos (Ger) Heinz von Heiden-Wolf Block                  5.29
22 Stephan Loeffler (Ger) Sparkasse-Etta Maes Antiques              5.43
23 Alexander Boyd (USA) VMG Racing                                      
24 Alexandre Lavallee (Can) Garneau-Optik                               
25 William Innes (USA) GS Lombardi Sports                               
26 Giusseppe Giuliano (Can) Jet Fuel Coffee                         5.44
27 Mathieu Toulouse (Can) Garneau-Optik                                 
28 Eric Tremble (USA) Kenda/Raleigh                                     
29 Nebojsa Jovanavic (SCG) AEG-Toshiba-JetNetwork                   5.45
30 Bernardo Colex (Mex) TECOS-Alderfer Auction                      6.33
31 Yosvany Falcon (USA) Abercrombie & Fitch presented by Inferno    7.03
32 Nick Waite (USA) LSV/Kelly Benefit Strategies                        
33 Paul Ward (USA) Nature's Path presented by Fuji                  7.04
34 Juan Haedo (Arg) Toyota-United Pro Cycling Team                  7.34
35 Siro Camponogara (Ita) Navigators Insurance Cycling Team             
36 Davide Frattini (Ita) Colavita Olive Oil-Sutter Home Wines           
37 Gerardo Castro (Uru) Nature's Path presented by Fuji             8.00
38 Dawid Krupa (Pol) MBK-Doylestown Hospital-Poland                     
39 Christopher Jones (USA) LSV/Kelly Benefit Strategies                 
40 Esad Hasanovic (SCG) AEG-Toshiba-JetNetwork                      8.01
41 Michael Cody (USA) Fiordifrutta                                  8.55
42 Tommy Nankervis (Aus) Priority Health Cycling Team                   
43 Keith Miller (USA) GS Lombardi Sports                                
44 John Hayes (USA) CRCA/Sonkonnet Technology                           
45 Frederick Norton (USA) LSV/Kelly Benefit Strategies                  
46 Jason Baer (USA) Kenda/Raleigh                                       
47 Jamie Lamb (Can) Garneau-Optik                                   8.56
48 John Delong (USA) Rite Aid Pro Cycling                               
49 Ward Solar (USA) Nature's Path presented by Fuji                     
50 Chris Peck (USA) Fiordifrutta                                        
51 Corey Burns (USA) Fiordifrutta                                   8.57
52 Dan Timmerman (USA) Fiordifrutta                                     
53 Jamey Driscoll (USA) Fiordifrutta                                    
54 Blake Caldwell (USA) Team TIAA-CREF                                  
55 Dennis Pohl (Ger) Heinz von Heiden-Wolf Block                        

Past winners
Men
 
2005 Melito Heredia (Dom) GS Gotham/Toga
2004 Stephane Bonsergent (Fra) France /Alderfer Auction Company
2003 Ted Huang (USA) Webcor Cycling Team
2002 Todd Herriott (USA) CRCA/Think Racing
2001 Not held
2000 Bert Dewaele (USA)
 
Men
 
2005 Leeanne Manderson (USA) Hub Racing
2003 Ashley Kimmet (USA) Colavita Womens Elite Cycling Team
2002 Jeannie Longo (Fra)
2001 Not held
2000 Leigh Hobson (Can) 

Past winners by Mario Stiehl, www.world-of-cycling.com