Recently on Cyclingnews.com
Caribbean Road Championships - CN
Tortola, British Virgin Islands, October 14-15, 2006
Retired Bermuda, USVI cyclists takes Caribbean time trial top spots
By Dean Greenaway
Men's road race podium
Photo ©: Dean Greenaway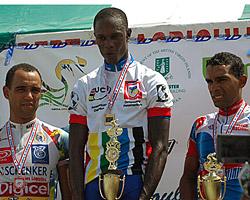 Bermudaís Kris Hedges, who retired after pulling off a Caribbean Cycling Championships time trial 3-peat between 2001-2003, returned to beat fellow retiree, St. Croixís Robert Bruman, during Saturday race on Tortola.
Hedges toasted the 20-mile loop from Road Town to West End and return in 46 minutes and 41.41 seconds. "Iíve raced here before in the Jason Bally Memorial and I knew the beauty of the island. That enticed me to get back in the saddles and itís good to be back," said Hedges who won his last race here in 2003. "Itís a bit of a shock. Now that Iím working, I donít have the time to put in the training but it think itís the same for all of us here."
Hedges said he suffered on his way to West End, then anticipated having a tailwind on the way back, but found a cross wind made things tougher. "I didnít really get a chance to put in the huge gears, but, it was about being consistent throughout the whole event," he explained. "Itís a long, flat time trial so it gets a little bit grueling. You hope for a time trial like this but a lot of them arenít flat throughout the whole race and it really takes a toll on your muscles."
Bruman, who resumed racing after a 20-year retirement, said his wife bought him back to the sport after picking up some cycling magazines. "I came out of retirement last year, so Iím a little bit surprised," he said. "I was hoping for a top 10 finish. I raced in Germany as a teenager and havenít raced in 20 years. But, itís good to be back. Itís the most beautiful course Iíve ever done. It was fantastic."
Since he was not familiar with his opponents, Bruman said when he saw Hedges on Friday, he told his wife, Ďthis guy is going to be on the podium.í When he learnt he was riding behind Martiniqueís Michael Laurent who was second last year, he knew if he finished close to him, heíd get a good placing. "I overtook him within five miles, so I knew I would have a good time if I stayed ahead of him and I beat him by 50 yards in the end," Bruman noted. "I knew that Iíd beaten him by a minute, so I achieved my goal."
Vanderberg began racing two years ago and ecstatic with his debut performance. "Iím quite surprised to be third, but Iím very hay about this," Vanderberg, the first rider off the ramp said. "For me, it was a good track. It was flat and only the Police was in front of me and that was the focus to ride hard."
Barbadosí Phillip Clarke wins road race crown
Barbadosí Phillip Clarke overcame a fall on Fort Hill, fought his way back, then went on to a one minute victory in Sundayís 6th annual Caribbean Cycling Championships 10-lap-80-mile road race on Tortola. Wendy Cruz of the Dominican Republic, out sprinted defending champion Herve Arcade of Martinique and Guadeloupeís Luis Fablon, to place second.
"Phillip Clarke has ridden his heart out. He was third last year in Aruba. At the 2003 Pan Am Games with two laps to go, he had a flat and couldnít get back in there. But today was Phillip Clarke, Phillip Clarke, Phillip Clarke," beamed Barbados Cycling Association president Keith Yearwood. "After having a very serious fall and hurting his back, to still get back, catch the main pack, and not only to catch them, but to lead by such a wide margin, was a significant achievement for Clarke and Barbados. We have now qualified to go to the Pan American Games in Rio de Janeiro Brazil next year. We have gone to the Pan Am Games all the years and we didnít have a slot this year, but, thanks to Phillip Clarke, he has brought home the bacon and we will be in Brazil next year. He did a tremendous job." Clarke will be joined by Cruiz and Jamaicaís Alden Clunis at the Pan Ams, since Martinique is a part of France and does not participate in the games.
Clarke, who trains and rides for a team in Trinidad, said that on his fifth lap, he was struck in his back by the wheel from a Curacao rider, but it was his own fault. He was communicating with a teammate about getting water, when he hit someone elseís wheel. "I was feeling strong for the whole race and the fall didnít do me anything," he said.
Three laps later, Clarke said he rode off the front just after the islandís lone stoplight and his pursuers let him go. "I was surprised but, I knew a lot of the guys were suffering. I could see it on their faces," he recalled, noting he had been racing all year. "I was surprised I still had it for this race," he added with a chuckle. "But, yeah. I realize I still got it."
Caribbean Cycling Federation president, St. Vincent and the Grenadineís Trevor "Sailor" Bailey, said the race was excellent race and congratulated the winner. "It was the biggest championships in terms of countries participating," he said. "Iím really pleased and impressed. I congratulate David Thomas and his team for putting on an excellent event."
Photography
For a thumbnail gallery of these images, click here
Images by Dean Greenaway
Results
Time trial Men
 
  1 Kris Hedges (Bermuda)                     46.41
  2 Robert Bruman (USVI)                       0.13
  3 Johan Wanderberg (Curacao)                 0.22
  4 Herve Arcade (Martinique)                  0.26
  5 Garth Thompson (Bermuda)                   1.03
  6 Mickael Clarico (Guadeloupe)               1.13
  7 Micheal Laurent (Martinique)               1.14
  8 John Turton (Barbados)                     2.23
  9 Robert Marsh (Antigua)                     2.31
 10 William Bondot (Guadeloupe)                2.45
 11 Alden Clunis (Jamaica)                     2.49
 12 Chris Pradel (Anguilla)                    3.10
 13 Guy Costa (Trinidad)                       3.17
 14 Jerry Otten (Curacao)                      3.38
 15 Phillip Clark (Barbados)                   3.42
 16 Rowan Wilson (Trinidad)                    5.43
 17 O'Neal Samuel (Jamaica)                    5.55
 18 Maxmillian Irving (Aruba)                  5.58
 19 Andrew Thompson (BVI)                      6.01
 20 Jorge Perez (Dominician Republic)          6.02
 21 Neal Lloyd (Antigua)                       6.04
 22 Tyrone Thomas (Grenada)                    6.29
 23 Troy Felix (Grenada)                       6.29
 24 Neil Thomas (BVI)                          6.42
 25 Joel Nankman (St. Maartin)                 6.58
 26 Winston Williams (St. Lucia)               7.09
 27 Darren Allen (Guyana)                      7.20
 28 Dick Luttekes (St. Maartin)                7.28
 29 Augusto Sanchez (Dominician Republic)      7.52
 30 Patrico Carty (St. Martin)                 7.55
 31 George Carty (St. Martin)                  9.48
 32 Dominic Olliviere (St. Vincent)           10.41
 33 Marlon Antrobus (St. Vincent)             11.04
 34 Anthony Spenser (BVI)                     11.22
 35 Edgardo Richiez (Puerto Rico)             49.53
 DQ John Charles (Guyana)                        
DNF Louis Mattei (Puerto Rico)                  
DNS Danny Laud (Anguilla)      
                 

Road race Men

  1 Phillip Clarke (Barbados)               3.19.11
  2 Wendy Cruz (Dominican Republic)            0.53
  3 Herve Arcade (Martinique)                  
  4 Luis Fablon (Guadeloupe)                   
  5 Alden Clunis (Jamaica)                     
  6 Olivier Curier (Guadeloupe)                
  7 Tyler Butterfield (Bermuda)                
  8 Barend Bakker (Curacao)                    
  9 Robert Marsh (Antigua and Barbuda)         
 10 Guy Costa (Trinidad and Tobago)           
 11 Christophe (Angele)                        
 12 David Aldves (Trinidad and Tobago)         1.53
 13 Frangois Garriel (St Martin)               3.53
 14 Alexander Lamy (Martinique)                4.53
 15 Juhan Vanderberg (Curacao)                 5.53
 16 Jamie Perestrelo (Curacao)                 6.52
 17 Lyn Murray (Antigua and Barbuda)          
 18 Olivier Ragot (Martinique)                 6.54
 19 Gath Thompson (Bermuda)                    8.52
 20 Lainel Stewart (Jamaica)                  11.54
 21 OĘNeil Samuels (Jamaica)                  
 22 Geri Mewett (Bermuda)                     12.49
 23 Danny Laud (Anguilla)                     20.52
 24 John Charles (Guyana)                     
 25 John Tuiton (Barbados)                    
 26 Joel Nankman (St Maarten)                 22.50
 27 Patricio Carty (St Martin)                
 28 Wayne Scott (Bermuda)                     
 29 Bievenido Carty (St Maarten)               
 30 Troy Felix (Grenada)                      
 31 Jason Perryman (Barbados)                 
 32 Tony Simon (Guyana)                       
 33 Dominic Ollivierre (St Vincent)           23.49