Tour of Somerville - NE
Somerville, USA, May 29, 2006
2005 Results Results Past winners
Haedo back to winning ways at Somerville
By Mark Zalewski, North American Editor
Juan Jose Haedo (Toyota-United Cycling Team)
Photo ©: Todd Leister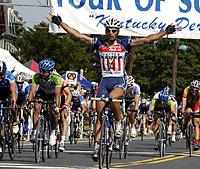 Toyota-United Pro's Juan Jose Haedo has arguably the strongest sprint of any North American professional. Nevertheless, it was understandable that at last week's Tri-Peaks Challenge he left the sprinting to the other fast legs on his deep team. "I was feeling a little tired after Tri-Peaks and those races," he said. But this Memorial Day weekend the team was spread out at various races across the country and Haedo stepped back to the top step winning the always-fast field sprint of the Tour of Sommerville in New Jersey.
"Somerville is usually is a field sprint," Haedo explained. "I only had Stefano Barberi [with me] today, while most of the other teams had eight guys or more." However Haedo has done very well this year in sprints where he has been outnumbered, winning two stages of the Tour of California mostly on his own in the final kilometer. " I was just staying behind the Colavita train because I know it really well. I know Mark and I know where and how he is going to set it up. I was on Wamsley's wheel and came around him, but he still got second."
Earlier in the race a few significant breaks did form, but a lot of the larger teams spent too much time playing tactics, particularly with the outnumbered Haedo. "The bigger teams are looking more for the breaks," said Haedo. "I was in the main break but they are all trying to open gaps and it would never really work. And when I was in the back of the break they would go hard to try to gap me. So I decided to stay back and hope they other guys would forget about me."
Not likely, but Haedo did benefit from the hard work of the Kodak Gallery-Sierra Nevada team which was working to set up their sprinters Martin Gilbert and Dan Schmatz. Gilbert, who won the Raleigh Twilight Criterium on Friday suffered a mechanical with less than five laps remaining. So it was down to Schmatz, who was just returning from an injury he suffered when a vehicle hit him after the Tour de Georgia.
The podium of the 63rd Kugler-Anderson Memorial Tour of Somerville:
Photo ©: Todd Leister

"I'm not feeling any pain or injuries still, but I am missing some fitness from the time off the bike. So I'd say I'm about 90 percent," he said. "Maybe if I was 100 percent or if we had Martin for the finish, we would have come out a little higher up on the podium. But the team did an awesome job today of executing the plan and setting it up for me at the finish."
Into the final sprint the larger teams like Kodak Gallery-Sierra Nevada and Colavita-Sutter Home were trying to organize separate trains with Haedo looking for his opening. "There were like two trains going in the final turn," Haedo said. "Colavita was going from 350 meters and from there it was a drag race to the line. The line surprised me a little - it's was slightly downhill so the line came fast." But it was not a surprise that Haedo came out on top.
Photography
For a thumbnail gallery of these images, click here
Images by Todd Leister/leister.smugmug.com
Results
Pro Men
 
1 Juan Jose Haedo (Toyota-United Pro Cycling Team)                     1.46.00
2 Kyle Wamsley (Colavita Olive Oil - Sutter Home Pro Cycling Team)            
3 Dan Schmatz (Kodakgallery.Com/Sierra Nevada Pro Cycling Team)               
4 Siro Camponogara (Navigators Insurance Cycling Team)                        
5 Sergey Lagutin (Navigators Insurance Cycling Team)                          
6 Alejandro Acton (Targetraining)                                             
7 Jeffery Hopkins (Jittery Joe's)                                             
8 Vassili Davidenko (Navigators Insurance Cycling Team)                       
9 Adam Hodges Myerson (Nerac/Outdoorlights.Com Pro Cycling)                   
10 Alberto Blanco (G.S. Mengoni)                                              
11 Aliaksandr Bialiauski (Ccb/Volkswagen)                                     
12 Mark Mccormack (Colavita Olive Oil - Sutter Home Pro Cycling Team)         
13 Ward Solar (Team Natures Path)                                             
14 Eneas Freyre (Targetraining)                                               
15 Michael Cody (Fiordifruitta Elite Cycling Team)                            
16 Amos Brumble (Ccb/Volkswagen)                                              
17 Zach Bell (Rite Aid Pro Cycling)                                           
18 Karl Bordine (Labor Power)                                                 
19 Jason Snow (Team Fuji)                                                     
20 Valeriy Kobzarenko (Navigators Insurance Cycling Team)                     
21 Buck Miller (Fiordifrutta Elite Cycling Team)                              
22 Gregory Wolf (Aeg-Toshiba-Jetnetwork)                                      
23 Stephan Kincaid (Meredith Group/Gpoa)                                      
24 Brad Viera (Rite Aid Pro Cycling)                                          
25 Ryan Oelkers (Cadence Cycling - Velo Europa)                               
26 John Durso (Ofoto)                                                         
27 Craig Dodson (Team Natures Path)                                           
28 Mark Hekman (Abercrombie And Fitch Pb Inferno)                             
29 Brian Butts (Rockville Harley-Davidson/Silver Cycles)                      
30 Andy Guptill (Targetraining)                                               
31 Jonathan Page (Colavita Olive Oil - Sutter Home Pro Cycling Team)          
32 Rich Harper (Abercrombie & Fitch P/B Inferno)                              
33 Paul Ward (Team Natures Path)                                              
34 Kenneth Johnson (Rockville Harley-Davidson/Silver Cycles)                  
35 Lisban Quintero (Gs. Mengoni Usa)                                          
36 Jesse Anthony (Kodakgallery.Com/Sierra Nevada Pro Cycling Team)            
37 Josh Bezecny (Targetraining)                                               
38 Guy East (Crca/Sakonnet Technology U25)                                    
39 Jon Wirsing (Rite Aid Pro Cycling)                                         
40 Dave Martin (Northeastern Hardware)                                        
41 Daniel Vaillancourt (Ccb/Vw/Time)                                          
42 Dan Cassidy (Ccb/Volkswagen)                                               
43 Scott Bodin (Fastar)                                                       
44 Johnny Hayes (Crca/Sakonnet Technology U25)                                
45 Shawn Milne (Navigators Insurance Cycling Team)                            
46 Eric Obergfell (Us Armed Forces)                                           
47 Todd Shaker (Abercrombie & Fitch P/B Inferno)                              
48 Gabrielle Brizuella (Colavita Olive Oil - Sutter Home Pro Cycling Team)    
49 Dan Timmerman (Fiordifrutta Elite Cycling Team)                            
50 Hilton Clarke (Navigators Insurance Cycling Team)                          
51 Edwin Bull (Van Dessel Factory Team)                                       
52 Patrick Walsh (Ccb/Volkswagen)                                             
53 Mike Norton (Nerac/Outdoorlights.Com Pro Cycling)                          
54 Christopher Jones (Champion System)                                        
55 Ben Brooks (Navigators)                                                    
56 David Wiswell (Crca/Sakonnet Technology U25)                               
57 Glen Chadwick (Navigators Insurance Cycling Team)                          
58 Sonke Thiel (Ideal Tile / Wendy's / Liquid Lightning)                      
59 Stefano Barberi (Toyota-United Pro Cycling Team)                           
60 Justin Spinelli (Nerac/Outdoorlights.Com Pro Cycling)                      
61 Oleg Grichkine (Navigators Insurance Cycling Team)                         
62 Gustavo Artacho (Colavita Olive Oil - Sutter Home Pro Cycling Team)        
63 Tyler Wren (Colavita Olive Oil - Sutter Home Pro Cycling Team)             
64 Davide Frattini (Colavita Olive Oil - Sutter Home Pro Cycling Team)        
65 Todd Herriott (Colavita Olive Oil - Sutter Home Pro Cycling Team)          
66 Mark Walters (Navigators Insurance Cycling Team)                           
67 Randy Smargiassi (Gotham Cyclists)                                         
68 Ian Holt (Us Armed Forces)                                                 
69 Lee Rosenthal (Crca/Sakonnet Technology U25)                               
70 Ryan Dewald (Rite Aid Pro Cycling)                                         
71 Michael Gallagher (Us Armed Forces)                                        
72 Chris Rozdilsky (Fiordifrutta Elite Cycling Team)                          
73 Christian Young (Ideal Tile / Wendy's / Liquid Lightning)                  
74 Franklin Burgos (James Vincent)                                            
75 John Delong (Rite Aid Pro Cycling)                                         
76 Viktor Rapinski (Colavita Olive Oil - Sutter Home Pro Cycling Team)        
77 Joseph Moody (Louis Garneau Racing)                                        
78 Michael Dietrich (Kodakgallery.Com/Sierra Nevada Pro Cycling Team)         
79 Daniel Greenfield (Targetraining)                                          
80 Todd Yezefski (Nerac/Outdoorlights.Com Pro Cycling)                        
81 Richard Ball (Ww/High Gear)                                                
82 Eugene Boronow (G.S. Mengoni)                                              
83 Chadd Martin (Meredith Group - Gpoa)                                       
84 Louis Schimmel (Northeastern Hardware/Cjct)                                
85 Jason Baer (Kenda Raleigh Racing)                                          
 
Pro Women
 
1 Tina Pic (Colavita/ Cooking Light Cycling Team)                        46.50
2 Laura Vangilder (Team Lipton)                                               
3 Kelly Benjamin (Cheerwine)                                                  
4 Brenda Lyons (Victory Brewing Team)                                         
5 Theresa Cliff-Ryan (Verducci/Breakaway Racing)                              
6 Shannon Hutchison-Krupat (Aaron's Pro Women's Cycling)                      
7 Sarah Caravella (Team Lipton)                                               
8 Erica Allar (Team Fuji)                                                     
9 Sarah Uhl (Penn State)                                                      
10 Caitlyn Mccullough (North Atlantic Velo)                                   
11 Marianne Stover (Independent Fabrication)                                  
12 Leigh Valletti (Travelgirl Magazine)                                       
13 Catherine Powers (Aaron's Pro Women's Cycling)                             
14 Anna Webb (Sdbc)                                                           
15 Sheba Farrin (Hub Racing)                                                  
16 Tricia Carnila (Verducci/Breakaway Racing)                                 
17 Iona Wynter (Colavita/ Cooking Light Cycling Team)                         
18 Alison Fischer (East Coast Velo)                                           
19 Laura Yoisten (Victory Brewing Team)                                       
20 Lisa Jellett (Verducci/Breakaway Bikes)                                    
21 Sarah Tillotson (Colavita/ Cooking Light Cycling Team)                     
22 Brooke O'connor (Hub Racing)                                               
23 Mara Miller (Advil-Chapstick Cycling Team)                                 
24 Laura Bowles (Victory Brewing Team)                                        
25 Kate Sherwin (Victory Brewing Team)                                        
26 Beth Mason (Us Armed Forces)                                               
27 Holly Borowski (Mcguire/United States Armed Forces)                        
28 Emma Nelson (Advil-Chapstick Cycling Team)                                 
29 Elizabeth Renaud (Crca/Comdey Central)                                     
30 Candice Blickem (Aaron's Pro Women's Cycling)                              
31 Clara Beard (Cheerwine)                                                    
32 Heather Labance (Advil-Chapstick Cycling Team)                             
33 Kristy Scheffenacker (Orbea)                                               
34 Michele Bote (Hub Racing)                                                  
35 Rebecca Wellons (Gearworks/Spin Arts)                                      
36 Gina Voci (Cheerwine)                                                      
37 Mackenzie Dickey (Aaron's Pro Women's Cycling)                             
38 Lara Kroepsch (Team Lipton)                                                
39 Kim Geist (Victory Brewing Team)                                           
40 Lenore Imhof (Colavita-Bolla Racing)                                       
41 Kathryn Clark (Team Fuji/ Bolt Brothers)                                   
42 Nonnie Howard (Verducci / Breakaway Racing)                                
43 Reem Jishi (Advil-Chapstick Cycling Team)                                  
44 Kathleen Billington (Ct Coast Cycling)                                     
45 Charm Breon (Cheerwine)                                                    
46 Janet Olney (Adg/Joe's Bike Shop)                                          
47 Siaead Miller (Unattached)                                                 
48 Veronica Martinez (O'neill)                                                
49 Brooke Wilson (Team Somerset)                                              
50 Elizabeth Tyrell (Somerset Wheelman)                                       
51 Pauline Frascone (Independent Fabrication)                                 
52 Megan Esmonde (Travelgirl Magazine)                                        
53 Elizabeth Morse Hill (T.E.A.M. Fuji/Bolt Brothers)                         
54 Rebecca Koh (Crca/Radical Media)                                           
55 Wendy Ulmer (Team Snow Valley)                                             
56 Cheryl Wolf (Bethel Cycle)                                                 
57 Donna Kerby (Team Fuji/Bolt Brothers)                                      
58 Kim Foland (Travelgirl Magazine)                                           
59 Sima Trapp (Colavita/ Cooking Light Cycling Team)                          
60 Caryl Gale (Crca/Comedy Central/New Canaan Cyclery)                        
61 Tara Ross (Victory Brewing Team)                                           
62 Tara Walhart (Verducci/Breakaway Racing)                                   
63 Lisa Vible (Adg/Joe's Bike Shop)                                           
64 Sue Palmer-Komar (Colavita/ Cooking Light Cycling Team)                    
65 Meshy Holt (Colavita/ Cooking Light Cycling Team)                          
66 Nikki Raspa (Hub Racing)                                                   
67 Mandy Lozano (Cheerwine)                                                   
68 Katherine Lambden (Team Lipton)                                            
70 Nina Santiago (Act)                                                        
 
Cat 2
 
1 Jon Clifton Moore (Clifton Inc.)                                       43.12
2 Kevin Molloy (Crca/Axis)                                                    
3 Jake Hollenbach (Ccb/Volkswagen)                                            
4 Peter Aldridge (Bike America)                                               
5 Glenn Schneider (Colavita Racing)                                           
6 Brent Arthurs (Evolution Racing)                                            
7 Chris Ruhl (Crca/ Sakonnet Technology U25)                                  
8 Mario Sanchez (Rockville Harley/ Georgetown Pro Shop)                       
9 Adam Carr (Targetraining)                                                   
10 ?                                                                          
11 ?                                                                          
12 ?                                                                          
13 Craig Cook (Crca Junior Development)                                       
14 Stephen Badger (Crca/Sakonnet Technology)                                  
15 Stan Jurga (Independent Fabrication / Channel Cafe)                        
16 Jason Walters (Ideal Tile/Wendy's/Liquid Lightning)                        
17 Jacob Keough (Clnoonankamcoasttocoast)                                     
18 Jeff Dickey (Ncvc/Inova Health System)                                     
19 Paolo Zenoni (Westwood Velo)                                               
20 Stephan Dioslaki (Ideal Tile/Wendy's/Liquid Lightning)                     
21 Paul Mica (Ncvc/Inova Health System)                                       
22 Robert Giunnini (Crca/Sakonnet Technology U25)                             
23 Alex Ferrero (Crca/ Sakonnet Technology U25)                               
24 Matthew Howard (Crca/Blue Ribbon-Translations.Com)                         
25 Guido Palma (Colavita)                                                     
26 Jason Harpp (Kenda-Raleigh Racing)                                         
27 Adrian Gerrits (Penn Cycling)                                              
28 Brian Cooblall (Team United)                                               
29 Gavriel Epstein (Gs Mengoni Usa)                                           
30 Tim Doud (Clnoonankamcoasttocoast)                                         
31 Ben King (Hot Tubes Development Team)                                      
32 Sean Barrie (M-Street Racing)                                              
33 Ted Inoue (K2/Shirks)                                                      
34 Daniel Zmolik (Act - Cuevas)                                               
35 Aaron Molloy (1K2Go.Com/S&W Sports)                                        
36 Glenn Murray (Tri-State Velo)                                              
37 Joe Whitman (Technocycle Brc)                                              
38 Trevor Matulys (Gotham Cyclists)                                           
39 Todd Nordblom (Fior Di Frutta)                                             
40 John Paproski (K2/Shirks)                                                  
41 Teddy Hockenberry (Cycle Science)                                          
42 Jp Partland (High Gear Cyclery)                                            
43 Tucker Olander (Hot Tubes Development Team)                                
44 Matthew Helming (Matthew Helming)                                          
45 Ciaran Mangan (Ccb/Volkswagen)                                             
46 Dana Alia (Liberty Cycle)                                                  
47 Eric Pearson (Kenda/Raleigh Racing)                                        
48 Jonathan Royal (Tri-State Velo)                                            
49 Matt Inconiglios (Stage 1 / Fusionthink)                                   
50 Michael Chauner (Crca/Sakonnet Technology U25)                             
51 Matt White (Fiordifrutta Elite Cycling Team)                               
52 Kurt Gustafsson (Crca-Axis)                                                
53 Lee Sossen (Crca/ Sakonnet Technology U25)                                 
54 Marc Berjucco (Abd Cycling Team)                                           
55 Daniel (Nacho) Estevez (Hot Tubes Development Cycling Team Inc.)           
56 Martin Lechowicz (Act/Cuevas)                                              
57 Eric Streckfuss (Westwood Velo)                                            
58 Jared Strowbridge (Libert Cycle)                                           
59 Jason Stevenson (Ncvc/Inova Health System)                                 
60 Fred Reidenbach (Hydromax)                                                 
61 Bruce Donaghy (Morgan Stanley)                                             
62 Nelson Li (Crca/Global Locate)                                             
63 William Dugan (1K2Go.Com/S&W Sports)                                       
64 Jason Beerman (Kenda/Raleigh Racing)                                       
65 Mathieu Nelessen (Hunterdon Velo Ana Cycling)                              
66 Karl Rahn (Crca/Axis)                                                      
67 Jared Bunde (Champion System)                                              
68 Joshua Bartlett (Noreast Cycling)                                          
69 Jonathan Swain (Crca/Sakonnet Technology U25)                              
70 Jason Bremer (Gs Mengoni Usa)                                              
71 Tom Gosselin (Independent Fabrication/Channel Cafe)                        
72 Michael Mathis (Preferred Care)                                            
73 Eric Schlauch (Somerset Wheelmen)                                          
74 Charles Erndl (Na)                                                         
75 Jim Camut (Watchung Wheelman / Highgear Cyclery)                           
76 Robert Lattanzi (Crca/Visitbritain)                                        
77 Michael Margarite (Crca/Sakonnet Technology)                               
78 Mariusz Brinken (Crca/Remax)                                               
79 David Ebeling (Westwood Cycle Masters Team)                                
80 Brad Sheehan (1K2Go/S&W Sports Cycling Team)                               
81 Ramon Benitez (Hydromax -Imi)                                              
82 Jonathan Bruno (Independent Fabrication/Channel Cafe)                      
83 Nate Buyon (High Gear Cyclery/ Watchung Wheelman)                          
84 Basil Moutsopoulos (Crca/Sakonnet Technology)                              
85 Matt Wilson (Independent Fabrication/Channel Cafe)                         
86 Nigel Chinemilly (Dls/Evolution Team)                                      
87 Brandon Haines (Monstrhealth)                                              
88 Russell Blake (Monstr Health Cycling)                                      
89 David Taylor (Crca - Blue Ribbon)                                          
90 Aaron France (Ncvc/Inova Health System)                                    
91 Anthony Lowe (Visitbritain)                                                
92 Christopher Romero (Crca/Axis)                                             
93 Andrew Greene (High Gear Cyclery)                                          
94 Jason Meidhof (Ncvc/Inova Health System)                                   
95 Zoltan Tisza (Crca Axis)                                                   
96 Eric Kenney (Kenda/ Raleig Racing)                                         
97 Luke Krisch (Independent Fabrication/Channel Cafe)                         
98 Chris Riley (Preferred Care)                                               
99 Charles Mccarthy (1K2Go.Com/S&W Sports)                                    
100 Adam Fung (Rockville Harley-Davidson/Silver Cycles)                       
101 Nicholas Bennette (Velo Europa-Cyfac)                                     
102 Weston Shirey (Unattached)                                                
103 Paul Ziminski (Ideal Tile/Wendys/Liquid Lightning)                        
104 Julian Cushing (East Coast Velo)                                          
105 Haig Marino (Deno's Wonder Wheel/ Slope Sports)                           
106 Greg Abbott (Ncvc/Inova Health System)                                    
107 Edward Bennett (Next /Crca)                                               
 
Cat 3
 
1 Evan Fader (Route 1 Velo/Capitol Hill Bikes)                           44.19
2 Jose Santiago (Ccg)                                                     0.14
3 Juan Pimentel (Crca/Global Locate)                                          
4 Rich Uliana (Gotham Cyclists)                                               
5 J Gabriel Lloyd (Columbia University)                                       
6 Ralph Lugo (Competitive Cycling Group)                                      
7 Austin Armstrong (Hunterdon Velo A.N.A.)                                    
8 David Wells (Unattached)                                                0.26
9 James Joseph (Caferteros)                                                   
10 David Bonser (Gotham Cyclists)                                             
11 David Mesqueue (Competitive Cycling Group)                                 
12 Glenroy Griffith (Unattached)                                              
13 Patrick Gellineau (Team Squiggle)                                          
14 Italo Bastianelli (North Jersey Bicycle Club)                              
15 David LăłPez-GonzăˇLez (Competitive Cycling Group)                         
16 Pablo Arias (3D Racing Team)                                               
17 Kirk Catnott (Team Squiggle)                                               
18 Richard Gonzalez (Team Bikery/Shebell Shebell)                             
19 Douglas Dicks (Na)                                                         
20 Ryan Bodge (Colavita Racing)                                               
21 John Manailovich (Americas Cycling Team)                                   
22 Brian Wolf (Bethel Cycle)                                                  
23 John Morales (Cafeteros Cycling Club)                                      
24 Patrick Kennedy (Liberty Cycle)                                            
25 Christopher Mina (Veloeuropa-Cyfac)                                        
26 Christopher Esnes (Watchung Wheelmen)                                      
27 Carlos Rivera (Sanchez/Metro Crca)                                         
28 Reynaldo Soto (Ccg)                                                        
29 Andrew Lacorte (Crca / Merrill Lynch - Hincapie Sports)                    
30 Milo Bastianelli (Skylands Cycling)                                        
31 Darius Filipiak (Therafeet Cycling Team)                                   
32 Marcin Wojcik (High Gear)                                                  
33 Scott Snyder (Hellskichencycling)                                          
34 Gil Garcia (Competitive Cycling Group)                                     
35 Robert L Brown Jr (Crca/Major Taylor Iron Riders)                          
36 Sandy Chapman (High Gear)                                                  
37 Jose Torres (Ccg)                                                          
38 Christopher Worden (Watchung Wheelmen/Highgear)                            
39 Joshua Friedman (Champion System Racing)                                   
40 Marino Marlisa (Watchung Wheelman)                                         
41 Darren Lange (3D Racing Team)                                              
42 Tyrone Diaz (Cycle Craft)                                                  
43 Dario Ayala (Competitive Cycling Group)                                    
44 Jon (Zack) Zaccagnino (Somerset Wheelmen)                                  
45 John Lennox (Unattached)                                                   
46 Colin Jaskiewicz (Uvm)                                                     
47 Russell Young (Deno's Wonder Wheel)                                        
48 Rafael Sanchez (Ccg)                                                       
49 Ryan Pomajevich (Gotham Cyclists)                                          
50 Brian Gristick (Americas Cycling Team)                                     
51 Alex Binder (Ysg/Brielle/Wendys)                                           
52 Walter Risse (Main Line Cyclin)                                            
53 Matt Swiatek (Dynaflow Racing / Technocycle Brc)                           
54 Stephen Sambrano (Biklye Flyers)                                           
55 Michael Aravich (Ysg Racing)                                               
56 Thomas Ragland (Squadra Coppi/Im Saab)                                     
57 George Bicking (Velocity Sports)                                           
58 Roberto Colon (Ccg)                                                        
59 Wilfredo Barreto (Ccg-Bayamon)                                             
60 Chris Castaldi (Deno's Wonder Wheel)                                       
61 Doan Pendleton (Watchung Wheelmen)                                         
62 Ramon Diaz (Competitive Cycling Group)                                     
63 Anthony Maisto (Deno's Wonder Wheel)                                       
64 Mark Fontanilla (Liberty Cycle)                                            
65 Zach Lail (Fit Werx)                                                       
66 Gary La Sala (Liberty Cycle)                                               
67 Robert Webster (Watchung Wheelmen)                                         
68 Jose Collado (Crca/Global Locate)                                          
69 Michael Prokopec (Crca/Miyashoji.Com)                                      
70 Jim Kaeli (Northeastern Hardware)                                          
71 Alvaro Betancur (Cafeteros Cycling Club)                                   
72 Robert Wing (Champion System)                                              
73 Scot Willingham (Sanchezmetro Crca)                                        
74 Harold Francis (Squiggle)                                                  
75 Scott Farmer (Bike Line/Lwa)                                               
76 Kent Donahue (Wendy's / Brielle Cyclery)                                   
 
Juniors
 
1 Shane Kline (Team Fuji)                                                33.18
2 Colton Valentine (Abrt/ Team Snow Valley)                                   
3 Jackie Simes (Tri State Velo)                                               
4 Rodney Santiago (Unattached)                                                
5 Tucker Olander (Hot Tubes Development Team)                                 
6 Taylor Brown (Tri State Velo)                                               
7 Sean Melcher (Cjct / Northeastern Hardware)                                 
8 Alistair Ratcliff (Nert/Bethel Cycle)                                       
9 Daniel Sullivan (Bikery/Shebell&Shebell)                                    
10 Stephen Chiselko (Liberty Cycle)                                           
11 Eric Schildge (3D Racing Team)                                             
12 Jeff Johnson (C-Dub Racing)                                                
13 Curtis Winsor (Team Snow Valley)                                           
14 Nicholas Keough (Clnoonankamcoasttocoast)                                  
15 Nick Bax (Hot Tubes)                                                       
16 Carter Jones (C-Dub Racing)                                                
17 Duncan Mcgovern (Team Bike Alley)                                          
18 Lewis Almonte (Crca Junior Development)                                    
19 Christopher Monteleone (Hottubes Tubes Development Cycling)                
20 Epes Harris (Ecv)                                                          
21 Jeffrey Salvitti (Alliance Environmental)                                  
22 Robert Schmidt (Nert/Capital Bicycle Racing Club)                          
23 Mark Saunders (Team Snow Valley)                                           
24 Evan Daney (Unattached)                                                    
25 Luke Keough (Clnoonankamcoasttocoast)                                      
26 Gordon Parola (Act Junior Elite)                                           
27 Brett Jacoby (Gotham Cyclists)                                             
28 Nikolai Masluk (3D Racing/Tom's Atlantic Cycling)                          
29 Gregory Battista (Atalantic Bicycle Club)                                  
30 Barry Miller (Act Junior Elite)                                            
31 Christopher Thornton (Unattached)                                          
32 Christopher Null (Colavita Racing)                                         
33 Brian Burdick (Atlantic Bicycle Club)                                      
34 Dylan O'sullivan (Team Bicycle Alley)                                      
35 Lanell Rockmore (East Coast Velo)                                          
36 Filip Capala (Capala Bros Polska)                                          
37 Pascual Caputi (Crca Junior Development)                                   
38 Ben King (Hot Tubes Development Team)                                      
39 Daniel (Nacho) Estevez (Hot Tubes Development Cycling Team Inc.)           
40 Sam Keesler (Unattached)                                                   
41 Nik Reinert (Team Fuji / Salamander Racing)                                
 

Past winners
2005 Kyle Wamsley (USA) Snow Valley       Laura Van Gilder (USA) Quark 
2004 Victor Rapinski (Rus) Navigators     Melissa Sanborn (USA)
2003 Jonas Carney (USA)                   Sarah Uhl (USA)
2002 Jonas Carney (USA)
2001 Eric Wohlberg (Can)
2000 Jonas Carney (USA)
1999 Eric Wohlberg (Can)
1998 Jonas Carney (USA)
1997 Brett Aitken (Aus)
1996 Julian Dean (NZl)
1995 Jason Snow (USA)
1994 Jame Carney (USA)
1993 Gary Anderson (NZl)
1992 Jonas Carney (USA)