51st Lincoln GP - NE
Great Britain, May 7, 2006
2005 Results Results Past winners Preview Startlist
House wins at Lincoln
By Gerry McManus
Kristian House (Recycling.co.uk)
Photo ©: Gerry McManus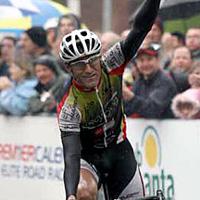 Kristian House (Recycling.co.uk) emerged first at the top of the eleventh ascent of Michaelgate to win the Lincoln Grand Prix in England on Sunday. In the dramatic final stages of the 85-mile race, House out witted Paul Healion (Murphy & Gunn/Newlyn Group) and Matt Talbot (Glendene RT) after the trio had slipped away on the run-in back to the city.
The rain made conditions on the cobbled climb treacherous for the 122 riders but it made for exciting viewing with competitors trying to stay ahead and clear of danger on the climb.
Talbot, Wes Cole (PCA), Evan Oliphant (Recycling.co.uk) and Chris Newton (Recycling.co.uk) broke free on the third lap and were quickly joined by another eight riders before being quickly reeled in. American Clayton Burrows (Recycling.co.uk) put the hammer down on the next climb and the peloton created its first casualties in dropped riders. The end of lap 5 found Andrew Roche (Murphy and Gunn) away with Malcolm Elliott (PCA) and Talbot but the leaders only gained a handful of seconds over the chasing pack. Meanwhile Rob Hayles (Team KLR) recovered from a puncture and regained the main field.
After 44-miles of racing, the first serious threat appeared when Peter McDonald (Team FRF Couriers), Roche, Newton, Peter Herzig (Team FRF Couriers), Rob English (AW Couriers) and Duncan Urquhart (Agisko-Dart) moved clear to create a thirteen second lead. Phil Dixon (Science in Sport) jumped across to the leaders as their margin grew to 40 seconds but the main field sensed the danger and the race was altogether by the end of lap 8.
Malcolm Elliott and Rob Sharman (Recycling.co.uk) were the next to attempt escape and Elliott stretched out the field as he rocketed down Burton Road on the way out from the city centre stretching the elastic to breaking point.
On lap 9 Newton headed up another sortie attacking with Warwick Spence (London Dynamo) Gary Hand (Scotland), Ian Wilkinson (Science In Sport) and Herzig. Hand fell back and Chris Newton (Recycling.co.uk) launched his attack on the penultimate climb of Michaelgate in his brave bid to ride solo to victory. Newton was finally caught with less than two miles to go after Hayles jumped clear creating a ten-strong chase group. From this group Healion attacked taking House and Talbot along and they pulled clear to fight it out for the podium places.
"Three of us managed to get away," said House: "It was pretty soft move and I was surprised that it went. When we hit the climb I pretty much knew I would get first or second. We had already caught Chris (Newton) with about 2km to go. I had really thought he was going to win it. The team rode really well all day and had got in every move.
This was a first Premier Calendar win for the Texan born Brit who has notable successes this year in the Girvan 3-Day and a stage victory in the Ruban Granitier race in France.
I don't know what's going on this year," House continued: "I didn't think I would be on-form yet. I have rested quite a bit and I think that maybe it. I did quite a hard winter in Australia and then the Tour of Langkawi and backed off a bit after that so I am coming in to these races well rested."
House's previous commitments to the British Cycling squad have meant that he has missed out on many key domestic events in the past. "I have always been between England and Belgium. With the "plan" (British Cycling World Class Performance Plan) I was always going off to do track races so this is the first year for me competing in the Premier Calendar."
House was always near the front of the race in the early stages. "To be honest I was just trying to stay out of trouble and didn't feel that strong at the beginning. It was just a matter of staying out of trouble especially on the climb. If someone slips in front of you on the climb then the gap's gone and that's it."
Only 59 riders completed the new shorter course. Newton managed to stay in touch when he was caught and finished in fifth place. Second placed Paul Healion shows he has extended the form he used to win the Rás Mumhan (Tour of Munster) and the more recent Tour of Ulster. The Irishman is delighted with the year he is having with his new team. "It's my best year ever," said Healion: "Normally it takes me about half the year to get going but I spent the winter in Australia and it's been the difference. I have kept it going for the past two years training and racing and getting adequate rest and it's all coming together now."
The 28-year old spent the end of last season with the DFL team but prefers the set up with Murphy and Gunn. "Everybody is equal in the team and gets a chance to ride for each other and the team back up is great. I have done very specific training this year which I haven't done for years. I took the decision to get my apprenticeship in toolmaking to fall back on and it's only really in the last three years that I have started to train and race again."
Third placed Talbot is enjoying the sport he only took up three years ago at the age of 29. The British born former resident of Christchurch, New Zealand now lives in South London. "I'm just trying to piece together the last lap from what people have told me," laughs Talbot: "My recollection at the top is apparently different to what the truth is. On that last climb I think I was a little bit delirious as well."
Preview: revised Lincoln GP looks for a new star
By Gerry McManus
Russell Downing (Recycling.co.uk)
Photo ©: Gerry McManus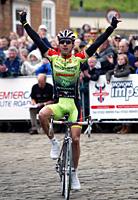 This year's Lincoln GP could see a new name emerging from the peloton to stand on the top level of the winner's podium on Sunday 7th May 2006.
Many of the names which have become familiar to those following British Cycling's Premier Calendar are missing from the 51st running of the top class event that sweeps through the city centre of historic Lincoln. Russell and Dean Downing (DFL-Cyclingnews), Mark Lovatt and John Tanner (Planet X) are all elsewhere as 129 riders battle it out in the shorter race distance of 84-miles. More importantly to some, the race ascends the cobbled climb of Michaelgate 11 times instead of the usual 13.
You would be wrong in thinking that the field lacks quality as nine out of the ten top riders in the British Cycling rankings feature here, including London's Tony Gibb (Plowman Craven RT) who has a clear lead over second placed Matthew Stephens (Sigmasport RT). Policeman Stephens also sits second in the Premier Series overall so far, and lest we forget his talent, he once finished seventh in the last ever running of the Amateur World Road race Championship a few years back.
Former world silver track medallist Gibb has a taste for winning this season with six road wins under his belt to add to his track victories. His PCA team have just lost the top BC team ranking to Recycling.co.uk, despite Malcolm Elliot's two road victories and second place in the Archer event.
Kristian House (Recycling.co.uk) dominated the recent Premier Calendar Girvan 3-Day event and now leads the Premier Series after three counting events. Team mate Ben Greenwood's points tally gives him third in the series after winning the Tour of the Reservoir and gaining sixth spot in the Archer GP. Recycling has clearly benefited from its early season foray in the Tour of Langkawi, and Chris Newton showed he is still sharp on the track when he took fourth place in the points race in the world championships. Rob Sharman continues to improve in stature and he has already shown confidence in a top professional field finishing 9th in the final stage in Langkawi in February.
Malcolm Elliot
Photo ©: Gerry McManus

Phil Dixon (scienceinsport.com) could produce the goods this time if he can convert his consistency into some winning form and victory would certainly move him up from his current fourth place in the year long race series.
And what else is there to say about the former Lincoln winner Malcolm Elliot (Plowman Craven RT)? The adjective "evergreen" is appropriate in describing the 40-something Sheffield rider but it could be replaced by "evertanned" or "everonthepodium" as he continues to beat the clock in more ways than one. His recent lone trip to Ireland resulted in second spot in the classic Shay Elliott memorial up against a number of strong Irish teams. Murphy and Gunn's Andrew Roche had the beating of Elliot in the event and the professional Irish squad field a five man team including comeback man Morgan Fox, who suffered from chronic fatigue syndrome when the West Meath man was riding for a pro Belgian team some years ago now.
"Beating the Poms" will be down to Team FRF Couriers/Caravello from Australia. Re-launched last year as a continental team, it is seen as a development squad in some circles. The Aussies arrive with a number of events completed this year including the Giro Del Capo in South Africa and the Tour of Caledonia, where they achieved victory with Peter McDonald. They will probably be whinging just like the Poms on the 1 in 6 cobble climb that twists up to the finish in Castle Square.
The shorter distance certainly opens the race up for more contenders. Don't rule out Kevin Dawson (Agisko-Dart) who has enough talent to manage without former team mates Tanner and Lovatt this season. It all starts at 11.45 from Yarborough Leisure Centre on the outskirts of the city and it could be all wrapped up by ten-past-three if last year's 25mph average is repeated. £600 first prize will be good compensation for one deserving rider.
No doubt another display of how to put on a cycle race by Ian Emmerson and a long list of supporters.
Photography
For a thumbnail gallery of these images, click here
Images by Gerry McManus/www.gerrymcmanus.co.uk
Results - 85 miles

1 Kristian House (GBr) Recycling.co.uk                 3.22.38
2 Paul Healion (Irl) Murphy & Gunn/Newlyn Group           0.07
3 Matt Talbot (GBr) Glendene CC                           0.09
4 Peter Mcdonald (Aus) FRF Couriers-Caravello             0.14
5 Chris Newton (GBr) Recycling.co.uk                      0.17
6 Rob Hayles (GBr) Team KRL                               0.18
7 Ian Wilkinson (GBr) Scienceinsport                      0.19
8 Ben Pochee (GBr) Rapha Condor                           0.20
9 Peter Herzig (Aus) FRF Couriers-Caravello               0.22
10 Raymond Rol (Ned) Ruiterdakkepel'n                     0.24
11 Robin Sharman (GBr) Recycling.co.uk                    0.30
12 Warwick Spence (GBr) London Dynamo                     0.45
13 Cody Stevenson (Aus) FRF Couriers-Caravello
14 Joe McDonnell (Aus) FRF Couriers-Caravello
15 Gary Hand (GBr) Scotland
16 Neil Jones (GBr) Gateway RT                            1.11
17 Greg Roche (GBr) Nippo KFS
18 Paul Wilkes (GBr) De Rosa RT
19 Phil Dixon (GBr) Scienceinsport
20 Andrew Staurt (GBr) Ashfield RC
21 Stephen Wolfer (Ger) Zenith CC
22 Malcolm Elliott (GBr) Plowman Craven
23 Mark Wordsworth (GBr) Je James RT
24 Clayton Barrows (GBr) Agisko-Dart                      1.23
25 Dale Appleby (GBr) Recycling.co.uk
26 Geoffre Beetham (GBr) Magura
27 Andy Collis (GBr) De Rosa RT
28 Alex Atkins (GBr) Evans Cycles
29 Martin Ford (GBr) Team Lloyds TSB
30 Matthew Higgins (GBr) Je James RT
31 Andrew Roche (Irl) Murphy & Gunn/Newlyn Group
32 shley Brown (GBr) Featherstone RC
33 Peter Williams (GBr) Kinesis Uk
34 Neil Coleman (GBr) Agisko-Dart
35 Evan Oliphant (GBr) Recycling.co.uk
36 Jack Woodward (GBr) Scienceinsport
37 Mark McKay (GBr) Glendene CC
38 Rober Partridge (GBr) Recycling.co.uk
39 Gavin Evans (GBr) East Midlands
40 Matthe Stephens (GBr) Sigmasport RT
41 Jamie Burgan (GBr) Rutland RT
42 Chris Bartlett (GBr) Glendene CC
43 Alastair Kay (GBr) York Cycleworks                     1.42
44 Alex Hagman (USA) Agisko-Dart
45 Adam Weaver (GBr) Doncaster Whls
46 Conor Murphy (Irl) Murphy & Gunn/Newlyn Group
47 Matthew Charity (GBr) VC Nottingham
48 Nan-Simo Dekker (Ned) Ruiterdakkepel'n
49 Richa Wilkinson (GBr) Rapha Condor
50 Jame Williamson (GBr) Agisko-Dart
51 Duncan Urquhart (GBr) Agisko-Dart
52 Josh James (Can) Stilton RT                            3.25
53 Wesley Cole (GBr) Plowman Craven                       9.55
54 Craaig Butland (RSA) Plowman Craven                   11.31
55 Bryan Pool (GBr) Andersons Racing
56 Rob Enslin (GBr) Agisko-Dart
57 Steven Kenny (GBr) Kuota-Biemme
58 Mark Dziobon (GBr) Mk Cycles
59 Graeme Stone (GBr) Team Lloyds TSB
DSQ Tony Gibb (GBr) Plowman Craven
DSQ Stephen Ward (GBr) Team Swift
DSQ Leon Burger (Ned) Ruiterdakkepel'n

Start list
   1 Peter McDonald (Aus) Team FRF Couriers
2 Joshua Marden (Aus) Team FRF Couriers
3 Peter Herzig (Aus) Team FRF Couriers
4 Joe McDonnell (Aus) Team FRF Couriers
5 Cody Stevenson (Aus) Team FRF Couriers
6 Tony Mann (Aus) Team FRF Couriers
7 Brendan Brooks (Aus) Team FRF Couriers
8 Philip Finnegan (Ire) Murphy & Gunn/Newlyn Group
9 Morgan Fox (Ire) Murphy & Gunn/Newlyn Group
10 Paul Healion (Ire) Murphy & Gunn/Newlyn Group
11 Conor Murphy (Ire) Murphy & Gunn/Newlyn Group
12 Andrew Roche (Ire) Murphy & Gunn/Newlyn Group
13 Erik Van Lakerveld (Ned) LWV Swift
14 Gary Hand (GBr) Scottish National Team
15 Daniel Alexander (GBr) Ace Racing Team
16 Duncan Urquhart (GBr) Agisko–Dart
17 Kevin Dawson (GBr) Agisko–Dart
18 Alex Higham (GBr) Agisko–Dart
19 James Williamson (GBr) Agisko–Dart
20 Clayton Barrows (USA) Agisko–Dart
21 Neil Coleman (GBr) Agisko–Dart
22 Eric Ransom (USA) Agisko–Dart
23 Rob Enslin* (RSA) Agisko–Dart
24 Alex Hagman* (USA) Agisko–Dart
25 Daniel Davies (GBr) Agisko-Viner
26 Sean Brennan (GBr) Agisko-Viner
27 Gyles Wingate (GBr) Agisko-Viner
28 Bryan Pool (GBr) AndersonS Racing
29 Andrew Stuart (GBr) Ashfield Road Club
30 Rob English (GBr) AW Cycles
31 Matthew Melville (GBr) AW Cycles
32 Sean Polson (GBr) Velo Club Azzurri
33 Wayne Webster (GBr) Beauvale Cycling Club
34 Alistair Stoddart (GBr) Bouwelse Wielervrienden
35 Andy Hayton (GBr) Cherry Valley Racing Team
36 Gareth Williams (GBr) Cherry Valley Racing Team
37 Julian Gromett (GBr) Cottingham Coureurs
38 Andy Collis (GBr) De Rosa Racing Team
39 Matthew Bottrill (GBr) De Rosa Racing Team
40 Julian Ramsbottom (GBr) De Rosa Racing Team
41 Paul Wilkes (GBr) De Rosa Racing Team
42 Adam Weaver (GBr) Doncaster Wheelers
43 Gavin Evans (GBr) East Midlands
44 Ross Muir (GBr) Evans Cycles
45 Justin Hoy (GBr) Evans Cycles
46 Geoff Lulham (GBr) Evans Cycles
47 Alex Atkins (GBr) Evans Cycles
48 Ian Holt (GBr) Evans Cycles
49 Nicholas Dawes (GBr) FCCC East St
50 Ashley Brown (GBr) Featherstone Road Club
51 Neil Jones (GBr) Gateway Racing Team
52 Steven Marrows (GBr) GB Fire Brigade
53 Mark McKay (GBr) Glendene Cycling Club
54 Ben Hallam (GBr) Glendene Cycling Club
55 Matt Talbot (GBr) Glendene Cycling Club
56 Lewis Atkins (GBr) Glendene Cycling Club
57 Chris Bartlett (GBr) Glendene Cycling Club
58 Gareth Jones (GBr) Team Fuji UK
59 Thomas Gardner (GBr) Heroncyclesport
60 Dean Shannon (GBr) Heroncyclesport
61 Paul Oldham (GBr) Hope Factory Racing
62 Chris Belsham (GBr) JE James Racing Team
63 Dave Coulson (GBr) JE James Racing Team
64 Christopher Daddy (GBr) JE James Racing Team
65 Gareth Hewitt (GBr) JE James Racing Team
66 Matthew Higgins (GBr) JE James Racing Team
67 Mark Wordsworth (GBr) JE James Racing Team
68 Pete Williams (GBr) Kinesis UK
69 Rob Hayles (GBr) Team KLR
70 Gary Adamson (GBr) Kuota/Biemme
71 Steven Kenny (GBr) Kuota/Biemme
72 Richard Sykes-Popham (GBr) Llandovery Cycling Club
73 James Stewart (GBr) Le Coq Sportif
74 Chris Hurd (GBr) Velo Club Lincoln
75 Martin Ford (GBr) Team Lloyds TSB
76 Graeme Stone (GBr) Team Lloyds TSB
77 Chris Debens (GBr) Team Lloyds TSB
78 Chris Spence (GBr) Team Lloyds TSB
79 Tom Hemmant (GBr) London Dynamo
80 Warrick Spence (GBr) London Dynamo
81 Geoffrey Beetham (GBr) Magura
82 Jon Mozley (GBr) Merlin Development Squad
83 Richard Cartland (GBr) Team MK
84 Roy Chamberlain (GBr) Team MK
85 Tom Crouch (GBr) Team MK
86 Karl Freeman (GBr) Team MK
87 Martin Smith (GBr) Team MK
88 Mark Dziobon (GBr) MK Cycles
89 Julian Sharples (GBr) MK Cycles
90 Neil Swithenbank (GBr) MK Cycles
91 Greg Roche (GBr) Nippo KFS
92 Matthew Charity (GBr) Velo Club Nottingham
93 Craig Butland (RSA) Plowman Craven RT
94 Wesley Cole (GBr) Plowman Craven RT
95 Malcolm Elliott (GBr) Plowman Craven RT
96 Tony Gibb (GBr) Plowman Craven RT
97 Adam Norris (GBr) Plowman Craven RT
98 Tom Smith (GBr) Plowman Craven RT
99 James Taylor (GBr) Plowman Craven RT
100 Ben Pochee (GBr) Rapha Condor
101 Ben Price (GBr) Rapha Condor
102 Richard Wilkinson (GBr) Rapha Condor
103 Robin Sharman (GBr) Recycling.co.uk
104 Ben Greenwood (GBr) Recycling.co.uk
105 Kristian House (GBr) Recycling.co.uk
106 Evan Oliphant (GBr) Recycling.co.uk
107 Dale Appleby (GBr) Recycling.co.uk
108 Robert Partridge (GBr) Recycling.co.uk
109 Chris Newton (GBr) Recycling.co.uk
110 Henry Furniss (GBr) Ride Beyond
111 Shawn Blakey (GBr) Ride Beyond
112 Richard Lambert (GBr) Rossington Wheelers
113 Jamie Burgan (GBr) Rutland Cycling Club
114 Ian Wilkinson (GBr) ScienceinSport.com
115 Tim Lawson (GBr) ScienceinSport.com
116 Phil Dixon (GBr) ScienceinSport.com
117 Jack Woodward (GBr) ScienceinSport.com
118 Stuart McManus (GBr) ScienceinSport.com
119 Mike Harrison (GBr) Sigmasport Racing Team
120 Matthew Stephens (GBr) Sigmasport Racing Team
121 Charles Tennick (GBr) Stealth Racing Team
122 Damian Harris (GBr) Stilton Racing Team
123 Josh James (Can) Stilton Racing Team
124 James Sampson (GBr) Stilton Racing Team
125 Lee Cairns (GBr) Team Swift
126 Stephen Ward (GBr) Team Swift
127 Alastair Kay (GBr) York Cycleworks
128 Stephan Wolfer (Ger) Zenith Cycling Club
129 Mike Moss (GBr) Cottingham Coureurs
130 Leon Burger (Ned) Ruiterdakkapellen-wielerteam
131 Jan Hopman (Ned) Ruiterdakkapellen-wielerteam
132 Tino Haakman (Ned) Ruiterdakkapellen-wielerteam
133 Dennis Leliveld (Ned) Ruiterdakkapellen-wielerteam
134 Raymond Rol (Ned) Ruiterdakkapellen-wielerteam
135 Daniel Keena (GBr) Cottingham Coureurs
136 Paul Rennie (GBr) North Beach Hotel RT
137 David Clarke (GBr) Team Nippo
138 Daniel Burtt (Aus) Team Lloyds TSB
* = team reserves
Past winners
2004  David O'Loughlin (Irl) Total Cycling
2003 Mark Lovatt (GBr) Life Repair Cycle Race Team
2002 Huw Pritchard (GBr) AngliaSport
2001 John Tanner (GBr) Ribble/ProVision
2000 Chris Newton (GBr) Middridge CRT
1999 Saulius Ruskis (Ltu) Team Oktos - MBK
1998 Chris Lillywhite (GBr)
1997 John Tanner (GBr)
1996 Kevin Dawson (GBr)
1995 Mark Walsham (GBr)
1994 Chris Walker (GBr)
1993 Keith Reynolds (GBr)
1992 John Charlesworth (GBr)
1991 Paul Curran (GBr)
1990 Brian Smith (GBr)
1989 Mark Gornall (GBr)
1988 Paul Curran (GBr)
1987 Paul Curran (GBr)
1986 Paul Curran (GBr)
1985 Darryl Webster (GBr)
1984 Neil Martin (GBr)
1983 Malcolm Elliott (GBr)
1982 Mark Bell (GBr)
1981 Phil Thomas (GBr)
1980 Steve Joughin (GBr)
1979 Geoff Taylor (GBr)
1978 Steve Lawrence (GBr)
1977 Dave Cuming (GBr)
1976 Bill Nickson (GBr)
1975 Tony Gornall (GBr)
1974 Steve Heffernan (GBr)
1973 Dave Vose (GBr)
1972 Phil Edwards (GBr)
1971 Dave Allen (GBr)
1970 Tom Mullins (GBr)
1969 Pete Smith (GBr)
1968 Doug Dailey (GBr)
1967 Des Thompson (NZl)
1966 John Clarey (GBr)
1965 Arthur Durha (GBr)
1964 Albert Hitchen (GBr)
1963 Albert Hitchen (GBr)
1962 Jim Grieves (GBr)
1961 John Perks (GBr)
1960 John Perks (GBr)
1959 Ron Coe (GBr)
1958 Ron Coe (GBr)
1957 Ron Coe (GBr)
1956 Bob Eastwood (GBr)

Past winners courtesy of Mario Stiehl, www.world-of-cycling.com